Reading Time: ~
4
minutes
How are you doing? We are acclimating and pressing forward.
I hope that your family and friends are safe and healthy. I've learned of a few college friends whose kids fell ill with Covid-19. It's super scary, and I can't imagine how they are coping. Luckily, the last I heard, the kids are recovering (they are in their 20s and were traveling together).
How are you responding to recent events? Please share your thoughts and plans in the comments, and I'll be happy to include them in a future roundup.
I want to thank those that joined me last Saturday afternoon on a community call. I heard many great questions. I hope you found benefit from our answers and thoughts. I hope you found encouragement in your efforts to press ahead.
I felt like there was a ton of information packed into that thirty-minute webinar. A few people asked me to summarize it, and I've done that at the end of this email.
You Have A Choice—Two Ways to Respond to Events
I've been listening to conversations in a few blogging groups that belong to. I've replied when asked questions, contributed where I could add value, and offered my time to those who needed it.
I hear two types of conversations: it's time to take a break or it's time to press ahead.
I empathize with those want to take a break. Sometimes blogging becomes overwhelming. Especially when you work so hard and your traffic just disappears. Or display advertisers cut their spending on ads. Or your camping trip gets canceled.
Agreed, a canceled camping trip may seem trivial—but it's vital to our company culture.
BizBudding plans a camping trip every year. We recharge and reenergize by spending time in the woods (cabins, so not roughing it too much—and wow—we cook amazing meals together). It has become a yearly tradition to review our progress, revise our plans, and set future goals.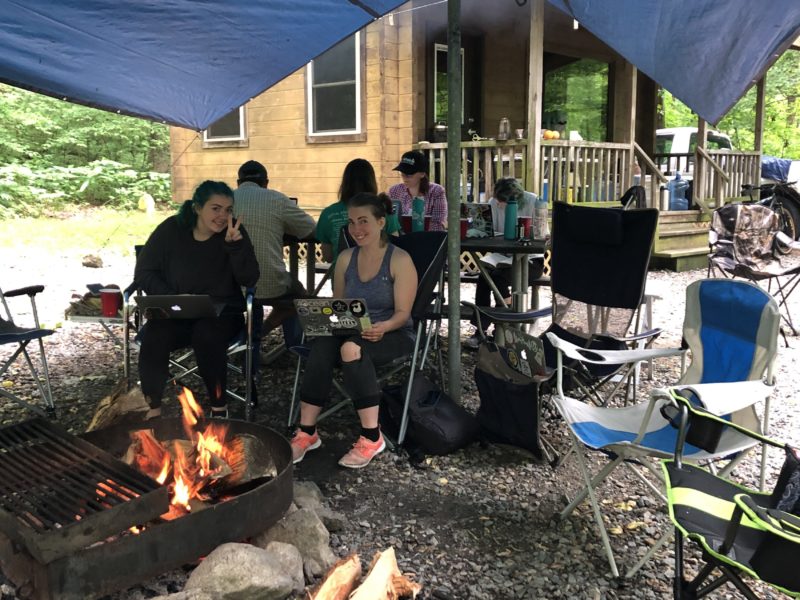 For us, it was a setback when the state canceled all camping reservations. Trust me, this isn't our only setback. We all have them on all different levels and degrees.
I know some of you have experienced major setbacks. Loss of revenue, blog traffic vanishing, loved-ones getting laid off from work, or family members becoming sick are among hundreds of reasons to want to take a break from blogging.
I want to encourage you to NOT take that break. But instead, press ahead.
Cambridge defines press ahead as "to start or continue doing something in a determined way, although it is difficult".
It is not going to be easy. It probably will be hard. But in the long run, you will build momentum and benefit.
Your PDC Community is here to help you. How can I help you?
Please join us in that community. Let's help each other press ahead.
If you are not a member there, please consider joining. https://www.facebook.com/groups/prettydarncutecommunity/
Taking the time to listen, learn from each other, and have real conversations is now more important than ever.
I hope you find value in the list below. Here are a few of the topics discussed:
What do I do if I have no energy to create new posts?
Consider consolidating or combining similar posts. (We're working on a blog post with more info on how to do this.)
Record a Youtube video to include in older posts.
Use a transcription service to convert audio to text. We use https://transcribe.wreally.com/.
Go live and talk to your community, share your thoughts, ask them questions.
What are their needs right now?
How do they see their world evolving?
Do they have any creative ideas to spread your business or message?
Where should my focus be?
Go wide or go deep? Focus and go deep, create relationships and deliver value.
Put 100% effort into things that are going to support your business.
Not the time to spread yourself thin.
Improve your writing skills. This book is crushing it for me: Everbody Writes by Ann Handley (aff link).
What do I do if I'm not motivated?
Break bigger projects up into smaller goals.
Gain a sense of accomplishment.
Find a few people online and create your own mastermind and accountability group.
Is it time to post online and send emails to my list?
Come from a place of sincerity and share your expertise.
Let go of expectations. You might not reach the numbers you're used to.
Be open and communicative, telling your part of a story.
Have empathy and be honest.
NOTE: These are traits that I think we should have ALL the time.
Additional thoughts on marketing right now:
Respond to every single comment on the platforms you choose to be on.
Open your DMs and texts and let people know it's safe to reach out to you.
Lead by example—and just do it.
Share your story and experience.
Acknowledge what's going on around you.
Change your copy to be current and on-point with the current state.
Lead with value, have respect, but also make your offers available as people are still going to want to consume content and learn.
Don't forget to join the PDC Community on Facebook to watch the whole video. There is a lot of value packed into those 30 minutes, and it gets into some even more specific topics not included here like thoughts on remote work and working at home with kids, "virus marketing," what do do if your traffic has dropped, and what you should be doing right now for SEO. Join us here: https://www.facebook.com/groups/prettydarncutecommunity/
Thanks for reading. Stay safe.