Reading Time: ~
4
minutes
Blogs have been one of the stalwarts in the world of SEO. For the uninitiated, blogs are individual websites that are updated regularly and usually have a word count tool embedded in them which focuses on the author's interests, niche markets like anime, gardening, etc. It's also incredibly informal, almost conversational in tone.
WordPress has been the premier site for blogs for quite some time now. And with good reason – the platform is the first in the industry to make things streamlined for authors to post, and the company was also one of the few which advocated for greater SEO integration alongside offering beautiful themes.
But for people who are just starting and/or looking at creating their blogs, it can be an intimidating process. So, we've collated 9 of the most important things to have to write a WordPress blog that will entice your audience:
A great word processor.
You can't make a great article without writing it first. And what you need for that is a great word processor. The one built-in in your laptop should do just fine, but there are a few apps out there that put the writing in focus. iA Writer is one of them, 750 Words is another. Whatever you choose to write in, make sure you're comfortable using it.
One of the things that a great word processor should have is the ability to universally format your content. It should also have a great cloud storage service so that you can store your articles online and have access to them when worse comes to worst.
Image plugins.
To make your article more compelling, adding in images that reference what you've written is imperative. When you install WordPress, the option for images in your articles is given, but getting a dedicated image plug-in is more recommendable because most, if not all of them gives you the flexibility to add in multiple images, and as frequent as you like.
Image plug-ins also stabilize your articles. This means that when you do add images to your blogs, Google's crawlers will easily identify which are images and which are texts. Be careful though, as adding image plug-ins can potentially increase the loading times of your articles. Look for light or streamlined ones and you're good to go.
Master Your SEO
Craft + Optimize Content to Make Google Notice Your Expertise and Experience, then Convert Your Traffic Into Sales
Content that's individual to your audience.
Knowing your target market is one of the key factors in creating a great WordPress blog post. Niche markets are there because people work in cliques. There is a community for every interest, and you'd be remiss not to make your article directly relevant to the community you belong to. For example, if you feature a gardening blog, you need to have the market's support. How do you get that? Create relevant and timely content.
Creating relevant and steady content also makes your blog active and alive. When you have a regular posting schedule, Google will notice. And if you streamline your keywords and articles to have a unified theme – say, this month, you'll tackle a specific plant (if you're a gardening blog), it creates this image to Google that you can be an authority on your niche.
A catchy headline.
The importance of a catchy headline cannot be overstated. The Internet has paved the way for attention spans to be shorter than it already is, and you only have at most 5 seconds in total to get your audience's attention. How can you get them to read your 1000-word article in that time frame? Create a headline they can't resist.
Plus, make sure that the first paragraph of the article is a killer. It should read well, informative, and invites your audience in. This is where knowing your market is imperative because perfecting your voice and stance and how you attack an article depends greatly on what your readers like.
Subheads that divide the article.
A verbose article can be hard to digest. Catching the interest of your readers through your headline isn't enough to guarantee that they'll read the article in whole. This is where subheadings enter. Dividing your article into chunks make it more digestible, and easier on the eyes of the reader.
Keywords.
This is very important if you want your article to be seen. The competition in search engine results is very stiff – and you need to be on the front page if you want to have better click-throughs and engagement. Put keywords in your article in the most natural way, and you're one step ahead of the curve.
SEO
Search engine optimization is the process of maximizing your blog post's potential visibility on google search. Even before you post your content, it's important to optimize it so that search engines like Google can crawl it with their algorithms. No matter how effective your articles are – if they have less than stellar SEO, they won't be seen.
And that's going to be a problem. While utilizing the power of social media isn't a part of SEO techniques, it can help get the word out that you've just updated your website and a great article is waiting for your audience. So, consider these two big factors in marketing your articles as well.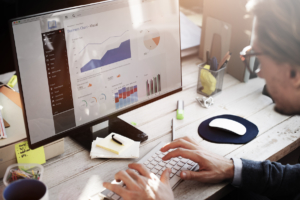 New to website building?
If you're like most people, when you decided to DIY your website, you dove head-first into the technical details. The problem is creating your dream website doesn't start with a template or technology. It starts with proper planning. Get started planning an amazing website with this free webinar!
Website Planning:
Practical Steps for
Planning a Website
If you want to keep going with your website planning, check out our free on-demand webinar
Mobile-friendly.
This is the era of smartphones. Desktop usage has seen a steady decline for quite a few years now, and the numbers aren't going to rise again soon. People consume their content differently now, so your content must follow how your audience consumes it. Optimizing your website for mobile screens is not only savvy, but it will also make your articles more readable.
Timeliness.
Lastly, your article must be timely and relevant to have great engagement. Choose topics in your niche which are hot and trending. How do you do this? Read on current events with regards to your market.
Takeaway Writing a compelling WordPress blog post can be a tall order. It's not just about the content anymore, it's also about being relevant and sensitive to how people consume their content. When you're having a hard time coming up with new content, do research and be inspired by the people doing well on your niche.
Download the How to Start Blogging Guide
Explore this FREE GUIDE to take a deep dive into how to start blogging to make money. Get a PDF version of this guide right to your email, plus weekly tips from our blogging experts at BizBudding.