Reading Time: ~
10
minutes
Developing a goal setting mindset is important to the success of your website.
One of the best ways to reach your goals is to set an intention. Writing down WHEN and WHERE you are going to do something makes it more likely to happen. (That, or avoiding them until you feel physically sick. Jk…mostly. ? ) 
The same applies for your website and sales goals, and thankfully there's already a great way to measure when and where a goal has been achieved—Google Analytics Goals!
First, you need to define what constitutes a conversion on your website. What do you care about tracking? What actions are most important to you? 
These actions are the goals you will create in Google Analytics.
Typically this translates to purchases, but if you don't have ecommerce on your website, then conversions can take the shape of pretty much whatever you want. Form submissions, visits to a particular page (such as a thank you or confirmation page), downloads, and clicks are all measurable with GA Goals. 
The trick now that you know this magical tool exists? You need to know how to set Google Analytics Goals, but more importantly, how to figure out what your goals even are. 
For ultimate goal crushing, we'll review both in this post…you know, so you no longer need to count on that sick feeling of avoidance and shame to get stuff done. 
Google Analytics
Google Analytics gives insight into sales, conversion rates, traffic, demographics, and how your site is found and used. 
It can also help you determine where your traffic sources are coming from (for example, organic traffic or traffic being referred from other websites), which can help you create a stronger digital marketing strategy. 
It's helpful to have a baseline of your site's use and performance, which is why a good portion of this post focuses on understanding GA in a broader context and the different types of data it provides. 
Look at Your Real Time Data
GA can help you track, measure, and analyze various forms of website data in real-time. This data can help you better understand visitor behavior and create strategies to optimize your site and increase conversions.
First and foremost, you need to understand who is visiting your site, what they are doing when they get there, and any potential barriers that may keep them from buying, registering, downloading, signing up, whatever it may be. 
Here you can see your top active pages, device type (consider if your mobile experience differs from desktop and which is more important to you if so), page views, top referral sources, and even events and conversions such as conversions of orders placed and contact forms completed. 
Master Your SEO
Craft + Optimize Content to Make Google Notice Your Expertise and Experience, then Convert Your Traffic Into Sales
Look at Your Audience & Demographics
Next, look at who's purchasing in audience demographics. With this data you can see revenue per age group and gender.
This is really important because while you may think your target age group is 18-34 year olds because they visit your site the most, maybe most of the people buying from you are slightly older because they have more disposable income.
Basically, the people buying from you could be in a completely different demographic than what you thought or would expect. 
Another thing to consider is location (see Audience > Geo > Location). If your site has a large number of users from a country that is not your own, you may want to set up a welcome message on your shop or cart in that language, and based upon their IP address detect where they are and say hello/offer assistance.
Using copy and CTAs that target the right people (in the right language), can make a big difference in their likelihood of purchasing or taking the action you want them to take. 
Behavior of New vs. Returning Visitors
The aim when analyzing your audience's behavior is to get them to return, and of course convert. So of your new visitors how many purchase? How many of your returning visitors do?
Look at how long the sessions are (avg. session duration), how many pages people visit (pages / session), and revenue attributed to them. 
In the below GA demo data, revenue for returning visitors is double that of new visitors.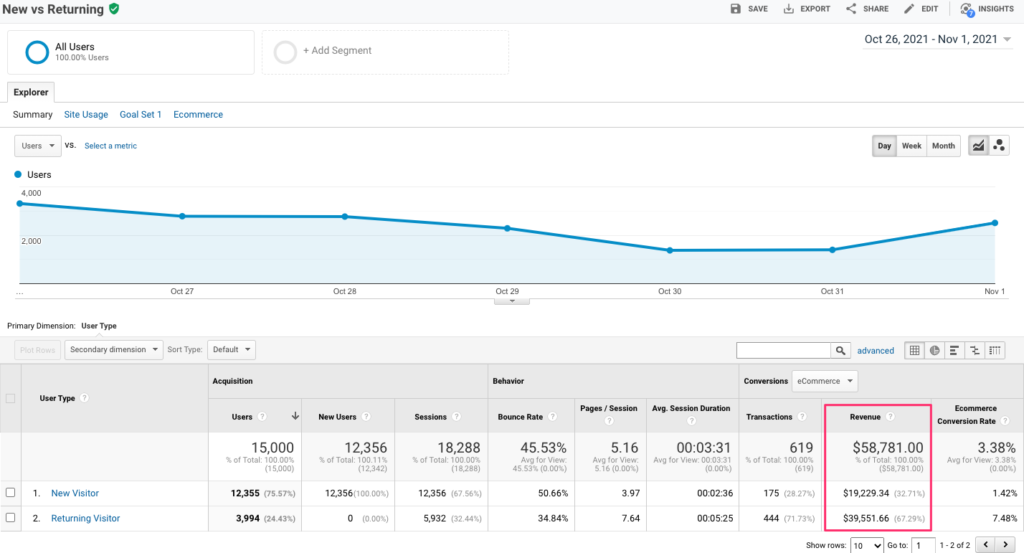 This is not uncommon. According to a recent study using a sampling of 1.3 billion sessions over a 2 year period…
Returning visitors added items to carts 65.16% more than first time visitors, converted 73.72% more than first time visitors, and spent 16.15% more per transaction.

[New Study] New vs Returning Customers eCommerce Behavior
On BizBudding our return visitors purchase 10x as much as our new visitors! The bounce rate for new visitors is also about 70% with almost 2 pages per visit, and an average session of 51 seconds.
Based on this, we can infer that someone comes to the website, takes a quick look around, and leaves, often without taking further action. Maybe they found what they were looking for, maybe they didn't. With goals, we can understand more about what they are doing, and we'll get into that soon.  
For those that return, their bounce rate is 40%, average pages per session is 5, they spend about 5 min on the site, and they purchase 10x as much as the new visitors. 
So if these are your metrics what does this tell you? 
It tells you that people are finding you, remembering you and coming back, and if they do they are more likely to buy. 
With all this in mind, we need to focus on building trust because people are not purchasing on the first visit. If you sell services or products that require deeper decision-making, you need to consider the questions and objections going through a visitor's mind. 
Possible Customer Questions:
Will this work for my problem/need?
Is this company safe to work with/purchase from?
What are the reviews like?
What is the support like?
What is the return policy?
How long does it take to ship (and is shipping free)?
What is the timeline to completion?
Are there caveats, loopholes, unexpected surprises, and/or extra costs?
Focus on CTAs, language, and trust factors, to make potential customers feel more comfortable purchasing on their first visit.
Building trust and providing helpful content and resources also encourages people to return (where they are more likely to purchase), so it's a win-win. 
Cart confidence factors such as FAQs, reviews/testimonials, money back guarantee, free shipping, free returns, and more can all help increase conversions for first time buyers. 
Enhance your sales pages and shopping cart experience, then set up goals to track any changes in performance.
Understand These Key Performance Indicators
Before setting up analytics goals, make sure you understand some baseline KPIs. KPIs—or key performance indicators—are the metrics that best define if you are meeting your business objectives. 
Let's review some basic metrics in Google Analytics.
Traffic Sources – Learn which sources drive the most traffic to your website to learn how to build out the best marketing plan to increase traffic.
Revenue by Sales and Product – Measure these metrics to determine which products are selling the best. If you use paid marketing campaigns create trackable links so you can measure your return on investment.
Conversion Rate – Conversion rate measures visitors' behavior and how often they convert or engage. You can set goals to measure conversion rates.
Average Order Value – The average monetary value of an order is calculated by dividing revenue by the number of orders. Add products to your store at varied price points. Consider bundling offers at checkout to increase your AOV. 
You also should understand the path your customers take from landing on your site to making a purchase. Learn where the customers drop off.
If you see high drop-off rates between cart and checkout consider an abandoned cart recovery system.
If you see high drop-off rates on specific products consider improving the details or the sales landing page information.
Google Analytics Goals
Within Google Analytics, you can set up monthly goal tracking. Each goal represents a completed user interaction or conversion on your website. 
There are four types of goals in Google Analytics: Destination, Duration, Pages/Sessions, and Events.
Destination: Destination goals can be set to trigger when a person visits a specific URL on your webpage. This can be helpful when a person reaches a thank you page after performing a specific action, and you want to track conversions.
Duration: Duration goals are triggered after a person spends a certain amount of time on your website. Google Analytics tracks this through changes in URL. To take it one step further, this action is essentially tracked through timestamps on each URL. When a user visits a specific page, a timestamp is created. If the user clicks through to a second page, another timestamp is created, and so on. Conversions are measured as any time spent on a webpage past the minimum time.
Pages/Sessions: Pages/Session goals can track how many different pages a user visits. You can set a goal for a person to visit a certain number of pages or screens, and once they surpass that number it generates a conversion.
Events: An event goal is triggered when a user performs an action on your website. Use event tracking for anything from ebook downloads, ad or social button clicks, and video views.
Google Analytics also provides goal templates. The purpose of these templates is to provide insight into smart, actionable goals that apply to your specific industry to help you meet standard business goals.
The templates have several goal categories to choose from: Revenue, Acquisition, Inquiry, and Engagement.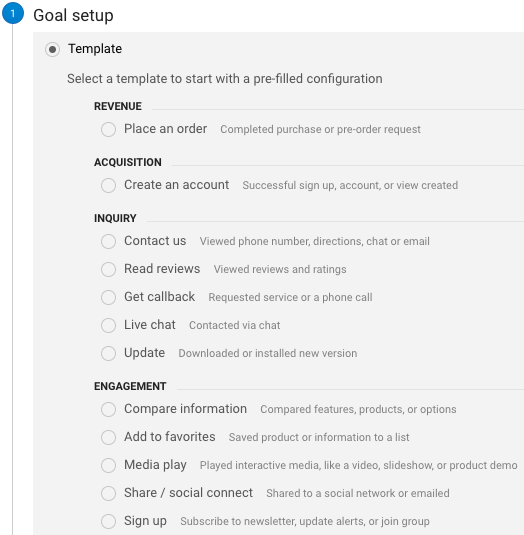 If you are using Google Adwords, you can also use Smart Goals to help track visitors that are more likely to lead to conversions. This tool uses machine learning to track the top 5% of your traffic coming from your Google ads.
Thank You Pages & Goals 
Use a thank you page or confirmation page to tell Google Analytics that someone completed a goal. 
Some form tools display a "thank you" message on the same page after form submissions. That's great, but it doesn't tell Google Analytics that a conversion event happened, unless you are running Google Tag Manager. 
You can use event goals to track when a user has converted. This will help you track conversion rates and the efficacy of your offer.
You can also create multiple versions of your thank you pages that highlight specific content and track how users engage with each version to see which generates the most conversions.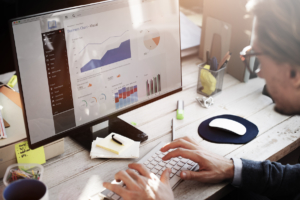 New to website building?
If you're like most people, when you decided to DIY your website, you dove head-first into the technical details. The problem is creating your dream website doesn't start with a template or technology. It starts with proper planning. Get started planning an amazing website with this free webinar!
Website Planning:
Practical Steps for
Planning a Website
If you want to keep going with your website planning, check out our free on-demand webinar
How to Set Up Google Analytics Goals, Step by Step
First off, to set up a goal in Google Analytics, you need to be an admin of the GA account. 
To start your new goal set up, go to the Admin area (gear icon, lower left sidebar) and in the third column (View) click Goals.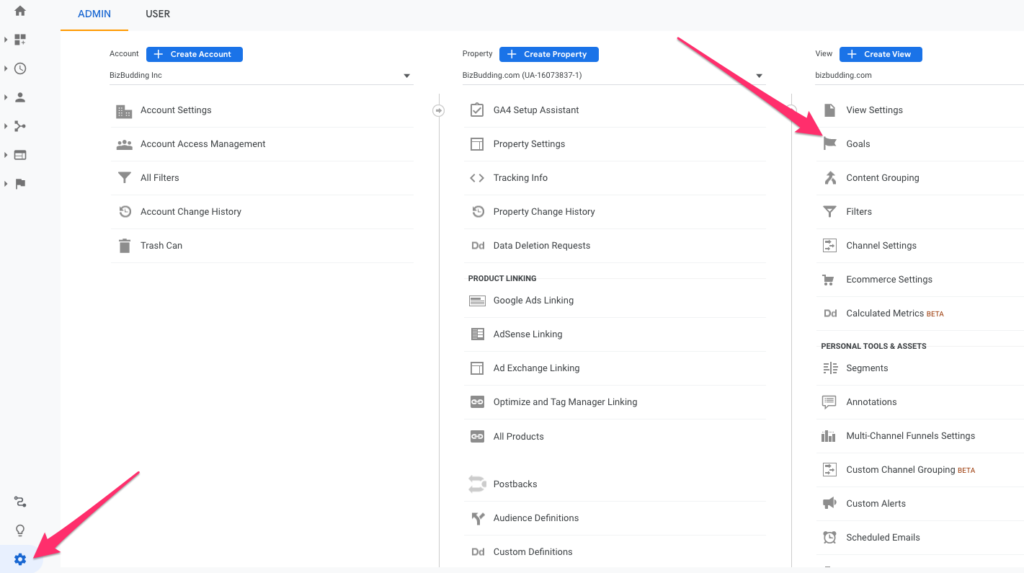 1. Select a Goal Template
Select the template you want to use. In this example, I am using the Revenue template and the Place an order goal since ecommerce tracking is a popular use case for goals. (You can also create a Custom Goal.)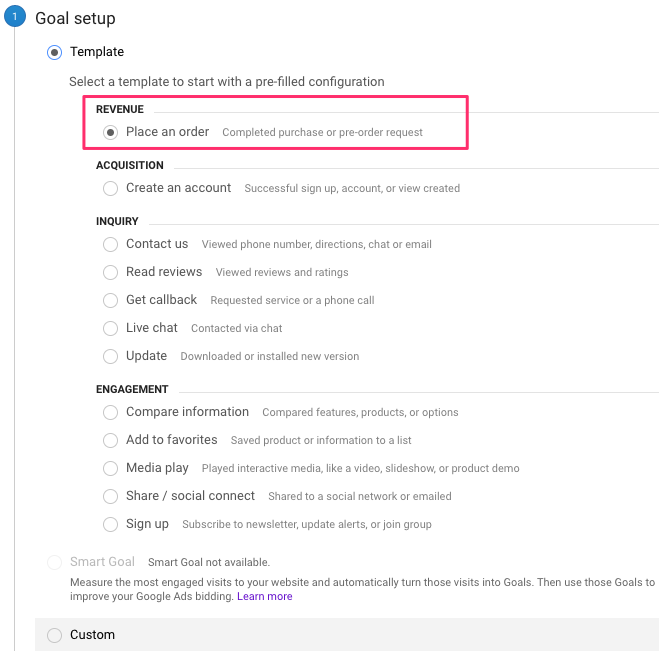 2. Select Your Goal Type
Next, is the goal description. Give the goal a name and select the type you want to use. In this example I am using Destination. This is a good type to use if you redirect someone to a thank you or confirmation page after their order has been placed.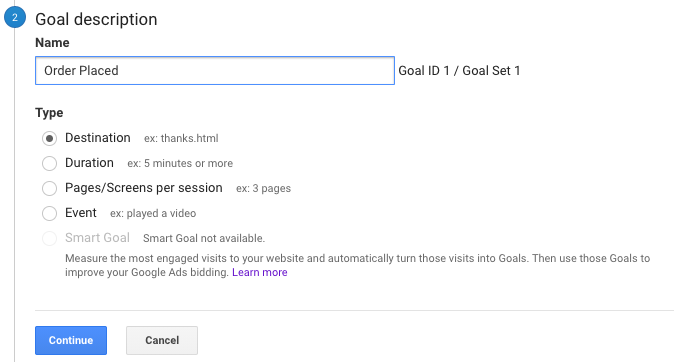 3. Fill in Your Goal Details
Lastly, add your goal details. From the destination drop down, you can select Equals to, Begins with, or Regular expression.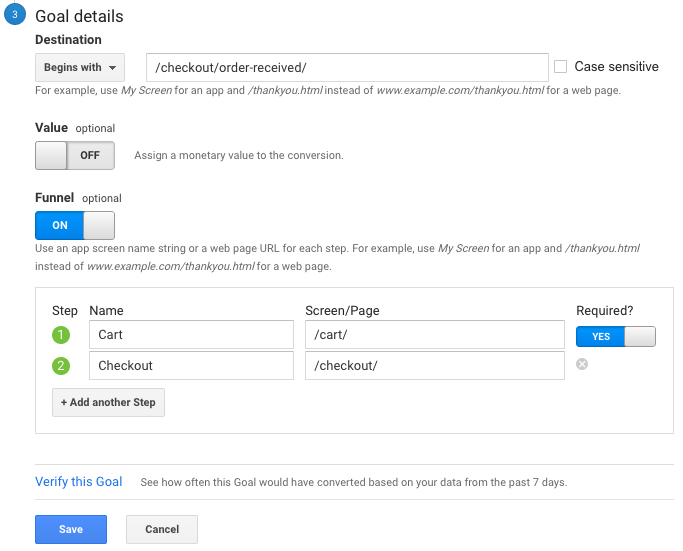 You can also test the goal if you wish by clicking Verify this Goal. This calculates a conversion rate for it based on your data from the past 7 days. This conversion rate is not a performance projection.
When you are done, click Save.
The goal will begin recording data as soon as it's created. You can edit or turn off a goal by going to Admin > View > Goals.
Where Should You Start with Google Analytics Goals?
I realize there's a lot to take in here, and I don't want you to feel even more stuck wondering where you should start with GA Goals. 
There is no one size fits all approach. You should take some time to really look at your website data and maybe even take a few minutes to chart some of it in a spreadsheet. Schedule a block of time on your calendar each month to check your site's performance. 
Better yet, take a few minutes once to create a report. Under Dashboards you can create custom reports and set a frequency (weekly, daily, etc.) at which to email them to yourself. 
You don't need to worry about every metric I mentioned in this post. Hell, you could just focus on one metric/goal, and that would be a great start.
To-Do List for Starting with Google Analytics Goals
Review your analytics data to gain a baseline understanding of your site's performance.
Identify KPI's you want to track and set up a report/s to be regularly emailed to you.
Create a simple goal or two.
Keep an eye on performance and make changes to your landing pages, CTAs, copy, etc. to increase goal conversions.
Keep going! Create more goals as needed and keep monitoring and tweaking things. It's an ongoing process. The more you make it a habit to stay on top of what's happening with your website, the better off you'll be.
Something you may have learned by now is that it takes time to figure out most of your processes completely. You won't master analytics tracking or content strategy or SEO or any of the other million things there are to do related to maintaining a successful website overnight.
And then when you do settle on a process you like, you might realize you need to add in another piece, or that you actually want to try doing things a little differently. All of this is totally okay and normal! 
What's most important is that you start, that you try something, and if that doesn't work, accept that it was a failed experiment, and give yourself permission to let go, move on, and try something else. 
Mindset matters when it comes to success in any area. Don't give up, and don't be afraid to seek out help when you need it. We are here for you. Our specialty is helping YOU achieve your goals.
Download the How to Start Blogging Guide
Explore this FREE GUIDE to take a deep dive into how to start blogging to make money. Get a PDF version of this guide right to your email, plus weekly tips from our blogging experts at BizBudding.