Reading Time: ~
7
minutes
Whoa, that sounds kinda gross. Trust me, dogfooding isn't gross; you aren't literally eating dog food. But dogfooding is really hard to do sometimes.
Dogfooding, or eating our own dog food, occurs when an organization uses its own products and services. It's a great way to test your own products in a real-world scenario before releasing them as new products to customers.
The term dogfooding resonates with tech companies and is believed to have originated during the 1980s at Microsoft. Dogfooding programs are put in place to encourage employees and software developers to use their company's products. The logic is that early beta testing increases product adoption, catches major bugs and glitches quicker, and creates a better product for end-users.
I think the concept of dogfooding should extend beyond tech companies creating new products and be injected into service industries.
Wouldn't it be great if consulting companies followed their own advice? Would their websites look any different? Would they convert better?
I think so and we challenged ourselves to define our meaning for dogfooding. I challenge you to adopt what you preach, to implement what you develop, and to write about what you learned doing so.
Please indulge me with a bit of a long read. I promise there are some gold nuggets of marketing advice in this story that conclude with this fact: website marketing techniques really do work.
Combining Websites
As creatives and developers, we often want to build a shiny new website when we have something to share with the world. Organizations and marketing teams also tend to create individual brand-focused websites.
Have a new brand to market? New plugin to sell? Create a new website. After all, we are developers and designers, and that's what we love to do.
Having several websites or domains on the same or similar topics can dilute your content's ranking power and be confusing to users. Our advice is to closely study your brand and consider merging those websites. I even wrote a well-ranking post about combining your websites as part of a case study we did after merging three similar sites together for a customer.
Today We Combined Our Websites
Why would we consider combining websites after building a brand around Mai Theme? The answer became clear when we studied our brands. We found we were diluting our message.
We want to provide great software and meaningful advice to our customers. And what better way to ensure that happens than to use our own products and follow our own advice?
In other words, eat our own dog food.
Celebrating a Milestone for Mai Theme
During December 2019, the BizBudding team reached a milestone with Mai Theme, launching more than 150 custom-designed websites built on Mai Theme.
Also during December, our customers' combined websites reached 21,012,507 unique visitors. Whoa!
Quite a few of our customers' websites proudly sit on the Alexa Top 5K trafficked website list, and another couple dozen are on the Alexa Top 50K list. These sites were all developed for seasoned bloggers by the BizBudding team using our own product, Mai Theme. We're really proud that Mai Theme powers these exemplary sites.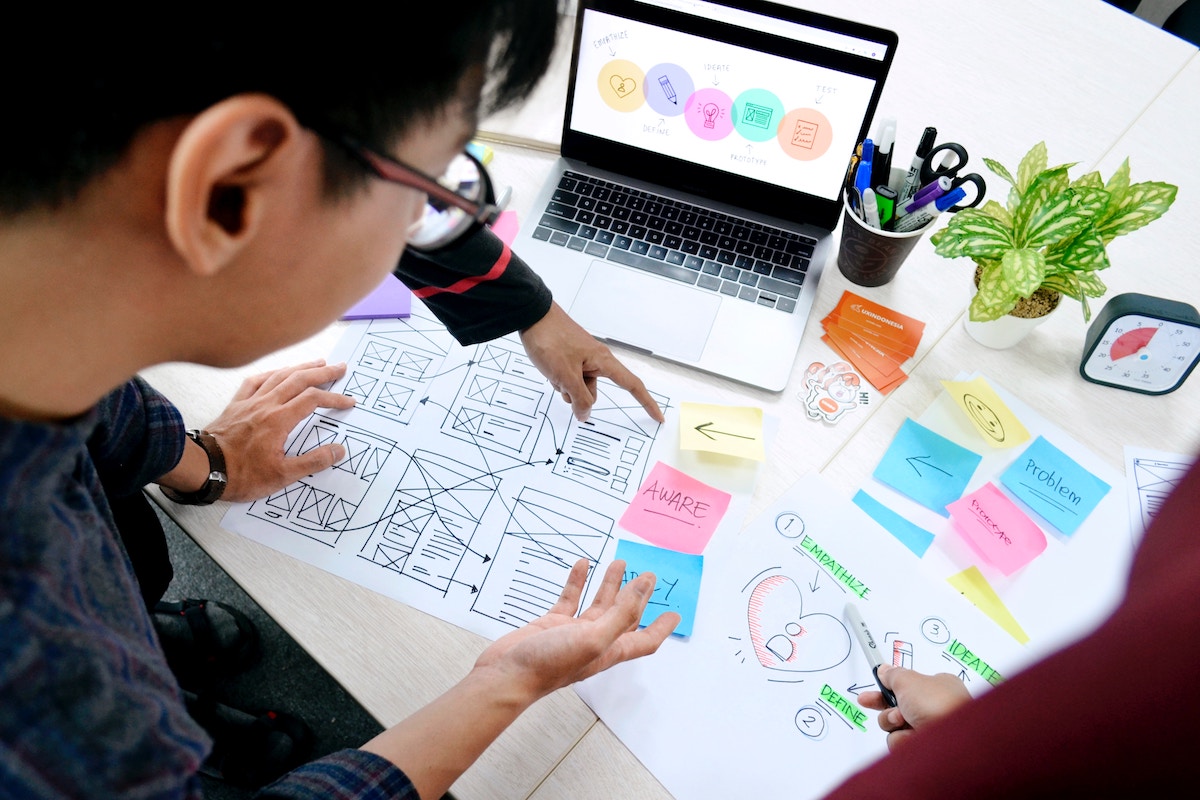 Online Course for Bloggers
Discover How Your Blog Can Get More Traffic, Leads, and Sales from Google. This SEO course for WordPress will help you craft optimized content that Google values, to rank you higher, and convert more traffic into sales
Early Origins of Mai Theme


The early origins of Mai Theme were based upon a Genesis template created by Mike Hemberger (@JiveDig) called Baseline. Mike joined BizBudding as a co-founder to lead our product development team.
With Mike's experience in Genesis and my background in software development, we focused on evolving Baseline into a new product called Mai Theme that would enable us to successfully deliver and customize web projects for our clients.
Throughout the product engineering and development process, we continually challenged ourselves to build the most flexible and powerful theme we could.
Shortly thereafter, the Mai Theme Engine concept was perfected. And as we found glitches, we were able to easily patch and update our Mai Theme installations. Month-after-month, project-after-project, we continued to refine Mai Theme. We measured results with robust and timely website deployments and successfully launched 50+ websites using early versions of Mai Theme.
We loved what we were building and continued our active involvement with the Genesis community. We attended a Genesis conference in Denver (by the way, Cake was the icing on that conference for me) and left there with great relationships reinvigorated and a new confidence that we had created a powerful platform for deploying customizable themes that could be easily updated when bugs crept up.
Mai Theme Released on Studio Press
Mai Lifestyle Pro (now Mai Delight) was added to the StudioPress website in January of 2018. Subsequently, Mai Law Pro (now Mai Achieve) was added to StudioPress. We're very grateful to have such a wonderful network of Genesis peeps and amazing customers to support us on this adventure. Thank you all.
That first launch was very exciting for us. It signified BizBudding's transition from a professional services organization into a software company (with a professional services team).
Website Marketing Fundamentals
As I mentioned earlier, the concept of dogfooding should apply to more than using your own software products. It should apply to your marketing and consulting advice too.
Brandi, leading our content team, wrote a very successful blog article on the BizBudding website providing advice on how to use your website as a marketing tool.
So naturally (as developers), we created a website just for Mai Theme, applied our own website marketing advice, and began the maitheme.com journey.
We focused on content creation, SEO, and linking internal pages. We diligently created video tutorials, help documents, and meaningful content.
We also focused on the psychology of visual marketing.
Only 10% of auditory information is retained three days later. However, if a relevant image is paired with that same information, 65% of that information is retained three days later. (source)
We used Mai Theme's [grid] feature to inject visuals and relevant content into our website and demos. We included impactful banner images and videos on our pages. We added wonderful testimonials from early adopters and innovative customers that added an amazing level of confidence and trust in our products.
We constantly updated content on our website, especially the support and tutorial sections. And following the BizBudding mantra of service first, we continued focusing on providing value to our customers with new features and enhancements.
We used the Mai Theme [callout] feature to create calls-to-actions that were prominent and concise.
It's 100% true that callouts:
Grab the attention of your readers
Get your points across quicker
Make it easier to announce promos
To ensure we stayed on track with our marketing efforts, we created Mai Theme and BizBudding brand guides.
An important component of the Mai Theme brand guide was to make it clear that Mai Theme was supported by BizBudding's zealous team of developers, content specialists, and marketers.
Mai Theme was made possible through the coordinated efforts of a great team of people who all rowed the boat in the same direction. I think our brand guide and mission statement were keys to navigating business growth and staying the course. I'm very proud to be associated with our crew.
Where We Fell Short
It wasn't all glorious and happy. There were and are tough times. We fell short in some areas, especially related to marketing our website.
I think we were lousy at email campaigns for Mai Theme customers (basically, they were non-existent at first). And we fell short on adding blogging content to Mai Theme.
All our energy that would have gone into these components was consumed by our professional services offerings for our customers and the BizBudding website.
We never made the time or invested the energy to perform these two tasks for Mai Theme. Despite these shortcomings, Mai Theme prospered.
To date, we've launched four different themes using the Mai Theme Engine: lifestyle, law, business, and news.
And thanks to both StudioPress sales and our own maitheme.com sales, we've reached a few thousand installations of Mai Theme.
Where We Succeeded
We succeeded in developing both websites: bizbudding.com and maitheme.com.
Not crazy-wild success, but successful enough for us to smile and enjoy what we do. Both websites serve our customers. Content ranks well in Google on both sites. A few of our blog articles made it to the first page of Google. Leads convert into sales on both sites.
There is still plenty of room for improvement, and that's what we at BizBudding seek—constant improvement.
One way to measure success is the reviews your customers leave. Be sure to ask your customers to leave you a review. For years we didn't ask for reviews. We didn't even consider them important enough to add to our own website.
Until one day we had a professional service customer write what I thought was a horrible review. I was mortified. That negative review really caught us off-guard—and made us think about strengthening our customer service communications. We put together a plan to ask for reviews, and now we are ready to add those reviews to our website.
I quickly found out that great reviews provide a wonderful surge of dopamine. Beyond that, reviews help those considering your products see the value from the point of view of someone like them. Take the time to create a customer review and testimonial plan as part of your website marketing plan.
A Few Months Ago We Were Once Again Surprised
Like many of you, we use different types of tools to measure the performance of our websites. One of our go-to tools for keyword analysis is SEMrush. (And for website site auditing our hands-down favorite tool is Sitebulb.)
One afternoon I was reviewing BizBudding's competitive positioning map (a copy of that chart is shown below).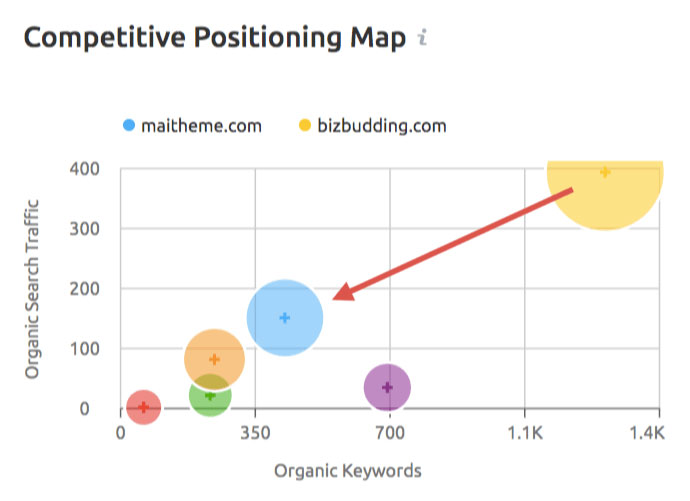 I couldn't believe that BizBudding's closest keyword competitor was our own Mai Theme website.
This recent surprise hit me as loud as the Arby's customer-service bell forcefully rung by kids as they escape out the establishment's door. (Admit it, you've been munching curly fries when that bell has been loudly rung.)
When you stop and think about it, the chart kinda makes sense. Both sites are dedicated to providing resourceful information on Mai Theme, how to get started blogging, and how to design/develop a website. Duh.
Dogfooding Two of Our Popular Posts
A while back, we wrote two posts on the BizBudding website that discuss website marketing and the benefits of combining websites. These two posts still drive organic SEO traffic to our domain.
Amazing how we didn't heed our own advice. We created two separate websites as we thought the Mai Theme brand needed its own website. Turns out there is a lot to be gained by merging the sites, including now having the opportunity to provide free blogging courses to our theme owners.
Today, we are excited to announce that we have diligently merged the Mai Theme website into BizBudding.
The Reasons Behind our Choice
We love helping people learn how to start blogging. Working with seasoned bloggers is also very fulfilling. Both of these efforts center around Mai Theme.
We decided to eat our own dogfood—both products and marketing advice—and combined our sites.
We're counting on our own products to deliver. We're counting on our own advice to work.
Our goal for 2020 is to provide a better user experience and offer greater value to our customers. And to launch a bunch more cool themes. Stay tuned for next month's exciting announcement.
What do you think? Do you eat your own dog food? We'd love to hear your thoughts. Please share them below. We also welcome comments from cat lovers.
Cheers!
Download the How to Start Blogging Guide
Explore this FREE GUIDE to take a deep dive into how to start blogging to make money. Get a PDF version of this guide right to your email, plus weekly tips from our blogging experts at BizBudding.