Reading Time: ~
14
minutes
Recycling is a good thing. It helps the environment, and it saves you money. You can recycle just about anything, so why not reuse content? The actual term for this is repurposing, and it can go a long way in bringing new audience members to your blog. In this post, we'll review how repurposing content can be a valuable aspect of your content marketing strategy. We also share some specific ideas about how to repurpose content based on how you like to communicate.
What Does it Mean to Repurpose Content?
The idea of repurposing content is to take existing content on your site and transform it into another kind of content. For example, you can give an old blog post a new life by repurposing it into a video, podcast, ebook, webinar, or series of infographics for social media. Spreading a piece of content out across multiple formats is guaranteed to increase your reach because there are people who might prefer visual content or audio content over reading a blog post or vice versa.
Another major benefit is that it's a lot less work to repurpose content than it is to make it from scratch. But…it's not an easy way out! You still need to produce new, original content, but if you have a lot of blog posts then repurposing them is a quick and easy way to get new traffic.
Bear in mind, not all content can or should be repurposed. The best kind of content to repackage is cornerstone or evergreen content. This kind of content is always relevant and is ripe for all kinds of formats.
A post about the latest WordPress updates wouldn't be considered evergreen because it could be old news in a few weeks. A post for new bloggers about "How to Make Money Blogging" is evergreen with room for a few updates (perfect for repurposing) because the information in that post wouldn't be out of date for months or even years.
Repurposing vs. Updating
These are sort of the same, but there are some important differences here.
As mentioned, repurposing content usually refers to repackaging it in some way to be used in another medium, reach new audiences, or increase engagement.
Updating content on the other hand refers to making a piece of content more relevant by updating outdated information (adding or removing facts, images, videos, etc.). Usually, this pertains to old content that still has value. If you wrote something years ago and none of it really is relevant anymore, and it's not getting traffic, you should simply delete it.
Updating what is still valuable and removing what's not is an important part of content maintenance and can significantly help your search engine ranking if you have a lot of outdated content.
Ways to Repurpose Content
Here are a few examples of how you can maximize your reach by repurposing content. We've done a lot of these ourselves! (We'll go into a lot of these more in-depth a bit further down.)
Blog posts to videos – Video content is most popular across users of all demographics and having this kind of content is important to any successful digital marketing strategy.
Videos to blog posts – One of our clients, Ruby Le, repurposed her YouTube videos to her site and tripled her traffic. (And she was not a person who loved writing or blog posts at first.) Learn more about her success in this Repurposing Content episode of our Cranktivity Podcast.
Webinar to podcast – Use the audio from a past webinar and repurpose it into a podcast episode.
Republish blog posts with a podcast episode by reading content (in a natural way and probably with some revisions/omissions) and adding the player to the top of that post.
Lists to infographics – If you have bulleted lists in your blog posts, create an infographic. These tend to do well as social media posts, especially on Pinterest.
Social media to website – Our Mai Inspire website template is perfect for this purpose because it's comprised of square blocks, and images on certain social platforms are square (Instagram, TikTok).
Older blog posts can be revived by using some of that content to build your email list by creating an email series of related posts or with standalone email newsletters.
Blog content can be combined to create a tutorial or slide deck that can be made into course content.
Help docs/FAQ to online course – Tutorials, help docs, and the like are great, but depending on the application they can still leave too much for the user to figure out on their own. Creating an online course to walk people through key set up items could help both your team and your customers.
You could combine multiple blog posts into an ebook.
Blog post to multi-part email series – This is one of my favorite ways to repurpose our blog content, and we've seen it be effective at increasing engagement and email capture.
How to Repurpose Content
Besides picking out the evergreen content on your site, how else would you know what a good contender for repurposed content is? A couple of useful tools are Google Analytics for your site pages and blog posts and YouTube analytics for your videos.
Both of these sites will give you a report on what your most popular content is by what's been bringing in the most traffic. The best performing pieces of content are what you want to prioritize repurposing.
Conversely, I am also a strong believer that repurposing content that is not performing but has the potential to (this is key) is very worthwhile.
For example, if you created a blog post on a topic you know gets a lot of search and your readers care about, but for some reason it is not performing, you don't want to just give up on it. You spent a lot of time creating something valuable, but perhaps that blog post would benefit from a video accompanying it. Highlight a few key points on your topic in the video, and send people to the post to find out more. (Check out our blog post to learn more about why video marketing is important.)
You can't just read an entire blog post out-loud on a video. People would get bored with that pretty fast. The content needs to be adjusted, while still keeping the key aspects, to make for an engaging video.
Some good ways to do this would be to add more visuals, make it funny where you can (while still informing), tell a story, and use real world examples.
Use the 80/20 Rule (Forget Perfect)
That means you really need to prioritize and make the most of your efforts. Determine what your best assets are, and use those assets to create maximum value, not only for your audience, but in how you are spending your time.
Look at your content and ask, how can I make this work in multiple ways?
Here are some quick ways to making repurposing content easier:
Pull audio and transcribe it.
Grab snippets, poignant quotes, striking visuals, and wow-factor stats to share on other platforms to drive traffic back to your site.
If you have a lot of video content, transcribing it makes it easier if you do not like writing or it's not your strength.
Get a free Zoom account. Record yourself on Zoom, then transcribe that audio into text and you have a basis to start your written content.
Create show notes to give yourself an outline for written content to accompany a podcast.
Stay focused on the the big picture, and keep in mind that once you create a habit, you don't even realize you are doing it anymore. It just becomes routine and natural, and you get things done.
Take it one step at a time. It. doesn't. need. to. be. perfect.
If you are close enough, launch the content. People don't care about the quality or how perfect it is. They just care about what you're saying. And honestly, it's kind of boring to read, watch, or look at something that is meticulously perfect. The imperfections and flaws are the parts that make you and what you are saying real, relatable, and endearing.
Start with the way you are comfortable communicating.
If you are not sure of your strength, ask yourself how you connect with friends and family. How do you express yourself to them that is most comfortable for you?
I typically like to write/message/email/text people. There are not many people I like talking on the phone with. It's nothing personal on them…it's probably that there's an element of uncertainty to phone conversations because you cannot see the person. (I know it's weird, but I know someone reading this gets me. ? ) I love talking in person with my close friends/family though.
How to Repurpose Content Based on Strengths
Start by identifying your strengths and goals when coming up with a plan to repurpose your content.
Then, use your strengths to branch out into other areas of content creation.
I'll use myself as an example again. When it comes to content creation, I am most comfortable with the written word, especially when I can be creative and let my voice come through. My BA is in Literature, so writing is what I know and love most. That's not to say I hate talking to people or other forms of interaction, but it takes me more time and experience to build up my confidence and comfort level in those other areas. I fidget a lot on video. If I am not physically in the video, I still get a bit anxious wanting to make sure everything comes out right and end up manically moving my mouse around without realizing it—at least not until after I watch the recording… These things can be worked on and improved, but starting where you are strong makes everything else easier.
Let's jump into the ideas to get a better feel for what I am talking about.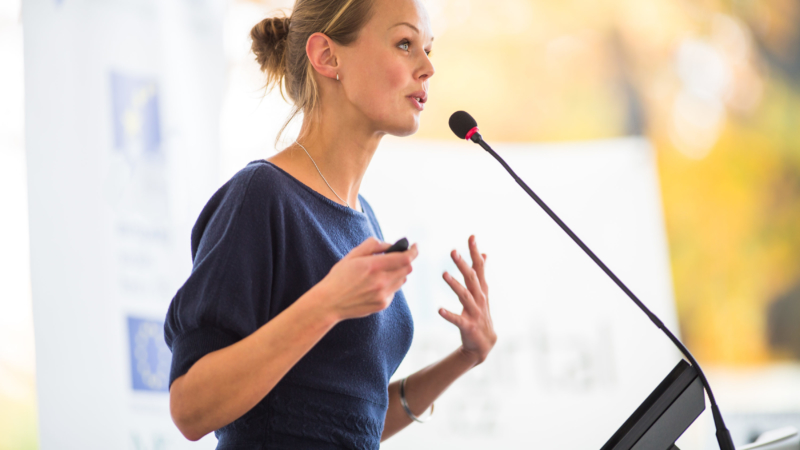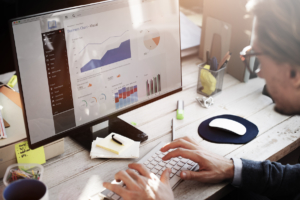 New to website building?
If you're like most people, when you decided to DIY your website, you dove head-first into the technical details. The problem is creating your dream website doesn't start with a template or technology. It starts with proper planning. Get started planning an amazing website with this free webinar!
Website Planning:
Practical Steps for
Planning a Website
If you want to keep going with your website planning, check out our free on-demand webinar
For Those Who Love to Speak
Video to Podcast
If you are strong at speaking and have a wealth of YouTube or Vimeo videos, you might want to repurpose some of that content into a podcast. Podcasts take your strength of speaking and channel into in type of content made for that. Use your audio files to create podcast episodes.
Podcast to Video
If you already have a podcast you can also take the audio files or snippets and overlay them onto a video recording. This works great if you are demonstrating how to do something in the video. I realize this one requires some video editing skills and software, but still worth mentioning if you have the capacity and knowledge to do it—or know someone else who does (Sam, I am talking about you ? ). This is especially a good tactic if you like to speak, but don't love to be on camera.
Presentation to Video
There are actually many types of content you can repurpose with this same trick. A Powerpoint or Slideshare presentation could be turned into a video, and again you can overlay audio of you talking and highlighting key points. Or, if did an in-person speaking event and it was recorded, you could easily make a couple tweaks to it and share it in other places.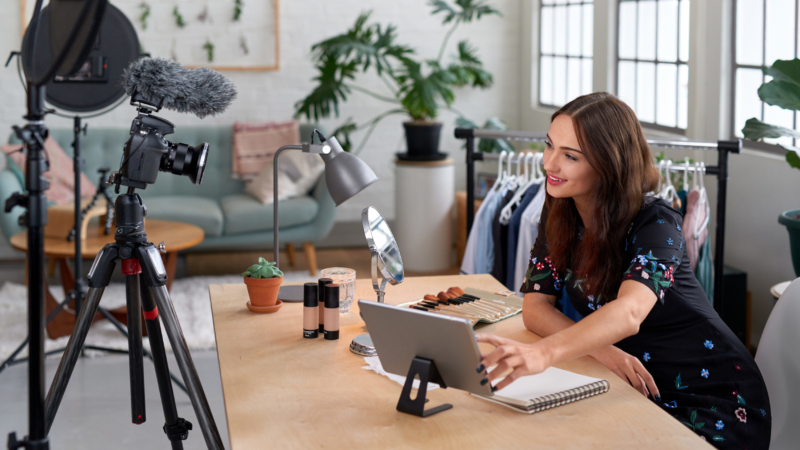 For Those Who Love to Be on Camera
Video to Blog Post
If you love to be on camera, then you probably already have plenty of video content. Many bloggers start out this way, only creating content on YouTube. (This is actually called vlogging.)
While this can be a great way to get started, it's also a missed opportunity! You can take those videos and insert them into blog posts to get double bang for your buck. Blogging not only increases your exposure, but it protects you should anything happen to or change with the platform where you host your videos. Long form blog posts enriched with videos are seen as great content by search engines and users and therefore they tend to rank higher, faster.
Don't have a website?
Don't let the fear of getting started stand in your way! With Mai Solution you can start your own blog very quickly and easily with everything you need including all our website templates, WordPress configuration, hosting, and the best plugins.
If the thought of creating a bunch of new posts sounds like too much work, consider that there are also inexpensive transcription services that allow you to turn your videos into written content with little to no effort. We use and recommend Transcribe.
Make sure to read through for errors as that is common when translating voice to text. If this is going to be your primary written content on the page, it's also worth tweaking it for readability and SEO and other removals or additions as needed as not everything that you say or do on camera makes sense or holds value when written out. The transcript gives you a base from which to start though, which is a big leg up if writing really isn't your thing.
Read Transcript

Sarah: So as you're going through this course, you may be already noticing something about human nature. You're probably already drawn to the videos that we've embedded throughout the course to help enrich this course for you. Well, that's actually letting you know something that's really really important about blogging is that people love video content and as the internet ages and blogs become a thing that are all over the place what we are seeing statistically is that video content is becoming preferred by a larger and larger proportion of people in terms of the media they consume, so wherever you can insert a video into your content whether that is a quick summary at the top of the blog post or using a video to help engage your audience on social media, that is actually going to help drive readers to your blog and also audience build.
Webinar to Video
Many content marketers regularly use webinars to promote their products or services or as a way of list building. Webinars are already a form of video, but you can take it one step further. You can pull relevant clips from your webinars to create shorter videos to place on key areas of your site or in your marketing. You can also use these webinars to add value to a gated or exclusive membership area or online community.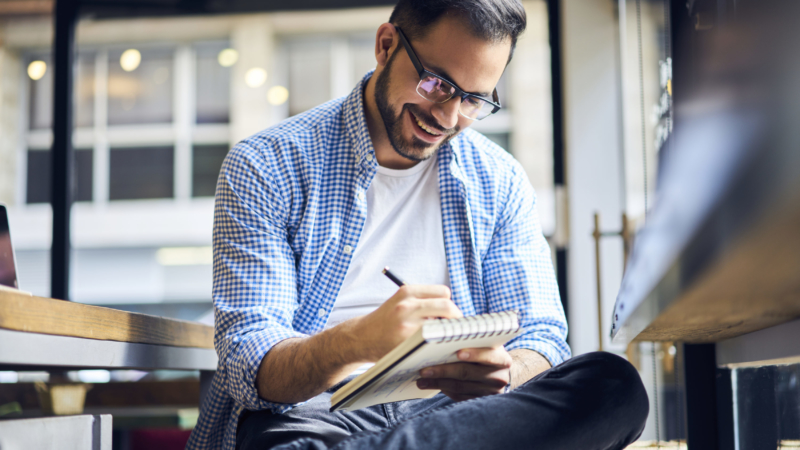 For Those Who Love to Write
Blog Post to Email Series
If you love to write and have a lot of blog content, take your top-performing posts, and create a 5-part email series—or 3-part, whatever. Give one simple actionable step per email without giving everything away.
Blog Post to Social
Pull snippets from posts to create social media posts. I <3 this one because it's two-fold—you can link back to the blog post for more traffic, plus, if you revile social media, it makes it way easier for you to be present there without getting sucked in.
I would recommend splitting between linking back to your blog and sharing snippets that increase engagement on the platform—Facebook and others tend to favor those type of posts.
Blog Post to Guest Post
Keep in mind, guest posts are typically about gaining exposure to a new audience. If you want to take something you wrote for a guest blog and repurpose it to your own site, see if the owner of the other domain is okay with your content being the seen as primary source to Google via a canonical link. Otherwise, you risk duplicate content issues.
Blog Post to White Paper (or Vice Versa)
If the type of content you write tends to be more fact-driven and analytical, you can turn well-performing blog posts into a white paper. Or turn a white paper that has receiving a lot of engagement/downloads into a blog post.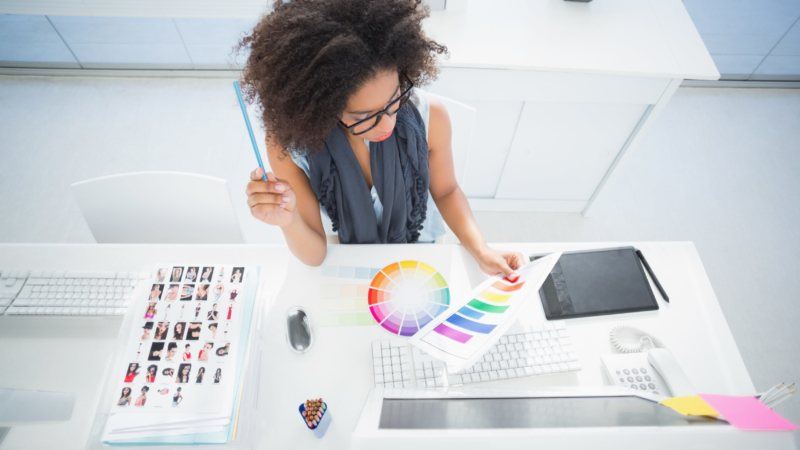 For Those Who Love Visual Expression
Blog Post to Pinterest
If you enjoy creating graphics and other visuals, make some branded Pinterest templates that you can reuse. We love Canva for this because it's free and easy to use for any experience level. Just swap out titles, copy, and images, and you have a great Pinterest images to help you grow your presence and generate more traffic to your blog posts. We experimented for a while with even using our Pinterest graphics to signify the start of a new heading in our posts.
List to Infographic
If you have any kind of lists in your blog posts—or as external resources like PDF downloads—create an infographic based on them. The flow is already there for you, you basically just need to add images. These tend to do well as social media posts, especially on Pinterest, but can also be inserted into blog posts or used as lead magnets to grow your email list.
Blog Posts to Ebook
Combine multiple related posts into an ebook. We did this with our guide on How to Start Blogging (made up up six blog posts). By creating an ebook, this was a resource we could offer to those who would rather read everything together, rather than jumping from post to post. Ebooks are also a way to let your inner designer shine. Graphics, a nice layout, and great use of color are all fun elements of creating an ebook.
Infographic to Webinar/Video
If you already have some infographics, the great thing about these is that they are a great way of highlighting the main, attention-grabbing points of a larger topic. This translates well to video because you can use these points to outline a webinar that goes through each one in more detail.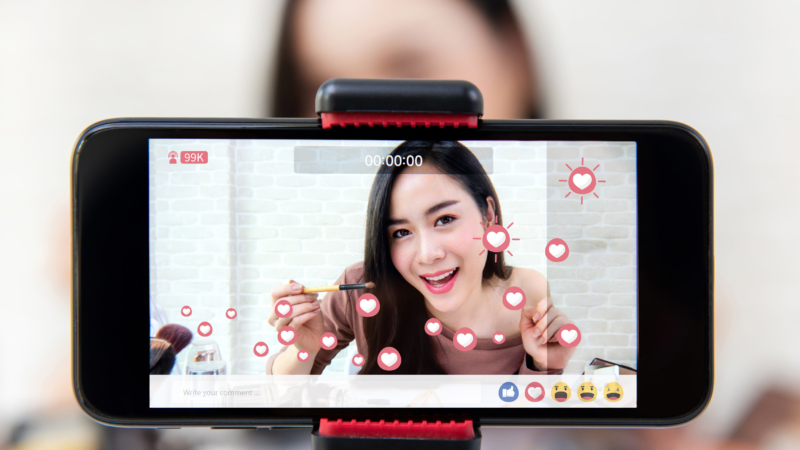 For Those Who Love Virtual Interaction
Social to Blog Post
For those that excel at social media, your Facebook, Instagram, LinkedIn, or other accounts may be killing it on content whereas your website is kind of abysmal. Fear not! You can repurpose your social media content to your website! In fact, this is a great way to get ideas for new blog posts or podcasts. Take a look at which of your social posts are performing the best. There may even be comments and questions there that you can use to outline your post and dig deeper.
Social/Community to Webinar
Take content from your social media accounts or community forum, and create webinars based around it. Ask Me Anything or Q&A webinars would work great here.
Social/Community to Podcast
What are the people you are talking to most interested in? Similar to the suggestion above, you can take the ideas/discussion from your social media/community sphere and translate those into podcast ideas.
Email to Live Video
Have an email list that you regularly communicate with? You can do a live video on Facebook or elsewhere weekly or monthly to round up the topics you discuss in your emails and answer questions.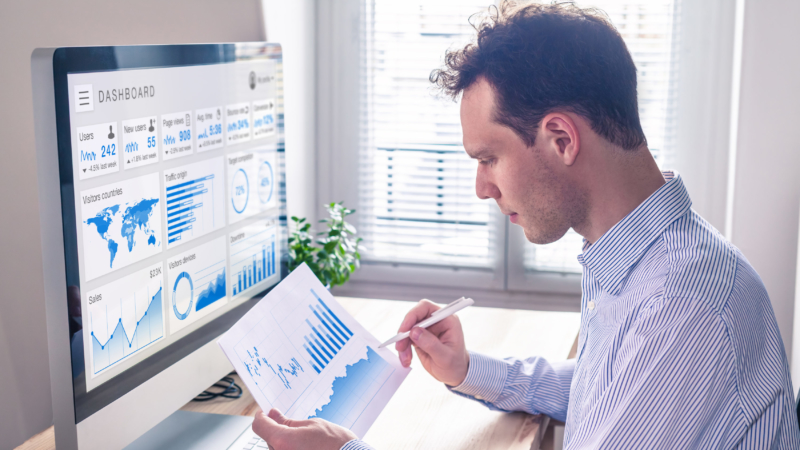 For Those Who Love Facts & Numbers
White Paper to Blog Post
This is especially powerful if you blog content is weak—which is typical in service and tech industries because they tend to be more focused on their business than creating content. We used this method for a client. They had two white papers on similar topics with overlapping information. We combined the content from both into one strong blog post that is now one of their best performing posts.
Client Reports to Case Studies
It's a really good habit to get into to track the progress, timelines, key analytics, and methodology of your projects from the get-go. Not only does it allow you to create rocking reports for your clients, but you can also later take those reports and turn them into case studies. (If they don't give permission, you can still use the data and omit their name and other identifiable details.)
Final Note
High-quality content is the key to success in all of this. Long-form content is still a great baseline for an original post, but to gain even more subscribers and reach a loyal target audience, repurpose your best content. Know your strengths and the platforms you are looking to branch out to so you can make sure you can get highest possible ROI on your time and effort.
Bonus Content
To grab the bonus content that goes along with this post, make sure to join our blogging community. Plus, you'll gain access to tons of other great resources and be able to ask questions chat and network with other bloggers and business owners.