Reading Time: ~
6
minutes
Starting a new WordPress blog is easy but sustaining it in a competitive web world is difficult. There are so many WordPress powered websites on the internet, how is your website or blog different? If you use the right plugins, features, and widgets, then you'll be able to optimize your blog.
Not only plugins, but your choice of theme is also important. Personalized themes are available today that helps you to optimize your blog. Driving traffic to your website is important, so choose a theme that is SEO-friendly and helps you to rank higher in Google.
Why SEO-friendly Theme for WordPress is Important?
Search engine optimization forms the base of a website's success. If there is no traffic on your website, your website is of no use. With SEO-friendly theme, you'll get impressive traffic flow on your site. Your site will have a great chance to feature on the first page of Google. Higher rank means great traffic flow on the site. So, if you are looking for long-term success, then do choose a theme that'll help to optimize your WordPress blog.
How Does SEO Theme Work For WordPress?
Once you install a theme, you can use SEO-friendly plugins for your website. Some themes are available in all-in-one SEO packs and some themes have free SEO plugins. You can configure the plugin according to your website's need. SEO powered themes have thoroughly written code that helps in higher ranking. A clean code along with added features helps to optimize your WordPress website or blog in the best possible way.
There are so many SEO enabled WordPress themes available, it's important that you choose the best out of the lot.
Master Your SEO
Craft + Optimize Content to Make Google Notice Your Expertise and Experience, then Convert Your Traffic Into Sales
Tips to Choose an SEO-friendly Theme For Your WordPress Blog
1. Choose a Theme with Mobile-first Design
In this age of smartphones, every feature is mobile-friendly. Choosing a theme that integrates with the mobile-first design is important for your blog. Over the years, there has been a considerable increase in mobile traffic. In fact, according to these data statistics, in the year 2018, 52.2% of all worldwide online traffic was generated through mobile phones.
Another statistic states, there are more than 3.7 billion active mobile internet users. So, a mobile version of your WordPress blog is important to drive traffic.
As mobile phones are easily accessible, browsing on mobile devices is simple. Even if you need to search for any query, you simply open your mobile and type in your Google page. You instantly get results for your query; this makes your job easier. This is a reason mobile devices are now surpassing desktop computers for browsing. Earlier themes were not created specifically for mobile needs, as it was restricted to a reduced desktop page. But, things are different now. Thus, choose a theme that integrates with the mobile first design as that'll help in higher ranking.
2. Choose a Theme with Cross-browser Compatibility
Google Chrome is the most popular browser for surfing. But, your website users use browsers other than Google Chrome too. Different people around the globe use so many browsers available. Actually, this also depends on browsing convenience and compatibility. And, different browsers read the website code in a different way. It's not possible to know which browser a user will use to visit your website. Find a theme that is truly compatible with every browser so that it does not affect your website traffic. Website compatibility focuses on the way a web page or your blog looks in different browsers that are available.
You must find a theme that is compatible with all the major browsers like Chrome, Safari, Firefox, Internet Explorer and Opera. With a cross-browser compatible theme, you don't have to check for browser compatibility manually. When you know that your theme is compatible with every browser, you can focus on other plugins and widgets of your blog site. If you don't choose a theme with cross-browser compatibility, then it'll affect the bounce rate of the site. If the bounce rate is high, it'll also affect the user engagement and overall traffic of the site. So, do ensure that your WordPress blog works on different browsers.
3. Choose Responsive Feature
A responsive WordPress theme has a fluid layout that rearranges and resizes the page elements for better usability. This offers a good viewing experience on smartphone and tablet screens. If your website or blog is not responsive or mobile-friendly, then this can have a negative impact on search engine result pages. This will also affect the traffic of your blog site.Google had announced in 2015 that every site needs to have a mobile-friendly responsive feature for ranking. Responsive blog or site is actually mobile-friendly and cost-effective. Most search engines favour sites that meet the needs of readers or users of the blog. Even the starter themes available for WordPress blogs are responsive in design.
Most users prefer a responsive and mobile-friendly blog site. There has been an increase in browsing on the phone and its the best time to choose a blog theme with a responsive feature. Full responsive theme design is also good for usability. If the blog site is not responsive, its a turn off for people who visit the site. This will affect the ranking and traffic of the site too. So, choose a responsive SEO theme for your WordPress blog.
4. Avoid Homepage Sliders
No doubt, home page sliders look great at top of your blog page or web page, but they can also act as a hindrance. As homepage slider use many H1 headings, it can affect the SEO functionality that follows single heading practice. Home page sliders can slow down the load speed of the page and this can affect the user engagement of your blog. Most people will leave your blog site if the page loading is slow. As Google uses site speed as a ranking criteria, it'll directly affect the rank of your blog site. Naturally, if your WordPress site speed is low, it will have an impact on traffic and rank as well. Homepage sliders affect the conversation rate of your blog site and also the usability. If you want to optimize your WordPress blog for SEO, then it is a must to avoid themes that come with homepage sliders. Home page sliders drain on resources that affect the overall functionality of the blog site. Keeping in mind SEO strategy, themes with home page sliders are passé. You need to stay updated with the SEO trends to comply with the Google ranking system. After all, it's all about driving traffic to your blog site and turning it into a successful site.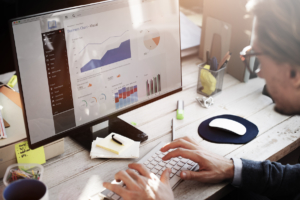 New to website building?
If you're like most people, when you decided to DIY your website, you dove head-first into the technical details. The problem is creating your dream website doesn't start with a template or technology. It starts with proper planning. Get started planning an amazing website with this free webinar!
Website Planning:
Practical Steps for
Planning a Website
If you want to keep going with your website planning, check out our free on-demand webinar
5. Consider Schema.org Markup
If you choose a WordPress theme with Schema.org Markup, it helps the search engine to understand the content and information on the blog. This helps in a higher ranking. It also helps to increase the number of visitors who visit your blog site through search engine results. This'll benefit from an SEO perspective and usability.Search engines understand the content through documentation that a publisher uses on the blog site. This helps in significant classification of listing. It uses two important HTML tags such as and , but you can do more with use of Schema.org Markup.
When you search for content, do notice the rich snippets that sites use in search results. The other information that search result can use are; links to social profiles, product information, ratings, video thumbnails, and event details. This information is also linked to social networks of the site. Schema.org Markup optimizes your site in the best possible way. You can manually add this using the Schema plugin. But, the best bet is to choose a theme that uses this for SEO functionality. Many premium blog themes come with Schema.org Markup, so you can choose accordingly.
Wrapping Up
If you are planning to start a WordPress website, then choose an SEO powered theme for your site. It'll optimize your SEO site functionality by giving you features like mobile design, responsiveness, and cross-browser compatibility. You can also choose a theme with user-friendly navigation, drag & drop editor and translation feature. A WordPress theme with SEO power can do so much for your site. It'll help to increase user engagement and drive traffic to your site. Premium WordPress themes offer SEO features along with other cool plugins for your blog as well.
Download the How to Start Blogging Guide
Explore this FREE GUIDE to take a deep dive into how to start blogging to make money. Get a PDF version of this guide right to your email, plus weekly tips from our blogging experts at BizBudding.