Reading Time: ~
6
minutes
We all have met people full of energy, gregarious and outgoing. 
We've met people who readily congratulate others and those who are full of criticism and skepticism.
We often surround ourselves with people who have the same mindset as us.
Your mindset is a core set of beliefs on how you see the world around you. Your mindset influences how you think, the way you act, and how you behave.
Your mindset plays a big role in how you handle life's challenges. 
Guess what? That mindset carries over into how you make decisions for your online business too.
There are two major classifications of mindset: growth and fixed.
And today I might be bold enough to suggest focusing on an alternative.
Growth Mindset
The growth mindset is based upon the belief that your strengths and qualities are things that you can improve upon based upon your efforts. 
Growth mindset individuals believe that even if they struggle with a skill, their outcome isn't set in stone. With hard work and guidance, they can improve their results. 
Fixed Mindset
Those with a fixed mindset see their qualities as fixed traits that cannot change. They believe they are either good or bad at what they do. 
Fixed mindset individuals base their thoughts on inherent nature: "I'm a natural-born leader" or "I suck at leading a team." They often avoid challenges, ignore negative useful advice, and give up easily.
Introducing the MasterMind Mindset
Great entrepreneurs work to overcome self-doubt and obtain the life skills necessary to thrive and grow. 
Whether you are tackling a new venture or starting a new business, you CAN learn how to implement these problem-solving techniques and nurture an entrepreneurial mindset to have a successful business.
Open yourself up to new ways of thinking, and you'll achieve the positive mindset critical to success.
Here are a few tips on how to do that.
Practice a Growth Mindset
You can do it. You can learn to improve. You're not broken or lousy at things.
Sometimes, it's really hard and takes a lot of work. Then one day your skills rock and you crush it. My friend Matt just sold his blogging business and talks about how it was a slog to get there. 
And yup, "slog" is my new favorite word to describe what it often takes to be successful.
I'll use another word to describe it too, "grit." It takes grit—strength and resolve and a ton of determination.
Keep the growth mindset. You can get there.
Don't Go It Alone
A few years ago I ran a bunch of Spartan races all over the country and completed the "Trifecta".
One of the races was on the side of a skiing mountain. We ran thousands of feet up the trails and then hurried back down the trails. We did that over and over and over—one time carrying a log on our shoulder, once with a five-gallon bucket of rocks, and once just carrying our own body weight.
Know what I learned from those events? I am tougher than I thought. But it hurt. And I was scared at times and felt like quitting.
Ultimately, I had success because I didn't go it alone. I was with my crew. My team. My peeps. People who would help me when I needed it. 
I was surrounded by good people who wanted me to succeed and didn't let me quit when I felt exhausted.
You shouldn't "go it alone" either. Find your team, your crew, and you'll perform better when it counts the most.
No Risk, No Reward
Business is a balancing act. Patience is generally needed to be successful, but often there's a risk/reward relationship that needs to be considered.
I'm not suggesting you take financial risks or make a risky gamble. 
I am suggesting, though, that you do need to balance important decisions by comparing the risk and reward opportunities.
You need to talk through important decisions. 
Joining a mastermind group has a financial risk. So does spending $50/month on Google AdWords or Facebook ads.
You need to evaluate the risk to determine if the rewards are greater. Would one new affiliate partner (who you met in a MasterMind) drive more sales than the cost of the MasterMind? Would brand awareness from the Facebook ad cause someone to check out your products?
Embrace Your Mistakes, Share, and Move On
I hate when I do that—make mistakes, that is.
Some mistakes are harder to recover from than others. The cool thing about not going it alone is that you can talk through your ideas with people who have already done it before you.
It's so helpful to have a group of people you trust to help you mitigate risk and prevent obvious mistakes. Sharing your mistakes is really cool too. You just might save a friend from making the same mistake.
When you do make a mistake, own it. Share it. Then, move on.
Celebrate Others' Successes
Stand out from the crowd when you celebrate someone's success in a sincere way. The rewards in terms of mental health are compelling. There is power positive thinking.
The best part of celebrating other people's victories is that you might start recognizing the patterns that lead to success. 
When you authentically celebrate success, you gain a better understanding of the work that went into the task and the behaviors and strategies that led to success.
Feed the Positive
That's a nice way of saying shun the negative. As a general rule, you reflect the characteristics of the people you surround yourself with.
Being negative doesn't mean the person is wrong. It means their approach to how they communicate might be off a bit.
The best way to deal with the negative is to confront it head-on. There's a chance they might not even be aware of their negativity, perhaps brought on by stressing, having to deal with numerous challenges, or just being a natural-born asshole.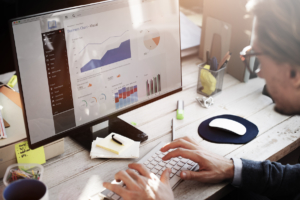 New to website building?
If you're like most people, when you decided to DIY your website, you dove head-first into the technical details. The problem is creating your dream website doesn't start with a template or technology. It starts with proper planning. Get started planning an amazing website with this free webinar!
Website Planning:
Practical Steps for
Planning a Website
If you want to keep going with your website planning, check out our free on-demand webinar
Is a MasterMind Right for You
I really like being a part of mastermind groups and have joined a few over the last couple of years.
Personally, I like groups that help people hold each other accountable.
What does that mean though, really? 
We all have great ideas, and oftentimes spend too much time discussing those ideas, and not enough time implementing them. We also tend to get stuck analyzing what to do next.
Sometimes, I just need a friend to say "get it done and see what happens."
It's really nice belonging to a group and not having to go it alone.
If your mindset leads to you being part of a mastermind group, that's great!
We recommend you choose a good group of people (who follow the mindset characteristics described above) and not have to go it alone.
I asked Chris to share his story about the dangers of going it alone. Here is that story.
It's Dangerous to Go It Alone, by Chris Garrett
Writing has earned me tens of thousands of dollars over the years, but I never considered myself a writer. Not once. 
In fact, I didn't even apply for writing gigs until deep, deep into my writing career. If I hadn't already seen evidence with my own eyes, I would have never believed it was a possibility for little ol' me.
How can someone who doesn't identify with being a writer, be a writer, and get paid well for it?
This, my friends, is one sample from a long list throughout my life and career of the power of having a strong network.
When you surround yourself with positive, encouraging people, the world becomes not just your oyster but any number of surprise mollusks.
Back before the magazine articles, copywriting gigs, and books, I helped out on email discussion lists and Usenet newsgroups (remember those?).
Once you have answered the same questions a few times, you start to develop a catalogue of copy-and-paste responses. Over time those responses get developed and fleshed out, and become tutorials.
I would publish those tutorials, with a sprinkle of editing, so that I could provide a link rather than copypasta. Those articles got noticed, and I got noticed by people in the community. Not as a "thought-leader" or anything like that, just as a helpful guy. 
As I made connections, the compounding effect made everything grow.
Those articles, combined with my growing network of contacts, attracted my first advertising income, my first speaking opportunities, my Microsoft "MVP" award, freelance gigs, book publishing, and teaching contracts.  
I didn't apply or put myself forward for any of it.
I'm shy, I am introverted, I have low self-esteem. Imposter syndrome is my constant companion. Perhaps you can relate?
My recurring joke is that I have self-esteem via proxy; my friends and contacts put me forward for things I could never imagine myself doing because they believe in me.
When things get me down, and they get me down often, it is my friends and contacts that put me back on track. 
It's dangerous to go alone. 
Want more business insights?
Sign up for our newsletter, and in addition to important updates about what's going on with BizBudding and Mai Theme, you'll get helpful, on-demand, expert advice based on our years of experience working closely with hundreds of ambitious bloggers, creatives, and entrepreneurs.
We've been there. We've made mistakes, and we've had big wins. We know what it takes, what works and what doesn't, and we want to help you succeed.
Join us, and start cultivating a mastermind mindset!
Download the How to Start Blogging Guide
Explore this FREE GUIDE to take a deep dive into how to start blogging to make money. Get a PDF version of this guide right to your email, plus weekly tips from our blogging experts at BizBudding.