Reading Time: ~
13
minutes
No one starts out with an amazing social media presence. We certainly didn't. In fact, we were pretty weak at the game when we started.
We spent the first couple of years at our company developing software. Then we decided to create a content strategy and regularly wrote blog posts on topics that were important to us.
Now that we have more than 30 posts, our plan is to focus on sharing our content on social media. We also want to make it easy for people to share our content too.
Learn About the Most Popular Social Media Sites
Like it or not, social media is a large part of our culture. This means that social media marketing is vital to building and keeping your audience.
We decided it was time for us to learn about the most popular social media platforms. Most importantly, we wanted to learn which was best to reach our target audience, while simultaneously helping our audience do the same.
We hope you find the research we did valuable in deciding how to best promote your blog. Follow these tips below, and reply in the comments on what you found most valuable for your business.
Define Your Target Audience Before You Choose
Before actually creating any social media accounts, start by learning more about the people you'll be talking to. The social sites you choose should reflect your target audience.
For example, if your site's demographic is 30-55+, then marketing your content on Snapchat wouldn't have as much value because most Snapchat users are teenagers and early 20-somethings.
Unless your site is completely new, you can check Google Analytics to see the basic demographics of the people visiting your site.
If your site is completely new, definitely make sure to set up GA so you have access to this information in the future, but in the meantime, you'll need to do a bit of research and spend some time ruminating on who you think your target audience is.
Master Your SEO
Craft + Optimize Content to Make Google Notice Your Expertise and Experience, then Convert Your Traffic Into Sales
Play to Your Strengths & Don't Spread Yourself Thin
Don't overwhelm yourself by thinking you need to post on all social platforms. Choose the ones that you already use and feel comfortable with (so it doesn't feel like a chore). Facebook, Pinterest, and Twitter are the most straightforward if you don't have a lot of social media experience.
You might not be worried about username squatting if you've just started blogging, but it can be a really big deal as your brand grows. Squatters can make money off your hard work or even damage your reputation.
Last but definitely not least, choose social sites based on how you like to create content. Facebook is optimal for any kind of content, but if you really like posting videos then you should post on YouTube. Or, if your content is based heavily on visuals then try Instagram or Pinterest.
The Best Social Media Platforms to Reach Your Audience
With all that said, let's dive into what you need to know about the most popular social media platforms so you can choose the ones that are right for you and your brand.
Facebook
This is still one of the most popular social networks in the United States. Worldwide it has over a billion monthly users. According to the Pew Research Center, 68% of Americans use Facebook. The target demographic in monthly active users is in the 25-55+ age group and has an even split of men and women.
This platform is most important because Google is more likely to rank your site higher if it has a good presence on Facebook. It's best for B2C (business to consumer) marketing, but it works for B2B (business to business) marketing too.
Facebook is easy to use and very versatile. Just about any kind of content format works on this social networking site. Text and image posts are the most common, but videos and stories get the most attention and engagement. The Facebook algorithm prioritizes content that gets a lot of engagement (comments, likes, and shares).
It's easy to keep track of your followers and how well your page is doing with Facebook Insights. This allows you to see how each post is doing with engagement, how many new followers you got, how many people viewed your page, and how your page is doing on a monthly basis. Insights allow you to determine which kinds of posts get the most attention along with the best day and time to post content.
Since Facebook is a social media platform with customer service in mind, it's a fantastic marketing tool if you have an ecommerce site—or a good old brick and mortar—and want to sell products or services. Facebook allows you to run targeted ad campaigns to reach users based on any demographics including age, gender, interests, or location.
Another benefit of Facebook for tracking and measuring sales is the Facebook pixel feature.
A pixel is a piece of tracking code for your website that lets you measure, optimize and build audiences for your ad campaigns.
You can use pixels to track events on your website. You'll know if someone purchased something from your website as a result of Facebook marketing or shares from social media users.
Facebook also has the advantage of Groups where you can make a public or private group for your site or a topic that you blog about. You could also share your expertise by joining an already established group about a chosen topic or field and drawing followers from that group onto your page.
The Groups function can also serve to supplement a course or webinar you're offering so that your students can engage with you and with each other by asking questions and talking about what they've learned. One of our customers, Kimberly Spair of Reclaimers of Health, does this really successfully with a course she runs a few times a year. The group support component (using a private FB group) is a major draw that keeps members returning time after time. Kim has gotten so many fantastic reviews from people expressing how much they love being part of a tribe of like-minded women.
Facebook Live has become a very popular tool to engage your audience. It is a great way for you to interact with your views in real-time. As you stream video live, Facebook shows you likes, comments, and questions.
Follow these tips to make your Facebook Live experience the best it can be:
Make sure you have a strong network connection. Don't be caught using choppy or "buffering" Internet.
Say hello to commenters and reply to them by name.
Pin your favorite or most relevant comments to the top of the chat.
Create longer videos (3+ minutes) that inspire people to continue watching.
Build anticipation by letting people know ahead of time that you'll be live.
You can create authentic and interactive videos using Facebook Live. It's a great way to show personal and "behind the scenes" videos.
Facebook Messenger
Most Facebook users regularly talk to their friends through the Facebook Messenger app. This feature is mostly used for personal, one-on-one or group chats, but according to a Facebook IQ survey, more people are using messenger to connect with businesses and bloggers.
More than 58% of users would rather message a business for customer service instead of calling them, filling out a form on a website, or emailing.
55% of people feel more personally connected to a brand when they message them.
66% of people feel that messaging a business makes them feel more confident about the brand.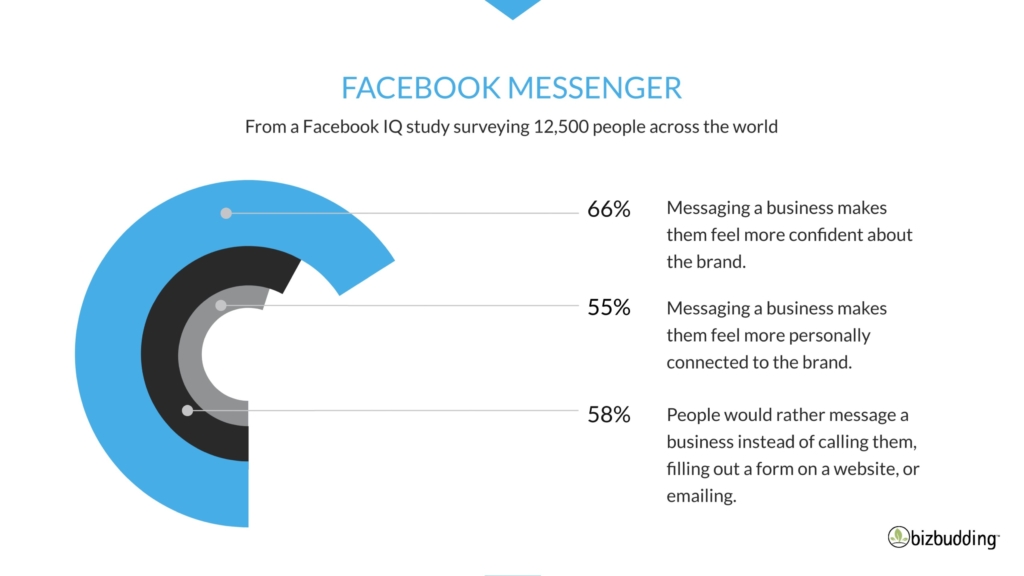 Quick and personal customer service is a major advantage of Messenger that you should tap into once your business grows.
As for marketing content over this messaging app, wait until you establish an audience. You can't just direct message random people on social media with links and offers because you and your page will get flagged as a spammer (plus, it's just rude).
When you do get enough followers, Messenger can be used the same way as an email list. You can send a mass message to your followers with a link to your latest blog post or a reminder for an event you're hosting.
If you want to use it to deliver fast customer service, you should allow people to message you from your page. Just check the box in your Facebook settings to allow people to contact your page privately by showing the Message button.

Twitter
This social media network has a 280 character limit and is more for sharing and reading the latest news around the world. You can see what the day's hot topic is by looking at what's trending on Twitter.
Hashtags (#) and @'s are the main methods of drawing attention to messages (or tweets) on this platform. Adding photos or gifs to your tweets can make them stand out (but use them wisely and not just for attention).
If you have an ecommerce site and you're looking to sell your product(s), then Twitter is another ideal platform. Like Facebook, it's easy to post about products with photos and links. Also, people can interact with you and your brand directly by tweeting @ you which makes for good customer service.
The downside of Twitter is that once you get a lot of followers it can be hard to manage your page and keep track of your interactions. Your followers could mention you by @ing you or with a branded hashtag or by commenting on one of your tweets directly or with a retweet. That's a head-spin-worthy amount of stuff to stay on top of.
On Facebook, follower interaction happens directly on the page's "wall," below a post in the comments, or directly through Messenger, so it's mostly condensed and easily visible.
This tool can be used for real-time tracking of all mentions and engagement between your followers and your content so that you can stay organized and keep your followers happy.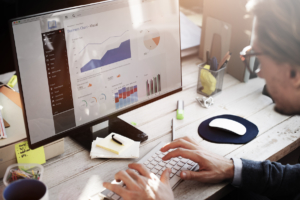 New to website building?
If you're like most people, when you decided to DIY your website, you dove head-first into the technical details. The problem is creating your dream website doesn't start with a template or technology. It starts with proper planning. Get started planning an amazing website with this free webinar!
Website Planning:
Practical Steps for
Planning a Website
If you want to keep going with your website planning, check out our free on-demand webinar
Instagram
The land of the influencers. If you can get a famous influencer to market your brand, it will draw a lot of customers. Or better yet, you or someone on your team can become an influencer by gaining a large number of followers.
This is known as the "style and aesthetic" platform. If you have a blog that involves visually pleasing subjects (fashion, food, crafts, florals, photography, art) then you should be posting and sharing on Instagram.
Instagram can be a great platform for driving brand awareness.
In the beginning, it's tough to get your message out to a large audience. However, it's very easy to get that message to a small audience over and over again.
–The Kidd Group
From that awareness comes interest in the form of engagement. Instagram stories and Instagram live sessions are especially effective at drawing engagement. There are lots of fun Instagram editing apps—like Boomerang and Layout—you can use to make your photos and videos pop.
Pinterest
This app is more for ideas and inspiration instead of engagement. It's the "window shopping" of social media. You can (and should) post things called pins to Pinterest, but people don't really talk to each other here. They mostly just like and add pins to boards to be referenced later.
If you run a food, craft, fashion, or DIY blog it would be beneficial to have a Pinterest account. Pinterest is a great platform for sharing how-to type articles.
Users have a propensity to save articles they want to read at a later time, so be sure to use attractive images (that are sized properly) to draw them back to your pin. The Pinterest search algorithm favors recent, properly sized images.
Pinterest Image Basics
Use vertical images
Use PNG or JPG file types
Use a max file size of 32 MB
Use images that are 1000 x 1500 pixels (or 600 x 900 as a minimum)
Use a 2:3 aspect ratio (width to height ratio)
Check Pinterest's image spec guide for more details. Our post on image aspect ratios shows how it works.
Be careful to not just slap any Pinterest plugin onto your website. Be sure that images that are less than the recommended image size don't have the Pin It icon or capability. For example, our earlier screenshot image is one we disabled pinning on.

Pinterest leans heavily towards women users with a 41% to 16% gender gap. If your content is geared towards a female audience then Pinterest is the right platform, but if you want to market to both genders then you should look at an additional network. Our audience is a great example of this. With Pinterest, we are able to cater to female bloggers, and with Facebook, we are able to reach a broader market (since our audience is about a 50/50 split).
YouTube
A lot of people don't consider YouTube a social media network, but it's actually the most popular one (as well as the second most popular search engine!). About 73% of Americans use YouTube, and this popularity spans all demographics.
If you like posting videos, or if your content would be a good fit for videos, then YouTube is perfect for you. Videos get the most attention over any other kind of content so if you can post videos you definitely should.
LinkedIn
This site isn't just a job finder anymore. LinkedIn has evolved into a professional social media platform that industry experts use as a home base to share content, strategies, and to network with each other.
Having a presence here is vital to B2B marketing and expanding your brand by gaining the attention of leaders in your area of expertise.
We recommend creating a "company" or similar category on your blog. Post customer success stories, company news, and topics related to your industry to this category. Sharing your company posts to LinkedIn is a great way to stay relevant on LinkedIn and to remain an active user on that platform.
LinkedIn Groups are forums or virtual meeting rooms for people with similar interests. You can share your experience and show off your expertise by participating in Groups. It's also a great way to get ideas for blog content and posts.
Reddit
Reddit is more of a stealth marketing site than the larger ones like Facebook and Instagram. You can't directly post content links or make posts directly related to marketing your content on Reddit or it will get flagged as spam.
There is still some merit to having a presence on Reddit though. Hosting an AMA (Ask Me Anything) session along with following/posting in subreddits in your area of expertise can be helpful in getting your name and brand out there. There are a lot of health, exercise, outdoors, and DIY-related subreddits you can read and comment on. These subreddits are also perfect places to get new content ideas.
WhatsApp
The WhatsApp Business app for small business owners (or the WhatsApp Business API for larger businesses), works sort of like Facebook. You create a business profile and you're able to directly communicate with customers on that profile or in a direct message (similar to Messenger).
WhatsApp has a large Hispanic demographic with 49% of users. Only 14% of Caucasians and 21% of African Americans use this app.
Snapchat & TikTok
These social media apps are geared toward teens and young adults.
Around 78% of 18- to 24-year-olds use Snapchat, dropping to 54% of 25 to 29-year-olds.
TikTok is the fastest growing social media app with 1.5 billion users. Of those monthly users, 60% are 16-24-year-olds.
If that's your target demographic or current fanbase then you should have a steady presence on either (or both) of these apps.
Snapchat is mainly used to send short videos (or snaps), photos, and memes to friends. This app originated the stories feature that others like Instagram and Facebook later added.
Snapchat is less polished than Instagram, and it's more for "everyday" users instead of models, celebrities, and "influencers." Snapchat prides itself on being "raw and unfiltered."
TikTok is currently used mostly for making and sharing short music videos. It's been known to make songs and dances popular by becoming memes.
Niche Social Media Platforms
The following platforms are definitely more niche, but worth checking out if they fit the bill for you.
Remember, the biggest takeaway from everything here is that you want to find platforms that fit your audience AND you. Facebook and the others mentioned are huge and diverse; it can be hard to cut through the noise on these platforms and reach your true audience. These niche communities can help you connect with exactly the right people and have fun doing it.
AllRecipes: Recipe sharing and cooking inspiration.
Twitch: Live-streaming service for gamers.
Meetup: A place to find and organize and meets with others in your area around a common cause or interest.
Dribbble: Self-promotion and networking platform for digital designers.
Houzz: Home design, decorating, remodeling. Interior designers, contractors, and architects can showcase their work and services here.
Care2: Network aimed at social change. Great for nonprofits.
Inspire: Health and wellness support groups and communities. Safely connects patients and caregivers.
Instructables: Community for people looking to find, share, and collaborate on DIY projects.
BlogHer: Conferences and blog advertising network for female bloggers/content creators.
There are a lot more niche social media platforms out there, but we tried to hone in on the ones we think would be most useful to you guys. For more ideas check out this post by Convert with Content.
The Bottom Line
The bottom line is that simply blogging about a hot topic and posting it to your website isn't enough to get an audience.
Social networking should be a key part of your marketing strategy because that's how people outside of your personal connections find your content. This is because it can be shared by your current audience to be seen by new readers. Being active on social media and having updated pages can also improve your search engine ranking.
Choose platforms based on your users, your type of content, and what platforms you actually enjoy posting on. Good luck!
Download the How to Start Blogging Guide
Explore this FREE GUIDE to take a deep dive into how to start blogging to make money. Get a PDF version of this guide right to your email, plus weekly tips from our blogging experts at BizBudding.