Be Remarkable with a Mai Personal Brand Solution
We know that in order to promote yourself as a personal brand, it's crucial that you put your best foot forward. You want to be sure you look professional, that prospective employers take you seriously, and that you stand out, but that you still look like YOU.
That's why we created Mai Personal Brand Solution—so you can to promote your work experience, unique skills, or body of work/portfolio in a unique way that gets you noticed. In essence, it's your digital business card.
Get your personal website up and running in no time, fully-integrated, with pre-configured hosting and WordPress settings, and everything you need to start growing your personal brand right now.
Personal Brand Demo Site
We've put together a sample Personal Brand website so you can see what's possible with Mai Solution. Get your hassle-free, pre-built, robust website up and running in no time.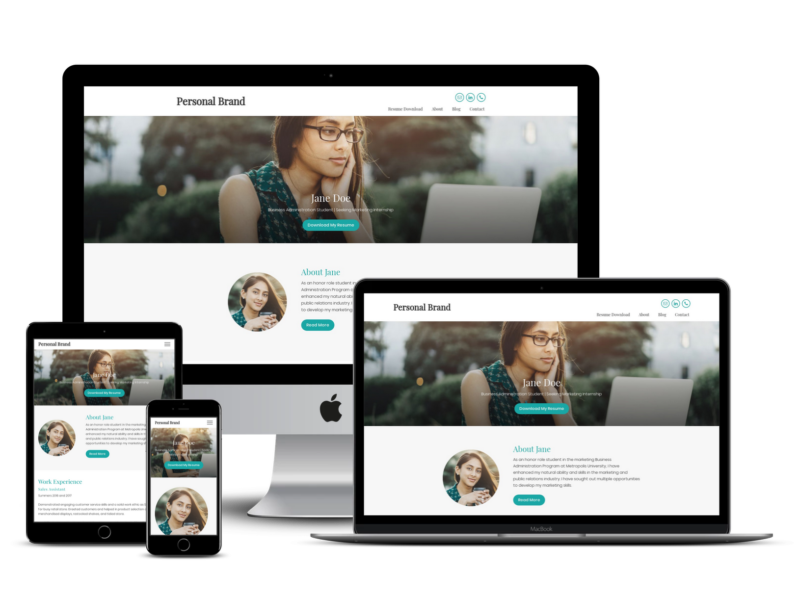 Who Mai Personal Brand Solution is right for…
Students/recent college grads
Scholarship/internship applicants
Jobseekers
Freelancers
Graphic designers
Video game/ multimedia developers
Artists
Writers
Public speakers
Photographers
Personal blogs
Creators of all kinds!
Built & Managed by the Experts
With a Mai Personal Brand Solution, it's easier than ever to share your work and stand out from the crowd. We've been building high-quality WordPress themes and hosting popular websites for years, so we know the ins and outs of what makes a great personal brand website. In turn, we've built these features, functionalities, and design elements into a fully-integrated and tailored solution, so you can get your personal site up fast and hassle-free.
Niche-Ready Design, Tailored Features
The best personal websites all seem to follow a certain set of core guidelines that make them user-friendly, striking a balance of form and functionality. Our Mai Personal Brand Solution is crafted with these design elements and features you need to develop and grow your online presence.

Simple, Modern Design Keeps the Focus on You
When personal branding is your focus, nothing hits the mark like a minimal, modern website design. A clean resume-style homepage gives a one-page roundup of who you are and what you can do, with sections for your bio, work experience, education, and references. Your "About Me" page offers a place to add additional information about you—specialties, interests, hobbies, and more. It's all ready to go so you make a great impression right from the get-go!

Easy to Find Contact Methods so You Never Miss an Opportunity
Prospective employers will have no trouble finding how to contact you with easy to locate contact, email, phone, and LinkedIn profile links right in the main menu. A simple contact form on your homepage and contact page makes it easy to get in touch with you. Easily add additional social media accounts where people can find you.

Full-Width Page Layout Eliminates Distractions
The full-width layout really allows your site to be all about you. The ample white space and lack of sidebar distractions allow your potential clients or future employers to focus on how awesome your work and skills are. This is one of 9 built-in page/post layouts you'll get in your Mai Personal Brand Solution.

Starter Content to Get You Going Faster
It can be a lot of pressure getting the content on your site just right, especially when starting from a blank slate. Included starter content gives you a template to work from. Just plug in your specific details and experience and be on your way. Reducing lag time on this front also means you'll get noticed by search engines and your target audience much faster.

Highly Customizable so Your Site Grows with You
Minimal and modern is not the same as drab and boring. You'll find your Mai Personal Brand Solution comes packed with customization ability so that you can look professional and be the center focus but still look like you. Customize your color scheme, fonts, logo placement, and more easily through the WordPress Customizer. This is where website builders like Squarespace miss the mark.

Showcase Your Portfolio and Get Noticed
Let your work do the talking. Your website comes equipped with features that make it easy to show off your amazing work.
All-Inclusive, 100% Managed
Get your website up and running in no time with your Mai Personal Brand Solution. Hosting, plus the theme, plus the best plugins. All 100% managed and pre-configured for you. Just add your content, and start building something remarkable.