Reading Time: ~
12
minutes
E-learning courses are everywhere. The "new normal" has caused many brands and online businesses to reshape their processes and goals and look for new ways to adapt to the changing world.
The coaching, online learning, and course business model is a viable solution for many entrepreneurs to not only share what they love and help others, but to become more financially independent. We know plenty of bloggers like this, and many are thriving, despite the changing times. Maybe you are one of them or maybe you are on your way there, but you just need a little more guidance.
A successful online course launch can bring in a large and sudden influx of revenue at just the right time, or it can be a great source of passive income if it's an evergreen course.
This post focuses on providing course creators with the step by step know how to market and sell online courses, whether its your first course or your 100th.
We review the core concepts of online course marketing, along with strategies and ideas for landing pages, lead magnets, CTAs, email marketing, and sales funnels. A successful course launch ties all of these elements together. Let's take a look at how.
Free vs. Paid Online Courses
While this post focuses on how to sell online courses, most of the concepts mentioned here can also apply to marketing a free online course or even to another type of product launch with a little adjustment.
A free beginner course can be a great precursor to a more advanced paid course. This could consist of tutorial videos or some other content that introduces the basics of a topic. So when you are thinking about your next course idea, be sure to keep this consideration in mind.
Then, once you know someone has completed a free course of yours, they are the perfect candidate for your new courses that build upon that foundation. Make sure to utilize tagging even on your free products to ensure you are able to segment your marketing campaigns down the line.
Create a Product Launch Marketing Plan
In order to have a profitable online course launch, you need to start with a marketing strategy. Things simply get too messy and stressful without one—been there, done that, no thanks.
Where's the best place to create a roadmap of everything you need to accomplish? Here are some suggestions:
Whiteboard
Pen/paper
Google Docs or Sheets
Basecamp
Trello
Figma, Lucidchart, or other flowchart software
Our team mainly relies on Basecamp for project planning and Google Drive for creating/sharing documents and images.
I am also a huge proponent of Trello for planning out individual blog posts and tracking our blog post schedule and priorities. Everyone is different of course, so choose the tools and methods that best suit your personality and work style.
In this post, we'll review why a content calendar is important, tools you can use, organization tips, and steps to creating your content calendar.
Master Your SEO
Craft + Optimize Content to Make Google Notice Your Expertise and Experience, then Convert Your Traffic Into Sales
What Should My Product Launch Plan Consist Of?
Here's a list of key items you want to make sure you have documented somewhere for you and your marketing team. 
launch date 
pricing
open/close cart dates 
pre-launch checklist – what should happen on the launch day
who is involved – i.e. if the sales team or product development team need to be involved, make sure everyone understands their roles and responsibilities 
links to assets: case studies, testimonials, videos, podcasts, webinars, images, and other resources
value proposition
buyer personas/target market
market research and relevant metrics
email campaigns and automations
tags used in campaigns and when someone purchases
social media marketing (+ which channels you'll tap into – Facebook, Twitter, LinkedIn, etc.)
which email lists your messaging should go to
key influencers to conduct outreach with (if planning on affiliate/influencer marketing)
product page/landing page (could be the same or separate)
related digital products (for upsells or cross-sells)
Step 1: Landing Page
Once you have your digital marketing plan together for your launch, you need to create a landing page to drive traffic to for course sales. Most of us know that already. 
What you may not exactly understand though is what a landing page is, what it looks like, and how to create one.
What is a Landing Page?
A landing page is a page intended to sell a product or convert visitors in some way. It may also be referred to as a sales page. It presents an offer and call to action, typically with a signup form or buy now button. 
Landing pages do not include all the usual navigational links that the rest of the pages on your site do. This is done to ensure the visitor's focus stays on the page they are on.
What Does a Landing Page Look Like?
As mentioned, landing pages are typically streamlined, omitting things like your menus and footer. Beyond that, your landing page can be as simple or as complex as you want. 
However, if you are selling a course, you need a lot more content on the page to convince the visitor to buy. Here are some things that you might want to include.
Typical landing page elements: 
A clear CTA, often disbursed throughout the page
The challenges or objections and the solution (your course/product/services)
Copy/video highlighting your experience to build credibility
"What you get" or "how it works" section (so learners know what to expect)
Money-back guarantee 
The outcome/transformation (don't just highlight the benefits, give a picture of what life could be like)
Real-world savings (give concrete numbers to show value)
Product specifications, demo video, etc. 
FAQs
Testimonials/reviews (endorsements from happy students is one of your most powerful marketing tools)
LearnDash
We build courses in LearnDash—as do many of our clients—so typically we use the "Course" page as our course sales page. This method allows us to utilize the "student" and "visitor" LearnDash shortcodes so we can control what content is seen by whom. 
For example, if someone is a student (has purchased), you do not want them to see the enrollment CTA or all the marketing copy that you would want a visitor (has not purchased) to see.
Below is an example from Reclaimers of Health's 5 Day Reboot course. The image on the left is what a visitor sees. The image on the right is what a student sees, with certain content blocks and the CTAs omitted.
Visitor View

Student View


If you do not wish to use LearnDash, here are some other online course creation platform options:
Teachable
Thinkific
WooCommerce (via the Sensei LMS extension)
Udemy
Podia
Create Revenue While Serving Your Community
Want to learn more about how Kimberly Spair of Reclaimers of Health translates her coaching experience into online courses? Check out Cranktivity podcast episode 4.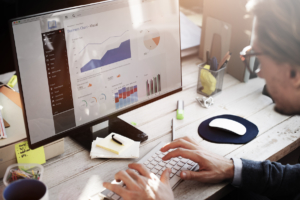 New to website building?
If you're like most people, when you decided to DIY your website, you dove head-first into the technical details. The problem is creating your dream website doesn't start with a template or technology. It starts with proper planning. Get started planning an amazing website with this free webinar!
Website Planning:
Practical Steps for
Planning a Website
If you want to keep going with your website planning, check out our free on-demand webinar
How to Create a Landing Page in Mai Theme 2.0 
If you do not use LearnDash, that's fine. We think it's awesome, but no pressure. You can also easily create landing pages in Mai Theme 2.0. 
Any page in Mai Theme 2.0 can be a landing page by simply hiding certain elements on the page such as the header, footer, breadcrumbs, and more. For that landing page feel, you'll want to hide the majority of these elements.
Check elements to hide them.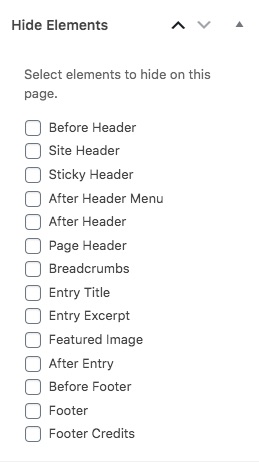 From there you can build out your landing page using the block editor to create clear sections of content that highlight different aspects of your course.
SEO Your Landing Page
SEO (search engine optimization) is important for your landing pages in order to find new audience members and potential customers. 
You should optimize your landing page as you would any other page/post on your website. 
At a minimum, make sure to set a focus keyword and complete on-page SEO. Here is a quick checklist. (Some of the items in this checklist do not directly affect SEO, but they are important for user experience.) 
Proofread.
Add/clean up formatting as needed (headings, paragraph breaks, ordered lists, etc).
Check that all links/buttons are working.
Set the focus keyword. If using Yoast Premium, include synonyms.
Add a meta description.
Add an SEO title/title tag.
Add alt text to all images (describe the image). Bonus if you can include the keyword, but do not force it.
Add captions for images (excluding Pinterest images). (Optional, but this can be helpful for UX.)
If using a featured image, banner, page header, make sure to choose an image with the right aspect ratio to fit your requirements.
Add other visuals as needed (infographics, screenshots, videos, etc.) to enhance the UX and EAT (expertise, authority, trust). Make sure they add value, provide clarity, or tie in the topic. Never add unhelpful/unrelated graphics just for the sake of aesthetics.
Check that all images are sized optimally to balance UX and page speed considerations.
Disable pinning on images that do not meet optimal Pinterest size (2:3 aspect ratio or 1000×1500).
You should also have a good understanding of who your target audience is, what their pain points are, and the transformation they are looking to achieve. This is especially key when it comes to online courses.
People take these courses because they want to learn, they want to grow, and they want to be better. Showing that you understand what they are going through—especially if you've been there—is essential.
Build out your landing page with sections of content focusing on these points.
Step 2: Lead Magnets
If you are using any lead magnets to generate interest in your course, make sure those are set up and running during your pre-launch period.
Examples of good course lead magnets: 
Email series 
Related ebook
Invitation to a free mini-course 
Free content/lesson (could be a page on your site or PDF)
Coupon code
Make sure your lead magnet CTA accounts for how you will deliver the resource to any visitors who opt-in. 
There are a few ways to deliver your lead magnet:
Via an email automation (link to file from Media Library if it's an ebook/PDF). In Active Campaign, you can pick from an automation template, duplicate an existing automation and tweak it, or start from scratch.
Send people to a landing page to download it
Right in your CTA
Step 3: Email Marketing
Please, please do not just bombard your subscribers with email after email about your new product launch or course without offering them anything of value in the moment. 
You'll want to offer your lead magnets on your website in the form of CTA's, but you can also share them to your email list.
You can invite your subscribers to a short email series that teaches something. That way you can build up to talking about your course in a way that is much more organic and not pushy or salesy. 
Another great tip is to rely on your content. You probably already have some posts or high-quality evergreen content that touch on your course topic. Content marketing is a great way to offer a taste of what people can expect to see more of in your course. 
Email Campaigns
As part of your launch campaign strategy, send a weekly/regular email to your subscribers leading up to your launch. 
In your emails, don't just say my course is launching, go buy it. (Actually, don't say that at all…sounds kinda forceful haha.) Instead, share testimonials, an insider glimpse, a related blog post, or other tips and tricks you can tie back to the course. Then mention how your course goes into much more detail if they want to learn more. 
Ask People to Reply to Your Emails
Another marketers trick is to ask people to reply to your emails. Ask them a direct question such as what they are looking forward to or what they are struggling with right now. Not only does this create trust (because presumably you are answering thoughtfully), but when people reply to your emails it boosts your sender reputation with email providers. That means more of your emails ending up in your subscribers' inboxes instead of the Google Promotions tab.
Email Automations
While creating email automations takes some time and set up effort in the beginning, the beauty is that once they are in place, you can use them indefinitely with each course re-launch. Most CRM's allow you to create automations, but some give you a lot more options. In this section I'll be referencing our favorite platform for email marketing, Active Campaign.
Affiliate Automation – If you have an affiliate program, notify your affiliates you have a course launch coming up and how they can promote it to earn referral revenue.
Course Interest List / Email Series – Marketing your course only to those who are truly interested is a much more effective than blasting your offering repeatedly to your entire list. Create a form on your site for collecting these people's emails. Make sure to associate a tag in your CRM with the form so you can marketing to only those who signed up. Then, watch what happens to your conversion rate!
Post-Purchase Automation – When someone converts via your landing page CTA, you want something to happen next. You don't want your new customer to be left hanging with no idea what to do or where to go next. At minimum, send a confirmation/thank you email.
Create a Buyer Post-Purchase Sequence
A post-purchase sequence is a great way to nurture the customer relationship, offer guidance on how to best utilize the course content, and answer questions.
Post-purchase sequences are even more important when it comes to courses. It's not as simple as waiting for your new t-shirt to come in the mail and then throwing it on with your favorite jeans.
When someone buys a course, they are demanding something of themselves. They need to take an active role to make sure success is achieved. As humans, we also sometimes avoid things that are new, challenging, or different. It's easy to get stalled—or never even start—due to life circumstances, time constraints, and excuses. It's your job to make sure your customers stay engaged. They want you to hold them accountable. Nothing sucks more for a consumer than paying for something and never using it—especially when you made a virtual contact with yourself that you were going to better your life and this was the way.
After your purchase confirmation email, send a follow-up/check-in email a couple days later to find out how your customers are coming along and as if they need help with anything. Reiterate key information, where important resources can be found, and how to get help. Depending on the nature of your course (e.g. if it stretches over a fixed time period or includes interaction with you), you may want to create several emails in your follow-up sequence.
You can even start the customer on a buyer sequence connected to the course content. Recap what each day/week of your course covered and share some highlights about what is to come. We have done this for other clients, and it really helps people stay engaged.
Here is an example of a post-purchase sequence for a 4-week interactive course.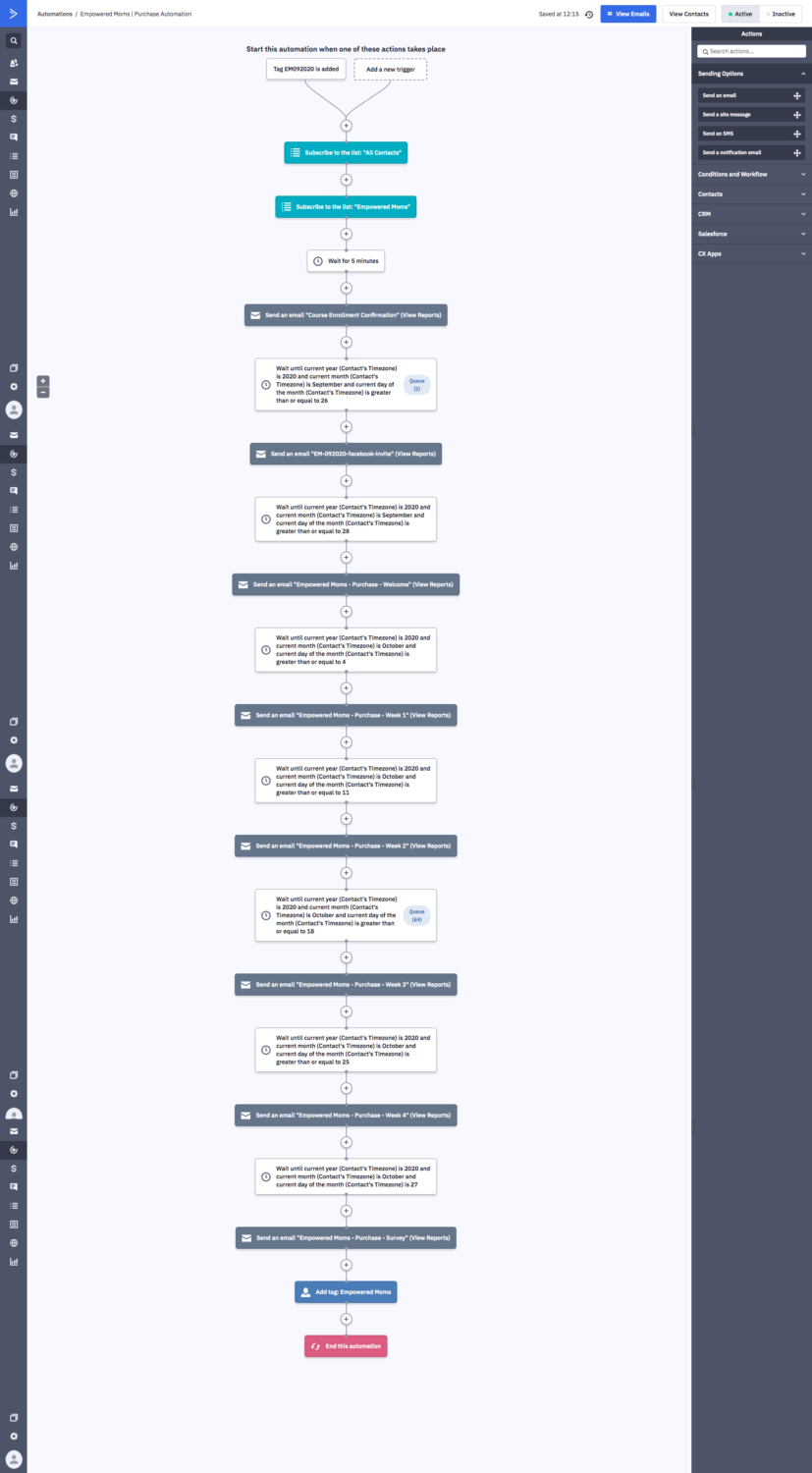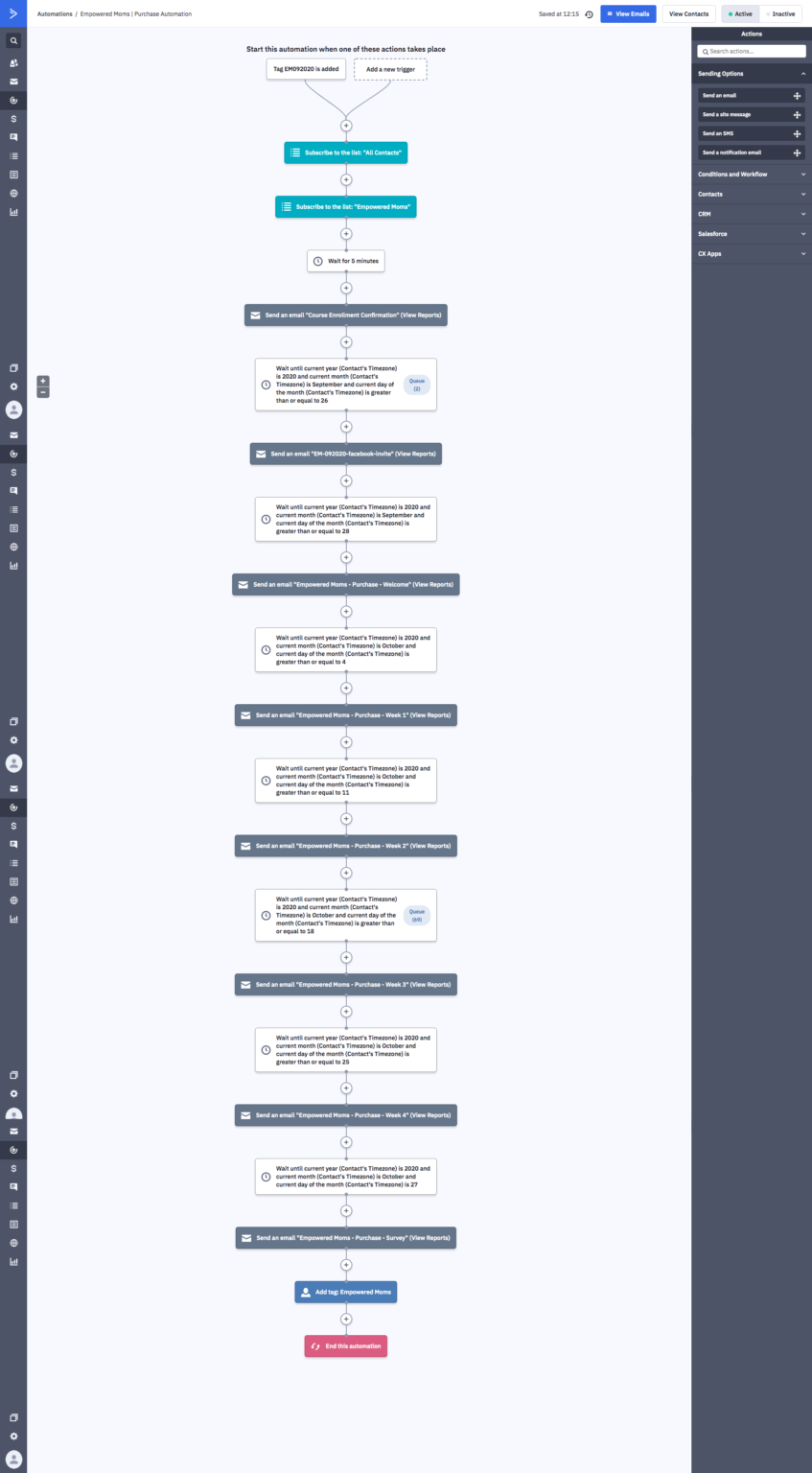 Step 4: Social Media
Check Your Landing Page Before Sharing
Make sure your landing page looks great before you share it on Facebook.
You can crawl any URL to preview what it will look like in a FB post with the Facebook Debugger tool.
Insert your URL and click Debug. If you have not set a Facebook image in your page/post, usually FB will pull in your logo or other default site image which typically ends up looking cut off.
Check to make sure there are no errors. (The errors in the first image below indicate we are missing an image and other meta data.)
For sites using the Yoast plugin, edit your page/post and set the Facebook image in the Social tab of the Yoast meta box to fill in missing fields and attach an image. Update the page/post. This should correct any errors you saw the first time around.
Go back to the FB Debugger and click Scrape Again to see the update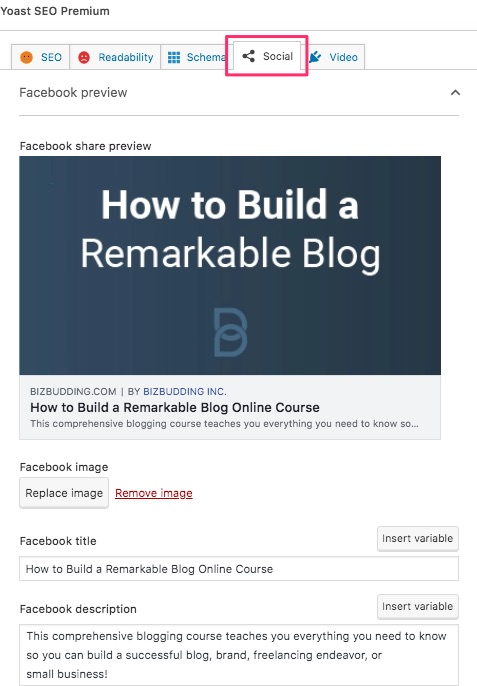 Use Social/Discussion Groups for Interaction
While this is getting into post-launch, I felt it worth mentioning here that finding a way to support your customers during or after your course launch is a great way to build community, increase brand awareness, and further nurture people through the customer journey. 
Many people use Facebook Groups to do this, and while this is a great option, we have recently discovered something even better. It's called Circle.so. In Circle, you can create a community for your course with discussion forums, resources, and more. 
This gives people the ability to ask questions, network, and interact that goes beyond the limits of Facebook.
Course Marketing Checklist
Okay, all of that was a lot, I know. So here's a checklist for you to follow. It's not the WHOLE marketing plan (because I can't do all the work for you 😉), but what does cover is the basic breakdown of your course marketing flow from CTA to purchase.
Create a page on your website to serve as your landing page.
Create a CTA to put on your landing page.
Make sure in your CTA you identify what happens when the visitor converts.

A buy now button can take them directly to the cart by inserting the WooCommerce add to cart parameter in the button link. For example, to add the Mai Delight Theme to your cart, the link would look like this: https://bizbudding.com/products/?add-to-cart=14302 (the number at the end is the product id).
If your CTA is a form, define what happens after someone submits. Are they tagged and dropped into an automation in your CRM? If yes, make sure those pieces are connected and active.

Send a confirmation/thank you email. WooCommerce does this automatically, but you should send your own email to customers through your CRM based on their purchase tag (you'll need to create this).
Send a follow-up/check-in email to find out how your customers are coming along and offer support.
Send a course close/recap email at the end of the course. Tell people what to do next.
Download the How to Start Blogging Guide
Explore this FREE GUIDE to take a deep dive into how to start blogging to make money. Get a PDF version of this guide right to your email, plus weekly tips from our blogging experts at BizBudding.