Reading Time: ~
11
minutes
When you go to a new place, you want to receive a warm and memorable welcome. When you feel welcome somewhere you're much more likely to keep coming back. You can convey this kind of connection with a new customer or email subscriber through the first email you send out. This email is called a "welcome email" for that very reason! In this post, we provide tips and templates to create not just one perfect welcome email, but a whole series guaranteed to impress.
Why You Should Send Them
Your welcome message serves as a first impression to new members and will determine the success of your email marketing campaign. The people who are just joining your email list are the ones most likely to buy from you, so an amazing welcome email is a great chance at making a sale.
Now what we are advocating is not just one regular email, but a series of emails. A welcome email series is typically an automated sequence of emails that get sent out when someone new subscribes to your email list via an opt-in or signup form. We highly recommend Active Campaign to create and set up your email automations.
While it takes a bit more work upfront to create your welcome sequence, once it's done it just runs on autopilot. If you want to make changes to it later for segmentation purposes or for pushing people to another point in your sales funnel, then you'll already have a foundation from which to do so. Here's a quick video clip from our webinar with Zachary Hans of Active Campaign on Email Automation & Best Practices to illustrate this point. (In this webinar Zach and David review how you can optimize your email automations for wider reach and better sales.)
Engaging Subscribers When They Are Most Interested
High Open & Click Through Rates
This is because a new email subscriber opted in to your list voluntarily and is most excited, at that moment, about your content and products. This new member wants to interact with your site and may be just one step away from saying yes and plugging in their credit card details. That's why an effective welcome email often goes hand-in-hand with higher sales rates.
You might be asking why not just send a single welcome email? Isn't more than one a bit much? The answer is that while the first email has the highest chance of being opened, you can't make a really convincing sales pitch in just one email. Your introductory email should be mainly that, an introduction, plus whatever information or bonus you promised. 
There's not enough room to sell your product the way it should be sold in a single email campaign. A quick "Buy our product" CTA tacked on at the end isn't going to lead to many "Add to Cart" clicks. 
While you will be hoping to convert these new leads to valued customers, the goal of the welcome series above all is to provide value and give you the space to do so. The decision to make a purchase comes with a lot of twists and turns for most people, so when you show them that you are there for them and that helping solve their problem is your priority, it develops a level of trust that is the key to conversion.
Unappealing = Unsubscribe
Many companies don't send welcome emails—or any emails for that matter—within the first three weeks of a new sign up. That's just rude (as well as a wasted opportunity)! It shows a lack of care or interest in your new customer, and if you don't care about them why should they want to engage with your content or buy your product? That unsubscribe button is going to get a quick click!
Another guaranteed ticket to unsubscribe city is if your welcome email has a really generic message. It shows that you're only willing to do the bare minimum for your readers and customers.
Welcome Email Subject Line Examples
The next thing to consider, your email subject line. I know, I know lots of people hate coming up with subject lines because it's a lot of pressure to say just the right thing to get your new subscriber to open. But you have an advantage. They are already on the hook and expecting to hear from you. So don't overthink it. A simple "Thanks" or "Welcome" may get the job done, but it's also boring and can be easily overlooked. 
Use a playful, personal subject line to make it clear why they are getting the email and what they can expect inside. Here are some examples:
Thanks for subscribing! Here's your [download/ebook/PDF/lead magnet].

Welcome to the BizBudding crew! Find your [download/ebook/PDF/lead magnet] inside. 

Thanks for joining us! Take a look inside for some awesome perks. 

Here's the [download/ebook/PDF/lead magnet] you asked for. What's next?
What Makes a Good Welcome Email Series
The recommended amount of emails in a welcome series should be 4-6. This gives room for you to introduce yourself and ease your customer in before trying to sell something. You don't want to come on too strong, save the sales pitch for the 4th or 5th email. 
You should send out one email per day until the end of your series. Don't worry about overkill; it isn't. You don't want to space out these emails because it will create a disconnect and lose any momentum between you and your potential customer. You have to hold their attention or they will forget about you and lose all interest. There goes that sale!
Here's a quick description of each stage of awareness, as told by Brian Clark of Copyblogger:
What Goes Into Each Email in Your Series
First Email
Starting with the basics, the first email is the welcome. This is where you introduce yourself, maybe share a little of your brand story, and provide any initial information or resources that the person signed up for. This is often a free download of some kind, but could simply be the email content itself (which includes actionable, helpful content).
Once you have given away the goods, make sure you give people a reason to come back. Tell them what to expect next and even when to expect it if you can. Here's an example: 
Check your inbox tomorrow for the next part in this series where we share our #1 marketers trick you can use to grow your social media presence by 1000 followers in one month.
Below is our Mai Blogging Community welcome email (at the time we were calling it "Launch Community"). This is the first email in a series of three. The goal of this series is not only to welcome new members, but help them start finding their way around and setting up their profile so they can get the most out of the community.
In this email we:
welcome them
reiterate the purpose of the community
provide the login link so they can gain access
give a quick tip for getting started
tell them not only when to expect another email from us, but what it will include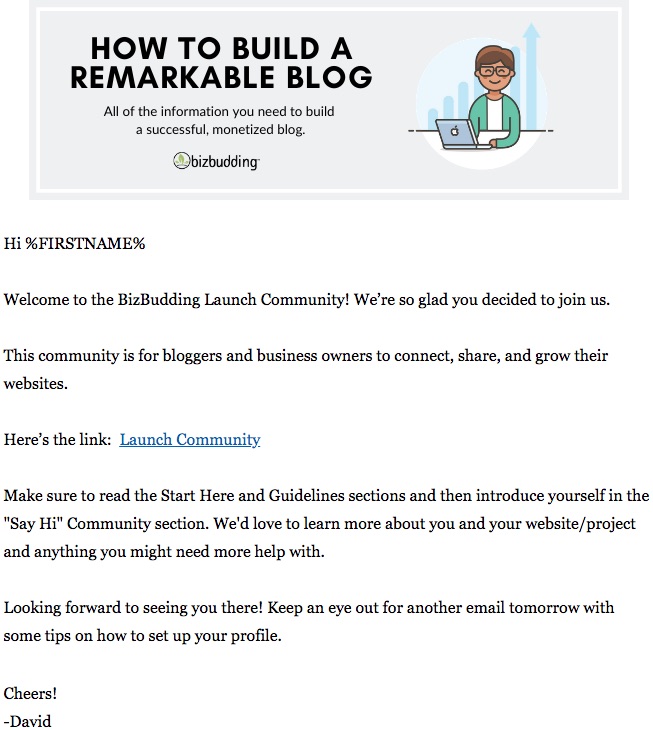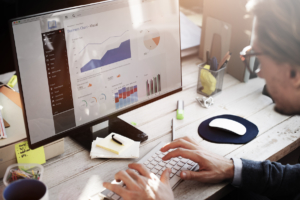 New to website building?
If you're like most people, when you decided to DIY your website, you dove head-first into the technical details. The problem is creating your dream website doesn't start with a template or technology. It starts with proper planning. Get started planning an amazing website with this free webinar!
Website Planning:
Practical Steps for
Planning a Website
If you want to keep going with your website planning, check out our free on-demand webinar
Second Email
The second email should address a problem the new subscriber likely has. You, of course, sell a product or service that can solve that problem but we'll come back to that in a later email. The purpose of this email is to show the customer that there is a solution to their problem and introduce the idea that you can be the hero they need.
This second email should answer these questions:
What issue does the subscriber need help with?
What does the subscriber believe their problem is?
What is their real problem?
How can they solve their actual problem?
The person might think that they can't get their blog off the ground because they don't have any good ideas or that they're bad at writing. Their real problem is more likely that they don't know how to market their blog or they don't know what tools they can use to get started. 
Basically, this email should nudge the reader into acknowledging a problem they may not have been fully aware of and have them thinking about what they can do about it. This mindset will benefit you when you talk more about your products and/or services in a later email in the series. 
Problem / Solution Example
Here's an example to illustrate the above points. We have a post called Content Calendar Planning, Tools, and Steps. Anyone reading that post has probably been struggling with content ideas, staying on track, and actually producing content.
It's not necessarily a lack of skill or knowledge about their niche that has them stuck. It's more likely a lack of planning, research, and/or process. The post seeks to help them understand why a content calendar is important, how it can help them, and presents them with tools, recommendations, and a pathway for creating a content calendar.
All of this is a great place to start for readers. However, I knew people might need something more. Giving them and actual pre-built template and instructions how to use it seemed like the right approach. But all of this was too much for one blog post. So I created a 3-part email series.
Some things we do in our second email of the series include:
a quick intro checking in and re-sharing the templates that were shared in the first email
posing a question and problem – getting stuck on content ideas and how to get unstuck
recommending a place to start (evergreen content)
how to use the templates to make lists of core topics from which to generate these evergreen posts
screen shots and specific instructions
an invitation to reply to the email for more help
a relevant blog post suggestion – 14 Ways to Find New Content Ideas for Blog Posts
a heads up to expect a few more emails with additional tips
Third Email
The third email is where you introduce your product or service to your potential customer. The introduction to your product is the secret main focus of this email. You know that the product is the main reason for this email, but the email's content won't reflect that with a bold sales pitch…yet. 
This email is where you really build a connection with the customer. Make yourself relatable with an "I've been there too" story that's relevant to the customer's problem. Maybe this same situation is why you developed your website/business/product in the first place. Tell a relatable story and tie in your product, and you will likely have built a connection to make a sale. The sale may not happen with this email, but at least you've made the customer aware of a helpful solution to their problem that you would be happy to provide. 
Fourth Email
The next email in your series is where you talk about the many benefits of your product or service. To really go the extra mile in selling, don't just talk about how your product can help the customer right now. Go into detail about how what you're offering can help them in the future too. Longevity is a very convincing selling tool. 
The content of this email should include three levels of benefits that state the whats and hows of your product/service and its value right away, in a few weeks, and in a few months to years. 
Fifth and Sixth Emails
These emails are where you make your hard sell. You can end at a fifth email or you can double down and send out a sixth for an extra push. 
There should be a sense of urgency here with a bold call to action (CTA) along the lines of "Don't miss out" or "Act Now" or "Last Chance Reminder." Really play off of people's sense of FOMO (fear of missing out). A good way to do this is by offering a discount and including a countdown until your deal expires.
Another good persuasion technique is to include a testimonial or two from previous or current satisfied customers. A good review will often be the tipping point that makes a sale. I know I always check the reviews on Amazon or other sites before buying anything, and if I do not have an attachment to a specific brand, reviews are often the main factor that sway my purchase decisions.
Are you coach or consultant? If so you can even consider creating some showcases of your work with testimonials and linking right to those. View the BizBudding showcase for some examples.
Other Types of Welcome Sequences
While what we cover in this post relates to what you say to someone who has not purchased from you, there are certainly cases where a welcome sequence is warranted for buyers. This is a great way to kick off an onboarding workflow. We do this for our Mai Theme customers to make sure they know not only that we appreciate them, but they understand where they can get support and find tutorials and feel confident what the next steps are in creating their website. 
As part of our Mai Theme nurture/welcome series, we do this by sharing four emails, one per day. Each one focuses on another thing our customers can do to complete their website. Here's a great example from email three where we share a pre-launch checklist. Additionally, this email includes a quick pitch of some courses we offer which tie in nicely with the provided content and how to use Mai Theme.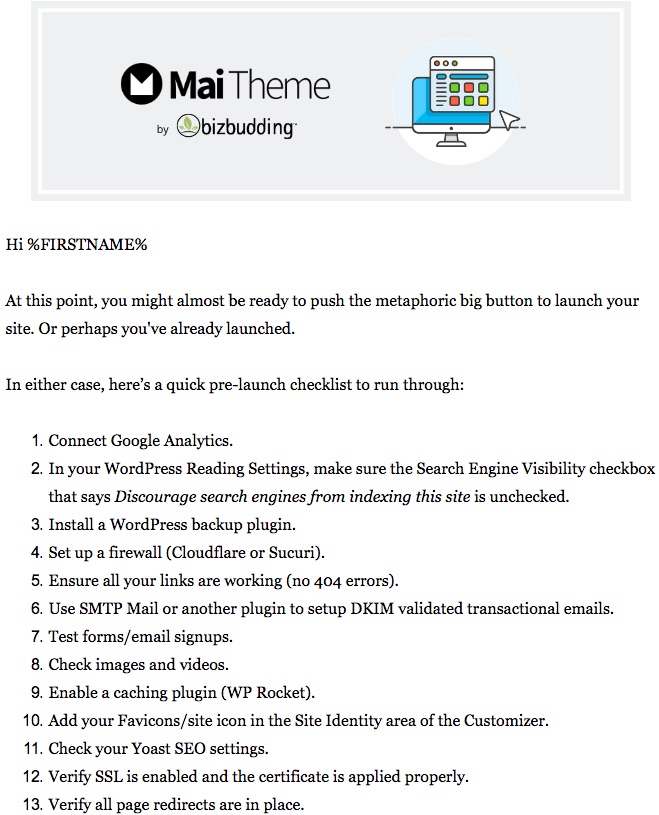 Why do we do this? Well for one, it's just good business and the proper way to treat your customers. The other reason is that we don't want people just buying Mai Theme and then never completing their project because they feel lost or stuck. We want to give them all the tools they need to succeed and ultimately launch a new website and share it with the world.
This is something that is often overlooked in many businesses. Once you make the sale, don't just disappear into the ether. Your customers need you now, possibly more than ever. By nurturing these relationships you secure loyal customers who have the potential to become repeat buyers.
The Bottom Line
A welcome email sequence will be a major benefit to your brand so it should be an essential part of your digital marketing strategy. 
The first email has a guaranteed high CTR and a series gives you plenty of room to go above and beyond with provided great content as well as showing how you can help people even more through your products and services.
These welcome emails will help you build a good, lasting relationship with your customers which will lead to more sales in the future, beyond the sale you're very likely to get by the end of your welcome series.
Download the How to Start Blogging Guide
Explore this FREE GUIDE to take a deep dive into how to start blogging to make money. Get a PDF version of this guide right to your email, plus weekly tips from our blogging experts at BizBudding.