Reading Time: ~
6
minutes
The subject of an email can heavily influence whether or not a user opens your email. However, email is just one piece of the puzzle. You need to build a good experience for your users. Give them great content and connect with them on social media to keep them coming back. The best advice for creating subject lines that work is understanding your audience. If you put in the time and research here, it'll make your job that much easier.
Essential Elements of Great Email Subject Lines
You spend a lot of time and resources crafting your marketing emails. You don't want readers to hit the dreaded delete button because they can't get past the subject. As a writer you may think, "but it's just the subject, what's really important is what's in the email content." That may be true, but the fact is that no one will read past the subject line if they don't find it compelling. The easiest way to ensure someone opens up your email is to create an interesting subject line that piques the reader's interest. How do you do that? We have some great insights to help you create the best email subject lines possible.
So, what makes a great email subject line? Here are some essential elements that your subject line should have:
Direct Benefit
How will opening this email benefit the customer? Are you providing content that may be relevant to a specific pain point your customers frequently experience? Is your company hosting a webinar that will benefit your visitors? Stating this in the subject line is the easiest way to encourage someone to click open.
Curiosity
Have you ever received an email with a subject line similar to "This one simple change increased X Company's revenue by 25%?" Did it entice you to open the email? These types of subject lines work for the exact opposite reason the direct benefit subject lines work. People are naturally curious, and a subject line that plays to that trait is likely to be opened.
Urgency
An email requiring users to take immediate action can be quite powerful. "Only 3 days left to claim your special offer" and "Two Days left to sign up for our webinar!" are a few examples. These subject lines can usually correlate with the previous two items. One, it piques the reader's curiosity (Why do I only have 3 days?) and two, it's offering a direct benefit (What is the special offer? How will this webinar address my business pain points?). One other thing urgency addresses is FOMO (fear of missing out), which people are naturally inclined to experience when they realize they may lose their chance at a great deal. Be careful when using an urgent subject line though. You don't want to over-utilize this type of message as it may come off as spammy. Additionally, beware of using all caps to get attention. It comes across to a reader as if you are screaming at them, which is a surefire way to disengage someone immediately.
An Offer
People love free stuff. Use that to your advantage in your email subject lines. You can use free offers as a way to say thank you, or personalize your emails by acknowledging a special event such as a birthday. Retail companies often send out promotional emails such as "Receive your free birthday gift!", which is an easy way to ensure open emails and click-throughs.
Personalization
A personalized email has a much greater effect on open rates. Readers are less likely to open a cold email that has no relevance to their previous interactions with your website. You have taken the time to grow and nurture your leads to the point of getting them to subscribe to your email list. At this point, you should have a basic understanding of the kind of content that will appeal to the different segments of your email subscribers. It's wise to send out content that is segment specific. Something as simple as "Top ten bars in your city" shows that you're paying attention to where your readers are coming from. We'll talk more about email personalization further down in this post.
News
Use your emails to keep your readers up to date on relevant company or industry information. An email that informs readers about an event they might be interested in, such as  "Announcing the 3rd Annual Robotics Competition," shows that you care about more than just getting them on your website. Customers appreciate being informed, whether it's about a new product launch or an exciting new industry development. It could be as simple as an email that links to a blog post containing current events in your field, or an invitation for an industry-specific event they may be interested in.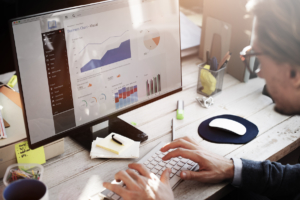 New to website building?
If you're like most people, when you decided to DIY your website, you dove head-first into the technical details. The problem is creating your dream website doesn't start with a template or technology. It starts with proper planning. Get started planning an amazing website with this free webinar!
Website Planning:
Practical Steps for
Planning a Website
If you want to keep going with your website planning, check out our free on-demand webinar
Humanity
Remind readers that the emails they receive come from an actual person, not a robot. Offer them an invitation to interact with you, for example, "Join me for a special event." If they are not invested in your brand, it's going to be much harder to get them to open anything from you, or even keep them from unsubscribing. Thank them for being a part of your community, tell them a personal story that is relevant to your offer, and give them insight as to how you plan to continue helping them. People are more engaged when they feel a personal connection to a brand, so make it a point to use emails to communicate directly with your readers and remind them how great you think they are.
Mobile Friendly
Most people check their email on their mobile device. If you want your message to come across correctly, keep the subject line under 50 characters. Short subject lines are best. Be direct and avoid any unnecessary wording or punctuation. (You don't need to add three exclamation points to the end of your subject, it won't help your open rates – it'll probably actually hurt them.) Leave off terms such as "newsletter," as email recipients are actually less likely to engage with email newsletters.
Timing
Email marketing best practices indicate that timing is critical in terms of email campaign success. You don't want to overload customers with emails. Over-sending emails actually disengages customers because they begin to view your emails as spam, which will not help your email open rates no matter the subject line. Use analytical tools to learn the best times to send your emails and how frequently to send them to ensure the best engagement.

Email Personalization
We know we touched on this above, but let's take a deeper dive into why personalization is so important.
People often sign up for an email list to get a free offer or discount and as soon as they receive it, they are likely planning to unsubscribe. Stop this pattern by grabbing users attention or giving them value, and give it to them quickly, preferably within the next one or two emails. If you get the right people on your list they will be much more likely to stick around and open your emails because they feel like they are a part of your community.
Some of the best subject lines are personalized. A case study released by Marketing Dive shows that personalized email subject lines increase open rates by 50%. Personalized emails are much more successful because they cater to the individual receiving the email.
A/B Testing
A/B testing is extremely useful in personalizing your email campaigns. A/B testing involves creating two versions of your subject line and measuring which performs better. This important because it helps you better understand the type of subject lines your readers will respond to the best. There are various analytical tools you can use to help track the performance of your subject lines. Once you understand how your readers respond, it makes it easier to craft compelling subject lines that will continue to engage them and involve them in your community.
You can use email marketing tools, such as Active Campaign, to help take personalization to a new level. Active Campaign allows you to use tags that will generate the reader's name in the subject line. This can help you track the effectiveness of your A/B subject line tests so you can choose the best performing subject line to send out to the majority of your email list.
Success! Well, almost…
Now that you've gotten your reader to open your email, you want them to click back to your site. Using CTA's in your emails is a great way to draw readers back to your website in order to continue nurturing your relationship.
Some tips for creating clickable CTAs inside an email include:
Provide a clear purpose for why the reader should click through. Use purposeful language such as "learn more" or "register now."
Use the right size buttons. Remember that many, if not most, of your readers will be viewing your email on a mobile device. Make sure your buttons are large enough for mobile users to be able to click through with ease.
Incorporate different colors to make your buttons stand out so that readers know they are supposed to click on them.
Congratulations—you got your readers back to your site! Now what?
Once a reader has clicked through an email and landed back on your site, what are the next steps you want them to take? More importantly, how will you get them to take those steps?
On-site Retargeting
Once a reader has clicked through an email CTA and landed back on your site, engage them with on-site retargeting. This is an effective way to get personalization right and make sure the right customers are receiving the right information. On-site targeting can help ensure that the users continue the experience they had on your site through your email campaigns. Develop CTAs that tag your visitors and divide them into segments. As they continue to move through your site—and ideally your sales funnel—add different tags and give them dynamic CTAs relevant to their actions. Providing relevant information keeps people engaged.
The information you collect through on-site retargeting can help you determine which emails to send to that person. For example, if the user opts in for a free ebook offer, they would receive a tag pertaining to that offer. Then, an automated email with the ebook would be sent to the user. The subject line for these offers should be very clear. "Here is your free ebook." Follow up the initial offer with something helpful. For example, if your ebook promised to help users increase conversion rates, provide a case study showing how the methods provided in your ebook helped another company. This can also help build trust through social proof. Case studies show how you are able to help. Additionally, you're sending them exactly what they asked for and not overflowing their inbox with spammy-sounding offers right off the bat.
Join the Mai Blogging Community
Join the community to get access to any bonus content we've mentioned in this post, blogging resources, Mai Theme video tutorials, and more! PLUS converse with other bloggers and ask questions. (The Mai Blogging Community is free to anyone who has bought Mai Theme or Mai Solution.)