Description
Pretty Printable Planner™ – Clean, Colorful and Customizable.
Paper planners have never worked for me. I love them so much, and I buy tons of them, but never end up using them. I end up with a planner, my Google Calendar, a notebook full of ideas, my blog planning worksheets, and brain dump all in a pile on my desk. It wasn't until recently that the obvious hit me in the face like a ton of bricks. "Hey, Lindsey, why not just combine all of those things into that really pretty binder you picked up last week?" Duh.
Why it Works
As someone who's run their own business for 12 years, I've tried many different planning strategies. My needs as a Mom, Wife and Entrepreneur are constantly evolving. I needed a tailor-made system. A simple one that actually worked for me, not that I try to make work. One that I could add to easily, or remove things from when needed. On top of this printable planner, and the Blog Planning Worksheets, I also use my Google Calendar. This is a system that works for me. I set reminders for meetings, and appointments using my Google Calendar.
Make it Work for You
The truth is, we all have such wildly different lives, and needs, that no single planning system is going to work for us perfectly. The Pretty Printable Planner™ puts YOU in the driver's seat. Print what works for you, arrange it in a way that works for YOU, create additional sections in your binder that help YOU stay organized and actually use your planner. As time goes on, you may want to go from weekly planning to daily planning.
Today's One Thing
I become overwhelmed very easily, so instead of the "top 3" you read so much about in productivity books, I've chosen to add "Today's One Thing". What's the one thing at the end of the day you'll be bummed you didn't complete? The rest of the day's to-do's can go on your to-do list. Focus is important to me, when I have one thing in front of me I can kick that one thing's butt, then happily move on to the rest of my list even more motivated, knowing I did what I needed to do first that day.
A Product Crafted From Necessity
I had no desire to create a planner, because, like I said, I never use them. I also have a million and one exciting WordPress Theme ideas ready to be created, but this had to be done first. When I really sat down and analyzed WHY I don't use paper planners, I knew I had to create the Pretty Printable Planner™. I'm super amped that this printable is clean, colorful, and customizable. AND I left plenty of room for holes to be punched and not get in your way when writing (another pet peeve of mind).
Start Anytime
The Pretty Printable Planner™ comes with fill in dates, so you can start anytime.
As the great Arthur Ashe said ""To achieve greatness, start where you are, use what you have, do what you can."
This planner is waiting for you to begin, no need to wait until January to start planning your year.
Grab your favorite binder, some pretty pens, cute stickers, a set of dividers, and have some fun putting together a system that works for you!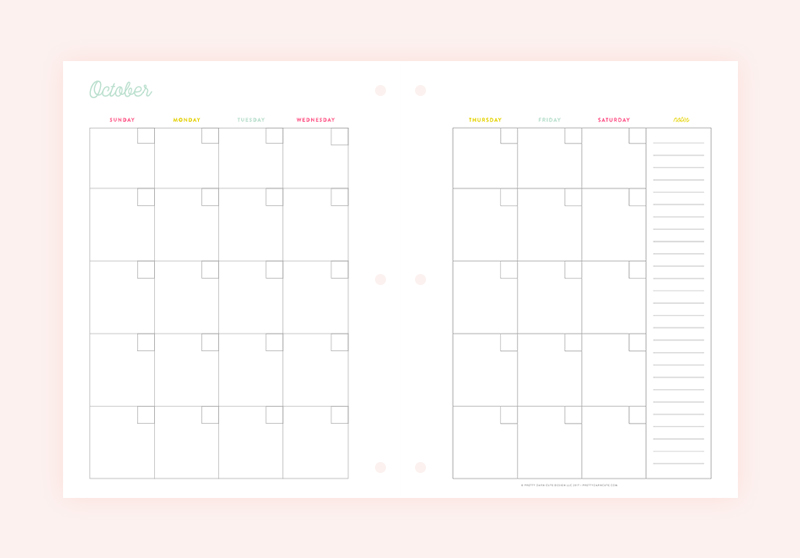 My Favorite Planning Supplies