Reading Time: ~
3
minutes
Why do some bloggers have so much growth and respect while others fail despite countless hours of hard work?
Heck, why does any otherwise smart business fail?
Of course in reality there are tons of reasons why anything happens, and sometimes it is an awful cocktail mix of so many ingredients we never know for sure, but there is one thing I know will always doom any endeavor, and some of us make the same mistake in our personal lives.
What is that crucial element? Read on and I will tell you.
Starting From a Bad Place
I am just getting my feet back under me after a long period of life suck. Part of "getting back to it" is doing my community research to see what bloggers today (both experienced and beginners) need the most help with.
A good spot to hang out for this kind of thing is Reddit. It's convenient because many large subreddit communities exist, and people ask questions that you can answer and also use as inspiration. It can be fun in the right communities too (not so much in the wrong ones).
The /r/blogging is often dominated by people who have a common theme, see if this sounds familiar:
They heard blogging was a good way to make money.
They want to make lots of money.
But they don't want to spend a lot of money.
And they don't want it to take a lot of effort.
And it needs to pay off quickly.
Oh, and it needs to be low-risk.
And it is not just the people who are asking questions who get it badly wrong, it is also some of the advice they are given:
Look for the blog niche with the biggest advertising rewards!
Look for affiliate products with big payouts then write about those!
Look for the biggest competitor in your niche and copy their keywords!
Wait, that is wrong??
Yes, it is wrong, but perhaps for many people only in retrospect.
What mindset do all these things signify?
Me-Me-Me. I want. I need.
"How can I get a big bag of cash, quickly, easily, without any effort. Heck, how can I cheat????"
No consideration of how they might, well, create something of value.
Making Money is Good, Self-Centered Blogging is Bad
Don't get me wrong, blogging as a way to earn money is great.
Some of the smartest and most innovative solutions I have seen were because a genius was lazy one day, so I have nothing against tricks and shortcuts!
But you always have to have that one special ingredient, one that is so important you probably think it is too obvious to matter.
This means you need to have a great solution to a problem (or desire) that an identifiable group of people will find compelling.
It's Not About You, It's About Your Value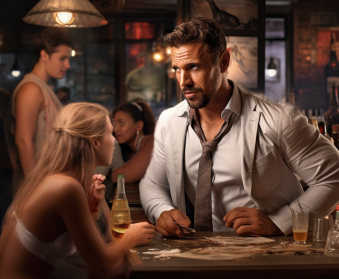 Think about professional networking or if you were suddenly looking to date.
What do YOU offer? Is what you offer something that people are actually searching for?
Immediately some folks think of what they want in a potential partner (business or romantic).
But doesn't everyone else also do that? Aren't your potential partners also defining their own requirements?
People get so focused on what they are looking for, their own end goal, they forget about how to become more appealing.
Start Blogging the Right Way
Before you decide on how you are going to spend your blogging riches, think about who you are going to attract and how.
What do they want or need?
How will you set yourself apart?
Where do they hang out?
That is your foundation, and then the rest of your work begins.
In our step by step guide to blogging, David outlines the correct 10 steps to starting a successful blog:
You articulate the reasons why you want to start your own blog.
You learn important success factors and tips to help grow your side hustle or full-time business.
You learn about writing blog content and how to engage an audience.
You learn how creating a content strategy sets a plan for success.
You understand how your blog design (and blog theme) affects your audience's interaction on-site.
You gain a basic understanding of how to make money blogging.
You brainstorm a clever blog name and domain name—now that you know who your audience is.
You choose a blogging platform and get your website online.
You learn how to promote your blog.
You make money blogging.
No matter how you start, you need the best WordPress theme
Get Mai Theme and 17 Design Templates for Only $99