Reading Time: ~
4
minutes
The world of search engine optimization (SEO) is affected by so many factors from content quality to backlinks to readability. With upgraded software, the industry can only evolve from here. The slightest update to your website can change the way algorithms read your website and the subsequent rank they give it. As much as having a more alluring theme sounds appealing, business owners need to be aware of how WordPress themes can impact SEO and rankings.
WordPress and its Themes
Before we get to the nitty-gritty of explaining how WordPress themes can change your SEO and rankings, we need to first establish what WordPress is.
WordPress is an open-source and online website creation tool so you can use this to create site pages and also use it as a web host. It's effectively one of the easiest and most well-known website content management system (CMS) in the world today.
WordPress is diverse and offers a wide variety of options for your business, allowing you to use it for a blog, e-commerce website, music streaming site, portfolios, social networks, or a news platform. The possibilities are endless with WordPress. It's so user-friendly that WordPress actually powers more than 35% of all the websites on the internet.
As a web host, it can give you your domain (yourbusinessname[dot]com) and a personalized email (yourname[at]yourbusiness[dot]com). With a flexible operating system and a special set of functions, WordPress can always adapt and conform to your needs with little effort on your part.
It also contains a huge selection of themes, both free and premium dependent on your budget and aesthetic goals. This site actively updates its roster, so you'll never run out of options on what kind of layout you want for your website or blog.
SEO (Search Engine Optimization) and Rankings
Search engine optimization, on the other hand, is how algorithms rate websites and their content.
Rankings refer to their place in the search results page within their specific category or industry. Anyone who works in the SEO industry aims for one thing: to rank at the search engine's top ten or first page. I avoid using Google as the main search engine because, with the emergence of new search engines, Google is no longer the only search engine in the game.
SEO specialists and writers want to write quality content that gets recognized by algorithms to get the ranking they need, which will boost the number of users who visit their page and interact with their brand. If done effectively, they can gain loyal subscribers and generate a bigger following thanks to their mastery of search engine optimization.
One thing about this profession is that the terms and regulations of SEO are ever-changing, so professionals are always on their toes and never complacent (some see this as a downside to SEO, while others see it as an upside.)
For the longest time, keywords were the lifeblood of SEO, which determine what kind of content writers would produce to get more readers and customers. But other factors affect SEO rankings, such as content length, backlinks, catchy titles, visuals, and organic integration of keywords, among countless others.
How Themes Affect SEO Rankings
With user experience making its way to the forefront of business priorities, algorithms are now taking into account the themes used for websites. Because more and more users are going mobile, some themes were not made to adapt well to this change. Other than the visual aspect of it, there are other characteristics of your chosen theme that can affect your SEO rankings.
Readability
Due to a smaller screen, visuals that work well for desktop look disarrayed and messy on mobile, negatively impacting readability and loading speed.
Users are turned off and leave the site, opting for an alternative that will provide a better user experience.
Page Loading Speed
Some themes are more complex than others. Because some themes can either load things one at a time or everything all at once, this can affect your page loading time.
Themes that load one item at a time (content first before the sidebars and widgets) reportedly have a faster web loading speed compared to themes that load everything all at once.
It's crucial to have a website that loads relatively fast because studies show that a 100ms delay translates to a 1% revenue loss. To keep this from happening, your web page has to be fully optimized and performing at its best capacity through the use of an effective WordPress theme.
De-indexing
Changing themes can add no-index to your pages. If this happens, the pages where most of your content is posted might not show up in search results at all, which will have a severe impact on your SEO rankings.
Your visibility on search engines is the main avenue through which users can find your website and learn all about your business, so you can see why it's important for your new WordPress theme to keep everything as is and not change little things that can have a significant effect.
HTML
Search engine algorithms linearly read HTML, so having your HTML in boxes and tables can be interpreted differently by this technology.
For example, algorithms scanning a website with a left sidebar on the content page will read the sidebar first, which has little to nothing to do with your actual content. Because the algorithms can't find the keyword in relevant places, it doesn't take into account the actual content that's written on the page because it only ranks the sidebar.
To prevent this from happening, you should always have developers and SEO specialists as consultants when changing themes if you can't assign the entire project to them.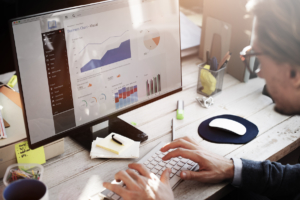 New to website building?
If you're like most people, when you decided to DIY your website, you dove head-first into the technical details. The problem is creating your dream website doesn't start with a template or technology. It starts with proper planning. Get started planning an amazing website with this free webinar!
Website Planning:
Practical Steps for
Planning a Website
If you want to keep going with your website planning, check out our free on-demand webinar
Permalink Changes
Many themes come in the form of templates and are installed automatically. This can be an advantage for users because it requires less effort on their part.
However, the one-click installation process can hurt your SEO rankings because the theme might change all your permalinks.
Keep this in mind when changing themes and make sure that the permalinks from your old theme are retained with your new theme to avoid complications that will hurt your business.
The same can be said about your existing metadata, so don't forget to double-check these as well.