Description
SEO Keyword Report Done For You
With our SEO Keyword Report, we'll help you grow the quality and quantity of your website traffic. By providing the right keywords you can increase the visibility of your website. Show up in organic search using the provided SEO report and keyword ranking strategies.
While we have provided a SEO Keyword Report guide to show you how to do it yourself, we understand not everyone has the time or the experience to do it well, so have us do it for you.
Well-thought-out and researched SEO can take your website from good to great. You already know it is worth investing in and you're ready to seriously improve your SEO to grow your organic traffic. 
SEO Based Keywords For Your Brand
Want to build landing pages that will excel your search engine ranking?
Looking to get started quickly with SEO for your new website?
Get five keyword lists based upon the five stem keywords you provide us. This service will supply you with a comprehensive set of SEO keywords for your brand (5 keywords lists in total).
Stem keywords (aka "head terms") are broad keywords that drive high search volume. Each search word should not exceed two words.
Here's an example of a partial keyword list generated from the keyword stem, WordPress theme.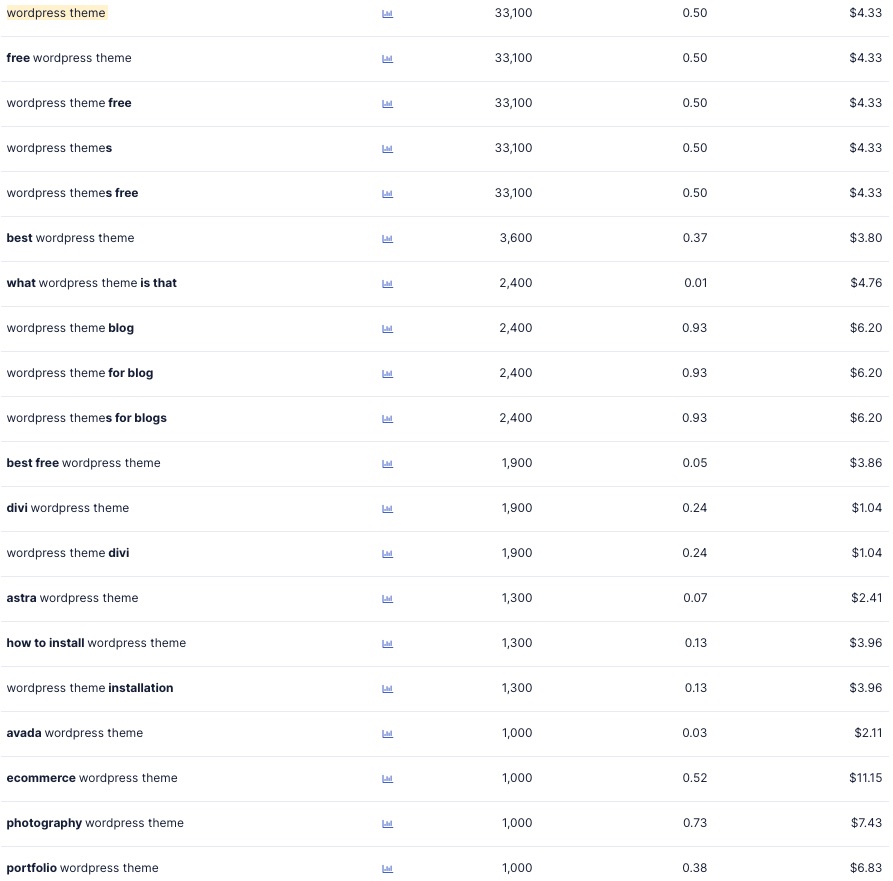 Long-tail keywords or key phrases, which are longer and more specific than more common keywords may get less search traffic but tend to have more value when it comes to your conversion rate. That's because they have greater search intent. Search intent is the reason why a person uses a search engine for keyword search.
Google's index includes organic search results and can contain thousands of matching results sorted by hundreds of ranking factors. That's why the most relevant and highest quality pages end up on page one of Google's SERPs. Getting your content's position higher on the SERP for a particular term requires research into ranking data and SEO metrics. We use specific SEO reporting tools to enhance your SEO efforts.
We suggest you put some thought into gaining a clear vision of your website and niche. This will help you improve user experience as well as to get the most out of your SEO strategy.
Track the improvement of your key metrics using google analytics and google search console.
What you get from our SEO Keyword Report
A 30-minute meeting to discuss your marketing strategy, top keywords, and your customer's search intent.
A detailed SEO report
PDF containing specific search terms (including long-tail keywords)
Top Keywords highlighted for your SEO campaigns
Keyword data specific to your website niche
Pay Per Click Marketing
These keyword reports also work great for PPC (Pay Per Click) advertising. PPC marketing should be part of any digital marketing plan and is a great way to reach your ideal customer. Imagine the impact when your paid search and organic search result are on the first page for your specific keyword. If you're interested in learning how AdWords (now called Google Ads) can fit into your marketing strategy, contact us to learn more.
What the SEO Keyword Report is NOT
This service is not an SEO keyword ranking report. We don't report your keyword rank. Most importantly we're not simply providing you with SEMRush or Ahrefs reports. We provide you with the same reports we use for our own website marketing strategy.