The Best Homesteading Site Template for Homestead and Farming Websites
Technology is changing the way the homesteading and farming community connects and engages with customers, so having a modern and well-designed online home is essential to reaching your prospective customers.
If you are running a homestead, farm, or any family agriculture business, having a modern up-to-date website is key. Let's discuss homesteading and agriculture farm website templates that can help you quickly and elegantly create the right website for you.
What are Mai Homestead Websites?
Now, you might be wondering, what ARE homestead website templates? Well, they're pre-designed designs made specifically for modern homesteads and other agriculture businesses like yours.
These HTML templates give you a head start in creating a great website without all the hassle and technological gobbledygook such as "HTML5, JavaScript, CSS3, PSD, Bootstrap", etc etc. They save you time and resources, so you can spend less time fighting tech and more energy building your business..
With a wide variety of homesteading and agriculture website templates out there, you should be able to find one that suits YOUR farm perfectly. These templates offer different designs that match your brand and show off what makes you special. They often have beautiful pictures of farms, crops, and animals, and they're easy to navigate. That way, visitors to your site can have a great experience while exploring what your farm has to offer.
But it's not just about looking good! Homestead website templates built around WordPress will also come with added functionality and features that cater to your specific business needs and enable you to build your site into not just a brochure but a great resource for others to interact with you or follow your homesteading journey toward their OWN homesteading dream.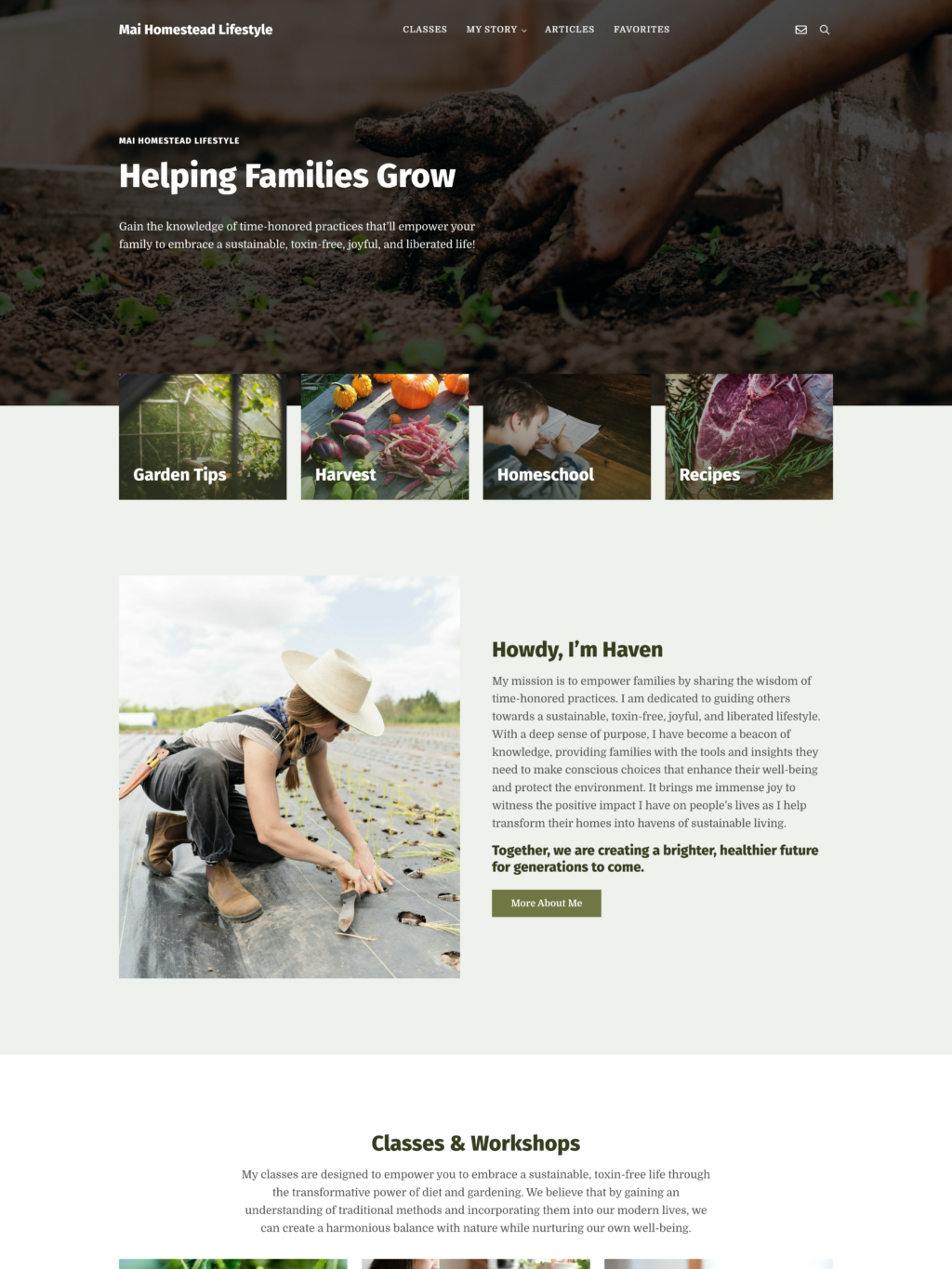 Choose Your Theme Package
Mai Homestead is part of the Mai Theme website templates and starter sites bundle.
Mai Theme Essentials
$99
Auto-renews yearly
90-day satisfaction guarantee

1 year of updates and support

Website Planning Workbook

Website Planning Cheat Sheet
Mai Theme Pro Bundle
Auto-renews yearly
Save $50 when you bundle with Mai Theme Essentials
90-day satisfaction guarantee

1 year of updates and support

Website Planning Workbook

Website Planning Cheat Sheet
Mai Theme Lifetime Bundle
$699
One-time fee
Get everything in the Mai Theme Pro Bundle for life

Lifetime updates and support
Already own Mai Theme and want to upgrade to Mai Theme Pro? Check out Mai Theme Pro standalone.
Mai Cloud VIP Hosting
Let us do the heavy technical lifting for you with Mai Cloud VIP hosting and server management.
First-party data tracking

Custom performance management
You can change plans or cancel your account at any time.
Ideally the web template will give you the power to connect with your audience in an informative and interactive way.
In the following, we'll dive deeper into building your homestead website, the things you need to know, and our recommendations for getting your website up and running, exactly how you want it.
Showcase the quality and care that goes into your farm animals and produce.
Online ordering systems and reservations to allow people to buy from you, maybe honey from your beekeeping or fresh eggs.
Have a frugal living blog where you share your self-sufficient farming knowledge and tips for beginners, such as self-reliance, homeschooling, organic gardening, homemaking, raising chickens.
Launch a podcast where you share your stories about off-grid living, growing your own food, food preservation, composting, etc.
Embed your YouTube channel and show tutorials for DIY projects, homesteading skills, soap making, fermenting, and so on.
---
Why Does Your Homestead Need a Website?
In the world of modern farming and homesteading, having a strong and attractive online presence is crucial for the success of your farm business. A well-designed website not only helps you effectively market your farmstead but also provides a platform to share your story, connect with customers, and even generate additional income.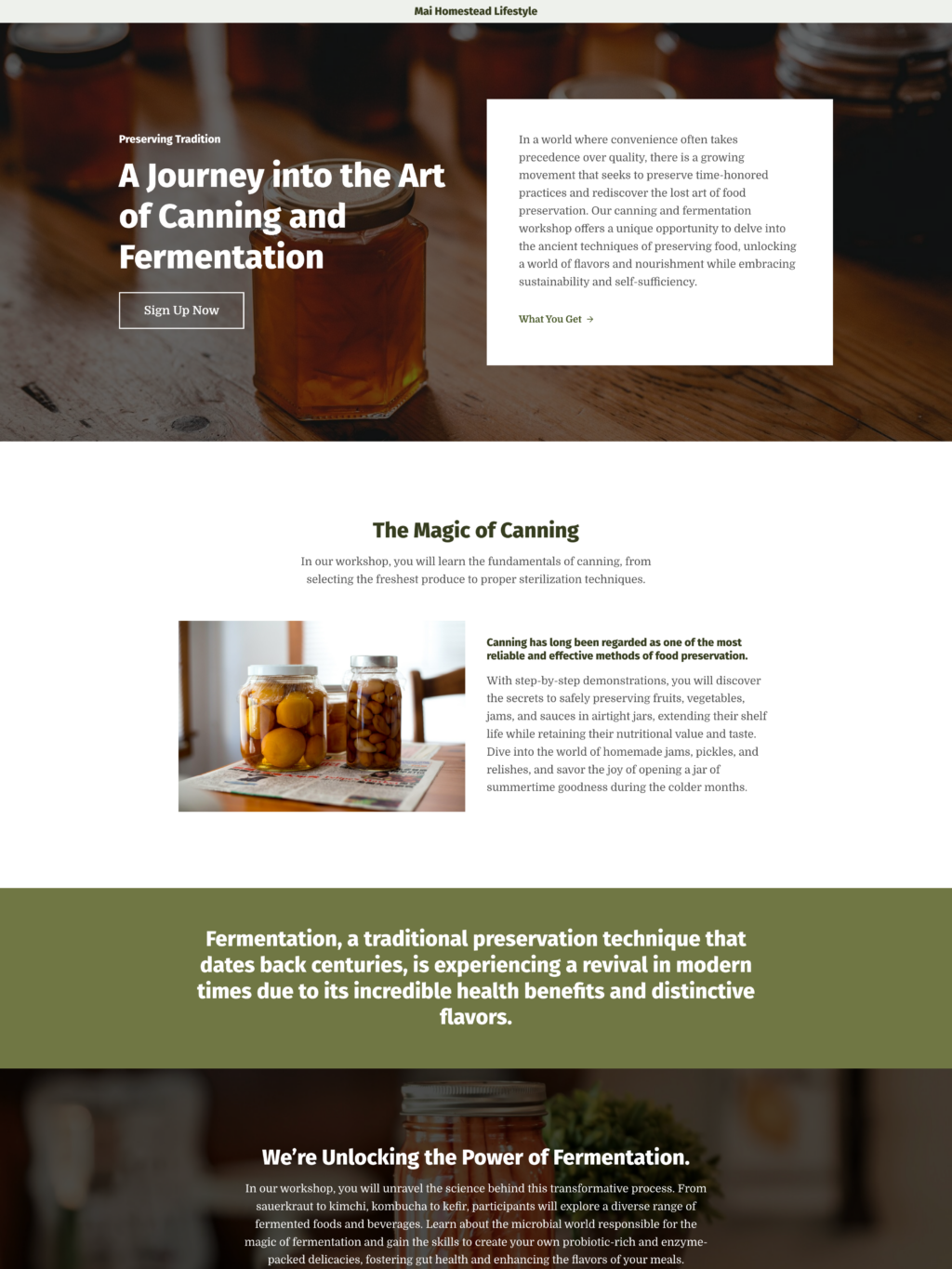 1. Boosting Your Product Marketing (AKA Earn an Income)
A website serves as a powerful marketing tool for attracting visitors and positioning your farm business. It allows you to showcase your farm products, services, and unique offerings to a wider audience. By creating a visually appealing website, you can captivate visitors, provide detailed information about your farmstead, and ultimately persuade them to choose your farm products over others.
Marketing for homesteads and farms requires reaching a targeted audience interested in what you have to offer, and success on search engines (search engine optimization or SEO) and social media platforms require well-optimized websites to achieve this.
Share farm updates and engage with followers, and consider email marketing campaigns to nurture customer relationships.
2. Establishing a Brand Identity
Your website will provide an ideal platform to establish and reinforce your and your homestead's brand. The best homesteading blogs set themselves apart from the herd by focusing on their unique experiences, knowledge and priorities, be it urban homesteading and backyard chickens, to preparedness and being self-reliant. What message do YOU want to convey?
Through carefully crafted content, curated imagery, and a customized design, you can convey the values and story behind your family and farmstead. Share your passion for healthy living, sustainable agriculture, organic practices, simple lifestyle, and animal welfare. By differentiating yourself through your website, you can attract like-minded individuals who are looking to create a natural home, resonate and identify with your values.
3. Creating a Blog or Website for Your Homestead
Building a website for your homestead not only promotes your farm business but also allows you to share your unique knowledge and experiences to help engage with others who are looking for the homesteading lifestyle.
Having a blog section on your website enables you to publish articles, guides, tips and tutorials related to homegrown farming, gardening, meal planning, animal husbandry, and sustainable living. This not only positions you as an approachable authority in your field but also attracts visitors who are interested in learning from your expertise over time, or are just looking for a simple life.
4. Generating Additional Income Streams
Your homestead website can become a source of additional revenue, diversifying your income. Even though the homesteading community is all about self-sufficient living don't deny yourself an opportunity for your business to branch out, simple living does not mean being averse to commerce!
This doesn't even necessarily mean creating something to sell from scratch, you likely already have content or products that you can repackage and sell that will reveal themselves as you grow an audience.
5. About Your Modern Homestead
A good website is a hub for all your homestead-related information, such as an about page to share your family farm's story and values, a products and services landing page to showcase what you offer, and a contact page for potential customers to reach out to you directly. A well-organized website makes it easier for visitors to navigate, learn about your organic products, and connect with you.
Your website is also an ideal platform to showcase and celebrate your successes and the milestones of your homestead. Share testimonials from satisfied organic food customers, blue ribbon winning better hens, highlight awards or certifications you have achieved for your dairy farm (or Henrieta, your single milk cow), and provide a gallery or portfolio showcasing the beauty and productivity of your poultry farm. These elements build credibility and instill confidence in potential fans and customers, encouraging them to choose you over competitors.
In conclusion, building a multipurpose e-commerce website for your homestead is essential for effective farm marketing, establishing your self-sufficent brand identity, sharing your knowledge through a blog, podcast, off-grid YouTube channel, generating additional income streams, and targeting a specific audience interested in sustainable living.
---
What Features Do Homestead Websites Need?
A homestead website is a highly specific kind of business website, wether aimed at the urban homesteading, traditional values simple life audience, or hundreds of acres on the prairie homestead. Therefore it should include various features to effectively showcase your farm, engage with your most-wanted visitors, and provide relevant information that they will be searching for.
Here are some essential features that would be useful for your homestead website:
Home Page: Create an engaging and visually appealing home page that provides an overview of your farmstead. This page template should include captivating images, a brief description of your farm's mission or values, and a clear navigation menu to guide visitors to different sections of your website.
About Us: Dedicate a page to tell the story behind your homestead. Share information about your family, the history of your farm, and your passion for sustainable living. Highlight any unique practices, certifications, or awards that set your homestead apart.
Products or Services: Showcase the range of products or services you offer on a dedicated page. Provide detailed descriptions, high-quality images, and pricing information. If applicable, include options for online ordering or reservation. If you don't currently have products or services to offer, consider sharing links to the specific products and services that you highly recommend for anyone who also wants an off grid homestead, along with affiliate links – this provides a useful resource and is an additional source of income for you.
Blog Articles: Incorporate a blog, articles or news section where you can regularly share homesteading tips, updates from the farm, natural living insights, and educational content related to farming, gardening, sustainable living, home remedies, or any other relevant topics. This helps establish your expertise and keeps visitors engaged.
Photo Gallery: Create a visual gallery featuring images of your farmstead, animals, crops, and products. This gives visitors a glimpse into the daily life on your homestead and helps build an emotional connection with your audience.
Contact Information and Directions: Make it easy for visitors to get in touch with you and find you. Include a contact form, email address, phone number, and physical address, if applicable. Consider integrating maps or directions to help visitors locate your farmstead. It's especially important that this be a responsive website template due to the fact they might already be on the road when they need your directions the most!
Events or Workshops: If you host events, workshops, or farm tours, create a dedicated page to provide information about upcoming or past events. Include dates, descriptions, registration details, and any requirements attendees need to be aware of.
Testimonials and Reviews: Display testimonials or reviews from satisfied customers to build trust and credibility. Consider featuring photos or videos of customers using or enjoying your farm products or services.
Bonus Resources or Digital Downloads: Bloggers often provide resources such as herbal remedies guides, food recipes, seasonal gardening tips, or informative PDFs that visitors can download. This adds value to your website and encourages visitors to sign up for your email list so they will return again and again for more valuable content. Melissa from melissaknorris has real food recipes and meal planning guides to download, Laurie from CommonSenseHome offers a preparedness tutorial to email subscribers, whereas Jill from theprairiehomestead offers cheat sheets and checklists.
Social Media Integration: Integrate social media buttons, image feeds, or links to your social media profiles. This allows visitors to easily connect with and follow your farm on platforms like Facebook, Instagram, or YouTube, expanding your online presence.
Email Newsletter Subscription: Include an option for visitors to subscribe to your newsletter. Collect their email addresses and periodically send updates, promotions, or exclusive content to nurture your relationship with your audience.
Frequently Asked Questions (FAQs): Anticipate common questions from visitors and provide clear and concise answers on a dedicated FAQ page. This helps save time by addressing common queries upfront.
Sustainability Practices: If your homestead follows sustainable farming practices, highlight them on a dedicated page. Explain your commitment to organic farming, natural remedies, regenerative agriculture, or environmentally friendly practices, showcasing your dedication to responsible land stewardship.
Links to Local Resources and Small Businesses: Consider providing links or recommendations to local farmers' markets, co-ops, landscaping companies, or other relevant organizations in your community. This demonstrates your support for local food systems beyond the chain grocery store, and encourages visitors to explore other sustainable options, or simply gives them a recommendation for who can do their property taxes.
The specific needs of your homestead may vary. It's not just about picking a website design, adding your logo to the header, and maybe selecting a color scheme before calling it done and sticking with it – You need to be able to customize your web design to reflect the unique aspects of your farm and ensure a user-friendly and visually appealing design throughout.
---
WordPress versus Homestead Website Builders: Choosing the Right Platform for Your Homesteading Site
When it comes to building a website for your homestead or any small business, you have several options available. The main categories to choose from are WordPress, which is according to some reports around 43% of the web, and site builders such as Wix, Weebly, Squarespace, and so on.
Before grabbing your credit card and starting your own website creation, let's compare and contrast these platforms using key factors such as pricing, templates, SEO, ease of use, integrations, and customer support to help you make an informed decision.
1. Pricing
Homestead site builders offer different pricing plans to suit your situation. Business plans will offer more than starter plans which offer more than you get with the trial free website, and so on. How much you pay will depend on your bandwidth use, number of visitors you expect, and how much storage you take up, SEO services, if you register a personalized domain, and any other premium add-on you select.
WordPress on the other hand is an open-source platform, meaning the software is free to use, but you'll need to pay for web hosting services and a domain name. There are a wide range of vendors for hosting WordPress websites, from cheap mass-market offerings like GoDaddy, through to super premium providers for websites that absolutely must never go offline.
It's important to compare the costs of these options and determine which fits your budget and long-term goals.
2. Templates
WordPress boasts a vast library of customizable templates, known as themes, which cater to various industries and website types, and we offer designs especially for homesteader websites. These themes provide a foundation for your website's design and functionality for you to then customize via visual formatting tools rather than editing HTML code.
Site builders also offer a range of templates to choose from, allowing you to personalize your website's appearance, but if the functionality you need isn't already provided then you might find solving for that a problem.
3. SEO (Search Engine Optimization)
WordPress has excellent SEO capabilities, with plugins like Yoast SEO or All in One SEO Pack that help optimize your website for search engines. These plugins provide guidance on meta tags, URL structure, and content optimization. Site builders often claim to offer built-in SEO tools and features to optimize your website for search engines. Look for yourself how often homestead websites appear in search results versus those built with site builders to judge the real-world SEO capabilities of each platform and how they align with your website's visibility and rankings on search engines.
4. Ease of Use and User-Friendly Features:
WordPress requires some initial setup, but it offers immense flexibility and control over your website's design and functionality. Homestead site builders, on the other hand, often provide a pre-built fill-in-the-gaps experience. Do you want a lot of customization or a paint by numbers approach for your brand?
5. Integrations and Apps
WordPress has a vast ecosystem of plugins and integrations that extend its functionality. You can integrate various third-party tools, such as e-commerce plugins, contact forms, social media integrations, and more. Homestead site builders do offer built-in widgets that can enhance your website's functionality. Consider the specific integrations and apps that are essential for your business and ensure that your chosen platform supports them.
6. Customer Support and Tutorials
WordPress benefits from a large and active community, offering extensive documentation, tutorials, and forums where you can find answers to your questions. Additionally, many web hosting providers offer WordPress-specific support. Homestead site builders typically provide customer support through email, chat, or phone, ensuring you can seek assistance when needed. Consider the level of customer support and availability of tutorials and resources that are important to you.
Ultimately, the best website builder for you between WordPress and commercial site builders depends on your specific needs, the technical expertise you have on hand, and long-term budget. WordPress offers unparalleled flexibility and scalability, making it suitable for businesses of any size. Homestead site builders provide user-friendly drag and drop interfaces that can get you website building quickly, while perhaps not evolving with your business as it grows.
Check Out These Mai Homestead Demos
With Mai Theme for WordPress we've built the following responsive, SEO friendly, modern designs specifically for homesteads and farms.
Frequently Asked Questions About WordPress and Homestead Websites
Building a website for your homestead using WordPress can be an excellent choice, as it provides a user-friendly platform with numerous customization options that save you having to build something from scratch. However, if you're new to WordPress or the concept of homestead websites in general, you may have some questions.
Let's now address frequently asked questions about WordPress and homestead websites to help you navigate the process more confidently.
What is WordPress, and why is it suitable for modern homestead websites?

WordPress is a super popular content management system (CMS) that allows you to create and manage websites with ease. It offers a user-friendly interface, extensive theme and plugin options, and a robust community for support. WordPress is suitable for homestead websites because it allows you to showcase your farm's offerings, share your knowledge, and engage with your homestead's audience through blogging features, photo galleries, and more.
Do I need coding knowledge to use WordPress for my homestead website?

A: No, you don't need extensive coding knowledge to use WordPress. It provides a visual editor that allows you to create and customize web pages without writing code. While a basic understanding of HTML and CSS can be beneficial for advanced customization, the tools that come included with Mai Theme make that unnecessary.
How do I get started with WordPress?

A: To get started, you'll need a domain name and web hosting. Many hosting providers offer one-click WordPress installations, making it easy to set up. After installation, you can choose from thousands of free and premium themes to give your homestead website the desired look and feel.
Can I customize the design of my homestead website?

Yes, WordPress offers extensive customization options and Mai Theme takes that approach even further. First choose from our wide range of theme templates to find the one that most closely aligns with your homestead's aesthetic and brand. Then, using the visual theme customizer, you modify graphics, colors, fonts, layouts, and other design elements.
How do I add content to my homestead website?

Adding content to your WordPress website is simple. The platform provides a user-friendly editor where you can create pages and blog posts. You can add text, images, videos, and other media elements using the editor's intuitive interface. Additionally, WordPress supports plugins that can enhance content creation, such as page builders and visual editors. Mai Theme includes many attractive pre-built "blocks" to make creating richly visual and engaging content super easy.
Can I sell products from my homestead website using WordPress?

Yes, you can integrate e-commerce functionality into your homestead website using WordPress. On activation, Mai Theme will install the WooCommerce plugin which is a highly popular choice for creating online stores. It allows you to showcase products, manage inventory, set up payment gateways, and handle orders seamlessly.
How do I optimize my homestead website for search engines?

Mai Theme is already highly optimized out of the box, but in addition WordPress offers several SEO plugins, such as Yoast SEO or All in One SEO Pack, which help further optimize your website for search engines. These plugins provide guidance on optimizing page titles, meta descriptions, headings, and other on-page elements. Additionally, you can create high-quality content, use relevant keywords, and build quality backlinks to improve your website's search engine rankings.
How can I make my homestead website mobile-friendly?

All our WordPress themes are designed from the ground up to be mobile-responsive, meaning they automatically and elegantly adjust to different screen sizes.
Can I track the performance of my homestead website?

Yes, you can track the performance of your WordPress website using various analytics tools. The most popular default option is Google Analytics, which provides insights into website traffic, user behavior, and conversion rates. If you need more advanced and granular tracking that goes beyond Google Analytics, we have a solution we can demonstrate for you. By tracking these metrics, you can make informed decisions to improve the performance and effectiveness of your homestead website.
How do I secure my homestead website?

Security is crucial for any website, including homestead websites. To enhance the security of your WordPress site, you can follow best practices such as using strong passwords, keeping themes and plugins up to date, and regularly backing up your website. Installing security plugins like Wordfence or Sucuri can also provide additional protection against malware, brute-force attacks, and other security threats.
Can I integrate social media into my homestead website?

Absolutely! Integrating social media into your homestead website allows you to extend your online presence and engage with a wider audience. WordPress offers numerous social media plugins that enable you to add social sharing buttons, embed social media feeds, and connect your website to your social media profiles. This integration encourages visitors to share your content and helps you build a strong social media presence for your homestead.
How can I optimize my homestead website for speed and performance?

Website speed and performance are vital for providing a positive user experience. As well as hosting performance, compressing images, and keeping the number of unnecessary plugins to a minimum, increasingly important is using a WordPress theme that delivers the website design and content efficiently.
Can I manage my homestead website on the go?

Yes, WordPress offers mobile apps for iOS and Android, allowing you to manage and update your homestead website from anywhere. With these apps, you can create new posts, respond to comments, check analytics, and perform various administrative tasks conveniently from your mobile device.
What if I need help with my WordPress homestead website?

In addition to support directly from BizBudding, the team behind Mai Theme, WordPress has a vast and supportive community. You can find answers to your questions on forums, blogs, and official WordPress documentation. Additionally, there are numerous online tutorials and video courses available that can guide you through the process of building and managing your homestead website. If you require more personalized assistance, you can hire a WordPress developer or seek professional support from WordPress experts.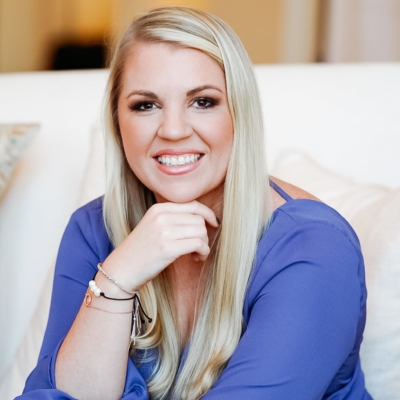 "People constantly ask me how to get started blogging. Over the past decade, I've tried and tested dozens of tools, platforms, and resources and none compare to Mai Solution, which is now my "go-to" recommendation for building a great-looking, high-performing website at a fraction of the cost. I highly recommend it! and count on Mai for Wellness Mama."
DIYers and Elite Bloggers Love Our WordPress Website Templates
While we're partial to Mai Solution for website hosting, you can use Mai Homestead or any of the Mai WordPress website templates on any WordPress hosting platform.
Powered by WordPress
With WordPress now powering 40% of all sites across the web, it is our platform of choice because its content management system and flexibility puts bloggers and website owners in control of their content.
All of our stunning designs and website templates are powered by WordPress, our Mai Engine Plugin, and a collection of premium plugins that deliver the features successful bloggers and content creators need.
Easy and Fast to Customize
Our WordPress templates are block-based and designed to provide ultimate flexibility. Mai Theme makes it easy to change up everything from the logo, colors, and typography, to images, page layouts, and content.
Plus, we know you're unique and don't want to limit your creativity to one template. With access to Mai Theme, you can pick and choose your favorite features in our designs and combine them to create a site you truly love.
Meticulous Control Over Details
Our Mai Engine Plugin, included with every purchase, brings extensive controls to WordPress that empower you to customize everything on your site down to the tiniest of details.
Want icons instead of images, four columns instead of three columns, image backgrounds, centered text, or content blocks that reach beyond the margins? Not a problem—and in most cases, you can get it done in just a few clicks. No custom code or expensive developers are needed.
Powerful Built-In Integrations
We empower you to create a site that not only fits your immediate needs, but grows with you as your brand evolves and your reach expands.
Whether you want to sell products, build affiliate revenue, launch an online course, build a membership, or drive ad revenue, you'll appreciate our seamless integrations with popular solutions like WooCommerce, LearnDash, and Google AdSense.
Retina-Ready, Mobile Responsive
Building a successful digital brand, growing an audience, and reaching your goals, means your site needs to look amazing and be easy to use in every browser and on every device regardless of size or type.
Mai Theme is mobile responsive so your content looks beautiful and is easy to engage with on any device. It also comes retina-ready so your content renders crisply and beautifully on high-resolution screens.
Optimized for Search Engines
From the code that powers our WordPress plugins and website templates to the designs that provide a gorgeous foundation for your big vision, everything we create adheres to current code standards and web development best practices.
Mai Theme and individual block components are optimized not only for search engine friendliness, performance, and speed, but to deliver premium user experiences that will have visitors coming back to your site again and again.
More About the Mai Homestead Theme for WordPress
Mai Homestead's minimal layout and simple yet elevated design make it the perfect template for creators, authors, and photographers who want to take their website to the next level and showcase their work. It's pure genius.
Simple Setup Wizard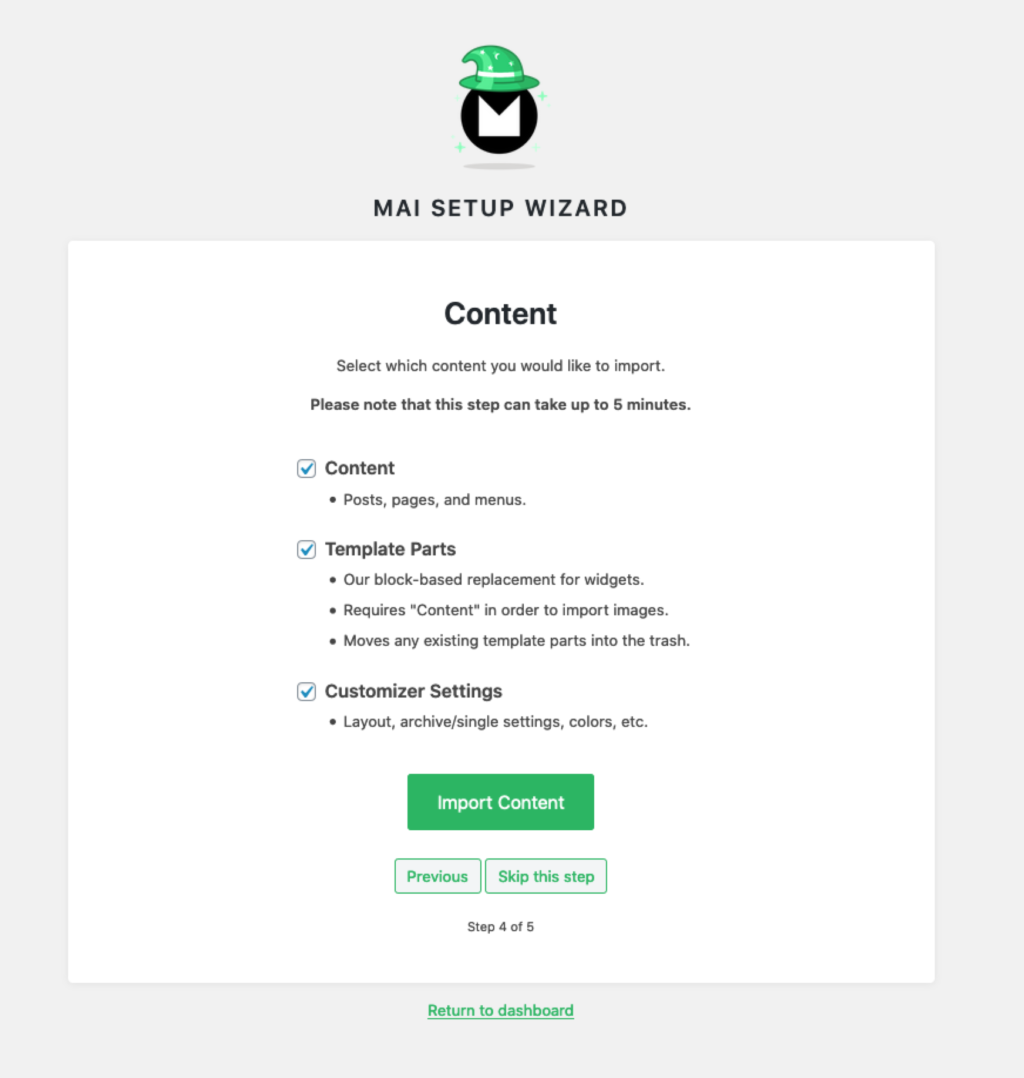 Easy to set up and easy to customize means you can dream big and shoot for the stars—with essentially a one-click install.
Our Mai Theme Setup Wizard offers a one-click install that will have your site ready in mere minutes.
Sample content for your homepage and blog means all you have to do is replace it with your own.
Extensive customizer and block component controls make it easy to customize every content type down to the tiniest of details.
No need to learn code, CSS, or JavaScript, or to hire expensive designers and developers.
Easily add affiliate links, create your author bio, showcase testimonials, and display Instagram posts.
Built-in integration with WooCommerce, Google Adsense, and LearnDash to make earning revenue easier.