Reading Time: ~
6
minutes
Make it easier for major search engines to understand what your content is about by adding schema markup and structured data to your content.
Structured data allows you to markup reviews, products, audio content, and many other information types so that Google (and other major search engines) can better understand what your web pages and the content on those pages are about. Search engines can then present your content using rich text results.
It's not certain if structured data helps increase search rankings for organic search. It is clear that Google likes structured data and rich text—there is an abundance of rich snippets in search engine results that go way beyond that standard blue link.
I believe structured data and schema markup might be as important in 2020 as page speed was in 2018.
Read Transcript

Sarah: David what is schema?

David: Schema is like a road sign that tells search engines what your content is about. And you know a couple years ago everybody started talking about page speed and how it was going to be important. Schema is that way now in 2019, and I think it's going to be really important in 2020. Schema is going to describe what your content is about. Is it a video? Is it a recipe? Are you a business? Are you a local business? Are you creating a rich snippet that you want to show up properly on Pinterest?

So schema is a way of describing what your data is about and we see some real leaders in search like Yoast. They have a wonderful plugin for tracking your SEO and helping you understand your keywords in their newest version. They've really focused on starting to implement schema and we're going to include for you quite a bit of information about schema. This is something that is relatively new and growing but it's been around for a little bit. But I think the focus on it is something that you're going to want to pay attention to and be prepared to really delve into once you get all the other components of your website really tuned up.

Sarah: Now one of the things that I want to sort of emphasize for everyone is that it sounds like it's something that's very technical but plugins like Yoast make it really really straightforward to have really strong schema and inform search engines what your content is about. It's a very user-friendly way to do it. That's what I'm trying to say. It's not something that is so technical that it's not accessible. That's one of the things that were really trying to focus in on. This course is making all of the technical sides of blogging something that everybody can actually do and get dialed in.

David: And throughout the course, we have pro tips and we have informational tips that kind of give you those little hints of "Hey use this plug-in or try this." We manage several hundred sites and we know which plugins really work and which ones don't, but schema is something that we're seeing really starting to take shape. There are a couple different plugins, and if you get the right theme—we talk a little bit about plugins and themes [in this course] … it really will make a difference and I think that people will see a huge change in 2020 with it.

What is Schema Markup?
In simpler terms, schema markup provides direction to search engines the way road signs provide direction to drivers. We all know it's much easier to navigate when road signs such as slippery when wet, sharp curve ahead, or school zone forwarn us of road conditions. Road signs provide clarity for what is ahead.
The same principle of clarity applies to information and your website. You want to send clear signals describing your content by implementing structured data with schema markup. Schema markup helps search engines to understand what your content is about.
We can demonstrate this with an example of a local business. Using the right data types, you can describe your business with item properties such as phone number, type of service, and business hours. Apply this concept to your blog. Does your blog represent you as an individual or a brand? Or does your blog represent you as part of a local business with a physical location and office hours?
Open up a Chrome incognito window and search your domain name. What results do you see? Any rich snippets?
Why is Schema Markup Important?
Marking up certain phrases and items on your site lets searchers see key information at a glance while helping them decide whether to click through or move on. If you search for specific products, like the Echo Show, you'll be met with a SERP that looks like this: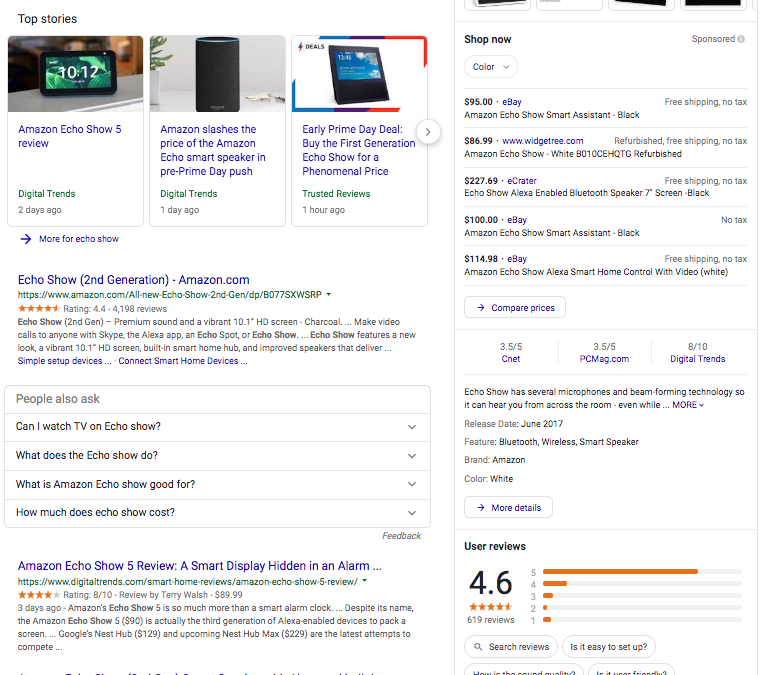 Within moments of searching for the product, you're met with a dowry of information: links to the product from the manufacturer, thousands of reviews, pricing information from multiple retailers, video reviews, etc. This huge amount of readily available data is the result of businesses using schema markup to communicate relevant information to its users via SERPs.
Beyond adding convenience for your customers, search engines prefer websites with schema markup. Structured data like this is so favored by search engines that the webpage dedicated to its implementation (schema.org) is the result of collaboration from Google, Yahoo, and Bing. Clearly, it's important if it's bringing together major competitors.
To put it simply, employing schema markup is choosing to tell your customers you value their time and want to help them find exactly what they're looking for, as quickly as possible.
By marking up the phrase of the latest hit movie (such as "IT Chapter Two") websites have directed Google to show a link to a trailer, an IMDB list of actors starring in the movie, the run time, reviews (Rotten Tomatoes score, etc.) and nearby theaters with showtimes for the next few days. This relevant information is known as "rich results."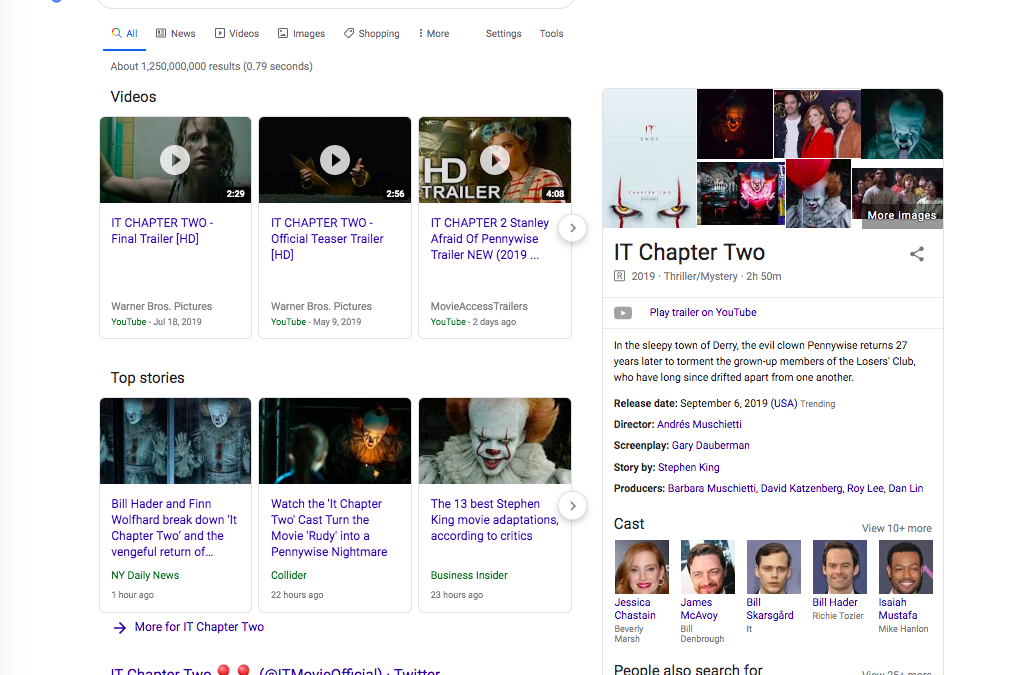 Schema markup is best inserted with JSON-LD. Microdata and RDFa are the older ways of inserting schema. Don't worry about getting too technical and having to learn all about data markup. At the end of this topic, I'll share some tools to make entering schema much easier.
What Kinds of Schema Types Are There?
There are two major schema types, Creative Works and Commerce. Each group has properties that can be used to describe search topics in greater detail and point users in more specific directions.
Creative Works Schema Type
Creative works are web pages, ebooks, courses, videos, podcasts, or anything else that has been created by someone.
Each of these items listed has specific properties to show information about. Music, for example, would have the artist, their hit songs, their latest single or album, and any touring information.
Schema is so cool that you can mark text as "speakable" to let search engines know the content was made to be spoken aloud by text-to-voice engines such as Siri or Alexa.
Recipes are a common schema type. You'll quickly notice the rich content types displayed first on Google when searching for your favorite recipe.
Commerce Schema Type
Commerce schema types represent business transactions.
Events
If you host special events such as webinars or conferences, be sure to use an event management plugin that supports schema. Imagine how effective it could be to have someone search for your event and be presented with a rich text search result that allows them to register for your webinar on the spot.
Businesses and Organizations
If you own a business (which is very likely if you have a money-making website) then you can benefit from the business schema type defined by schema.org. If you markup your business site well, then you could earn Knowledge Graph, social media links, or other features in your rich results. Add special structured data for your contact information to enable your customers to contact you right from the search engine results.
Products and Offers
Product markups give users important information about a product such as its name, function, reviews, etc. Offer markups give users the price of the item which makes online shopping easier because users can compare prices more easily.
Reviews
Customer reviews can make or break a business, product, or event. It's important to get and show a 4-star or higher rating. Customers always want to know what kind of experience they're in for before spending their hard-earned cash.