Reading Time: ~
6
minutes
SEO mistakes are sadly common, especially when it comes to WordPress SEO, which has changed a great deal over the years from when WordPress was a simple blogging tool.
Fortunately, many of the most harmful SEO problems are well-known, and come up over and over in the SEO audits that we perform for our clients and publishing network partners.
26 Biggest Mistakes in WordPress SEO
Here are the biggest mistakes that we see – please do share with us any that we have forgotten or missed!
1. Thinking SEO is dead or not worth considering
There is a myth in the blogging and content marketing space that all you need is good quality content and the SEO will take care of itself, or that somehow SEO is snake oil.
Unfortunately, as anyone who puts out great, high-quality content but struggles to get traffic, it is not that easy. Website owners need more than valuable and well-written content if they want their new posts to be discovered and consumed.
Master Your SEO
Craft + Optimize Content to Make Google Notice Your Expertise and Experience, then Convert Your Traffic Into Sales
2. Believing SEO Tools or Plugins Do All Your SEO For Your WordPress Website
Search engine optimization tools are extremely important but they are not all you need to think about or implement. Regardless of what their sales pages might imply!
Good keyword research and automatic XML sitemaps generation are two of the immediate reasons you will need to invest in tools, and of course, another investment is in your SEO-friendly WordPress themes, but beyond these and other features the onus is on you to achieve your search engine results.
Some of the best WordPress SEO plugins are Yoast SEO, All in One SEO, and Rank Math. I personally use Yoast SEO plugin because that is what I am comfortable with, but there are fans of each so do some research to discover the one that works best for you. For keyword research and website analysis, check out SEMRush and Ahrefs.
3. Ignoring Basic On-Page SEO
On-page SEO is about how your site is presented to search engines and users. Without optimizing your web pages, even if you do rank highly in search results, your page will be less appealing to click on than your competitors!
Many people forget to optimize their page title tags, meta descriptions for search results snippets, and headings and wonder why they struggle to generate organic traffic or a low click-through rate.
Use a WordPress SEO plugin like those mentioned above or your SEO-friendly WordPress template's SEO settings to easily manage these elements for each page and post.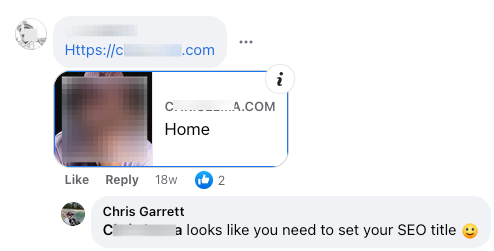 For example, is the HTML title of the homepage set to 'Home' or something more descriptive of what your website is actually about?
Not Addressing Search User Intent: Focusing solely on writing your article or even on the keywords without considering what the user actually wants can harm your site's SEO. Research the user intent behind the keywords – the answers are they looking for – and tailor your content to meet those needs. The articles that most match what searchers want will win.
Poor Quality Content: Increasingly, Google and other search engines are working on clever ways to algorithmically detect content quality. Writing thin content with little to no value for readers will either be detected by these systems or caught in a manual check. Create detailed, informative, well-researched content that is useful to your target audience, and covers the topic well.
Stuffing Keywords: Overuse of your target keywords makes your content unreadable and is unlikely to help you rank successfully. Aim for a natural keyword density and focus on readability and usefulness rather than aiming to get every variation of every keyphrase.
Content Decay: Content gets outdated, yet many neglect to refresh it. Periodically review and update old posts to keep them current and relevant. Check to see if you are appearing in search results for keywords or a keyphrase you have not optimized for.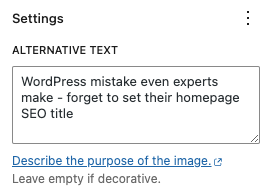 Skipping Image Alt Text: Missing out on image SEO. Add descriptive alt text to every image to improve accessibility and keyword relevance.
Poor Internal Linking Structure: Weak or missing internal linking leads to poor user experience and hinders site crawling by search engine spiders. Include relevant internal links within the content and make sure your links are easy and obvious to navigate.
10. Off-Page SEO Mistakes
Off-page SEO is the part of SEO that happens away from your site but still impacts how your site is seen, searched, or represented. Ignoring off-page SEO is a huge mistake, but an easy one to make if you see your content rising in search without having to pay much attention to it.
Ignoring backlinks and social signals: Invest in a balanced SEO strategy that includes acquiring quality backlinks.
Ignoring Competitors: Focusing solely on your own site without understanding what competitors are doing can limit your SEO strategy and can cause you to miss major shakeups in your niche. Regularly conduct competitor analysis to identify gaps and opportunities in your SEO strategy.
Ignoring Local SEO (Failing to Optimize for Local Search): For businesses serving local geographic areas, ignoring local SEO can be a huge problem. Add location-based keywords, set up Google My Business, get local links, and collect online reviews to improve local search presence.
Ignoring Social: Social signals don't directly affect SEO but can increase visibility, help you acquire links, and add to your traffic. Ensure that shared content looks appealing with correctly formatted feature images and proper Open Graph meta tags.
Ignoring Video: Video content is growing in importance, YouTube is the world's second biggest search engine, but video is often neglected in SEO strategies. Optimize your video titles and descriptions. Add transcripts to improve search visibility. Embed relevant videos into your content.
16. Ignoring Technical SEO
Technical SEO covers everything technological about your website that can impact SEO, from fixing errors like "404 page not found", to increasing your page speed and site speed.
While a clean, error-free website is not necessarily a priority "ranking factor", we have seen over and over that resolving technical issues can help websites move up in result pages and get more valuable content indexed.
Missing or Invalid Structured Data: Not using schema markup to provide context to search engines, or worse having broken schema, can prevent you from getting full benefit from Google's newer search features. Implement schema markup to provide additional information about your content, and improve its appearance in SERPs. For example, format Frequently Asked Questions sections using FAQ schema, and your recipes using Recipe Schema.
Broken Links: Broken internal or external links are frustrating. They harm user experience and can affect your SEO results. Regularly audit your site for broken links and either update them or set up 301 redirects.
Slow Website: Heavy images, cluttered code, and too many plugins can slow down a website. While not in itself a ranking factor, given the choice between two equal pages, the user experience will for sure be the tie-breaker. It's not just about choosing performant WordPress hosting, either. Optimize your images, use a caching plugin, and consider using a Content Delivery Network (CDN).
Broken on Mobile: Neglecting the mobile experience makes smartphone users frustrated, and therefore can harm your rankings, especially after Google's shift to mobile-first indexing. Choose a mobile-responsive WordPress theme and routinely test your website across different mobile devices and screen sizes.
Duplicate Content: Duplicate content can confuse search engines about which version of your content to serve. If you can not rewrite the content to make it clearly unique, use canonical tags, no-index, or set up 301 redirects for duplicate content.
Insecure: Not using HTTPS can make your site appear insecure, affecting user trust and SEO. Obtain an SSL certificate and migrate your site to only use HTTPS.
Both WWW and Non-WWW: If your website works with both the WWW and without, then redirect one to the other or you risk having duplicate content issues or diluting your backlink profile.
Page Loading: How elements load and in which order when a visitor lands on a page can affect both the user experience and your SEO. Defer non-essential scripts, compress and combine elements, and trim bloat to improve page load times.
Ignoring Analytics: Failing to use tools like Google Analytics and search engine Webmaster Tools means you are missing out on valuable insights. Regularly monitor key performance indicators.
Incorrect or missing Robots.txt: Many sites have problems in SEO because of mistakes made in their Robots.txt, exposing information that should not be indexed, or blocking search bots and therefore harming the indexing of your articles. Google has a good Robots.txt validator.

WordPress SEO Mistakes Conclusion
The good news is most of these mistakes in WordPress SEO are due to overlooking something important, and they can be quickly resolved once you are aware of them.
By staying on top of your rankings, and identifying and addressing these SEO mistakes, you can substantially grow the visibility and improve the performance of your WordPress site.