Let your creative side shine with a website that's uniquely you.
Showcase your work in a polished way that allows your creativity to shine. Make your website uniquely your own with tons of customization options that give you control over every detail.

About Mai Creative
With large headers and image blocks, show off whatever you create with ease.
Mai Creative is a favorite WordPress website template for artists to showcase their work in a polished way that allows your creativity to shine.
Large, bold homepage header grabs attention immediately

Quickly and easily build an online portfolio of your work

Sell your swag, crafty creations, and any artwork with ease
Show off your creative style with this fun, modern template 
Great for bloggers and small businesses alike
Plus, when you purchase the Mai Design Pack or sign up for Mai Solution (The Design Pack + Plugins + Website Hosting) you get access to ALL Mai website templates, which means you can pick and choose the best components from each template to create the site of your dreams.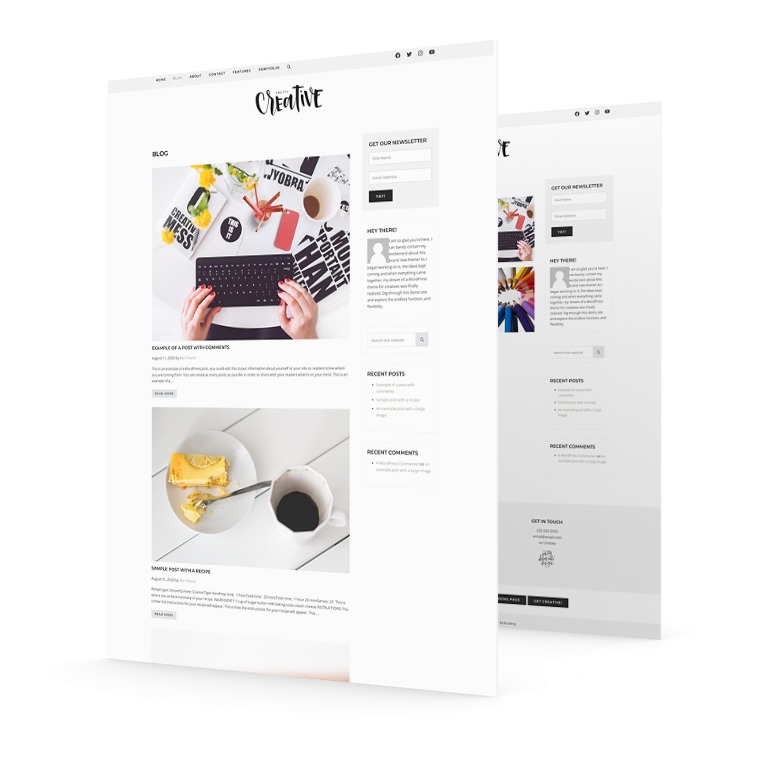 Choose Your Theme Package
Mai Chic is part of the Mai Theme website templates and starter sites bundle.
Mai Design Pack
$79 Per Year
Get all of our premium plugins plus complete access to the Mai Pattern Library and start enhancing your Mai Theme site like the pros—without ever touching a line of code! Or, save $50 when you bundle it with Mai Theme. It's everything you need to create the website of your dreams!
Mai Solution
$99 One Time + $9 Per Month
Perfect for those who don't have the desire or time to deal with complicated technical details. Get everything in the Mai Design Pack Bundle and premium hosting—all managed and for you so you can focus on doing what you love.
Creative bloggers seem to be unstoppable—and for good reason!
Whatever it is you create, Mai Creative makes it easy for you to share your passion with the world. Easily customize your archives, pages, posts, and more to create a website that fully represents you.
Check Out the Mai Creative Demo
Click through the niche demo site and imagine using Mai Creative to bring your website or blog to life…
You may also know this design as…
StudioPress Pretty Creative Theme
Mai Creative was formerly called the StudioPress Pretty Creative Theme. We have retired the Pretty Creative Theme and replaced it with Mai Creative, a completely new block-based premium WordPress theme. 
StudioPress—now part of WP Engine—announced on Mai 11, 2021 that they will no longer sell ANY third-party themes, and they will no longer sell their own StudioPress themes individually (one-time purchase). 
You can still get your hands on Mai Creative though, directly through BizBudding. Mai Creative and our other WordPress website templates are Genesis child themes, and we intend to continue leveraging the Genesis Framework with Mai Theme—it's also included free with any theme purchase.
Pretty Darn Cute Pretty Creative Theme
The overall design for Mai Creative was based upon the Pretty Creative Theme from Pretty Darn Cute Design, and that is where the similarity ends. When WordPress ended support for the Classic Editor this year, we rebuilt all of our themes to leverage the power of the Gutenberg block editor. 100% of the code is new in Mai Creative, and it has tons of new customization options and functionality to offer.
Our focus on site speed and one-click theme setup are technology requirements bloggers need to easily set up a site and to successfully make money blogging. 
You can count on us to keep stepping Mai Theme into the future. We will support your transition to a modern, block-based feminine website.
"People constantly ask me how to get started blogging. Over the past decade, I've tried and tested dozens of tools, platforms, and resources and none compare to Mai Solution, which is now my "go-to" recommendation for building a great-looking, high-performing website at a fraction of the cost. I highly recommend it! and count on Mai for Wellness Mama."
DIYers and Elite Bloggers Love Our WordPress Website Templates
While we're partial to Mai Solution for website hosting, you can use any of the Mai WordPress website templates on any WordPress hosting platform.
Powered by WordPress
With WordPress now powering 40% of all sites across the web, it is our platform of choice because its content management system and flexibility puts bloggers and website owners in control of their content.
All of our stunning designs and website templates are powered by WordPress, our Mai Engine plugin, and a collection of premium plugins that deliver the features successful bloggers and content creators need.
Easy and Fast to Customize
Our WordPress templates are block-based and designed to provide ultimate flexibility. Mai Theme makes it easy to change up everything from the logo, colors, and typography, to images, page layouts, and content.
Plus, we know you're unique and don't want to limit your creativity to one template. With access to Mai Theme, you can pick and choose your favorite features in our designs and combine them to create a site you truly love.
Meticulous Control Over Details
Our Mai Engine Plugin, included with every purchase, brings extensive controls to WordPress that empower you to customize everything on your site down to the tiniest of details.
Want icons instead of images, four columns instead of three columns, image backgrounds, centered text, or content blocks that reach beyond the margins? Not a problem—and in most cases, you can get it done in just a few clicks. No custom code or expensive developers needed.
Powerful Built-In Integrations
We empower you to create a site that not only fits your immediate needs, but grows with you as your brand evolves and your reach expands.
Whether you want to sell products, build affiliate revenue, launch an online course, build a membership, or drive ad revenue, you'll appreciate our seamless integrations with popular solutions like WooCommerce, LearnDash, and Google AdSense.
Retina-Ready, Mobile Responsive
Building a successful digital brand, growing an audience, and reaching your goals, means your site needs to look amazing and be easy to use in every browser and on every device regardless of size or type.
Mai Theme is mobile responsive so your content looks beautiful and is easy to engage with on any device. It also comes retina-ready so your content renders crisply and beautifully on high-resolution screens.
Optimized for Search Engines
From the code that powers our WordPress plugins and website templates to the designs that provide a gorgeous foundation for your big vision, everything we create adheres to current code standards and web development best practices.
Mai Theme and individual block components are optimized not only for search engine friendliness, performance, and speed, but to deliver premium user experiences that will have visitors coming back to your site again and again.
Let your creative side shine with a website that's uniquely you.
Showcase your work in a polished way that allows your creativity to shine. Make your website uniquely your own with tons of customization options that give you control over every detail.

Simple Setup Wizard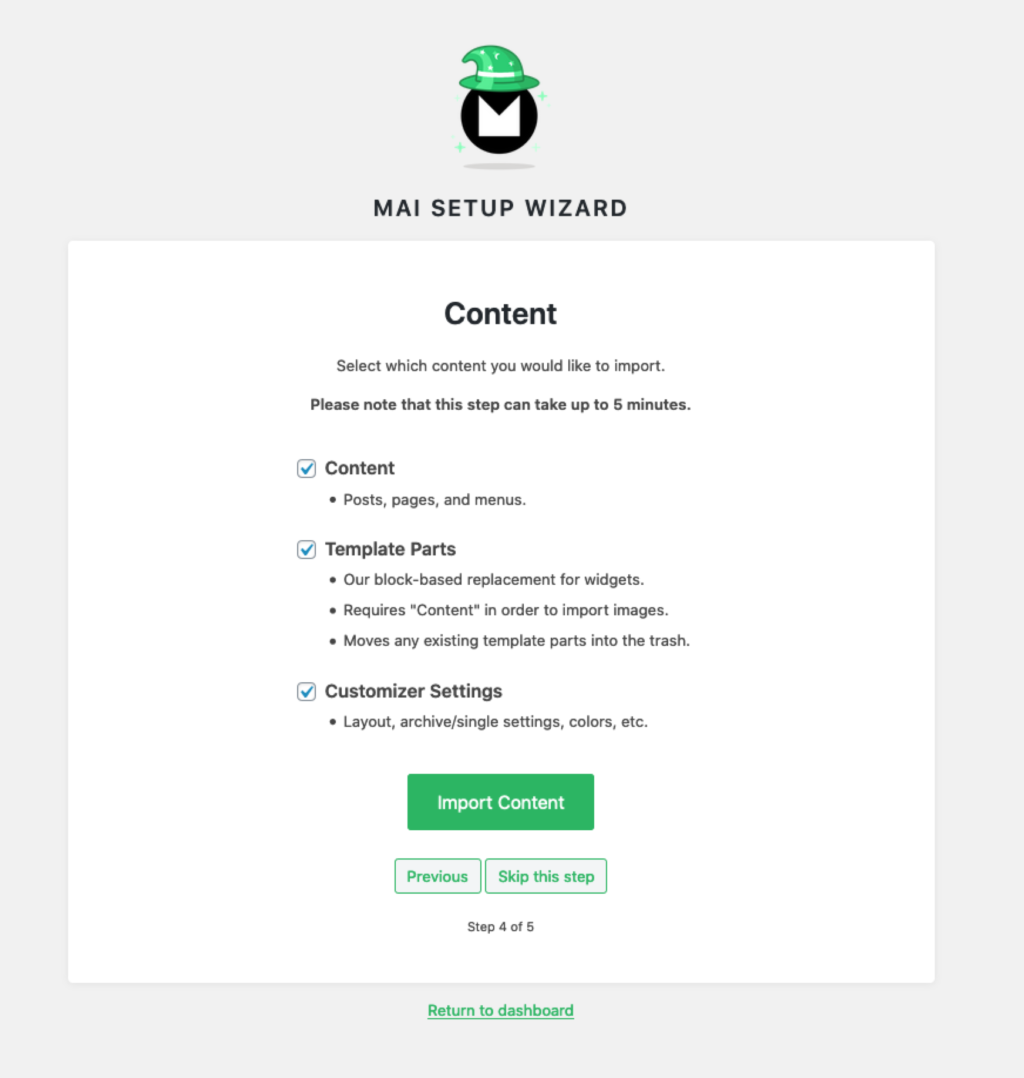 Easy to set up and easy to customize means you can dream big and shoot for the stars—with essentially a one-click install.
Our Mai Theme Setup Wizard offers a one-click install that will have your site ready in mere minutes.
Sample content for your homepage and blog means all you have to do is replace it with your own.
Extensive customizer and block component controls make it easy to customize every content type down to the tiniest of details.
No need to learn code, CSS, or JavaScript, or to hire expensive designers and developers.
Easily add affiliate links, create your author bio, showcase testimonials, and display Instagram posts.
Built-in integration with WooCommerce, Google Adsense, and LearnDash to make earning revenue easier.