Reading Time: ~
9
minutes
Small business blog ideas can be difficult to come by because so many of us have to fit blogging into the few quiet moments in between working on and in the business!
For small business owners, the concept of blogging itself may seem foreign.
What do you write about and where do you get content ideas? It may seem easier to skip blogging altogether … but wait!
Coming up with great blog post ideas doesn't have to be difficult or confusing.
We highly encourage you to start a small business blog to support your brand and digital marketing efforts.
When startups and established websites alike consistently post new content, they receive more organic traffic from search engines, allowing them to reach potential customers and be more competitive with bigger brands.
You can do this!
Create a Business Blog Content Strategy
It should go without saying, but there is a fair amount of research involved in putting together any content marketing strategy, so set aside some time and do the work.
One of the most important things you need to understand is who your target audience and ideal customer is and what their problems and challenges are. This helps shape every piece of content you create.
Blog Topic Ideas for Small Businesses You Can Use Today
There are tons of small business blog topics that you can use over and over again to help your audience find you. Let's jump into our list of 30 blog post ideas for small businesses that we like and use the most:
1. Evergreen Blog Post Topics
Evergreen blog post topics are one of the first things you should focus on when you start creating and marketing fresh blog content.
As the name suggests …
Evergreen blog post topics continue to deliver solid traffic, engagement, and SEO value for years to come.
But how do you know which topics in your niche are evergreen and which aren't? Evergreen content deals in the fundamentals. They tend to be the guiding principles and information about your topic—the things you'd recommend any beginner learn first. Put yourself back in the position of someone entirely new to your subject. Which topics do they need to understand first?
Every niche and market has a steady flow of new people joining so you will always have an audience for these beginner subjects for your blog posts!
A great tool to help you come up with these topics is answer the public.
WordPress Themes have a profound impact on your SEO, but many website publishers trust that all WordPress Theme vendors have made their themes SEO-friendly. Search Engine Optimization (SEO) is affected by so many factors, from content quality to SEO keyword research, to backlinks to readability, it is difficult to know what changes have had the …
Master Your SEO
Craft + Optimize Content to Make Google Notice Your Expertise and Experience, then Convert Your Traffic Into Sales
2. Repurposed Content for Your Blog
Perhaps you really excel at social media, webinars, podcasts, or videos. You can repurpose this content on your blog to get more out of it and gain more exposure to those topics.
This content can be expanded into a long-form blog post and for audio and videos you can also include the transcripts.
3. Tutorials or How-To Posts
Tutorials and how-to guides are amazing resources to have on your blog because their value is threefold.
Not only is it helpful, educational content for your audience, but
These posts can also cut down on your overall support requests or time spent on support
And they serve as proof that your small business has the knowledge and expertise to do a good job for those who want it done for them.
These posts should use a numbered, step-by-step structure and "how-to" phases. Focus on the instructions while encouraging your reader to make progress towards their goal, since the main focus is to tell people how to do something.
4. Ultimate Guides
Step by step guides or ultimate guides are a great way to add educational content to your website. These are similar to tutorials, but are more expansive in what they cover and look like. They do not have to include numbered steps or strictly instructional content and they tend to be much longer.
5. Success Stories or Case Studies
Success stories and case studies are well worth the effort it takes to create them because they have a lot of potential to help your small business increase sales or conversions. They are also a great place to incorporate testimonials.
6. Convert Industry Trends Into Small Business Blog Post Ideas
Don't ignore industry trends, as a small business you need to stay informed on new tools, apps, tech, opinions, rumors, and other industry news anyway so have your effort perform double duty for you.
Topics of major significance are definitely worth sharing (with your insights and opinions) in a blog post.
Editorialize! Touch on how the trend is relevant to people's problems, concerns, or interests. Why is it important to them or, conversely, why should they not worry about the latest doom and hype cycle?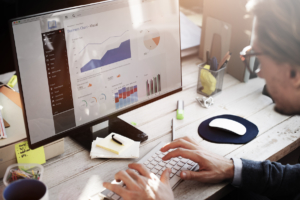 New to website building?
If you're like most people, when you decided to DIY your website, you dove head-first into the technical details. The problem is creating your dream website doesn't start with a template or technology. It starts with proper planning. Get started planning an amazing website with this free webinar!
Website Planning:
Practical Steps for
Planning a Website
If you want to keep going with your website planning, check out our free on-demand webinar
7. Reviews
Review products that are relevant to your niche and that you audience would be interested in. Pick things that are complimentary to your own offerings but that do not directly compete with your brand.
8. Comparisons
Speaking of reviews, it sometimes is worthwhile to compare two or more products for your audience.
You can also create comparison posts that are more general. These titles may include "what's the difference between" or "vs / versus."
This is another place where Answer the Public can be very useful because one list the tool generates for you is comparisons.
9. Interviews
Interview thought leaders, influencers, and other entrepreneurs on a particular topic or about their own business and what they are working on.
You could also spotlight affiliations, charities, or companies you like.
10. Podcasts
Related to interviews are podcasts. With your own podcast, you could invite guests to interview or simply talk about a subject yourself.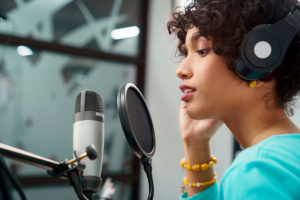 Podcasts can also be turned into blog content. Aside from the podcast audio (and/or video), you could include show notes, a bio or spotlight for the episode guest, resources, and a transcript.
11. Guest Posts
Guest posts are yet another way to bring other perspectives to your blog. If your guest bloggers are well-known or industry experts, they can also give your brand more credibility.
12. FAQ Roundups
Frequently asked question (or FAQ) roundups on a topic can be a very effective way to answer questions and create content that is genuinely helpful.
13. Common Problems
Similar to FAQs are posts that tackle common problems and their solutions (i.e. your offering).
These posts are typically based on questions or the various hurdles people face as they get deeper into a topic.
14. New Product Announcements – An Endless Source of Small Business Blog Post Ideas!
Wait, why did it take us until blog topic number 14 to mention product announcements?
By announcing new product launches, you keep your current audience informed and engaged and increase brand awareness for those who don't know about you yet.
You will drive more sales and inquiries, plus you get feedback so you can gauge interest or tweak your marketing.
15. Product/Feature Use Cases
Show your products in action! Talk about different use cases and scenarios where they fit to help your audience visualize the possibilities of what they can do.
16. Unexpected Benefits of Your Products
Do your products offer some unexpected benefits that would be worth highlighting?
For example, a probiotics company may want to create some posts around how taking a probiotic supplement can actually help people with other issues that are not obviously gut health-related, like skin issues, depression, and more.
17. Your Story & Mission Statement
Tell your brand story—how and why you started your small business. Talk about your mission statement and why it matters to you. Even though this is your story, make sure to put the focus on your audience and how you are there to help them.
18. Sneak Peek/Behind the Scenes
This is a fun way to increase engagement. Share a sneak peek or behind-the-scenes look at something new you are working on. You could even ask people for comments or feedback to help shape or solidify your offering. People love to feel heard and like their opinions have an influence on something tangible.
19. Day in the Life Topics from Your Small Business
Profiles of team members or posts that follow the day in the life of someone on your team can be a fun way for your audience to learn more about your brand and build more of a connection with you.
These posts could also go into things like the production process for your products, revealing more details about what makes them unique.
20. Infographic Posts
Infographics are a great way to break down complex or in-depth blog topics as well as increase engagement and retention for subjects that are important to your small business but might not always be the most exciting. These visuals are great for sharing on social media as well to help draw more people back to your website.
21. Listicles & Rankings
Both listicles (list articles) and rankings posts share items in a list-style format. The main difference is that ranking—you guessed it—ranks something. Titles of rankings posts will start with words like "top" or "best" or include the word "ranked."
You can share lists of helpful tools or resources or these can be tips posts, all of which tend to perform really well.
22. Business Goals or Year-End Reviews
Focus on improvements or enhancements on your radar and how they serve your audience. You could even share financial figures, though it really depends on your brand and if you are comfortable with this. However, this tactic could be a terrific way to gain the trust of your audience by extending a transparent and honest look at your business.
23. Common Mistakes
People love to read about what not to do or things to avoid. After reading they will either feel validated (if they are not making the mistakes) or confident because they now have a game plan. That's right, don't just list the mistakes, but tell people what they should do instead. On the chance that they still overwhelmed, confused, or unsure after reading, this gives you a great opportunity to invite them to reach out to you or purchase your solution.
24. Tell a Story About a Failure
We all fail, but we don't talk about our failures. This is too bad, because a lot can be learned from analyzing what you did wrong and how you can course correct it. This type of post makes you more relatable to your audience but also demonstrates your expertise. You faced a challenge, failed, learned, and are now successful when presented with that scenario.
25. Experiments or A/B Test & Results
These posts are heavy on facts, figures, data, etc. As such, they are more involved than many of the other blog ideas on this list, but there's a lot of power and persuasion in concrete details.
I'm not suggesting making up an experiment just for the sake of it, but if there's a test you always wanted to try, go for it. You can learn if a product, tool, or method is truly effective and set your own criteria to really get what you want out of the experiment. This information could prove to be invaluable to your audience.
26. Post to Promote a Giveaway or Free Offer
Create some sort of free lead magnet—whether it be an ebook, workbook, cheat sheet, contest, etc—and then promote it through a related blog post.
27. Mythbuster Blog Posts
Start debunking those myths! You might already know what these myths are or may need to do a little research to find them. They don't even need to be myths technically. You can focus on misconceptions or even challenge an opposing viewpoint to your own.
28. Connect Something Seemingly Unrelated to Your Topic
I see these types of posts once in a while, and they are definitely eye-catching. This is a great way to tie in pop culture or other societal references that people love.
29. Company News & Events
Keep people in the loop about important news and events related to your small business. Not only do these posts keep people informed about need-to-know info, but they also help foster a sense of community.
30. Curated Blog Topics Work Well for Small Businesses
Not every piece of content you create has to be 100% original…in fact, it's very difficult to come up with an idea that no one on earth has ever thought of before.
The purpose of curated content is to share valuable resources with the customers and prospects of your small business that will provide a benefit while offering your own unique perspective on the topic that will attract them to you.
Small Business Blogging: Closing Thoughts
Blogging on your small business website is a great way to nurture your existing audience, reach new people, and even increase conversions.
Pick 2 or 3 of the business blog post ideas from this list to try as a starting point. If you struggle or it feels too forced, pick a few other ideas and try again.
Eventually, you'll figure out which are the best blog topics for your particular niche, writing style, and goals.
Remember to keep in mind your keyword research, and keep track of your search engine rankings.
The biggest takeaway here is to always write for your audience first.
Learn more about what they need help with by doing research and keeping an eye out for comments, feedback, and requests. And don't forget, once you have amassed some content, provide a way for people to subscribe and get notified about new blogs through your email marketing.
Download the How to Start Blogging Guide
Explore this FREE GUIDE to take a deep dive into how to start blogging to make money. Get a PDF version of this guide right to your email, plus weekly tips from our blogging experts at BizBudding.