Reading Time: ~
8
minutes
There's a lot of competition these days in the podcasting sphere, but you can create successful podcast easier than you think. To do so, you need to consistently produce podcasts, and you need a podcast promotion strategy to increase your listenership. If you take time to create a plan for your podcast marketing before you even release your first episode, you'll be set up for success far into the future.
In this post, we look how to promote a podcast and grow your audience using 15 podcast marketing strategies.
1. Word of Mouth
While word of mouth marketing will only get you so far, it's not to be overlooked. When you start a podcast, share the news with friends, family, colleagues, and anyone else you encounter who you think may like or benefit from your content.
The more people you tell, the greater the chance they will also tell their friends. We all need to start somewhere, and there is no shame sharing your awesomeness with your people.
2. Create a Website for Your Podcast Content
Whether your podcast is an extension of your brand's overall content marketing strategy or the main focus, having a website to promote a podcast content is a great idea.
Mai Theme offers several podcast website templates and starter sites. While certain templates are designed specifically with podcasters in mind, you could use any website template that fits your style and brand.
Each of our website templates includes starter site options. Here are a few starter sites that we think are best for podcasters:
Our podcast website templates are block-based to give you total control over the layout of every web page and all of your content. Extensive customization controls let you manage even the tiniest of design details. Plus, integrations with podcast players like Seriously Simple Podcasting let you host your podcast for free right from WordPress and publish new episodes with ease.
Master Your SEO
Craft + Optimize Content to Make Google Notice Your Expertise and Experience, then Convert Your Traffic Into Sales
3. Create Blog Posts for Your Podcasts
Now that you have a website, it's time to create blog posts based on your podcasts to go on it. This provides your existing audience with great content and helps you gain new listeners via organic search engine traffic.
You can optimize your content for podcast SEO pretty much the same way you would for a typical blog post. Make sure your content is rich, solves a problem, answers a question, or is valuable or entertaining to your podcast audience and is optimized for on-page SEO. A fast website—like those built on Mai Theme—also helps a ton.
A great podcast post might include the podcast audio and/or video, shownotes, guest bios, informational resources mentioned, links your favorite products, a transcript, and anything else you want. All of these things help make your content useful and helpful to your audience, which is the main goal; always strive to create for people first, not algorithms.
4. Use CTAs Grow Your Audience & Build Loyalty
Every blog post needs a CTA, including your podcast posts. Think about the types of CTAs that will be relevant to your target audience as well as help you gain new podcast listeners. Here are some podcast CTA ideas:
Get shownotes sent to your inbox
Listen now
Subscribe
Never miss an episode
Add to playlist
Catch up now
Get notified of new episodes
Here is a versatile podcast CTA pattern you may like: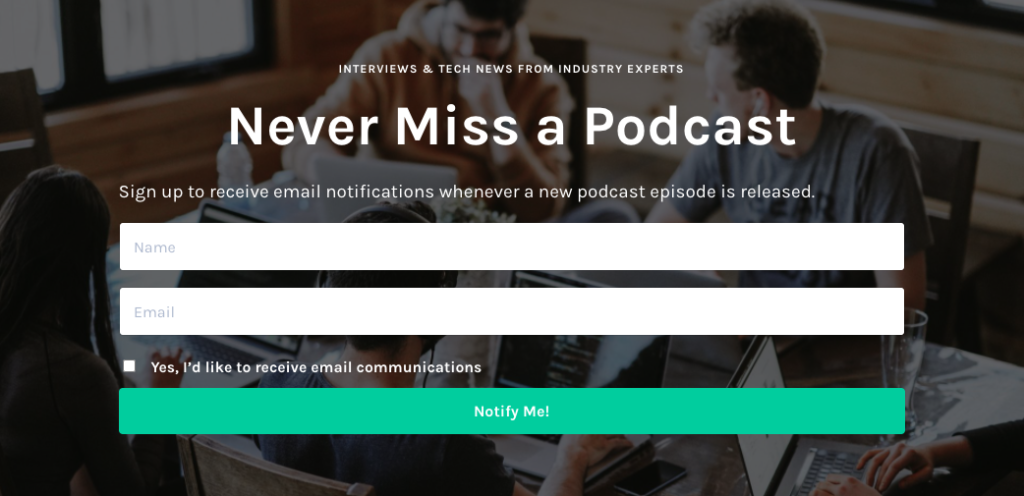 Add CTAs Globally/Automatically with Mai CCAs
A quick way to add CTAs to all of your podcast pages automatically is by using the Mai Custom Content Areas plugin.
Use any blocks to create the CTA you'd like as a "Custom Content Area", then easily display it in the location you want on your posts conditionally by category, tag, taxonomy, keyword, and more.
5. Set Up an RSS Feed
Another simple way to share your new podcast episodes is by using an RSS feed (and you'll need one for #6). Setting up an RSS feed for your podcasts doesn't take long and only requires you fill in some basic details about your podcast.
To learn more, check out this post by RSS.com
6. Get Listed on Podcast Directories
Make it easy for people to subscribe, listen, and download, by getting your podcast listed on all the popular podcast apps and directories including:
Spotify
Apple Podcasts
iTunes
Google Podcasts
Stitcher
Overcast
The better your podcast's visibility, the faster your audience will grow. Make sure to create your podcast RSS feed as mentioned above in order to submit your podcast to these directories.
Here is a extensive podcast directory list for 2022 as well as guidance on how to submit to each one.
On a separate but related note, if you do decide to add your podcasts to you blog, many podcast plugins include built in functionality for people to subscribe, listen, download, and more, and you can often control how these buttons are displayed. If not, you can add these links manually.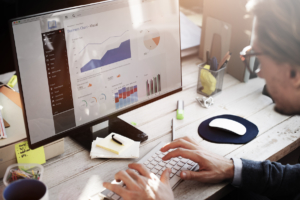 New to website building?
If you're like most people, when you decided to DIY your website, you dove head-first into the technical details. The problem is creating your dream website doesn't start with a template or technology. It starts with proper planning. Get started planning an amazing website with this free webinar!
Website Planning:
Practical Steps for
Planning a Website
If you want to keep going with your website planning, check out our free on-demand webinar
7. Use Email Marketing
Make sure to notify your email subscribers when you release a new podcast episode. This could be part of your email newsletter, a round-up style email, a welcome series, or an email only about your podcasts to those members of your email list who only want that type of content.
8. Create Content That Is Highly Shareable
One thing that comes to mind here are the "Minimal Maxims" from the Minimalists podcast (they even have a separate domain just for these). Joshua and Ryan, the podcast creators, define these as "pithy, shareable, less-than-140-character responses" to their listeners questions. (Note the character limit, making these excellent for sharing on Twitter.)
You can also create audiograms to share short clips or teasers of your podcasts.
According to Castos.com:
"A podcast audiogram is an image that's converted into a video and layered with other elements on top, such as a waveform and/or transcriptions. Essentially, it combines visual arts, audio tracks, soundwaves, and text to create a highly shareable marketing asset."
9. Promote on Social Media
By sharing your podcast on your social media platforms, you are able to leverage social proof. That is, when someone likes, comments, or shares your social media posts about your podcast, that reflects positively to potential listeners that this might be something worth checking out.
Depending on your niche, some social media channels may be better than others to share on.
If your podcast is heavily focused on business for example, then LinkedIn probably makes sense.
Got a podcast on DIY, recipes, crafting, home decor, or life hacks? Pinterest is probably a great place to share.
If your podcast tackles current events and trending or controversial topics, get it out there on Twitter.
You can even consider starting a Facebook group as a place for listeners to interact and discuss and build a deeper sense of community.
Regardless of where you post, a catchy headline, graphics or video, and clear engaging copy all make for highly shareable content across the board.
What can social media do for my website? Having a strong social media presence is a key part of your overall marketing strategy. If you are a small business, still trying to build brand awareness and gain traction, then it is even more important. Sharing great content on a regular basis across multiple channels helps extend …
10. Create a YouTube Channel
YouTube is one of the largest search engines after Google, and it continues to grow. Being a "YouTuber" is now a valid career option…something that still blows my mind, even as a millennial who has witnessed the platform's rise over the years. If you have a podcast or are considering starting one, it would benefit you to create a YouTube channel as well.
Podcast videos are certainly more interesting when you can see the speaker, but if you don't want to be on camera for whatever reason you can create YouTube videos that are narrated with scenery, moving backgrounds, dramatizations, or other video/visual elements. You can also overlay words or use automatic captions to make your videos more engaging. A good example of this, and one of my personal faves, is the Fall of Civilizations podcast.
Beyond the benefit of organic search to your channel, you can link back to your podcast blog posts to drive additional traffic to your website. Furthermore, you have more options for sharing your content which is always a good thing.
11. Run a Giveaway or Contest
Who doesn't love a giveaway? The best kinds are those that are fun and/or easy for your followers. Ensure whatever is in it for them is worth their time.
A simple like/share request using a particular hashtag is always a safe bet, but feel free to get creative and have fun with it, just make sure you are playing by the rules if you conduct it through social media.
12. Feature Relevant Podcast Guests
Reach out to influencers you know in your industry, and see if they would like to appear as guest. Featuring expert guest and bolster your own credibility and authority.
But it's not just beneficial for you! You can offer guests certain opportunities to be branded inside the show, such as mentioning them in the opening and closing, giving them space to plug their current projects, and more to sweeten the deal.
13. Be a Guest on Other Related Podcasts
Like #12, you need to make use of your industry connections to get a guest spot on another podcast. Cross-promotion partnerships are a fantastic way to build brand recognition more quickly
Start with those you know best, where your expertise would would be the most relevant and valuable to their listener base.
14. Run Ads to a Landing Page for Your Podcast
If you are willing to spend a bit of money on ads, you could reach many more potential listeners in a much shorter time.
Keep in mind, the higher the cost per click (CPC) for the term you want to target, the more you will have to spend. It may make more sense to go after more niche specific terms or those with a lower CPC.
Create a content-rich landing page on your website for the best results.
Address these questions in your landing page content:
Who your podcast is for
What is your podcast about
What problems does it solve or how does it help
Why should people listen to it vs other podcasts on the same topic / what sets it apart.
Where can they find and listen to your podcast
When are new episodes released
How are news and updates about the podcast shared
In Mai Theme, it's quick and easy to create a landing page by utilizing block patterns from the Mai Pattern library or building your page via blocks and hiding any elements you do not want to show (such as your menu and footer). Check out this training video on how to build a landing page in Mai Theme v2 for more guidance.
15. Sell Commercial Spots or Sponsored Segments
This is a great way to not only reach more people, but to monetize your podcast.
Most sponsors want to be a part of the conversation. You can offer space for editorial segments as part of your show, related to content in the sponsors area of expertise.
Before doing this though, make sure to do the three-legged stool test. The segment should be good for the listener, good for the sponsor, and good for the show. If it's not editorially rich and valuable on all of these fronts, nix it. (Thanks for this tip, Tom! Check out our podcast episode, Podcasting Tips From a Nationally Syndicated Radio Show Host, for more tips like this.)
And always disclose things that are sponsored.
Another option is to sell spots that get inserted. Many podcast agencies and services have the ability to drop audio into an existing podcast. This may involve uploading the podcast to the service you use and indicating spots where you think commercials or other segments will fit. You have to have the numbers though for this to be a viable option, but as your podcast grows, it's definitely worth considering.
Closing Thoughts
Podcasting can be a fun and informative way to help your audience learn more about a topic or find answers to their problems. It can be tempting to dive right in without a plan, but if you do you leave yourself at a disadvantage.
Create a podcast promotion strategy that incorporates some or all of these methods, and witness how quickly you climb the podcast ranks.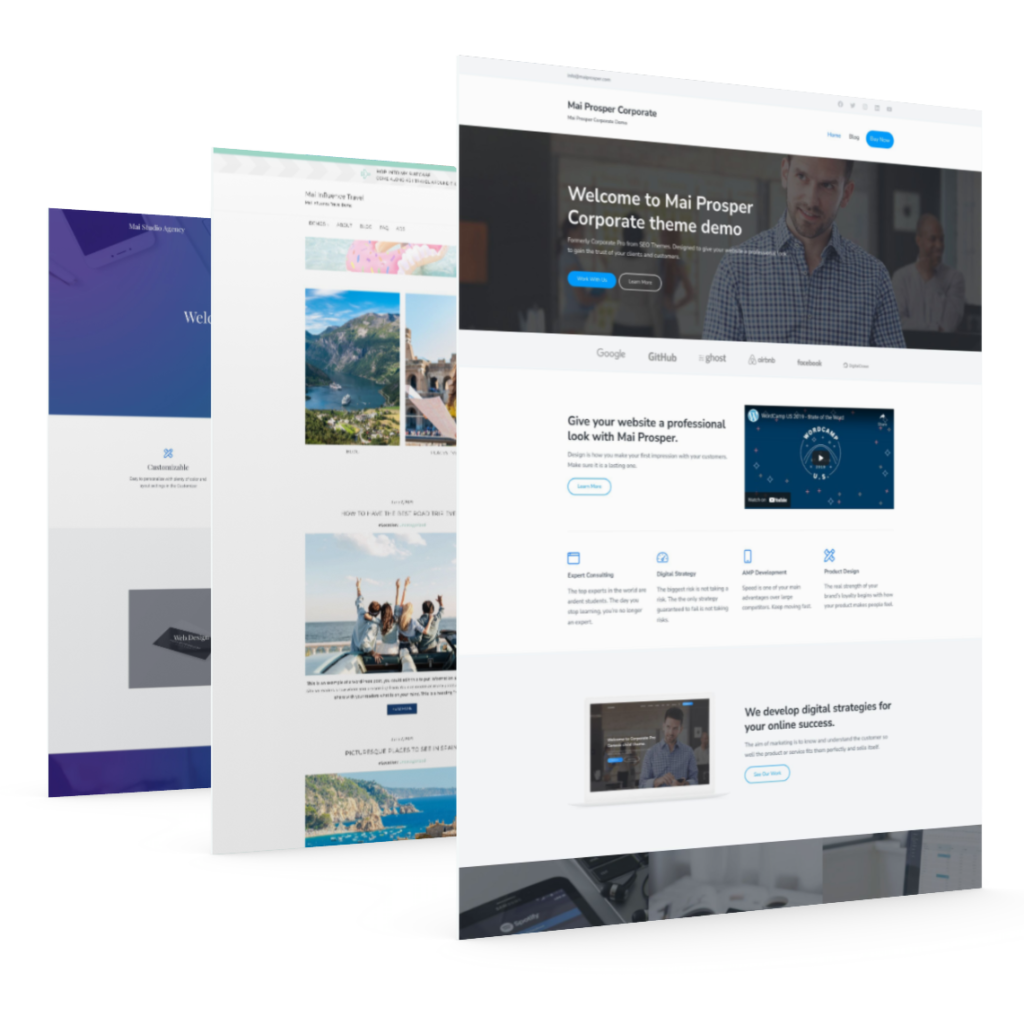 Create Your Dream Podcast Website
---
Get everything you need to start a new website or give an existing website a bold new design with Mai Theme and all our website templates, starter sites, and more. (Yup, that includes all of our podcast designs!)