Reading Time: ~
7
minutes
You just want a beautiful fast website that works, and you don't have time to waste DIY-ing everything yourself, figuring our how you'll layout your pages and what goes on them. You need a ready to use starter website with starter content!
Our Mai Theme starter sites make the process of launching your website fast, easy, and fun.
What is a "Stater Site" or Starter Website?
Mai Starter Sites are complete website templates that include starter content with a unique website design. Starter Sites are built on top of (and bundled with) Mai Theme. 
All of our starter site designs leverage the WordPress block editor to put website owners like you in control of their websites.
What Is the Difference Between Website Templates & Starter Sites?
Let's use the analogy of house to help clarify the different between website templates and starter sites.
A website template is like the rooms, walls, windows, floors, and floor-plan of your house. Our website templates define the layout and overall design. Just like a house, you might want a design that is minimal, modern, eclectic and charming, rustic, practical and professional, feminine, or fun. Our Mai Theme website templates provide you tons of options to give you a place to start.
A starter site is like picking the color of your walls, the type of flooring you want (e.g. tile, carpet, wood, laminate), the furniture, the fixtures, the appliances, and more. As already mentioned, most of our website templates have three starter site options, so you can choose the one that resonates with you the most.
WordPress Themes have a profound impact on your SEO, but many website publishers trust that all WordPress Theme vendors have made their themes SEO-friendly. Search Engine Optimization (SEO) is affected by so many factors, from content quality to SEO keyword research, to backlinks to readability, it is difficult to know what changes have had the …
Starter Site Examples
Let's jump back now to our website templates and starter sites for some visual examples.
The name of one of our templates is Mai Fabulous. This particular template includes a centered logo, large homepage header, and feminine design touches.
Our starter sites are niche-based to help make it easier for new bloggers decide which one fits their brand and vision best.
There are three starter site options for Mai Fabulous: Creative, Fitness, and Personal. Click on each one to view a full working demo site and imagine the possibilities.
Now, let's take a look inside each of the Mai Fabulous starter sites.
Mai Fabulous Starter Site 1: Creative
Mai Fabulous Creative is the default style for this template, so when you see images of Mai Fabulous on our website, you are most likely seeing Creative.
Mai Fabulous Creative is geared toward artists and creatives of all kinds. If you are a painter, illustrator, crafter, photographer, or even art teacher, then Mai Fabulous Creative may get your artistic juices flowing.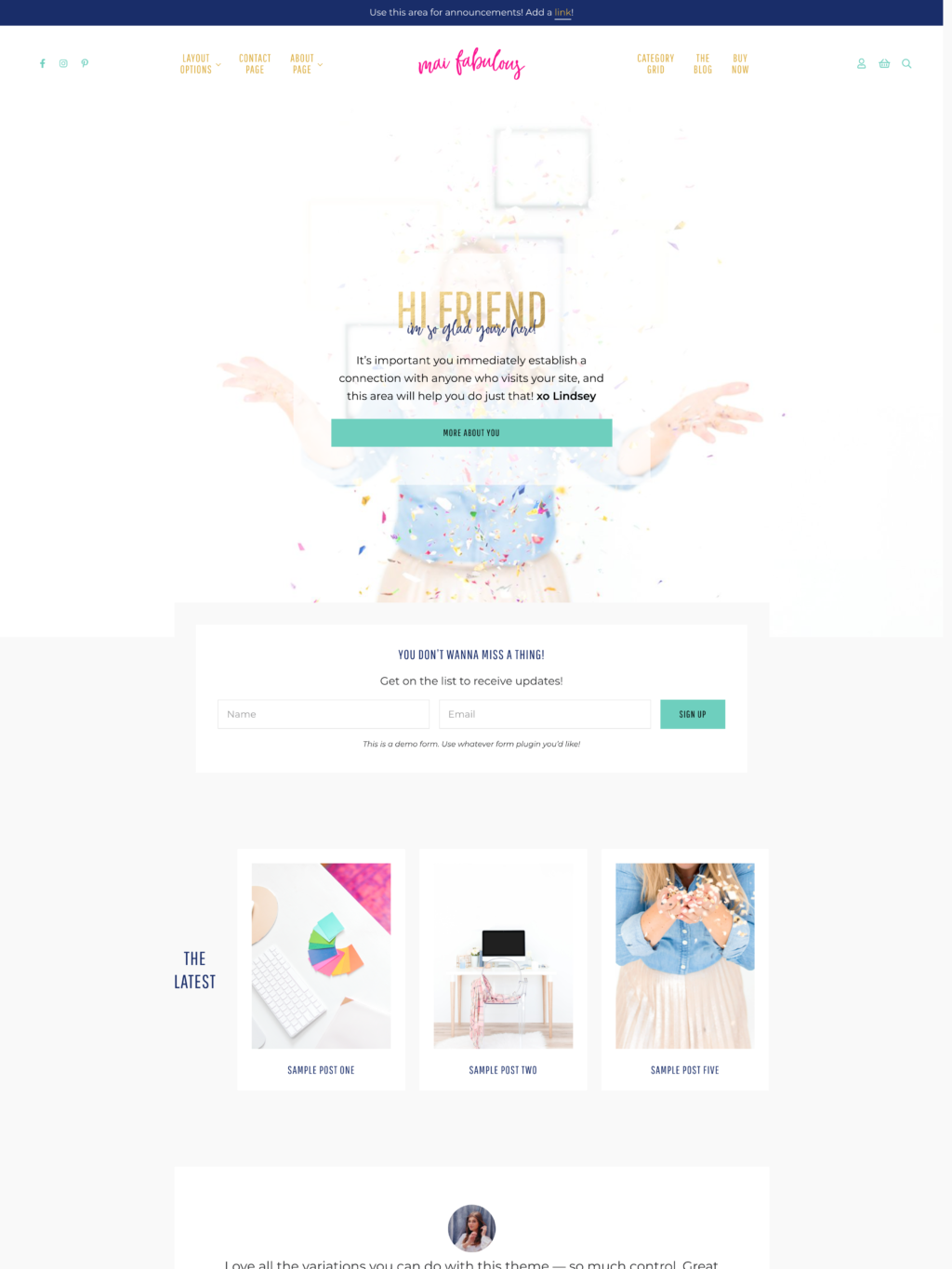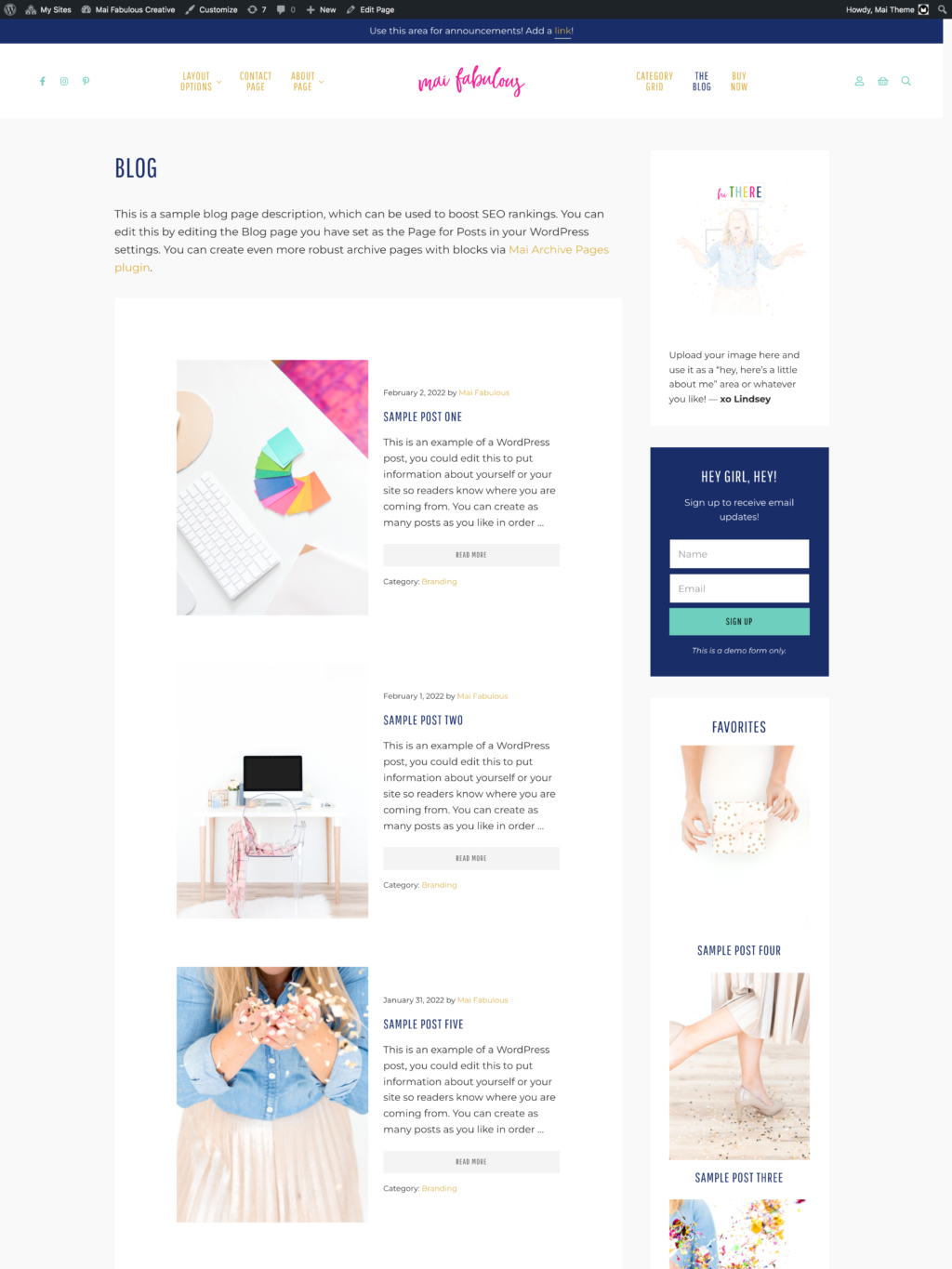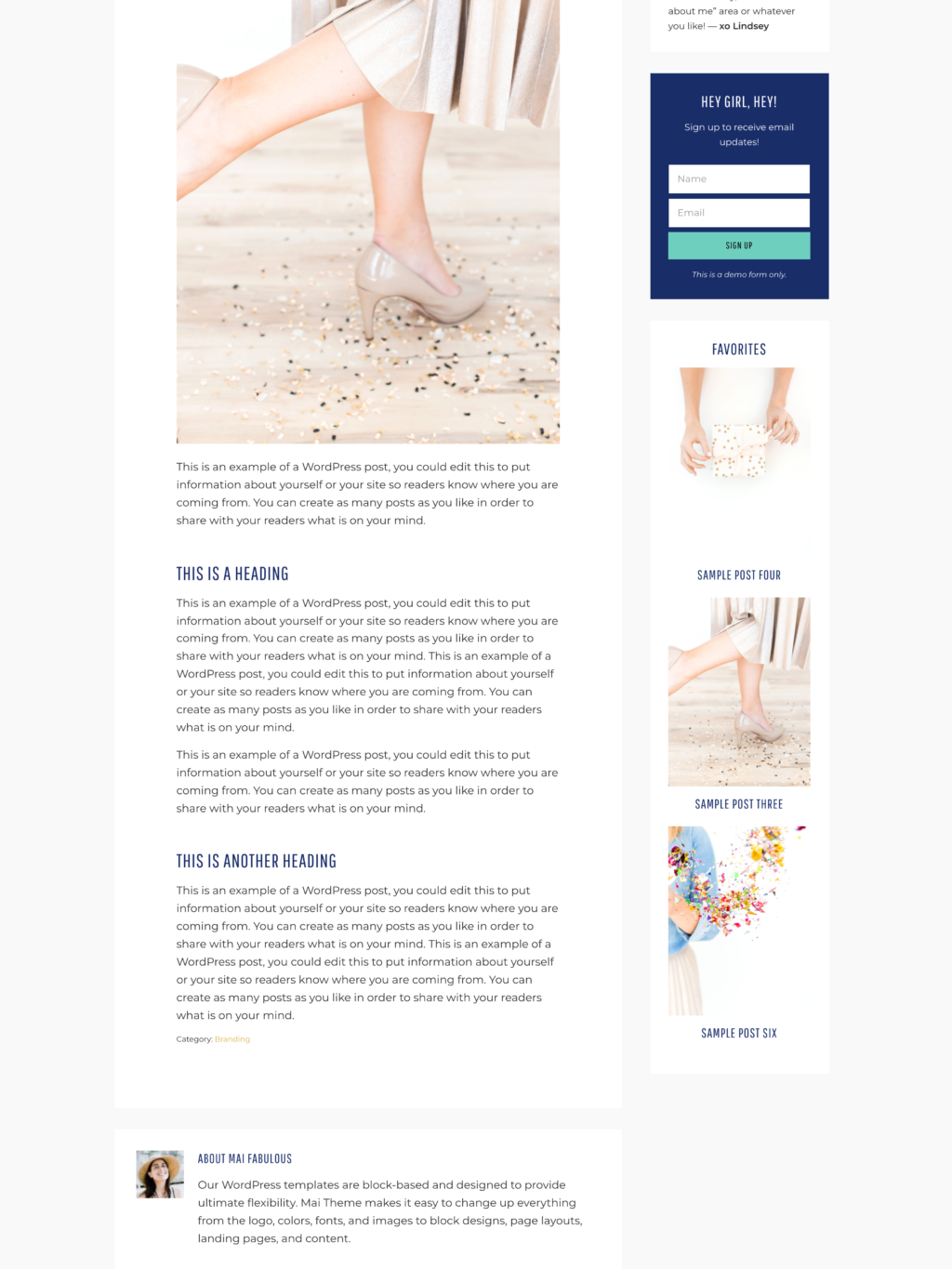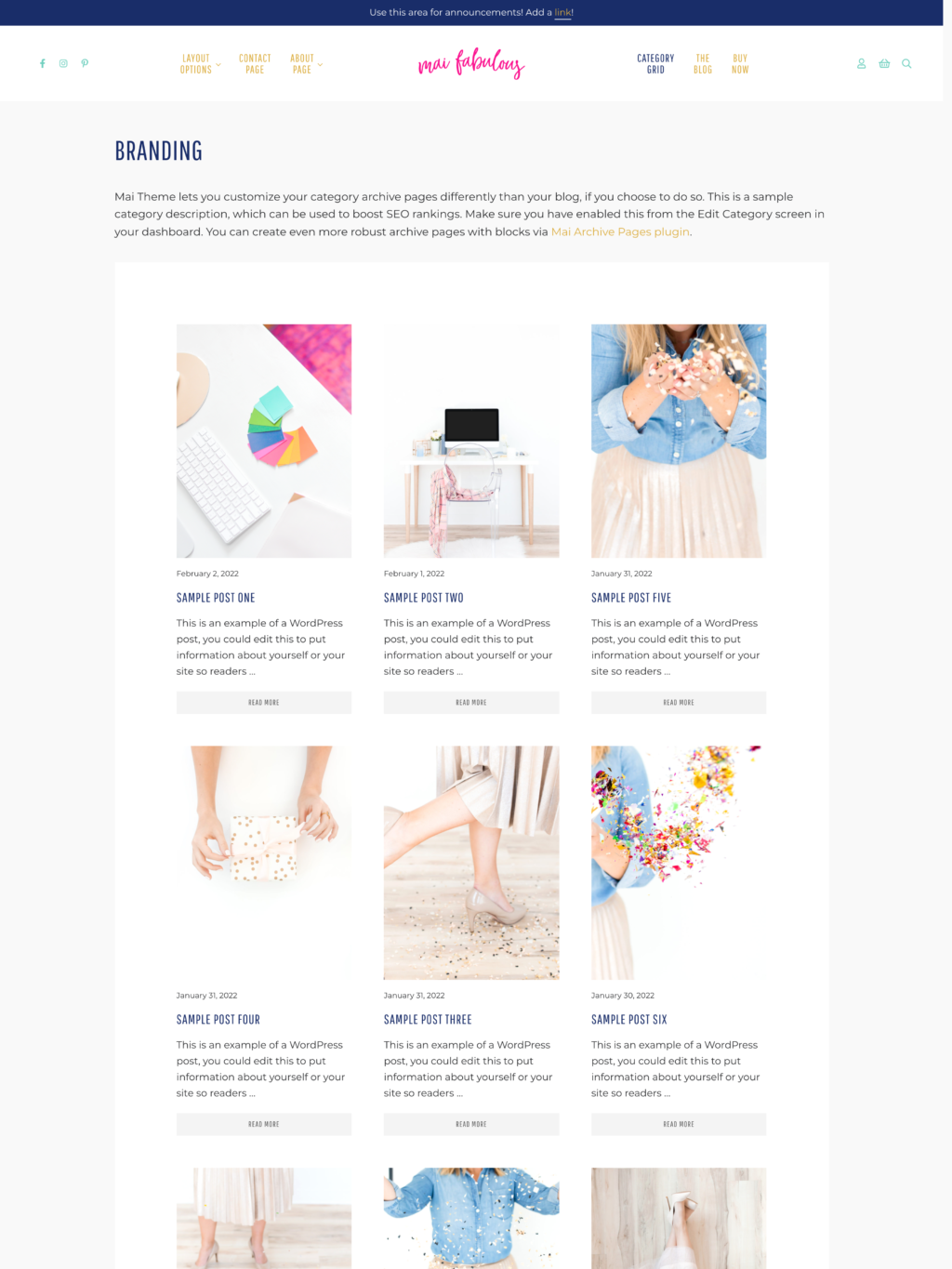 Mai Fabulous Starter Site 2: Fitness
Mai Fabulous Fitness targets fitness bloggers, personal trainers, yoga instructors, and health and wellness brands.
Whether cardio, aerobics, running, weight training, swimming, biking, or mixed martial arts is your jam, if our content is highly focused on fitness, workout tips, exercise videos, and the like, then Mai Fabulous Fitness may just get your heart racing!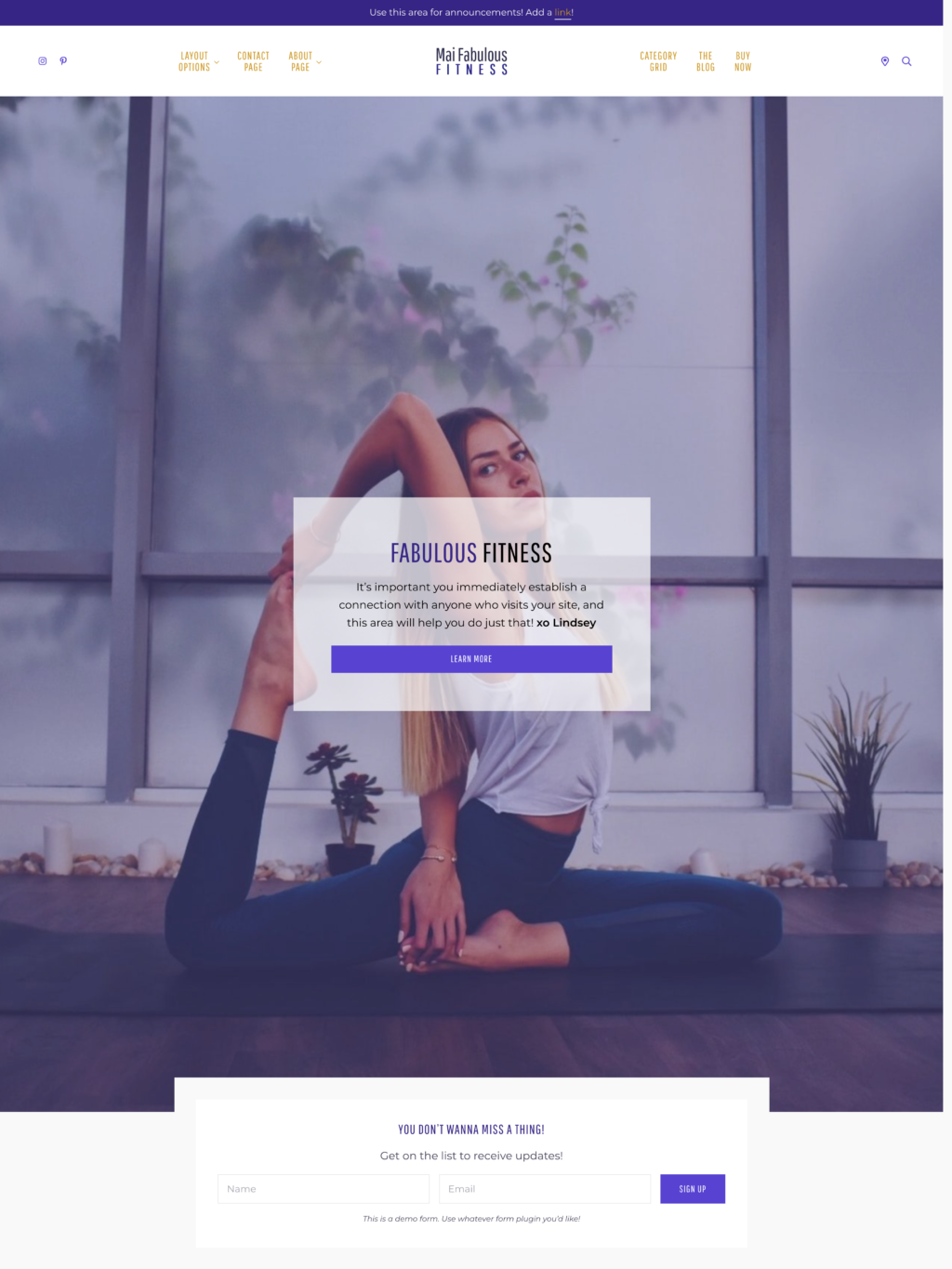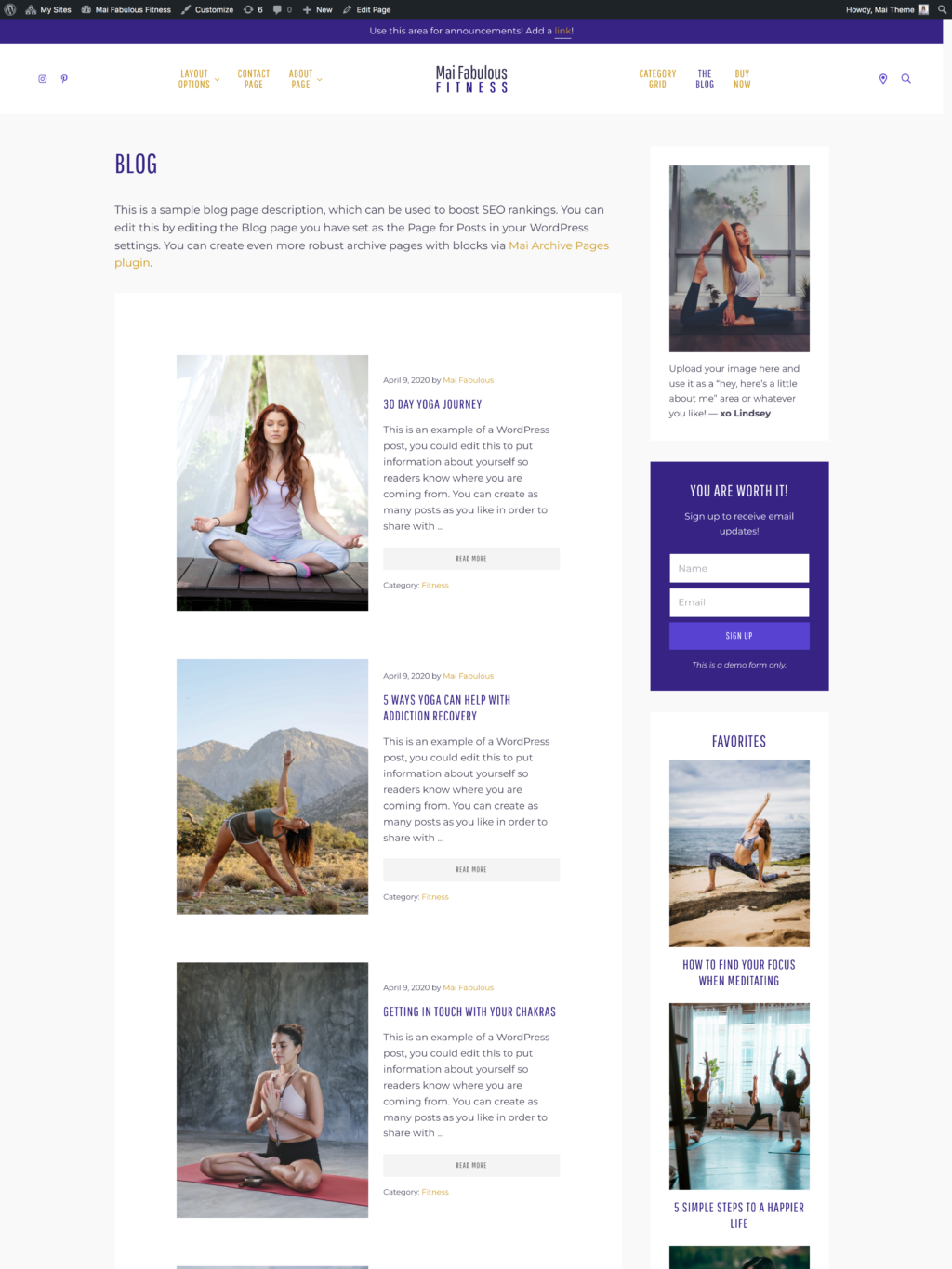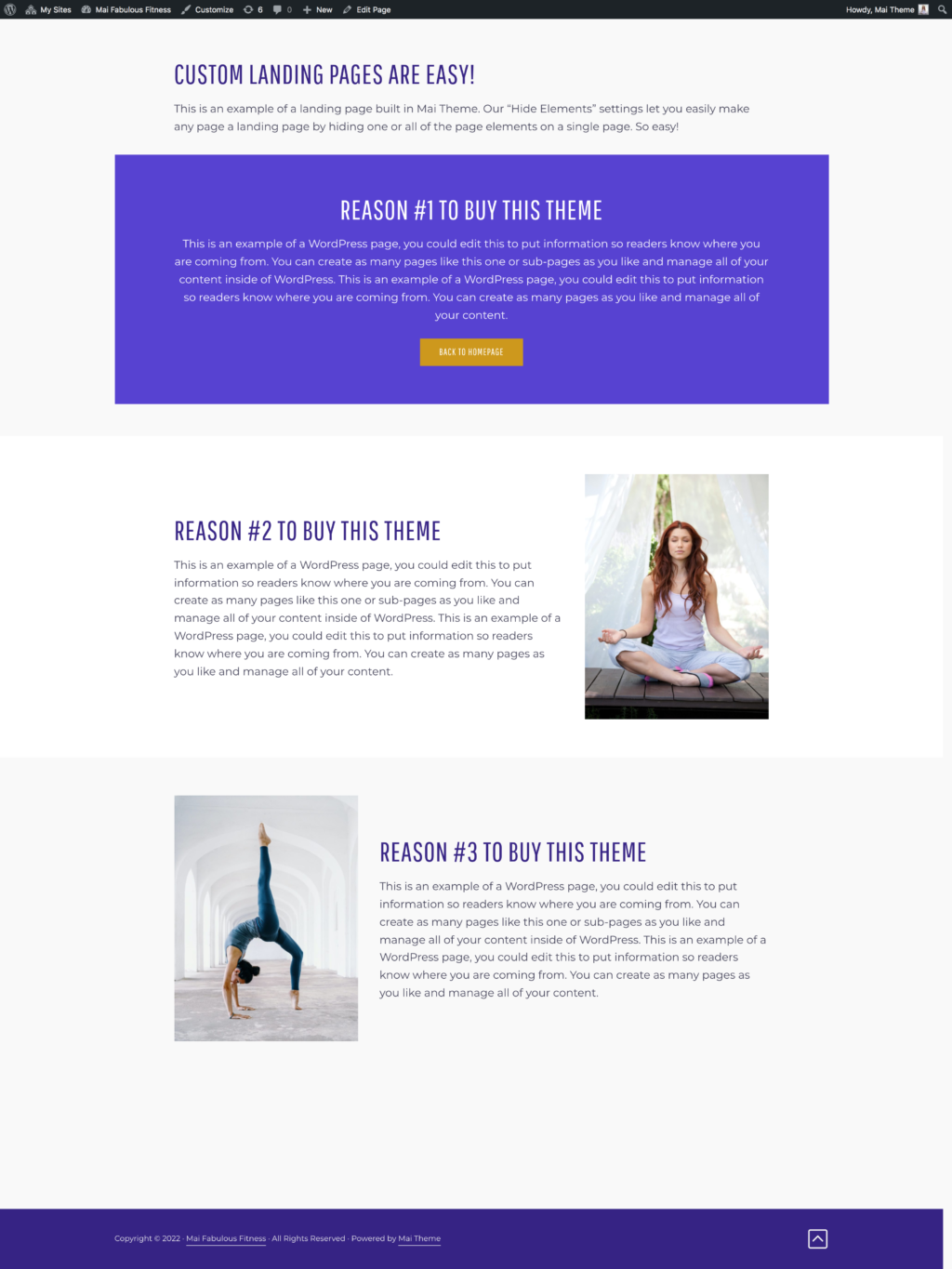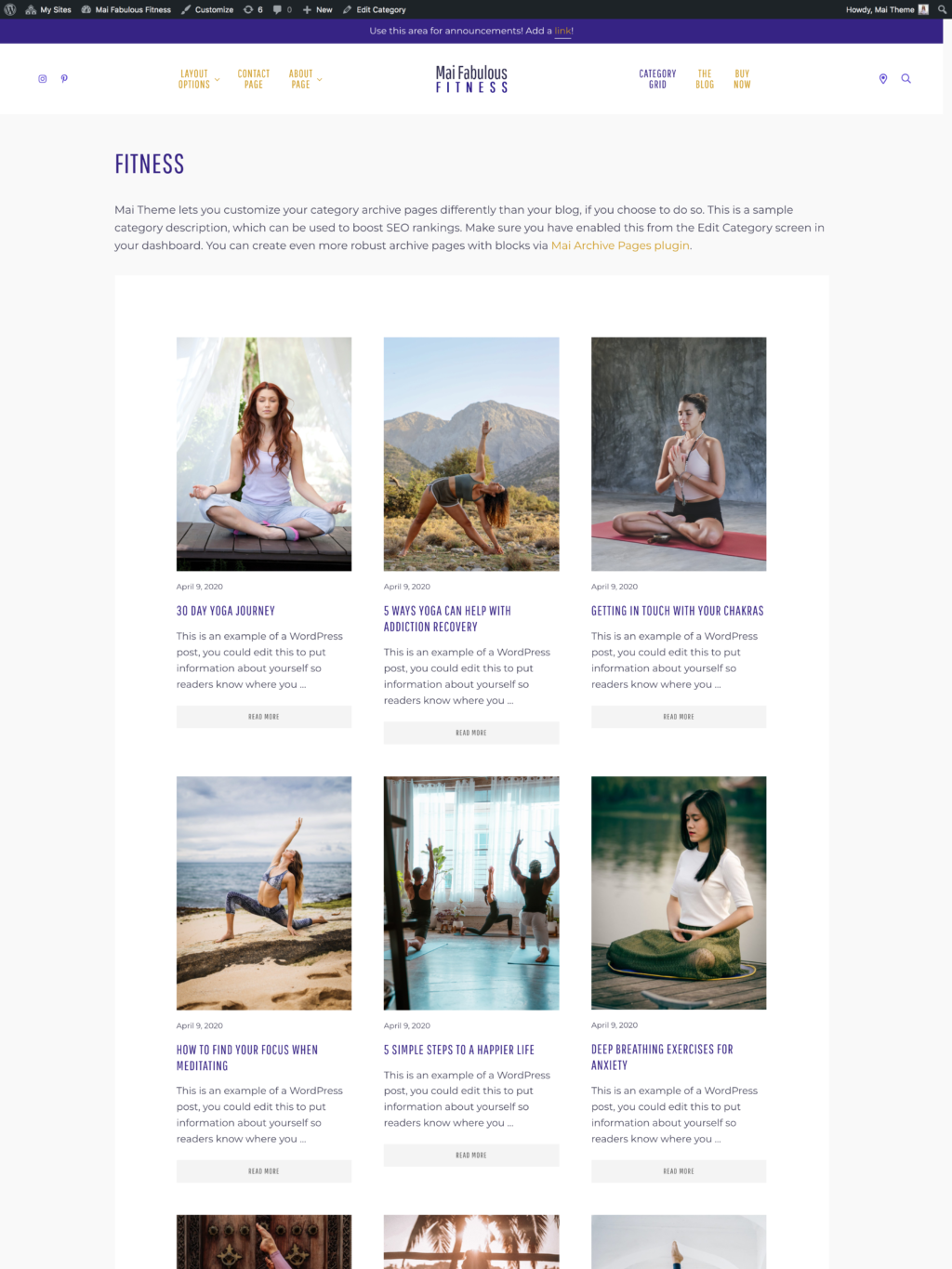 Mai Fabulous Starter Site 3: Personal
Mai Fabulous Personal is for—you guessed it—personal brands!
Whether you are a consultant, coach, influencer, or anything else where you are the face and foundation of your business, this starter site is designed to help you showcase your work, your message, and your offers, so you can reach more people, get more clients, and pursue your passion.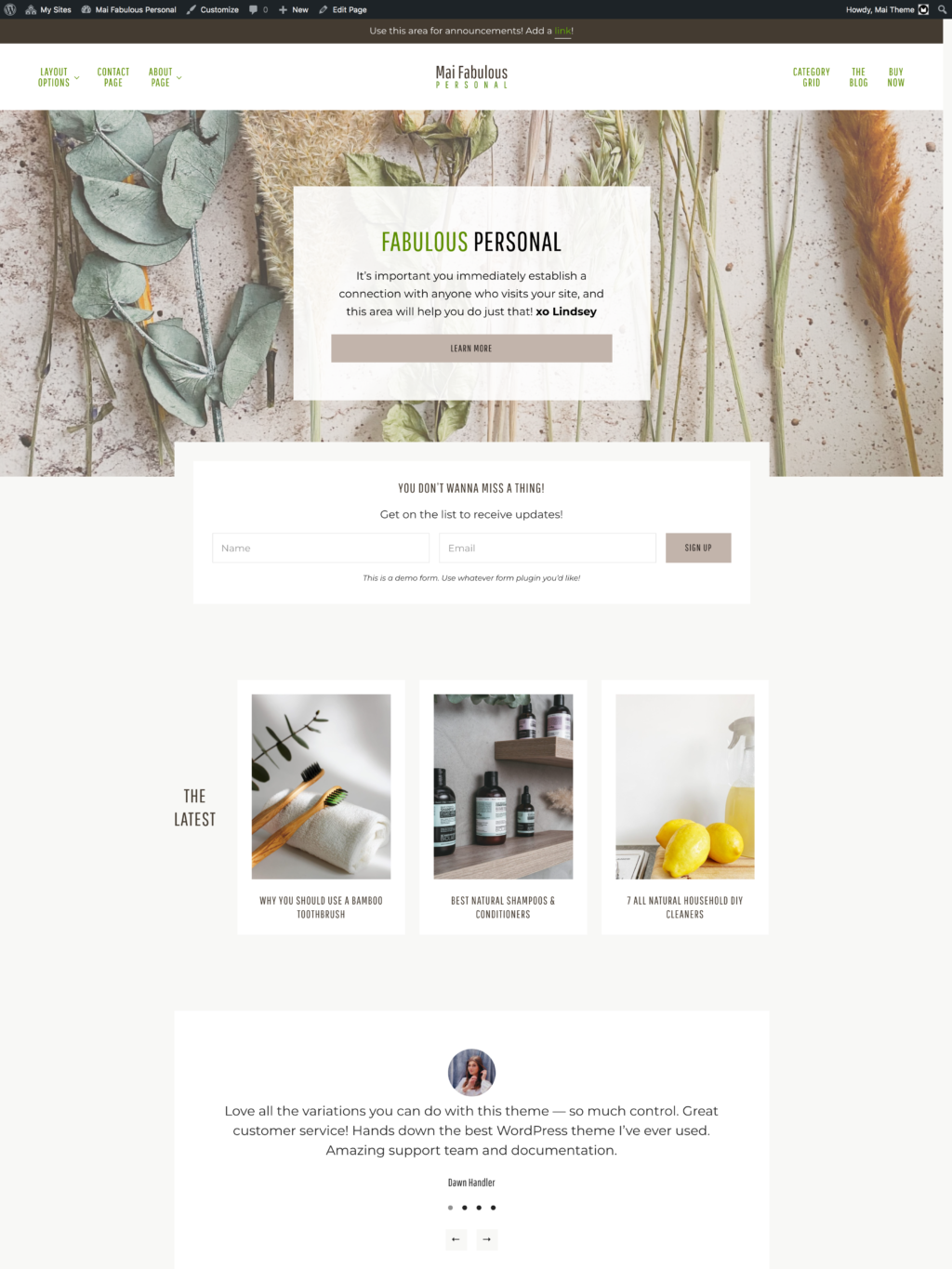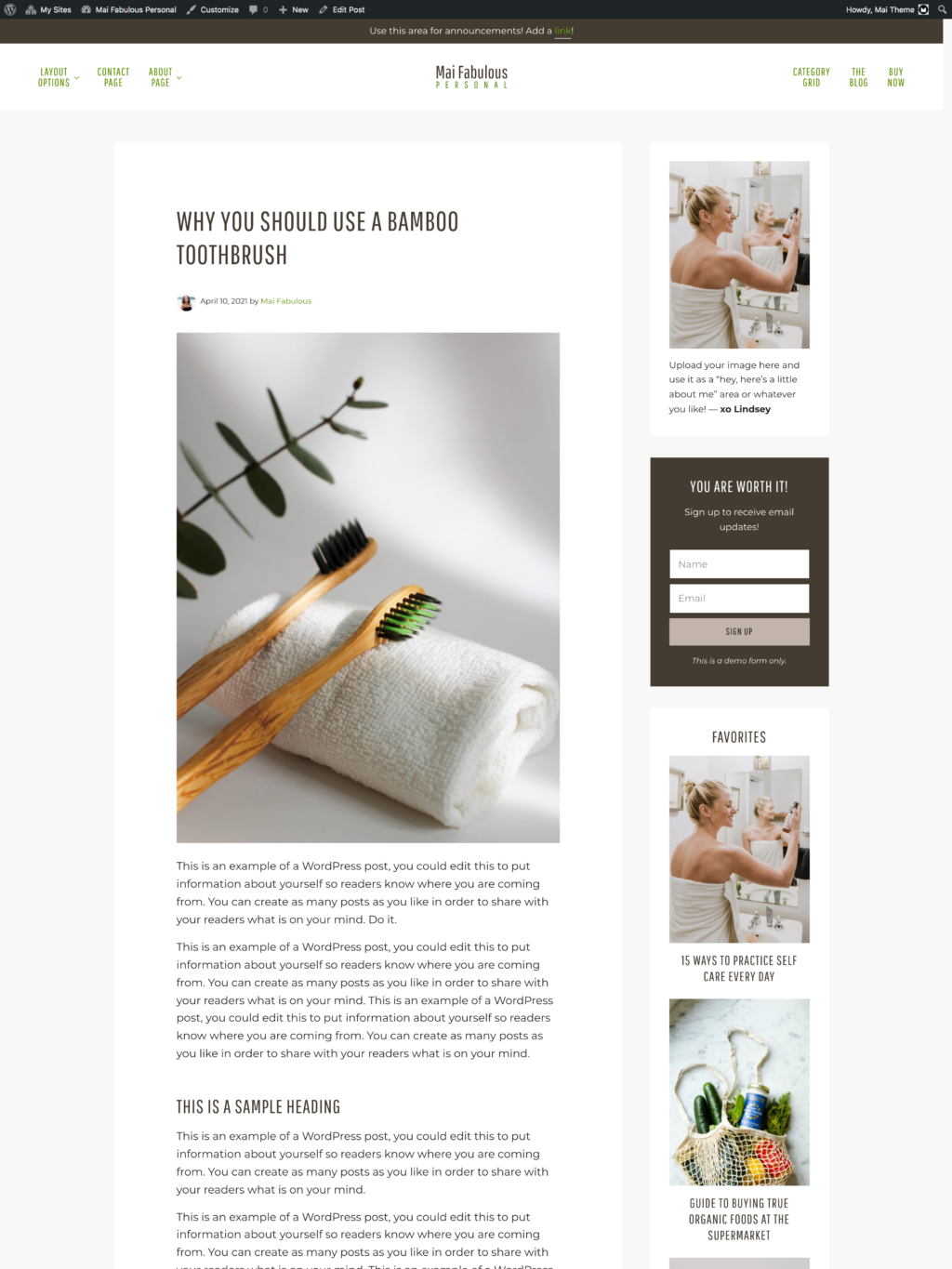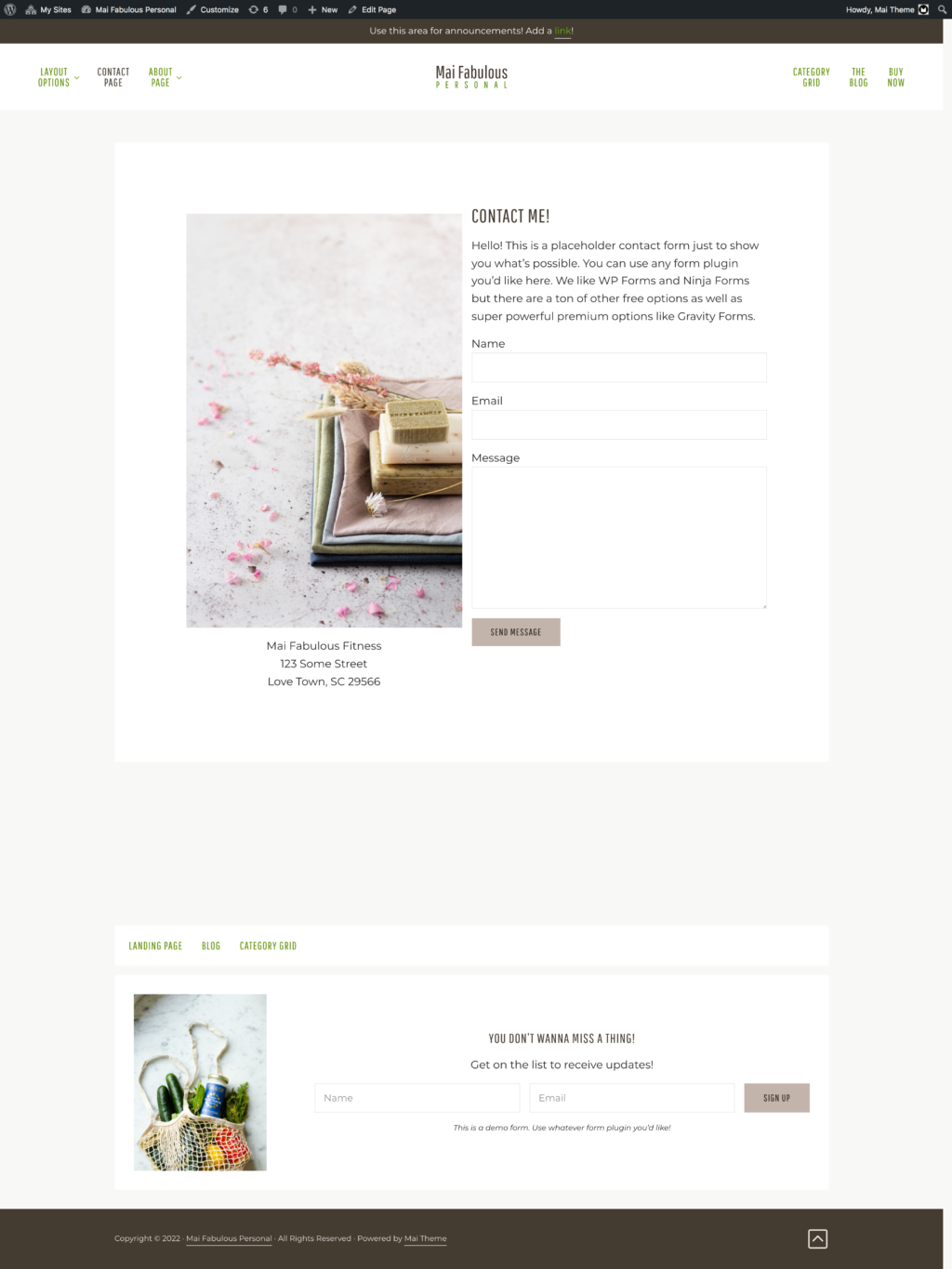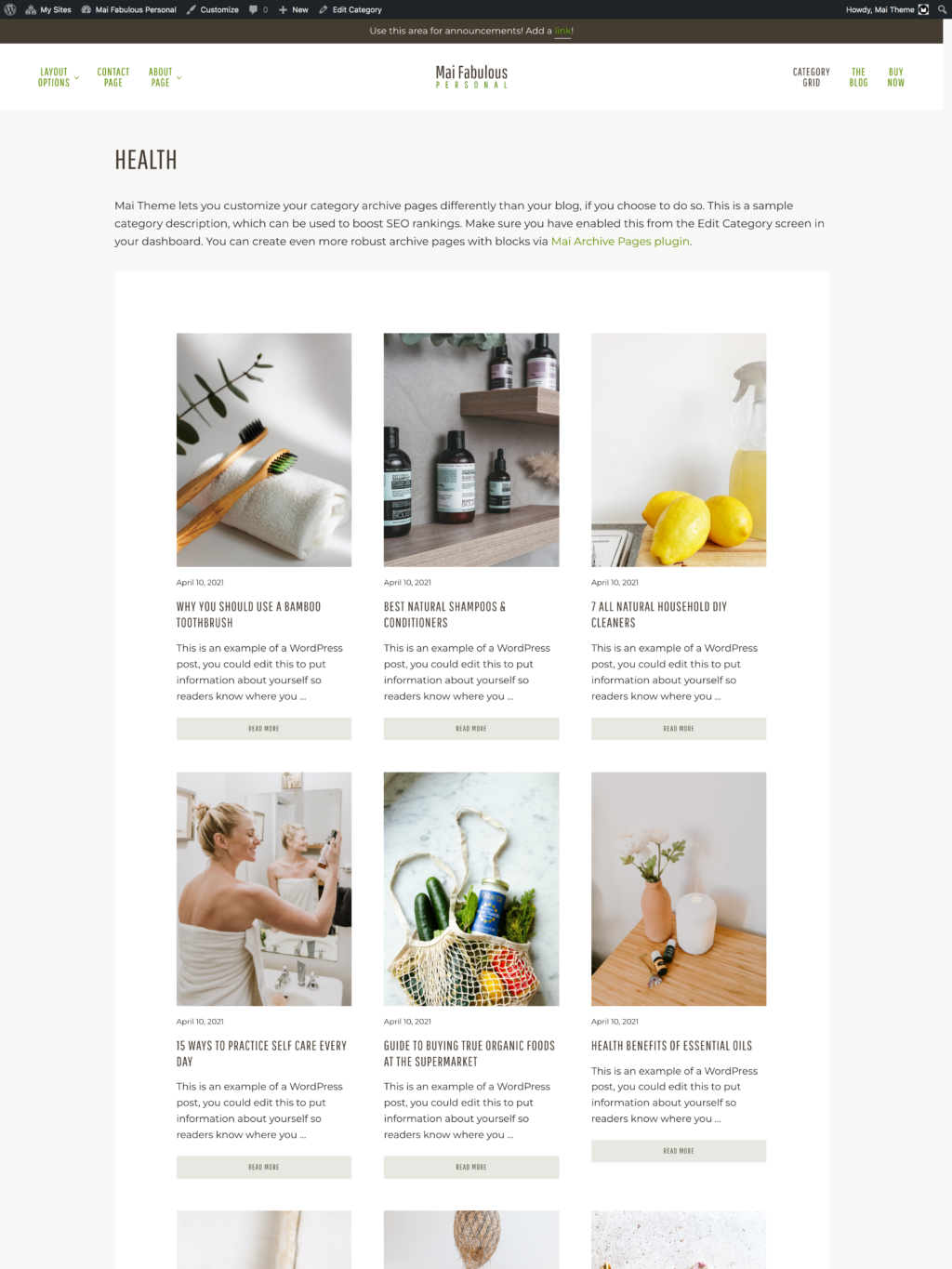 What Are Demos?
You probably noticed the word "demos" a few times above. Our demos and starter sites are basically the same thing, but depending on the context we may refer to them differently.
When we call them demos, its in the context of viewing a live example site. What you see in the demo is what you get when you install the starter site.
We began calling them starter sites because they include everything needed to start a new website or give an existing website a bold new design. In a few clicks, you can create a site just like the demo you love, complete with sample content!
How to Pick a Mai Theme Starter Site
Most people choose a their starter site based on the overall design—or the "look and feel." This a great way make your choice, because it ensures what you choose aligns with your brand identity.
As mentioned, our starter sites are also niche-based, so that may also help you decide which one is right for you. For example:
You get the idea…? Visit any of our website templates to see the start site options and the live demos.
Each one comes with a ready to use design with colors, typography, and images that compliment their niche, and common elements you need to get started—like post grids, testimonial sections, newsletter CTAs, and more, so all you need to do customize to match your brand.
When you are ready to start, use our one-click-install setup wizard to instantly create your new website with content related to the industry you chose.
Once you choose and load a starter site, that doesn't mean you are stuck with it forever either. If you decide you want something different, for any reason, you can load a different starter site or even website template, because with Mai Theme you get ALL our website templates and starter sites!
This flexibility really helps make the process of customizing your website fun, because you are able to experiment and see what works for you.
What You Get with Mai Theme Starter Sites
With the collection of website templates included with Mai Theme, you get everything you need to get your site up and running fast' including starter content so your site looks just like the demo.
Each of our website templates and starter sites are different and the pages and sample elements vary based on the style and target niche, but you can expect your starter site to include:
Homepage
Contact page
Other core pages such as About, Portfolio, Categories/archives, Work With Me, Services, Portfolio, Landing Page, and more
Sample posts, text, and images
Preset colors and typography
Search icon/functionality
Website footer and other content areas
CTAs such as newsletter sign up or contact
Testimonials, FAQs, post grids, and other pre-designed sections
and much more!
Are Starter Sites Flexible & Customizable?
YES! Mai Theme and our starter sites include comprehensive customization options that let you customize nearly every aspect of your website down to the most minute detail—without ever touching a line of code or installing a clunky page builder.
No code, drag+drop, and copy+paste tools and settings panels make customizing your template way easier than you think.
With Mai Theme you can…
Add more pages and publish new content
Enhance, tweak, and change existing pages
Add new features and functionality
Change the design of a single page or the entire site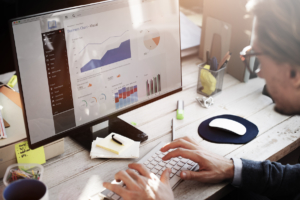 New to website building?
If you're like most people, when you decided to DIY your website, you dove head-first into the technical details. The problem is creating your dream website doesn't start with a template or technology. It starts with proper planning. Get started planning an amazing website with this free webinar!
Website Planning:
Practical Steps for
Planning a Website
If you want to keep going with your website planning, check out our free on-demand webinar
Don't Love Your Starter Site's Homepage?
We've found that people will absolutely love one starter site, but maybe one aspect, such as the homepage, just doesn't work for them. That's an easy fix!
You can easily grab the entire homepage from a different site, and stick it anywhere on your site. That may mean utilizing it as your homepage, even if you're using an entirely different Mai Theme template.
Any time you paste in another page, layout, section, group of blocks, or single block element from another Mai Theme template, it will work seamlessly by automatically adopting fonts, colors, and other base styling.
Define Your Brand Identity—and Have Fun Doing It!
Plus, starter content helps you visualize and settle on your brand identity. As you make changes in the customizer, you can visualize your changes in real time because there are sample pages and content.
Because there's starter content with sample blog posts and categories and homepage content, you can change the settings and see what things look like. People always struggle with design when they have no content or blog posts to work with. As you're deciding what you want your brand to look like, you can use this starter site as a way of experimenting and customizing to see what it looks like.
How to Install Your Website Template & Starter Site
Our Mai Setup Wizard makes installing your template and the starter content easy. Check out this quick video.
This video has not been sped up! It literally is this quick and easy to import demo content and get started.
For written step by step instructions, visit our Mai Setup Wizard help doc.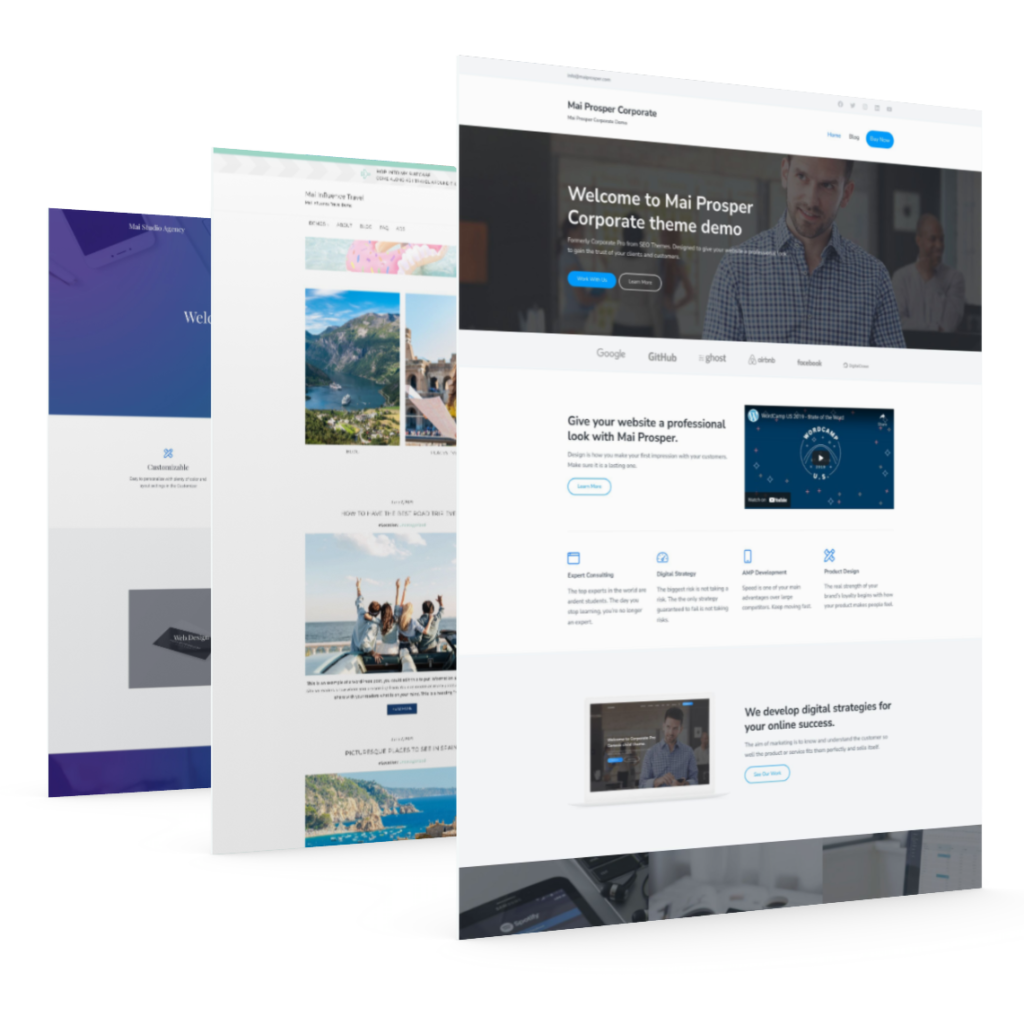 Get a Head Start & Create a Unique Website
---
Get everything you need to start a new website or give an existing website a bold new design with Mai Theme Essentials (includes all website templates and starter sites!). Plus you get with access to the Homepage Pattern Collection when you buy Mai Theme.
Download the How to Start Blogging Guide
Explore this FREE GUIDE to take a deep dive into how to start blogging to make money. Get a PDF version of this guide right to your email, plus weekly tips from our blogging experts at BizBudding.