Reading Time: ~
5
minutes
What is a Landing Page?
You've probably heard of landing pages before if you working on lead generation or increasing traffic to your website. Do you know exactly what it is or why you should have one (or even several) on your site? Many business owners think that the homepage is the be-all and end-all page of their website. This is partially true, but you're missing some great opportunities if you don't have landing pages factored into your online marketing strategy.
If you want to get a specific audience to your site, you need to have a place to send them that is also specific to your campaign or goal. A landing page gets its name because it is where your target audience will "land" when they perform a particular search query and click on the result in the Google SERP. These specialized web pages are designed to capture the visitor's information, usually an email address, with an opt-in form. Landing pages present some type of compelling offer such as a free trial, ebook, or video series to entice the viewer to sign up. Landing pages can also be used for paid products and services.
10 Tips for Successful Landing Pages
When landing pages are executed well (meaning the page is targeted and has a solid offer) your conversion rates will skyrocket. Here are 10 tips to help you create more successful landing pages.
1) Write an attention-grabbing headline.
The headline of your landing page is by far the most important part. Sadly, people won't read every word of the copy that you poured your blood, sweat, and tears into. As humans in a highly distracting world, we tend to naturally skim for headlines and other elements that grab our attention when reading. That's why you have to draw people in with those few words at the top of the page. Be specific and interesting (but be careful not to go overboard). Get it right, and you're much more likely to get people to go further into the copy.
2) Make it visually appealing.
So now you've got your readers' attention, how do you get them to read further? You have to make the rest of your content not only informational but visually appealing. If it's not pretty or easy to follow, people won't stick around. Here's how to make your landing pages easy on the eyes:
Use color smartly. You don't want to the page to look like a box of crayons exploded on it, but you'll want some color to catch readers' eyes. TO reinforce recognition, use your brand's colors. Additionally, color influences consumer behavior. For example, if you are promoting a limited time offer and want to emphasize urgency, you might want to use red buttons for your CTA.
Use sub-headings to break up and organize the main points.
Bullet points and lists are easy to scan and take in. Use them to highlight the benefits of your product/offer.
Keep paragraphs short and clear. White space between text makes the information much more inviting to read and easier to digest.
Use images or videos that tie into your message and demonstrate how your product or service works. And don't forget the human element. A photo of you or video with you talking can go a long way to creating trust.
3) Concentrate on the benefits of your product.
You don't need to sell your potential customers on a solution. They already know what they're looking for—that's how they made it to your landing page in the first place.
A good landing page will instead emphasize the benefits. How is the product or service going to make their lives easier or better in real terms? Be specific. Use facts and figures when you can. Avoid hyperbole and empty promises. Testimonials are a great way of highlighting the benefits as well.
4) Use testimonials.
Why say something yourself when happy customers can say it for you? Testimonials are effective because they provide social proof that your product or service has worked for others. Reading positive first-hand accounts lowers the risk in the eyes of your prospects and increases trust in you.
Ask your most satisfied customers if they would be willing to write a short testimonial of your product or service that you can use on your site. If they're open to their name and professional title being displayed along with the quote, even better (but always ask first).
5) Keep it simple.
You've probably heard the KISS acronym, which we will change for the purposes of this piece to Keep It Short and Simple. This is especially true when writing for and designing landing pages. You want to keep your copy short, simple, and easy for readers to digest. If you don't, they simply won't read it.
The same goes for the landing page design. Some of the most effective landing pages are so ridiculously simple, all they include is a compelling CTA and a form. Even the form fields can be simplified. How few can you get away with? Name and email? Just email? If you really want people to take action, make it as simple as possible for them to do so.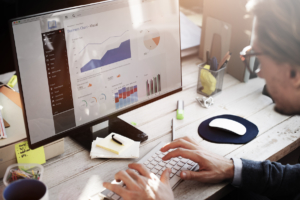 New to website building?
If you're like most people, when you decided to DIY your website, you dove head-first into the technical details. The problem is creating your dream website doesn't start with a template or technology. It starts with proper planning. Get started planning an amazing website with this free webinar!
Website Planning:
Practical Steps for
Planning a Website
If you want to keep going with your website planning, check out our free on-demand webinar
6) Be specific
When you are searching out the best product or service for your needs, what do you look for? Specifics, of course! You want to know that what you're getting is the best out there for the price you want to spend. If you want specifics, of course, your customers do as well. They want to know that they are going to see real results from your offer and that you're not just making empty promises. Which one of these claims is more persuasive to you?
"You'll have whiter teeth."
"Most users find that their teeth look two shades whiter within five days, and six shades whiter within three weeks."
Statistics are the proof you need that your product is the best one out there, far superior to your competitors.
7) Conduct A/B testing.
You have to do some research to find out what copy and elements work best on your landing page. This involves A/B testing–a controlled experiment typically with two variants, A and B. Test your variants at different times, days, etc. on your pages, and see which formula leads to a high-converting landing page. Remember, it's a good idea to always start simple and build from there. Why start with a complex landing page with tons of copy and different elements, when a more simplistic version can do a better job?
If you want to keep increasing your conversion goals, you need to frequently test your copy, along with the other elements of your landing pages including heading and subheading variations, the benefits that you list, image variations, layout, etc.
To get a true picture of which changes are having an impact, it may take some time, but the results can be well worth it. Sometimes just a minor tweak such as changing the copy on your CTA button can make a huge impact on conversions.
8) Don't be a drone.
Remember that human element we mentioned in step 2? It's important. Really important, actually. People trust and connect with people like them. Don't try to sound like something you're not. Be conversational, vulnerable, funny, show your personality–be you. That kind of realness is relatable, and people will be drawn in.
9) Use video.
Video is even more effective at building trust. It allows people to put a face with the brand. Think about your own story and how it conveys the outcome people are seeking. What inspired you to create the thing you're promoting? What's your mission? How did it change your own life? How have you seen it change the lives of others? Be sure to connect back to the potential transformation viewers could see in their own lives.
10) Give your visitors a call to action.
It's very simple: if you don't ask your visitors to do something, then they won't. This is better known as a call to action. Put it above the fold so there's no way they can miss it. Ask them to sign up for your newsletter, give their email address to receive a white paper, or call you today to set up an appointment. They will be much more likely to do something if they know exactly what to do. Your call to action will make their job simple—to do just what you've asked of them. To wrap up this post, below is an example. 🙂
Join the Mai Blogging Community
Join the community to get access to any bonus content we've mentioned in this post, blogging resources, Mai Theme video tutorials, and more! PLUS converse with other bloggers and ask questions. (The Mai Blogging Community is free to anyone who has bought Mai Theme or Mai Solution.)