Reading Time: ~
10
minutes
The goal of your sales pages and landing pages is to help someone go from interested to committed.
You need to be able to overcome people's objections for them to make a purchase, join your email list, or work with you as a consulting client. 
But how do you do this?
How do you even know what their objections are and how do you go about handling sales objections? That's what we'll cover today. 
What Are Sales Objections?
Sales objections are your prospect's concerns, questions, or apprehensions about your product or service. If left unanswered, these objections become barriers to conversions and purchases. 
An objection can be as small as someone not joining your email list because they have not found value in similar newsletters in the past, and are not confident yours will be any different. 
Your goal is to prevent the customer from leaving the page without purchasing or converting.
Since you can't have a conversation with them in that moment, you need to anticipate your prospect needs in advance.
Who's our target audience? What are your customer personas?
Do you know their pain points? What problems are they trying to solve?
You can use this information to create on-page sales copy. The key to creating successful online copy is to build trust and rapport with your prospects.
Focus your marketing efforts on customers who can genuinely benefit from your product.
Different types of conversions also require different decision making processes. The more complex or expensive your offer is, the more objections people will have.
In those cases, a long-form landing page is more effective. This allows people to overcome their objections while on the page. They can scroll and have each of their concerns addressed as they move down the page.
Include CTAs periodically so that the option to buy is always close at hand.
Common Sales Objections
Common sales objections typically revolve around price, time commitments, effectiveness, compatibility, and more.
Let's take a look at the most common sales objections and some ways to handle them on your sales pages.
Price Objections
People may think your price is too high. They may wonder if they can get the same item for less elsewhere or why it is priced higher than the competitors.
In the latter case you may need to justify that cost. Perhaps your products are better quality, use ethical practices, or offer something extra that the competition doesn't. This aspect may be what actually makes you stand out, so don't ignore it.
People may be equally skeptical if your product is priced significantly lower than the competition. They may think there is a catch or loophole or that your product is lower quality.
Make sure to have a good understanding of your audience and their buying habits, and do market research to consider your product's absolute and relative value when pricing it.
Potential clients may also cite budgetary constraints as an issue. You may need to reframe this thought to show how the future impact of your product will save them in the long run.
All of these are valid issues, but as price is the most common objection, sometimes there is something else actually blocking potential buyers from pulling the trigger (and they may not even be aware of it).
You can get to the heart of their real objections by asking questions (with sales calls—if those are part of your sales process—or surveys), or, simply cover your bases by addressing all possible objections on your sales pages.
Time, Effectiveness, Ease of Use
I lumped all of these together because they are interrelated, but it's possible that a person may only be concerned about 1 or 2 of these aspects.
Your solution should help people get the result they want faster and easier (…and it should actually work!).
Tell them you have made the mistakes already so they don't have to. What are the mistakes? Articulate them (because these are probably things people are worried about too).
What is their time worth? How much time will this save them? The value of your solution could be in the short-term or long-term. Be specific.
Reassure them by sharing concrete figures, numbers, statistics, examples, and success stories. Put things in a real-world perspective so they can see the true value of your product.
If possible, show your product in action in with a video and time counter or time lapse.
Features & Functionality
Feature/functionality objections are possibly the easiest types of objections to overcome.
An engaging video showing your product in action or describing its benefits (with a focus on outcome), can answer people's questions and put their minds at ease.
Compatibility/Integrations
If your product is web or software-based then this may be an objection you want to consider.
To overcome this objection, you can add a question to your FAQs that lists out the common platforms/tools that your solution integrates with.
While creating a standalone FAQ page can be worthwhile, it may also be a good idea to create an FAQ section on your sales page to keep visitors where they are more likely to buy.
Competitors
This is a big one if you are in the SaaS or website technology industries. If the process to switch providers is not stated, is unclear, or there is no place to obtain more information (such as a contact form or request a quote form), then you are pretty much guaranteeing potential clients will be going elsewhere (or staying with their current provider) for what they need.
Beyond making the onboarding process clear, do your research and know who your biggest competitors are and how their solution compares to yours.
Look for weaknesses, but also be sure to know their strengths so you can address them.
No Decision Making Power
Do you have a way for employees part of a larger organization to bring your solution to their manager, supervisor, or higher ups?
Make it easy for them by providing a cut sheet, case studies, or slide deck that they can download and share with confidence.
Use Data to Figure Out Sales Objections
Now that you know what the common sales objections are, you need to know which of these apply to your customers and offerings.
But how?
It's much easier to make a sale if you can explain to a customer what they can expect if they purchase a product or service. That's why selling in person is way easier. (Well for some people at least…)
When selling online you have to use your data to figure out sales objections.
Here are some questions to consider:
Are people making it to the cart?
Are they dropping off?
Where are they dropping off?
What landing pages are they coming in on?
Do you have a call-to-actions on those landing pages?
For instance, if you have a blog post ranking particularly well, include a CTA on that page that directs people to a related product.
You can also use Hot Jar, a type of heat mapping software, to see in real time how people are interacting with your pages.
You can also set up Google Analytics goals so that you can see ecommerce add to carts, cart abandonments, and more.
If you see a lot of drop offs after add to cart, then you can decide if you need some ecommerce trust factors to your cart page or create a cart abandonment email sequence.
Understand Your Audience
Once you have a better understanding of your data, have some conversations with your customers.
After all, you won't be able to write good sales copy unless you know who you are talking to.
Who's your target audience? What's their persona? How can you solve their problem? What are their pain points? Make sure to address those pain points on your sales landing page. 
How do you gather information about your audience?
Surveys
Google Analytics
Email Newsletters Asking for Replies
Social Media Analytics
Surveys
Send out a survey to gain clarity on what people need help with and where they are getting stuck. Keep it short and include a mix of multiple choice and open ended questions. This way it is simple and quick for people to complete, but if they want to give more detail, then they have the opportunity. These open-ended questions can be a great way to get feedback and understand your customer's objections in their own words. 
Google Analytics
In Google Analytics, visit Audience > Demographics to learn more about who is visiting your site and how they are interacting.
Things to consider include age, gender, interests, geographic location, if they are a new or returning visitor, and even device type.
These factors paint a picture of your buyer persona which you can then use to help shape your messaging.
Ask for Email Replies
We do this at then end of every email and are often surprised how many responses we get. (This can also help improve email deliverability.)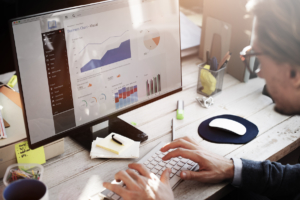 New to website building?
If you're like most people, when you decided to DIY your website, you dove head-first into the technical details. The problem is creating your dream website doesn't start with a template or technology. It starts with proper planning. Get started planning an amazing website with this free webinar!
Website Planning:
Practical Steps for
Planning a Website
If you want to keep going with your website planning, check out our free on-demand webinar
Social Media Analytics
Did you know you can learn a lot about your audience from your social media analytics too?
Market to everyone on Facebook that's been to your website. Then you can also market to your lookalike audience—people who look like your website visitors. 
Spend $25 on FB ads and market a statement, value proposition, or something else about your brand and see how many people click back to your website. This is a great opportunity to learn more about what resonates with your audience and test what information to put on your sales landing page.
Create Your Value Proposition
You may wonder why I am just getting around to this topic now. It's because you need to have a firm grasp of everything we've look at prior in this post, to create a solid value proposition.
Articulate your value proposition and state the benefit you provide and the problem you solve for your customer.
Also, state why you're the best person to do that.
You can also test this with social media marketing on FB to see if anyone clicks your ads. 
Focus on outcome.
Your solution is going to get them there faster and easier. If you are in the service business you've already made the mistakes. You've been there. You know how to save them time and energy. Because of your experiences you can show them what worked for you. 
consulting perspective What is their time worth? learn how set up GA may not be worth their time but if for you to create a couple standard reports may be worth their time for you to set it up for them
Use Your Email List to Prep People for Purchase
Don't forget about the power of your email list!
Business owners who use their lists well often cite it as their most important asset is boosting awareness, increasing engagement, managing churn, recovering abandoned carts, and much more.
You can also use your list to help overcome objections and prep your potential customers for purchase.
When we were getting ready to re-launch the Mai Design Pack (now Mai Theme Pro Bundle) with its new pricing, we shared more information in our emails about WordPress changes, blocks, and the Mai Pattern Library (included in the bundle). 
We did this over the course of weeks, so by the time the change actually happened on our site, our customers were not blindsided. They were aware of our roadmap and many of them were already embracing the new changes.
Take note of who has opened your emails or downloaded something and at what point they are in the buyer journey. From there you can send them an email about a special offer you have or schedule time with them to discuss their questions. 
Encourage Communication Within Your Business' Departments
Even for a small business like ours, this can be difficult, sometimes even more so because there's always so much to do and only a few of us.
It's critical that your development, marketing, and sales teams are in regular communication to understand what's new, what's changing, and how that factors into how you market and sell your products or services.
Create habits and processes to encourage this communication.
I am a big fan of processes. A lot of my work would not get done without them (or at least not very efficiently). What this looks like will vary depending on your business, but for us it looks like us sharing news/updates through Slack and Basecamp—in addition to our weekly team, project, dev, and marketing meetings.
What to Put on Your Sales Pages to Increase Conversions
Finally, the moment you've been waiting for! (Unless you skipped ahead, but that's what the Mai Table of Contents is for. 😉)
Ecommerce Trust Factors
One of the biggest reasons for cart abandonment is additional fees/costs and other last minute surprises. 
Be transparent with your customers about what they can expect on your sales pages so they can feel confident and secure in their purchase.
Include ecommerce trust factors such as:
100% money back guarantee
Return policy
Free shipping
Social Proof
People like to see that other people have used something, and it has worked for them. It helps give us confidence that it'll also probably work for us. 
Provide social proof on your sales pages with testimonials, links to case studies, mentions of well-known companies you've worked with, ratings, endorsements, and reviews.
Focus On the Headline and Subheadings
The headline is one of the most crucial parts of your sales page.
The best headlines are short and to the point. They are also descriptive.
Try focusing on the outcome you can deliver. Then leverage your product and process along with the outcome.
How to Create a Landing Page in Mai Theme
With Mai Theme, it's simple to create a professional and engaging landing page or sales page.
Just build your page normally with blocks and then hide what you don't want to show using the "Hide Elements" meta box. Remove menu/navigation links, footer, and more so what you are left with is just your logo and page header (if desired).
Here's how to create a landing page with Mai Theme. 
Mai Theme Pro Bundle
And with the Mai Theme Pro Bundle, creating a landing page is even simpler!
Mai Theme Pro Bundle gives you access to the Mai Pattern Library and all of our premium plugins the pros use.
Patterns are pre-built blocks, sections, layouts, and even pages that help you quickly build high-converting pages that address all of your customers' objections.
There are patterns for everything from contact forms, CTAs, FAQs, pricing tables, testimonials, and yes, even landing pages.
Simply find a pattern that you like, copy it, and paste it into your page wherever you want. Then, swap out the content, images, and headlines with your own. It's that easy!
Closing Thoughts
With a bit of research, observation, and communication, you can create high-converting sales pages. Just follow these steps!
Use data to figure out your audience's objections
Learn more about your target audience and their pain points.
Create your value proposition.
Use your email list to prep people for purchase.
Communicate with your team about what's new and how to market it.
Create yours sales page that address your audience's objections.
we are here to help
Want more business insights?
Sign up for our newsletter, and in addition to important updates about what's going on with BizBudding and Mai Theme, you'll get helpful, on-demand, expert advice based on our years of experience working closely with hundreds of ambitious bloggers, creatives, and entrepreneurs.
We've been there. We've made mistakes, and we've had big wins. We know what it takes, what works and what doesn't, and we want to help you succeed.
Download the How to Start Blogging Guide
Explore this FREE GUIDE to take a deep dive into how to start blogging to make money. Get a PDF version of this guide right to your email, plus weekly tips from our blogging experts at BizBudding.