Reading Time: ~
9
minutes
Why aren't your emails going into your subscribers' Primary Inbox in Gmail? Can we stop emails going to Promotions in the future?
While the Promotions tab isn't as bad as the dreaded spam folder, it's still not ideal for your emails to end up there.
We've gotten this question a few times recently—surprisingly from established bloggers with big lists—so we put on our research hats and dug in.
Why Do Some Emails Go to Promotions in Gmail?
The good news is that the Promotions tab isn't the marketing dead zone that you might fear. About 45% of Gmail users check their Promotions tab daily. Still, it's understandable if you want to avoid it, especially since open rates are typically higher from the Primary inbox.
When a person or a business sends a marketing email to their followers, Google scans each email for certain things that determine if the email goes into Spam or one of the three Gmail tabs: the Primary Inbox, Promotions tab, or Social tab. This is based on algorithms that account for engagement, content, and sender information. Marketing emails—especially ones sent in bulk as a "blast"—tend to have indicators that mark them as promotions.
How to Stay Out of the Promotions Tab in Your Gmail Account
Unfortunately, Google's email algorithms are complex and they change often so there's no surefire way to "beat" them, but there are steps you can take to give your emails a better chance at going into Primary inboxes.
How to Move Emails from Primary to Promotions or Promotions to Primary in Gmail Permanently
Unfortunately, there is no way to train Gmail to do anything permanently. "How to move emails from primary to promotions in Gmail" is a common question for Gmail readers, and for marketing folks we want our emails to end up in primary permanently rather than promotions!
As techniques are developed, Gmail works to overcome them.
Here's the reality: In the context of large-scale email marketing, it's challenging to bypass the Promotions tab in Gmail on a permanent basis.
There is, however, a way to get your emails from promotions to primary more consistently: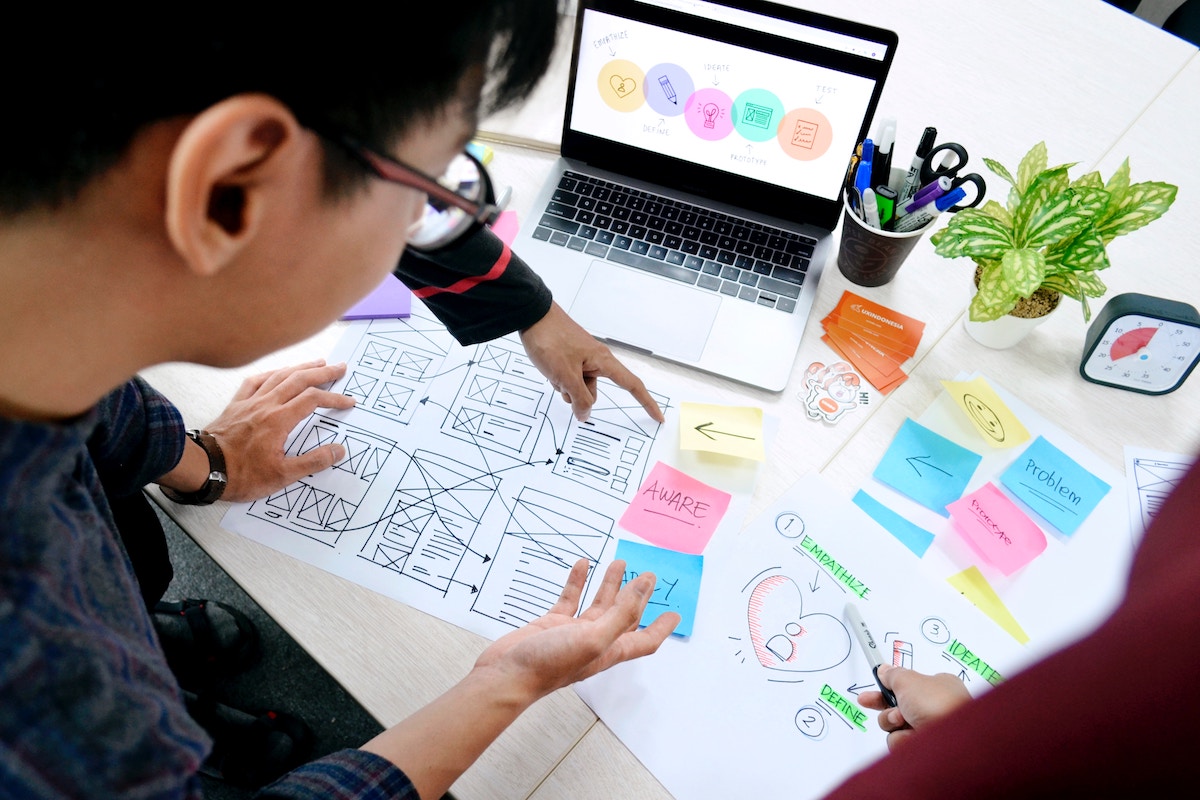 Online Course for Bloggers
Discover How Your Blog Can Get More Traffic, Leads, and Sales from Google. This SEO course for WordPress will help you craft optimized content that Google values, to rank you higher, and convert more traffic into sales
Ask Your Subscribers to Whitelist You
The only way to be sure that your marketing messages end up in the Primary tab 100% of the time is if subscribers move your emails into their Primary inbox or "tell" Google through actions that's where they want to see them.
They can do this by clicking the Labels icon at the top of Gmail and unchecking the Promotions box to switch the message from Promotions to Primary. This is less ideal because it's more manual. They would need to do this for each email until the algorithm adjusts.
Even better, you can ask your subscribers to whitelist you (i.e. add your email to their Contacts list). They would do this by clicking the three dots at the top right-hand corner of the email and selecting "Add [Name] to Contacts list."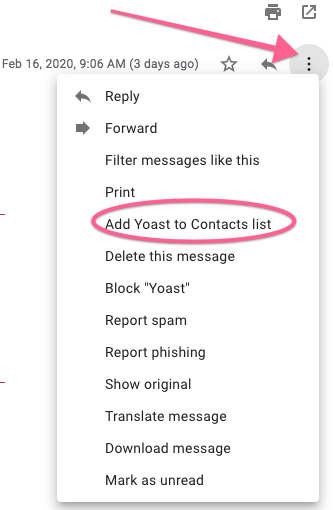 If you have an established email list, people will be more likely to follow through, but it really doesn't hurt to ask. Frame the request by explaining how it's beneficial for them. It ensures they don't miss anything.
How to Stop Important Emails from Going to Promotions in Gmail
If you find you have emails that you miss in Gmail due to the promotions filtering you can set up rules, whitelist the sender, or disable the promotions tab altogether.
Make Your Emails Clear and Simple
The biggest red flag for Google's organizational algorithm is how much extra stuff the email contains. Emails that would never get flagged for the Promotions tab are correspondence-based business or personal emails. These are typically text only but could include an attachment or two.
Aside from making your emails more personal, here are some other things you can do to simplify your emails.
Minimize Links
Often emails with more than one image or link (not counting the unsubscribe link) will get labeled a promotion. This includes links to your social media profiles in the signature as well. If you have great engagement within your list, you may have a little more leeway here, but it's best to minimize links as much as possible.
Minimizing links can also improve your CTR. Fewer links mean fewer choices. If you've only got one link, it's really clear to subscribers what you want them to do. This could be to read your latest blog post, buy your product, or hire you for your service (the link to that post, product, or consultation should be your one link).
You don't have to bring attention to your social media accounts in your emails. Your emails should ideally bring people to your website where you can have links to your social media pages somewhere on one of your menus (usually the utility or footer menu is best). Also, it's a great idea to include social share links on your posts.
Lastly, pose questions and ask people to reply to your emails. You don't need any links at all when you do this, because the reply is the CTA. This approach is multi-benefit for email marketers; you get useful feedback that guides future email communications, and it trains Google to recognize that your subscribers trust you.
Minimize HTML
HTML-heavy emails also get barred from the Primary inbox. If you have an email template that's visually striking, then it's a heavy HTML email and will be kept from the Primary tab.
This is because Gmail algorithms sort based on source code and too much says the email was automated, not sent by a human. Promotional emails also typically include an HTML masthead so it's a good idea to use a common email signature.
Send plain text or light HTML emails for the best results.
Minimize Graphics
It's natural to want to add some pizzaz to your emails with a bunch of cool graphics. Resist that urge. Again, emails with too many images get sent to Promotions. Opt for one or no images and be aware of your text-to-image ratio.
Not only does avoiding images help to keep your emails out of promotions, but it also helps you avoid other technical issues that can arise if the type of image or way you are implementing it is not fully supported by all email clients.
Avoid Salesy Language
If your email messages sound like marketing campaigns, then they'll be labeled as promotions. It's that simple.
This is especially important to take into consideration when writing your subject line. If the subject has dollar signs or anything related to selling then it will automatically get sent to Promotions. This also means avoiding spam trigger words in the subject and the body of your email. These are phrases like "Make money," "Get paid now," "Free gift card," or "You won!"
Personalize Whenever Possible
Personalizing an email is not just helpful in improving its chances of not ending up in Promotions, it also increases open rates and conversions. It makes your subscribers feel like you really care about them instead of thinking of them as a faceless consumer. There are a number of ways that you can personalize your emails.
Address subscribers by name. Users are more likely to open and read the whole email if it's addressed to them personally. Active Campaign and most email providers make this easy with personalization tags. These tags allow you to dynamically insert variables specific to the contact (e.g. FIRSTNAME in Active Campaign).
Don't blast your emails. Sending bulk email blasts to your entire list at once can flag them as promotions or email spam. It's better to set up specific opt-ins and then only send people information based on their interests and that they've confirmed they want.
Segment your list. This means sending emails to your followers in personalized segments based on what you know about each user. This information can be based on buying habits or how long they've been a subscriber. This allows you to create individualized segments with relevant email content specific to the followers of each segment. This means that you're sending emails that each group actually wants to read which leads to 26% higher open rates, 17% more revenue, and loyal customers.
Take segmentation even further. You could do this by triggering individual emails when a follower performs an action on your site (such as making a purchase). This makes the email look transactional (and thus much less likely to end up in the Promotions tab).
Check Your Email Service Provider
You're most likely using an email service provider (ESP) to send automated emails to your subscribers. Providers like MailChimp could be the problem since their emails automatically include HTML layouts and the free version includes having the MC logo in every email which acts as a marketing link. In this case, any email coming from will get detected as a promotion—even if it's plain text—because you can't change the HTML in MC's header.
Send from a brand domain to show legitimacy (keeps you out of the spam box), but use an email with a name as the username as opposed to an info@ or similar username. This looks more like a personal communication.
Any legitimate ESP will also require you to provide a physical address, which will appear at the bottom of your emails. While this does not specifically affect your likelihood of going to promotions, it does keep your business compliant with the FTC's CAN-SPAM Act.
Warm-Up Your List After Switching Providers
It's a great tactic to "warm-up" your list for a month or two after you make the switch from one email platform to another. You need to build up your sender reputation with your new provider before you can expect to see the same open rates you have been used to.
For your first few campaigns, send only to your most engaged users. These people are more likely to open and engage with your emails, sending positive signals to both your new ESP are your subscribers' email clients. Check out Active Campaign's guide for better email deliverability in your first 30 days.
If You Can't Beat 'Em, Join 'Em
Another option is to embrace the Gmail Promotions area. After all, there will be cases where you are actually promoting a sale or product and don't want to be subtle about it. G Suite users expect to see sales, limited time offers, coupon codes, and things of that nature in the promotions tab.
So how do you make your emails stand out in the promotion tab?
Since your goal is no longer to try and get into Primary inboxes, you can pretty much disregard the rules of no images, HTML, or marketing language in the subject or header. That doesn't mean being obnoxious. Choose images, design, and words with intention behind them. Focus on what you want people to do.
A good way to get people to read your emails in the promotion tab is to give a sense of urgency in the subject. An example of this would be to include a discount code with an expiration of two days. Or to announce a one day sale "Up to 30% off" a product/service.
Gmail also allows users to see a preview image below the subject. An eye-catching image can make a big difference in open rates of promo emails. The best example of this would be a featured image of your product, but anything visually striking (in good taste and relevant to your content) helps.
Lastly, consider using different email templates for different types of emails. For regular email campaigns (i.e. announcing company news or a new blog post), use a plain-text email or simplified template, and keep it focused with only one link. For promotions, images are fine, and of course, include links to anything you are selling/promoting.
The Bottom Line
Email marketing is very competitive and you want to have every advantage you can over your competitors. It would be great to get emails in your subscriber's Primary inbox, but if you can't it's not as big a deal as you might think. Just worry about providing remarkable content, products, and/or services and your followers will look forward to reading your emails no matter what inbox tab they end up in.