Reading Time: ~
16
minutes
Why Content Marketing is Essential
If a tree falls in the forest and nobody's around to hear it, does it still make a sound? The same kind of question can be asked of blogging. If you create content for your blog, but you don't market that content, is anyone going to know about it?
The answer is a profound no.
Even if what you create is informative, if it doesn't reach an audience then all your hard work is for nothing.
To gain a dedicated following for your content,  promote your blog across email and various social media platforms. Connect with established creators and influencers so that their fans have the opportunity to become your fans.
You should spend a lot of time on marketing your blog content, even more than on the actual writing itself.
Content marketing includes: 
increasing your name recognition and brand loyalty
building and engaging an audience across social networks and through email
building relationships with influencers to reach more people and develop backlinks
This goal of this post is to outline the major blog promotion tactics that are core to building a large and loyal fanbase. With this information, you can then choose which of these methods are right for you and create your own blog promotion strategy.
Considerations Before You Promote
Before you even think about promoting, make sure you have developed customer profiles, conducted keyword research, and developed a content strategy.
Master Your SEO
Craft + Optimize Content to Make Google Notice Your Expertise and Experience, then Convert Your Traffic Into Sales
Customer Personas, or Better yet, Customer Profiles
On the simplest level, a persona is a representation of your target audience. It's not so simple though. I'll explain in a second.
Part of defining your audience personas is gathering demographic information. This includes age, sex, geographic location, occupation, interests, and socioeconomic status. You can pull most of this from Google Analytics.
All of that is great, but it's also very surface-level. Instead of creating a persona, you need to create what I like to call a customer profile.
In creative writing, you might create a character profile as a pre-writing exercise to really delve into your main character. It goes beyond the artificial outward qualities and digs into their psyche.
What makes them tick, what motivates them, what are their flaws, what are their idiosyncrasies? All of this is important to a 3-dimensional, authentic character.
You should be doing the same thing for your customers.
To create an accurate customer profile, you need real people to base it off of. This is by far the best way to figure out who your audience is.
How do you do this? Talk to them! Listen to them. Go where they are. You need to learn the content they consume, where they consume it, and what format (how) they like to consume it.
Learn more about your audience by…
joining Facebook groups that relate to your niche and observing what people are saying
posing questions to your email list or social media audience
paying attention to communities and forums like Quora and Reddit
asking family or friends for their insights if you don't have a list or social media presence yet
Keyword Research
If you are cringing right now, you're not alone. Unless you're hardcore into search engine optimization, keyword research can feel like an insurmountable amount of work, and for what? So you can generate a list of words that search engines like, but mean nothing to real human beings?
No. That's keyword research and SEO at its worst. The point is to tap into what people are searching for, why they are searching for it (intent is key), and most importantly, how you can add something unique to the conversation.
You are not helping anyone by creating yet another blog post on a topic done a million times before that just regurgitates the same information.
Your customer profiles and keyword research are the basis for your content strategy.
Choose Platforms & How You'll Allocate Your Time
Before writing anything, decide which promotion platforms will work best for the type of content you plan to create the most.
Maybe you're a natural on camera and love communicating your message through video. Then you need to be on YouTube.
Or, if you are graphically talented and love to create infographics, then you should probably be on Instagram and Pinterest. These platforms are also perfect for recipe or DIY bloggers with beautiful images of their food and home projects.
We think you still need to be on social in some capacity, but if social just isn't your thing, and you excel way more at writing personal, candid messages, then email promotion may be where you want to focus the majority of your energy.
Another option is to sub out that work to another team member if you are in the position to do so. Building a team is important to the growth and sustainability of your business. Most of us want to do it all ourselves, but eventually, that is no longer realistic.
Pushing the limits of what you can do may mean:
you always feel like you're scrambling to catch up
important things fall through the cracks (like the technical stuff and maintenance of your website)
you struggle to consistently create and promote your content
All of this ends up hurting you in the long-run. If you have the means, consider investing in a team that gets you and your message.
Whatever way you best communicate, embrace it, and build your blog promotion strategy around it.
When doing any kind of content promotion, the main goal is to drive traffic back to your website. That's where the content (and whatever you're selling) lives. Where this gets a little tricky is with social media…
Download the How to Start Blogging Guide
Explore this FREE GUIDE to take a deep dive into how to start blogging to make money. Get a PDF version of this guide right to your email followed by weekly news and blogging tips.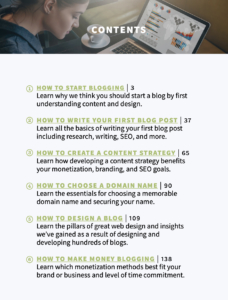 How to Promote Your Blog on Social Media
You can reach a lot of people across the various social media platforms that exist. This doesn't mean that you have to market on each and every platform though.
The optimal platforms to focus on are Facebook, Twitter, Pinterest, YouTube, and Instagram. Of course, there are others like LinkedIn and Snapchat that you may want to consider based on your audience demographics. 
If your website is a bit established and you have Google Analytics connected, you can see which platforms are giving you the most blog traffic.
Do this by logging into Google Analytics and going to Aquisition > All Traffic > Channels. From there you will see the number of users that came from social. Click on that to see a further breakdown by social media platform. The below screenshot shows where to find this view in Google Analytics.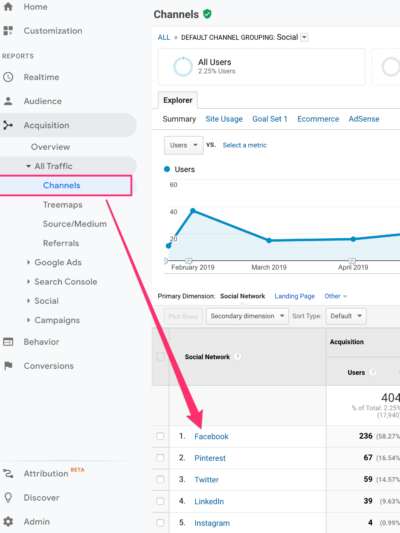 For us, our biggest social traffic source is Facebook, with Pinterest growing quickly as we have recently begun building a presence there. So naturally, the more time and effort you pour into a platform the higher it will be on the list. Looking at the data becomes really useful if you are putting equal energy into more than one platform. You can then see which is sending you the most traffic.
I'll get into the specifics on how to tailor your marketing approach for each site later on. For now, I want to give a general overview of promoting your content across all platforms.
What does get a fanbase is referral traffic from good word of mouth and people finding your content on a Google search. (Read our post on SEO best practices for posts so new people can find your site easily.) You might get some flash-in-the-pan attention with paid advertising, but typically long-time followers have to find you on their own.
Unfortunately, getting people back to your blog from Facebook and some of the other platforms is not without its challenges. Social media sites algorithms that will throttle any content that looks like marketing or doesn't engage your followers.
Content that's been taken down from social media usually included a call-to-action such as signing up for an email list or following the blogger on another platform. Luckily, there is a way to get around these algorithms though so you can build your natural following.
Algorithm Loopholes
The reason that social media sites throttle marketing posts and posts with links (unless it's paid marketing through their platform) is that they lose revenue when someone leaves their platform. They also want to learn about their users so any post that doesn't elicit likes or shares is taken down because it tells them nothing.
So what you have to do is create new posts that engage your audience and keep them on the platform. You want to engage your audience anyway, not just to beat the algorithms. Engaging means getting a little creative and not just sharing a link with a headline. Going the extra mile is what gets likes and shares to build a fanbase.
Social media algorithms change all the time, and keeping up with these changes is a common struggle we hear from bloggers. Unfortunately, there is no perfect formula for staying on top of algorithm changes.
One piece of advice is not to put all your eggs in one basket. You have no control over Facebook or how they decide to show content to their users. Your website should always be your primary investment. Beyond that, be adaptable and always open to the inevitability of change. Try to vary the type of content you produce, stay tapped into blogging and tech communities, and always test and optimize.
Thankfully, there is one thing you can always rely on: great content.
Easier said than done right? Let's dive into what makes for high-quality social content.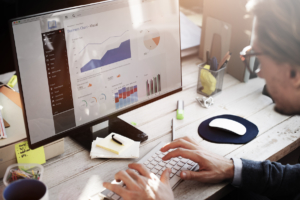 New to website building?
If you're like most people, when you decided to DIY your website, you dove head-first into the technical details. The problem is creating your dream website doesn't start with a template or technology. It starts with proper planning. Get started planning an amazing website with this free webinar!
Website Planning:
Practical Steps for
Planning a Website
If you want to keep going with your website planning, check out our free on-demand webinar
Engage Your Audience with High-Quality Content
When you post on social media only a few followers will see the post initially, especially if you have a large following. If the algorithm perceives the post to be high-quality (determined by engagement data—likes, comments, and shares), then more people will see it.
Here are a few ways to get that reach.
Video and Images Grab Attention
The first thing a person notices about a post is the visual element so an attention-grabbing photo or video can go a long way. Make sure any images you use are either relevant to your post or your overall brand. You don't just want to post a picture of a kitten because it will get the most eyeballs if it has nothing to do with your content.
You also want to avoid anything offensive, not just to be polite to your audience, but so that it doesn't get flagged by the platform.
When posting a video, make sure it's optimized for the platform. Use landscape for Facebook and Twitter and portrait for Instagram stories and TV and Pinterest TV.
Also, include captions whenever possible. Videos autoplay on mute, and the person watching might be in a public place without earphones where they don't want to put the sound on. No captions mean they will miss out on your message.
Video content actually performs better than images, and algorithms tend to favor it. People also tend to respond better to a video than a still image or graphic.
Feel-Good Content Helps and Inspires
Saying something helpful or meaningful provides value so that the reader doesn't feel like they're wasting time with your content.
You could share an insider tip based on your personal expertise and brand (also could be termed a "life hack").
You could also share an inspiring story that will motivate your audience and make them feel good for the day.
Lastly, a lot of people just want to be entertained so share a funny story or joke. Just be careful with memes because those get old and annoying pretty fast, and you don't want to look out of touch or desperate for a laugh.
Open-Ended Questions Get Likes and Comments
An easy way to get a lot of likes and comments is to ask an open-ended question. You have to be smart about it though. Straight out asking for likes or saying "comment below" is going to get throttled by the algorithm.
For likes, asking "Do you agree?" or "All in favor?" are good alternatives.
For shares, say "Tell your friends" or "Spread the word."
To get comments ask questions that will encourage "safe debate," so nothing that will get too heated (like anything political or religious).
A good example question would be: "What's your favorite tool for creating an editorial calendar?" You'll get a lot of responses, and readers get recommendations. Don't forget to respond to comments as well. It shows you appreciate your followers and is a positive signal to the platform.
Freebies are Fantastic
Everybody loves free stuff, so a good way to gain and keep attention is to hold periodic giveaways for fans. It can be to celebrate achieving a certain follower count, an anniversary of something related to your blog, or just because it's Tuesday. The giveaway can be for everyone (a free ebook or another download) or it can be a contest with a larger prize.
You can ask people to like or comment on a post, post something to your page, or vote in a Facebook poll, but you can't ask people to like your entire page or share the page or post with others.
Your giveaway also needs a disclaimer that states the following:
that there's no purchase necessary to enter
how long the contest will run
when and how a winner will be notified
has a clear description of the prize
that your contest isn't endorsed by whatever platform you're posting it on
Promoting on Facebook
There actually are prime times for posting to Facebook to get the most attention. These times are from 12:00 to 1:00 pm on Saturdays and Sundays, from 1:00 to 4:00 pm on Thursdays and Fridays, and Wednesdays at 3:00 pm.
This is because Facebook (and Instagram) posts tend to increase reach over 24–48 hours. So posting too frequently can cannibalize reach from a previous post.
Pin your most recent post to the top of your wall so that more people see it.
You can also make a Facebook group for your fans so that they can connect with each other, and you can engage with them more.
Facebook also has a targeting feature that is very useful for promotion. If you have content that you know will only appeal to a portion of your fanbase you can target that portion by interest. You can also use this feature to make sure a time-sensitive post stays up for a short period of time.
While this post is focused on building a following naturally, I do want to note something about boosting posts on Facebook.
If you are using WordPress and the Yoast plugin for SEO, each piece of content will have an area where you can to view and edit your Facebook (and Twitter) display settings. This is not required, but good to note if you want to override the image to be used on FB for the post, Facebook title, or description.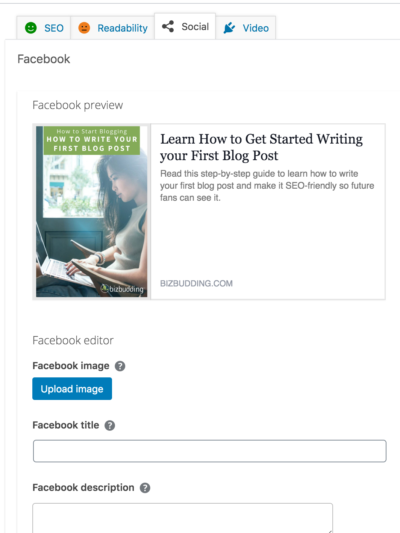 Promoting on Twitter
The best times to tweet are Wednesdays at 12:00 pm and from 5:00 to 6:00 pm, Mondays-Fridays from 12:00-3:00 pm and 5:00 pm, and any day of the week from 2:00-3:00 am, 6:00-7:00 am, and 9:00-10:00 pm.
You should also aim for 15 tweets per day. Tweets that contain 70-100 characters and an attention-grabbing image tend to perform best.
Also, make sure you use plenty of relevant hashtags to make your posts trend. If something that's already trending is relevant to your content and brand, you can piggyback off of that attention.
Pinning your most recent or best tweets to the top of your profile will get more retweets because people will see that post first when they visit your profile.
Another way for your tweets to get the most attention is to A/B test your headlines to see which ones get the best responses. A/B testing on Twitter involves sharing your blog post when you publish it using your best headline, tweeting it again an hour later using a variation of that same headline, reviewing your Twitter analytics to see which headline got the most clicks, and changing your headline to the one that tested best. The tweets with the most clicks tend to have the headlines 25% of the way into the message.
Promoting on Pinterest
Like Facebook and Twitter, there are optimal times to pin content on Pinterest. These times are any day from 2:00-4:00 am and 2:00-4:00 pm, Fridays at 3:00 pm, and Saturdays from 8:00-11:00 pm.
Pinning nine times a day is ideal, but anything from as few as four to as much as 30 has been considered good for promotion.
What gets the most clicks on Pinterest are appealing Pin descriptions and beautiful images.
Pinterest is a search engine, so put keywords in your descriptions and make them positive with slightly more than 300 characters to get the most pins.
Don't use too many hashtags, two or three at most. Visual pins should be aesthetically pleasing, usually with faces shown, and 735 x 1102 px is the optimal size.
Promoting on Instagram
Instagram is a visual platform, so images that are (or look) professionally shot are best. You can be creative with the filters to make your images look like art.
There is no known best time to post on Instagram (yet), but you can use the other prime times to see what works. To start, you should post at least twice a day.
A great way to gain more followers on this platform, and others, is to engage with influencers and grab their attention so that they can promote you to their large fanbase. When you see relevant posts to your own content, make an insightful comment and hopefully get into a conversation with the influencer that leads to them giving you some positive promotion on their page. (This obviously takes some finesse and showing genuine interest on your part. People can tell when you are spamming them to try to get attention.)
The story feature is also a great way to engage your followers because you can use photos, short videos (20-30 seconds or less), and gifs with text to tell a story that's relevant to your content.
Promoting on Your Website
Social media is not the only way to promote your blog. Remember, your website is still your best marketing tool. Create high-quality content that is highly shareable and caters to your audience. (This is where those customer profiles come in handy!) People love listicles and top/best that give a roundup the best things under a particular umbrella. Just remember to add your unique spin to these articles.
If people are already on your website you want to also be sure to include social sharing buttons on your posts.
Include an email opt-in on your site. Instead of a sign up for a general newsletter, try creating a targeted email sequence to a help people get started.
Make sure your message and what you offer is clear. Having an about page, intuitive navigation, and a clear way to contact you are all important website design elements.
Promote your best content and/or new blog posts on your homepage in a featured or popular posts section. This is easy to do in Mai Theme with the Mai Post Grid block. You can pull in whatever posts you want to feature by choice, taxonomy, parent, and more.
How to Promote Your Blog with Email Marketing
Creating a large email list is an extremely valuable way to promote your blog and gain a lot of new readers. An email list is free from all of the restrictions of social media platforms, and each email can reach a person directly instead of possibly being missed in the wave of other content across social media.
That means it is potentially the most valuable asset you have (aside from your blog itself). You need to treat it as such. These are real people who have proclaimed "Yes, I want to hear more from [insert your name]!" Give them what they want, and don't waste their time.
To get people to sign up for your email list, you need to offer some kind of incentive.
Good incentives could be:
a free ebook or another download
a free consult
more information on a topic they've shown interest in
exclusive access to certain areas of your blog or to yourself at certain events (online or in-person)
Set up a popup on your site for people to sign up and subscribe (but don't make it obnoxious).
Before creating any kind of opt-in though, you need to choose a marketing tool to send your emails.
Next, you have to decide how often you will send emails. You don't want to be a pest and send so many that people unsubscribe, but you don't want to risk being forgotten by not sending enough.
Once a week is ideal, but do what works for you. If every other week, once a month, or even once a quarter is more realistic, then start there. The important thing is consistency.
The content of each email should include an attention-grabbing subject line (but avoid spammy words), preheader text, a headline, body copy, and a CTA. Make your body copy conversational but short and to the point. You want to direct them to your blog where most of the content you're promoting will be.
Once you start sending your emails, you should measure engagement metrics such as opens and clicks and make appropriate changes in future emails as needed. Also, be sure to enable social media share links in your emails.
Finally, don't forget to include links to your blog in your email signature. Your email signature should have your name, your title, your professional email address and number, a link to your blog, and icon links to your social media pages.
Additional Ways to Promote Your Blog
Influencer and Blogger Outreach
This is where you ask for help (without flat out asking for it) from influencers and other bloggers that produce similar great content. The goal is to get someone with a larger following than yours to promote you to their fans and create a shared base.
A good way to do this is by guest posting on their site or doing an interview on their podcast. To get their attention (besides a direct message), you could mention them in your own posts and tag them on social media.
You can also check out Triberr, a community for bloggers and influencers that encourages content-sharing.
Always establish what you can do for others in return by promoting one of their posts or products.
Social Proof (Reviews)
If you provide a service or sell a product, then highlighting good reviews on your site from professionals, fans, or other content creators will create a demand and draw attention to your site.
Having a showcase or case studies to show off your work is also a great way to show social proof. This has the dual benefit of showing some love to your clients. They will surely appreciate the extra promotion. Check out our showcase for ideas.
Events (Online and Live)
While speaking events might not be for everyone, they can be a great way to get yourself out there, especially if your brand is an individual-focused brand (i.e. you are the brand as opposed to a company).
These types of events include summits, seminars, webinars, workshops, IG Live, and Facebook Live.
If you excel at live/public speaking, you really want to consider testing the waters here. Holding your own events or making appearances at larger events (like a summit) is a great way to engage with your fans.
Events are also great for q&a sessions, developing relationships with other influencers, or even speaking with followers one-on-one.
Key Takeaways
If I can end this article with two big takeaways, it would be the following.
Don't let the quest for perfection hold you back.
Oftentimes we are our own biggest obstacle. Be yourself and share what you know with the world proudly. We like to operate on the 80/20 rule. You need to get content and your brand out there first and foremost. If you keep finding excuses to wait, then you'll never get anywhere. There's always time to tweak and improve things as you grow and learn. Plus, it's in the imperfections and vulnerabilities where people really connect with us the most.
Relationships are everything.
In marketing—or life in general really—there is nothing more valuable than your relationships, both with your audience and with your fellow bloggers and partners. You can try to go it alone in the beginning, and that may even work for a while, but eventually, you'll need a team, partnerships, or some type of support from others. Lean on these people and through combining your individual strengths, you'll go far.