Reading Time: ~
9
minutes
I will also share with you all of the steps we take to create content strategies for our blog and our customer projects at the end of this post.
Done correctly, a content marketing strategy will help you improve your sales funnel and increase revenue. "What," you ask, "content can help me make money from my blog?" It's absolutely true, you need to create remarkable content to effectively move people through the different sales funnel stages. High-quality content converts prospects into leads and then into paying customers.
Developing a content marketing strategy also increases your operational efficiency because you have a focused plan to work from. It's often easy to second guess the topics you should be writing about. Some topics are harder to write about than others, too. As humans, we naturally tend to favor easier projects. Working from a content marketing strategy forces you to follow the plan. Of course, shift gears if needed and re-tune your content strategy (in fact, you should review it monthly). But create a plan and stick to it. Most houses are constructed utilizing building plans, right? There's a reason for that.
Most importantly, the right content marketing strategy creates increased loyalty with your audience. It also increases the effectiveness of your digital marketing plan.
Developing a content strategy benefits both your audience and your search engine optimization goals. When you write focused, related content, Google tends to reward you with higher search rankings and that can lead to increased page views.
Don't let yourself and your blog slip into the habit of writing about the latest trend or whatever thoughts come to your mind. Develop your plan and stick to it creating focused content aligned with your brand.
A content strategy focuses on creating and sharing remarkable content to attract, grow, and retain a loyal audience who trusts you, purchases from you, and shares your content with their friends (more specifically, friends who have the same beliefs—aka their tribe).
Force Yourself to Start Planning
The best way to grow your audience is by blogging frequently with quality content. You need to regularly share the content you create on your blogs, on your social media channels, and to your email list. You might be able to increase followers by boosting a social media post, however, that model isn't sustainable. At some point, you'll have too many leads or prospects and not enough sustenance with your content to keep them interested long term. You also can't count on influencers sharing your content and making you an instant success. Create remarkable content following your content strategy and you will be able to obtain external links for your content (great for SEO) and affiliates for your offerings (great for making money).
I know that it's hard to develop new content weekly. At times writing can be quite overwhelming for me. It took our team a few years of discussing content strategies and implementation techniques among ourselves and our customers to finally figure the steps we are sharing in this guide. And we've been remiss in our duty to write and share our experience as much as we should. That ends this year with our focus on delivering remarkable content about how to start blogging and how to make money from your blog.
Drive Business Goals with a Content Strategy Plan
Trust me, taking the time to develop a content strategy will be well worth it. In fact, developing a content strategy might just be the next step you need to take to achieve your business goals.
You don't need to be a business strategist or a content marketer to perfect this plan. You need patience, excitement, and a willingness to brainstorm content creation while following a plan.
These suggestions are based upon our experience developing content strategies on our site and for our customers' projects. The best part about a content strategy is that it will change your blog and increase your level of success. The worst part is that it takes real work to get it done.
Our content team uses Trello for our content management and our editorial calendar. I'd highly recommend learning to use Trello to manage your editorial calendar workflow. Don't worry if you don't have a team—we didn't when we started as Brandi was our only writer. Start using these tools and these best practices and it will be easier to create a content team in the future. It will also be easier to teach your team how to write as you will already have the best practices in place. Our plan and best practices definitely helped me. Hey Mom, look at me, I'm a writer now! ✍️ Thanks Brandi!
This also proves a point that blogging doesn't require you to have formal training as a writer. Or be perfect at spelling. I'm living proof of that. Pick up your pen (um, keyboard) and let your audience know you care via remarkable content. Give it your best shot and you will be rewarded.
Download the How to Start Blogging Guide
Explore this FREE GUIDE to take a deep dive into how to start blogging to make money. Get a PDF version of this guide right to your email followed by weekly news and blogging tips.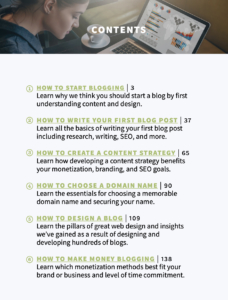 Master Your SEO
Craft + Optimize Content to Make Google Notice Your Expertise and Experience, then Convert Your Traffic Into Sales
Follow these Content Strategy Guidelines
At the end of this post, I share the Content Strategy Plan that we use when working on both our website and customer projects. I thought it would be helpful to share my thoughts on a few tasks in the content strategy guideline.
Survey yourself and define your content mission.
The first thing you should do is create a content mission statement. This is a bit different than your business mission statement, which should define what your business does and why it exists.
Your content mission statement describes what is important to your audience so you can plan to create focused and effective content. A content mission statement outlines:
Your target audience, typical buyer personas, and who the ideal customer is
What your content will feature to reach that audience
How your content will benefit your audience
What makes you unique
Do you solve any pain points for your audience
What great content your marketing team is responsible for
The mission statement is typically located in the "About" section of a website. A good basic template for a mission statement looks like this:
"(I, we, this blog) will provide (target audience) with (content) to help them (goal to set, problem to solve, gain knowledge in your field of choice)."
You should also document why you created your blog and business. What do you hope to achieve? Some answers might be the following:
Recognition, fame, money
Showcase a vision of a better world, or fight for what you think is right
Make a change
Drive diversity and inclusion
Gain independence, passive income, financial freedom (freedom in other aspects of life)
Bring people together, connection
Grow your business or promote your skills
If you don't have these answers, creating a content strategy becomes really difficult.
Understand your audience demographics.
You have to know who your audience is so you can tailor your content to fit their needs. One good way to get to know your audience is by collecting demographic data. Analytics will give you the data you need on your audience's age, gender, race, and income. The goal is to come up with a plan so that each piece of content caters to that buyer persona.
Google Analytics can also give you information on your audience's key interests. To find this information you would go to audience–interests–overview and a nice graphic showing that information will make it easier to get more specific insight into your followers. Facebook, Twitter, and Linkedin have their own insight pages for you to utilize too.
Another way to research your audience is to ask for their feedback. This can get you individual data. Ask them if they enjoy the content you produce, what new content do they want to read more of, and how you can take care of any issues they have with your site. This type of critique from your readers will not only give you successful content ideas, but it will also take you through the customer journey.
After gathering enough information to be able to understand your current audience demographics, ask yourself "Does my current audience match the audience I defined in my Content Mission that I want to reach?".
Analyze your current traffic.
Dive deep into analytics and take a look at how your audience interacts with your website. How long do they stay on your site? How many pages do they visit during a session? Answers to these questions (along with many more) become baseline factors you need to measure.
Perform a bit of Google research and search Key Performance Indicators (KPIs) for websites. KPIs provide measurement milestones so that you can quantifiably measure the performance of your website.
Review your website traffic monthly and compare it to prior months. Keep a log or journal or annotate within Google Analytics so you can document any changes that you observe.
Review existing content for enhancements.
Before you create a ton of new content you should see how the first few posts are performing so that you can adjust accordingly. In all your content marketing efforts, the best way to do this is with a content audit.
This involves logging all content, assessing the success of each post, and identifying the gaps. You should also see how your content is doing against your competitors to see what you could be doing better.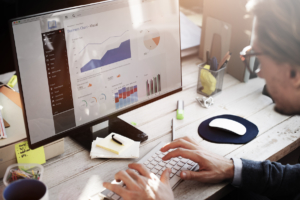 New to website building?
If you're like most people, when you decided to DIY your website, you dove head-first into the technical details. The problem is creating your dream website doesn't start with a template or technology. It starts with proper planning. Get started planning an amazing website with this free webinar!
Website Planning:
Practical Steps for
Planning a Website
If you want to keep going with your website planning, check out our free on-demand webinar
Identify content gaps.
To find any gaps in your content, look for keywords related to your niche that you're not using, questions your audience would like answered, and content that's already ranking on Google.
When looking for content gaps, it helps to think of a content gap as "content" that is missing that would help keep your audience on your site longer. Remember, your content strategy should be designed to help you meet and exceed your marketing goals.
You'll also want to find out which platforms you're getting the most attention on. As you continue to produce content you'll get a sense of where you have a good social media following and it's best to focus on where you're performing well instead of trying to be perfect across all platforms. It's good to look at this data through Google Analytics so you can see where your content is being shared the most. You can use this data to see which social media platforms you need to expand and focus on.
Choose the right type of content for your audience segment.
You may have already decided that you want your blog to just be written blog posts, and that's great! However, to market your blog successfully, you need to utilize additional content types when producing content.
Videos tend to perform best with audiences so you should include a video to relate to your written content. This will keep visitors on your site longer and improve lead generation. Most videos should be on the shorter side, ranging from two to five minutes in length.
Other kinds of content to improve lead generation, and can easily supplement written content, are podcasts, ebooks, webinars, checklists, and infographics.
Email list building should be an important part of your content marketing strategy. Pay close attention to call-to-actions (CTAs) for your website. Does the CTA match the content on the page? You can use CTAs to gather emails, promote products for sale, or lead your audience to another page. One note about email lists, avoid spam compliance issues by making sure you have your full business name and address at the bottom of your email. Also, be sure to always include an unsubscribe link.
Make sure you categorize your articles. This will help shape the path for SEO, information architecture, and the kind of content you write.
Steps to Create Your Content Strategy
I like to think of a content strategy as having several distinct phases. Each of these phases has multiple components. We use this as a base outline when working on content marketing projects for our customers.
The key takeaway from this post should be that you need to use a content strategy to direct the flow of traffic from your audience through your funnels to convert leads and make money from your blog.

Finally, you want to see the results of your content marketing strategy. This involves looking up those KPIs again to see what's improved (hopefully a lot!). Go back to Google Analytics to see what's changed. Google Alerts and Mention are also useful to see how often your content is being shared and mentioned. You'll also want to track the number of email signups through any email marketing software you're using.
It's always a good idea to monitor your marketing results often so you can see where you need to fix or improve your marketing plan. It has to be constantly up to date so that you can gain (or not lose) as many readers as possible.