Reading Time: ~
5
minutes
While a testimonials page is a great start, you might be wondering where to add testimonials to your website in a more general sense to increase your impact.
Featuring testimonials on other places throughout your website helps increase trust, credibility, and conversion rates even more, especially when placed in highly relevant locations. This is our focus for today.
Let's look at 9 places to display testimonials and on your website.
1. Homepage
New website visitors come to your homepage to learn more about your brand and if your products or services are a good fit for them. This makes it a great place to feature a few of your best testimonials. If you want to show more than few without seriously impacting your homepage real estate, turn on the carousel/slider setting in your Mai Testimonials block.
2. About Page
A testimonial or two on your about page will be able to back up any skills or positive things you write about yourself in your bio.
Your about page is the perfect place for character testimonials if you don't have any actual customer testimonials yet.
As the name suggests, these speak to your character and qualities that potential customers would care about, and you can source these from those who know you best!
3. Product Pages
Ecommerce pages are one of the most important places to include testimonials. A good customer review next to a product or service you're selling can lead to more conversions because it shows people that others who purchased had a good experience and they can too.
Consider putting positive reviews close to your CTAs or "Buy Now" buttons or before your pricing table if you have one.
4. Offer Landing Pages
Since you've created these landing pages with the specific intent of selling something, testimonials are a must have. Success stories from real people strongly influence purchasing decisions and increase conversions.
As with your product pages, place some testimonials near your CTA, but you can also disperse them throughout the page to increase your odds of people seeing them as they scroll. Course landing pages are good example of this. We like how Dr. Kimberly Spair of Reclaimers of Health incorporates testimonials in several spots throughout her landing page for her Empowered Moms course. To add extra credibility and authority, there are even quotes from other experts.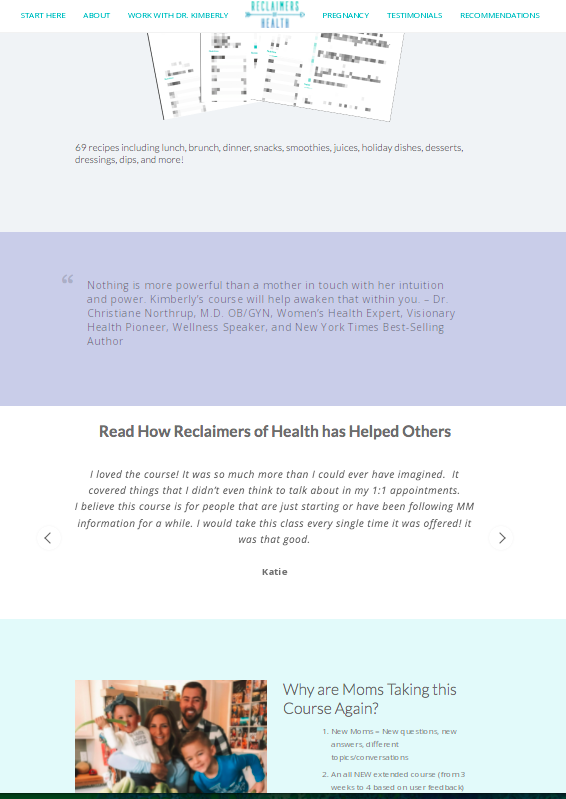 5. Work With Me or Services Pages
For those business owners who work with clients directly via consultations or custom projects, you likely have a "Work With Me" page or some equivalent detailing your process and/or services offered.
Prospective customers visiting this page are already highly interested and may just need a nudge to take the next step and book or schedule with you. That's where a few client testimonials can make all the difference!
We love the way Elisa of Living Well Bee laid out her Work With Me page, including a testimonials section between her bio and "What Should You Expect" section. This helps establish her credibility as a nutritional therapist who helps her clients get real results.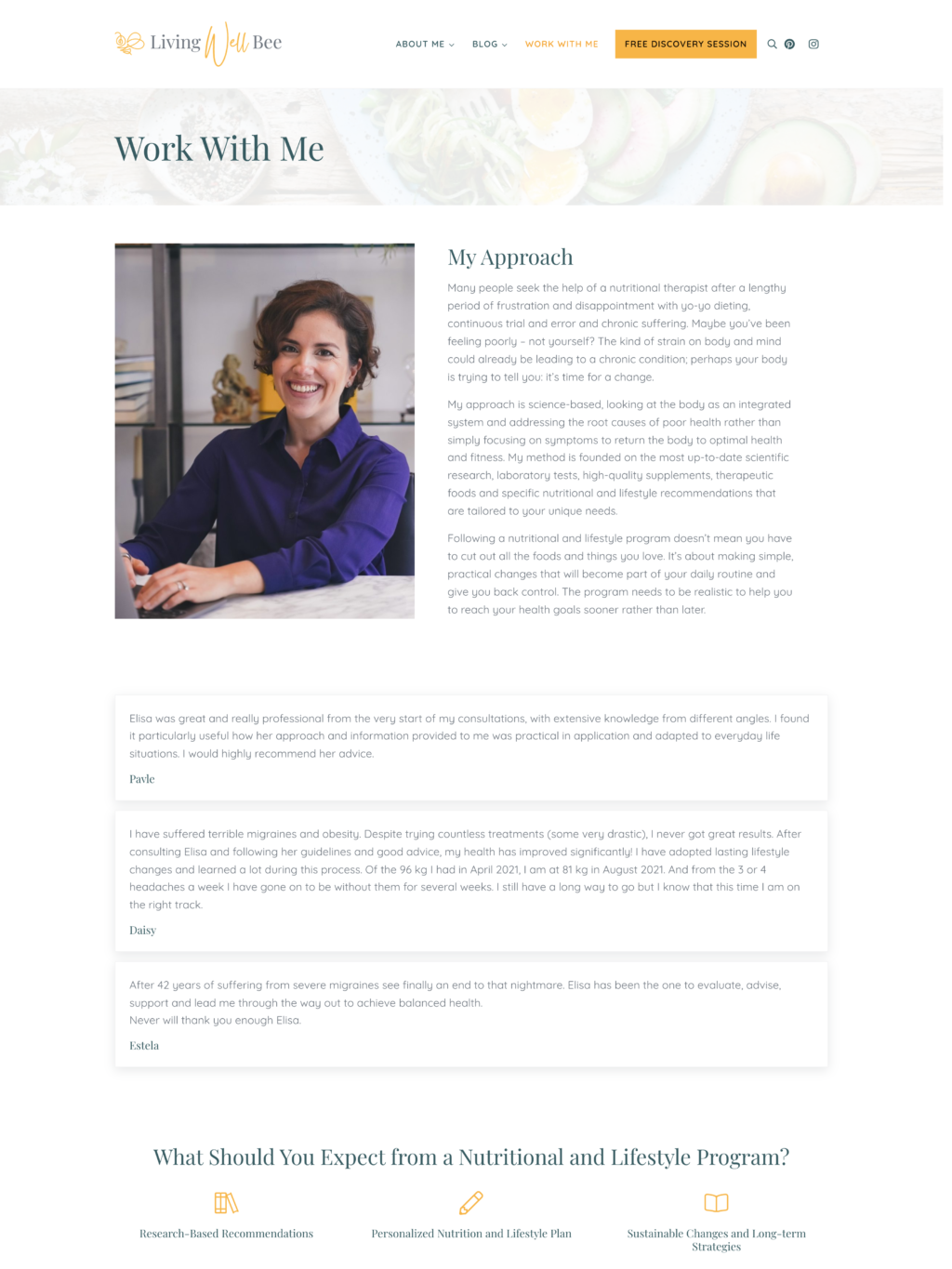 6. Case Studies
Case studies give people a behind the scenes closeup into your work and process, making them an ideal place on your website for testimonials.
Since case studies tend to be long-form and detail-oriented, they can be a bit heavy to read without some other elements to break them up.
For that reason, consider adding a few attention grabbing quotes throughout your case study, as well as a video testimonial.
While sometimes clients will give you unsolicited testimonials or feedback, this is a case where it makes sense to reach out personally, not only to ensure you get some stellar words on the page, but so that they know what to say and what types of details to highlight.
7. Showcase Pages
Do you have a place on your site where you showcase your work? This is especially important for designers, developers, consultants, agencies, photographers, and all kinds of artists.
For some, this may be a portfolio or it may be showcase page. Regardless, just like with case studies, these pages are a great place to show off what your satisfied customers have to say!
Check out this video testimonial example from our showcase.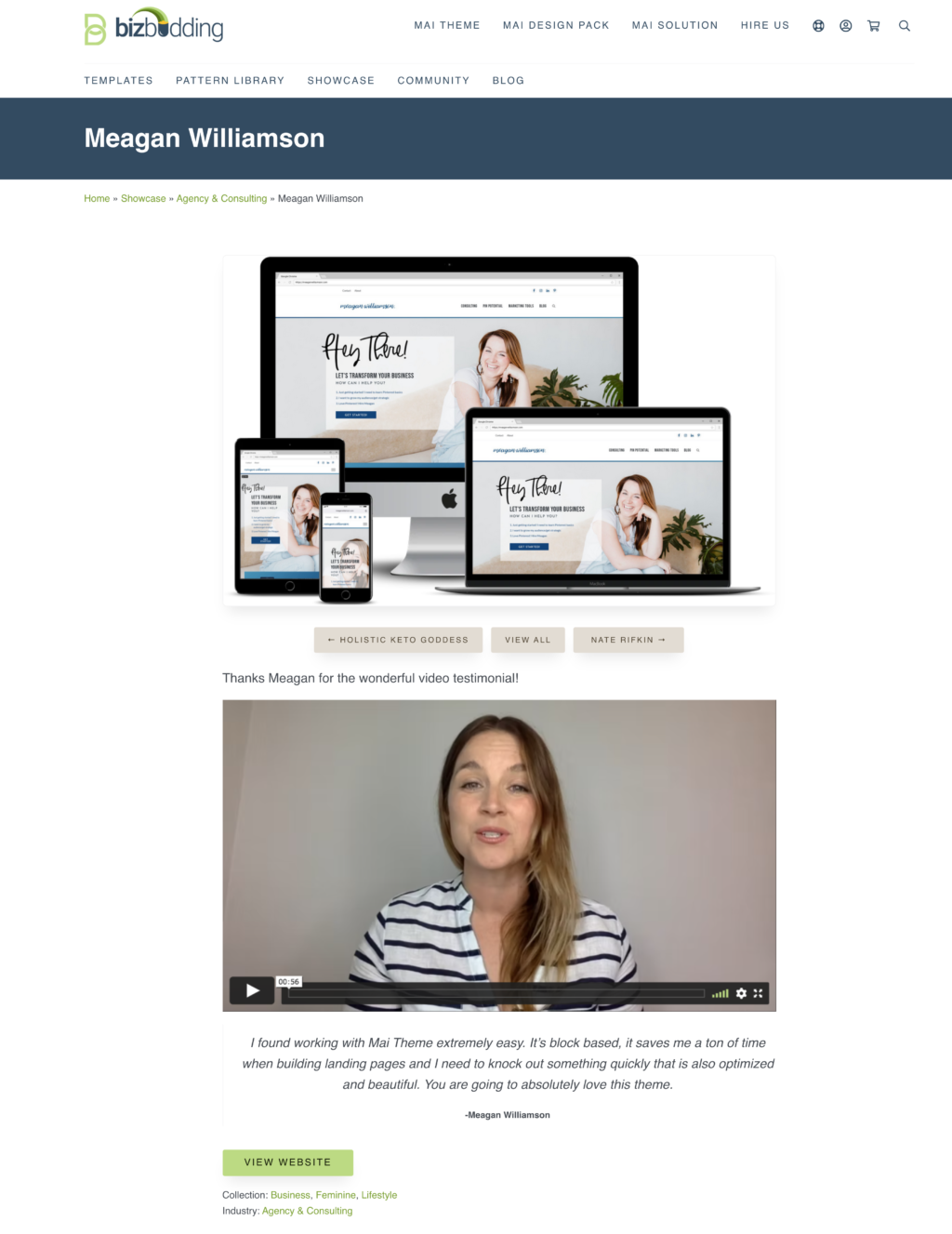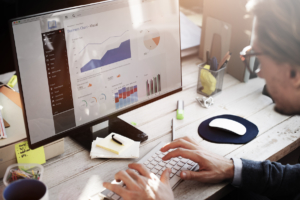 New to website building?
If you're like most people, when you decided to DIY your website, you dove head-first into the technical details. The problem is creating your dream website doesn't start with a template or technology. It starts with proper planning. Get started planning an amazing website with this free webinar!
Website Planning:
Practical Steps for
Planning a Website
If you want to keep going with your website planning, check out our free on-demand webinar
8. Sidebar
One place you may not have thought to put testimonials on your website is in sidebar if you have one enabled.
Choose a short but powerful testimonial for this location. As visitors browse your blog or other educational content this serves as a reminder of what you can do and how you can help people solution their problems.
9. CTAs
Why not try putting a testimonial right in a CTA? As we've already talked about, proximity matters, so having the reinforcement of a customer quote directly in your CTA, can make all the difference between getting a conversion or not.
Other Places to Use Testimonials
You can also use testimonials wherever else you would find your target audience.
Share on social media to reach new people drive traffic back to your website and offerings.
Here are some suggestions of additional places to share testimonials.
Tweets
LinkedIn
Facebook
Email marketing (especially abandoned cart and similar automations)
Any other social platforms you use as part of your overall marketing strategy
Mai Testimonials Plugin
With the Mai Testimonials plugin—part of Mai Design Pack—you can add testimonials anywhere on your site quickly and easily using the Mai Testimonials block or Mai Grid block. Simply insert the block wherever you want on the page and custom the settings to your liking. It's that simple!
Mai Testimonials is part of Mai Design Pack. Save $50 when you bundle MDP with Mai Theme. Not only does the bundle include Mai Testimonials, but you also get all of our other premium plugins, all Mai Theme website templates and starter sites, and access to the Mai Pattern Library and our community.
If you already have Mai Theme 2.0 though, don't worry. You can still get Mai Design Pack on its own and save. Use the code SAVE30NOW for $30 off!