Reading Time: ~
8
minutes
For bloggers, all or part of how you make money online may be through affiliate marketing—sharing your recommended products with your followers. 
We've written before about how to get started with affiliate marketing, but there is more to it than just randomly dropping mentions or links to brands and products you like into your blog posts. You need to follow some best practices for promoting the things you love. (But our focus here isn't exclusively marketing affiliate products.)
In this post, we'll look at some ways to highlight your favorite things and recommended products on your blog to help your visitors, build trust, and even increase conversion rates on your affiliate products. Let's go!
Market Other Products and Services on Your Website
When your readers trust your brand, you can recommend items to them that you use and love, and they'll be more likely to purchase those items.  
Mai Favorites is a collection of any kind of recommendation you have, organized via the Mai Favorites plugin.
Here are a few things you might want to highlight:
Amazon products or any affiliate products
your favorite books
companies you love
services or subscriptions you can't live without
supplements you use
and much more!
Why Recommend Other Products/Brands to Your Audience
You might be wondering why you would want to recommend other brands and products to your audience. 
There are a few reasons: 
Affiliate revenue – Affiliate marketing is often one of many income streams that bloggers use. You also may not have your own products yet, or you may not offer all the types of products your visitors are looking for. 
To help your visitors and build trust – The products you recommend may not be affiliate products at all, but simply regular links to things you love. Not every brand has an affiliate program or is available through a 3rd party affiliate program like Amazon. Or, your blog may be too small right now to qualify as an affiliate. That doesn't mean these reasons should stop you from recommending your favorite things to your audience though. Helping people from a genuine place when there's no profit in it for you helps build trust and improves the user experience across your website.
To save people time and research – For your loyal fans who already know and love you, use product recommendations to save them the time and hassle of digging through reviews and product comparisons. Your personalized recommendations are all the social proof they need.  
Master Your SEO
Craft + Optimize Content to Make Google Notice Your Expertise and Experience, then Convert Your Traffic Into Sales
Examples of Recommended Products & Favorites
Click below to view examples of real sites using Mai Favorites to showcase the things they love and recommend to their audience.
Notice that the recommendations on these pages are ALL external links. They take website visitors offsite to the product or brand website. 
They are automatically set up to always open in a new tab so your readers will be able to have your site still up. 
Create a Recommended Page for Your Favorite Items
Create a page to showcase all of your product recommendations in one place, so it's easy for visitors to find and browse. This is especially important if a lot of revenue relies on affiliate products.
1. Create Your Recommended Page
In the examples above, each brand uses slightly different language to refer to their favorite/recommended products. 
You can call your page whatever you want, but make sure it's clear so visitors know exactly where to look.
Here are some possible page names: 
Recommended / Recommendations
My Favorite Things
My Must Haves / Go To Products
Resources
Things I Love
Create your page, and set it to private—as you'll be returning to it later.
It's also a good idea to add a bit of content at the top of the page, describing the intent of the page and why you are recommending these products/brands. 
And as always, make sure to add your SEO meta data (keyword, meta description, SEO title, etc.). We recommend the Yoast plugin for this. 
Inversely you could save this step for the end, after you've created your "favorites."
2. Create Your Favorites Using Mai Favorites 
First, let's go over configuring these with our Mai Favorites plugin.
After that we'll look at how to display them on your Recommended page through the Mai Post Grid block for powerful and dynamic favorite layouts.
Adding them this way allows you to manage them globally from the WP Dashboard (as opposed to rewriting or adding new favorites to every page). Though these favorites can still be easily displayed on any post or page.
To begin configuring, make sure the Mai Favorites plugin is activated on your website. 
Once activated, you should see "Favorites" in your website's WP Dashboard. 
Go there, then select "Add New" to create a Favorite. Here are the available fields:
title (required)
URL (required)
button text (leave as is for default or change to what you want)
description
image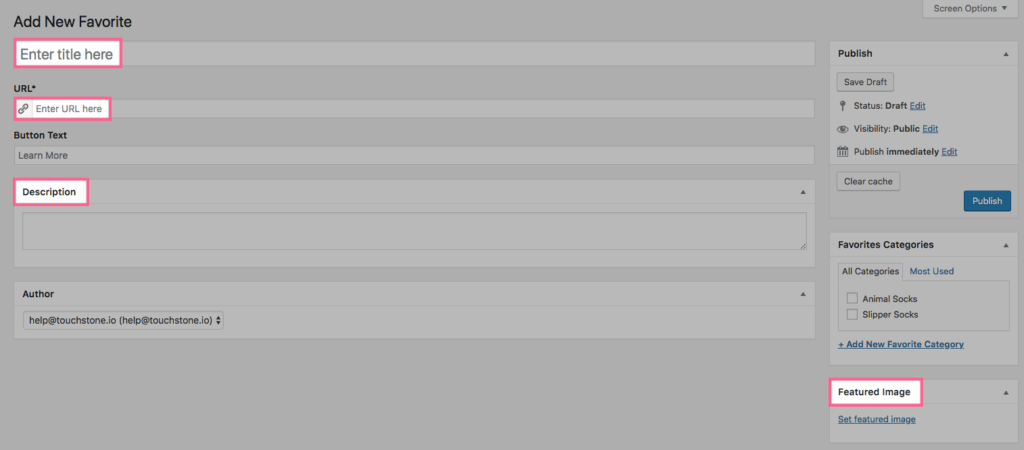 If these favorites are specific to a course or sales page, or you simply want to group them by relevant descriptors, you can set them into a Favorites category. (You must create the category prior. Go to Favorites > Favorite Categories to do this.) 
After filling in your desired fields, click Publish to save your new Favorite item.
3. Add a Mai Post Grid Block to Any Page to Display Your Recommendations
Now that your Favorites are set up, let's add them to a page. This could be your Recommended page or any page you want.
Go to your Recommended page and edit the page.
Add a Mai Post Grid Block wherever you want on the page.

Alternatively, you could grab a pattern—for example Feature 5 which uses a grid block—from the Mai Pattern Library for your favorites. Patterns are pre-built templates—groups of blocks, sections, layouts, and more that you can copy and then paste anywhere on your Mai Theme website.

Edit the Grid block to pull entries by Favorites. 
You can configure your grid a ton of different ways; below are a couple of examples. Mai Post Grid also gives you the power to reorder how your elements are displayed via simple drag and drop functionality.
Example 1 – Displays all favs in 3 columns
Display all your favs in a Mai Post Grid block that can display them with their featured image, excerpt, and titles.

Example 2 – Displays in vertical rows, instead of columns
Use the Layout parameter to show all your favs in a grid that will display one row instead of columns, with their featured image, excerpt, buttons, and titles, like this: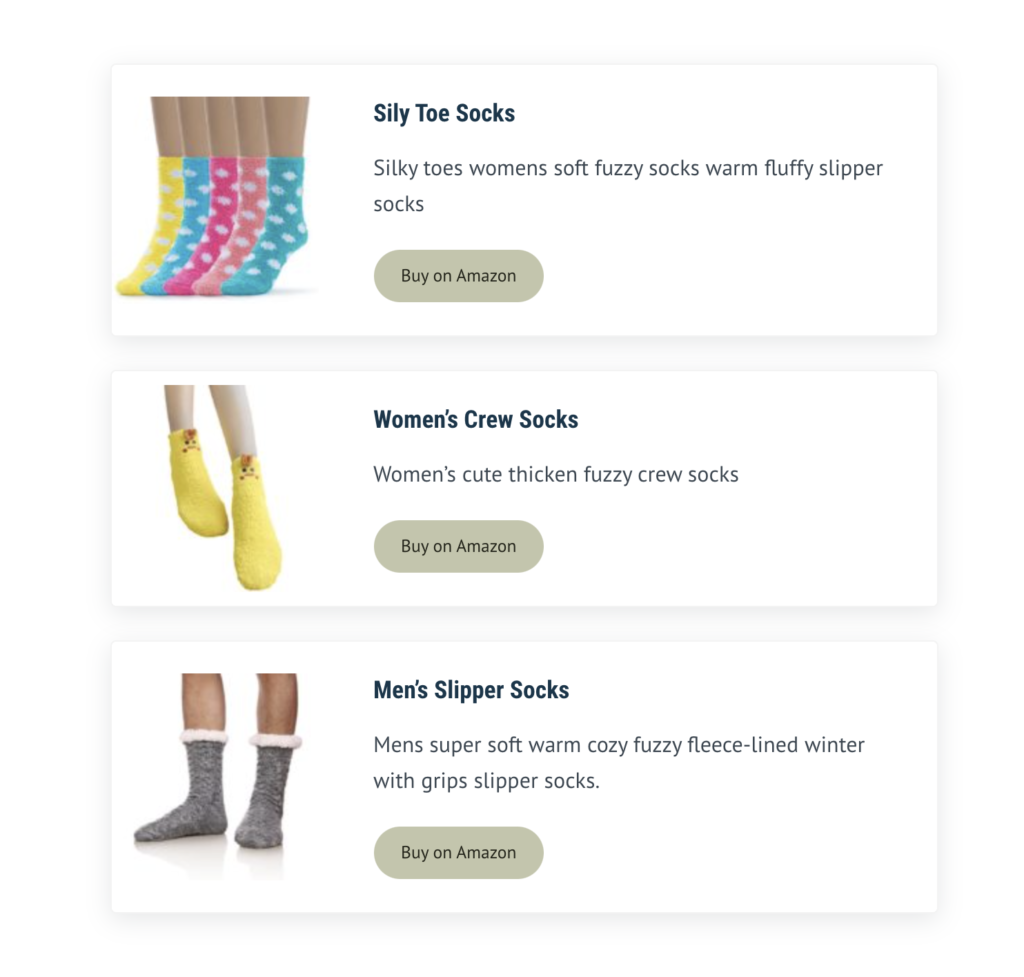 You can configure this a ton of different ways. Mai Post Grid gives you the power to reorder how your elements are displayed via simple drag and drop functionality. 
See this support doc on Mai Favorites in you need further guidance in setting up your Favorites.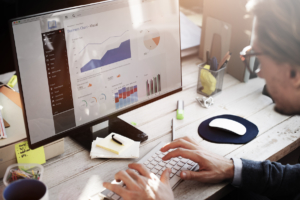 New to website building?
If you're like most people, when you decided to DIY your website, you dove head-first into the technical details. The problem is creating your dream website doesn't start with a template or technology. It starts with proper planning. Get started planning an amazing website with this free webinar!
Website Planning:
Practical Steps for
Planning a Website
If you want to keep going with your website planning, check out our free on-demand webinar
Where Else Can I Add My Favorite Items? 
With Mai Favorite and Mai Post Grid, it's quick and easy to add your favorite items wherever you want on your website! Here are some additional ideas.
Add Favorites to Your Start Here Page 
Your Start Here page is an important page on your website. If you don't already have this page, you may want to think about adding it. To learn more about Start Here pages and what should go on them, check out our post, What Pages Should a Website Have.
This page should give your visitors an idea of where to start. What should a first-time visitor do, read, download, or buy to start their journey to solving their problem? Answer this question by providing links to valuable content and resources on your website. 
Your recommended products are a great fit for this page, though you probably don't want to show all of your recommendations (unless you only have a couple). 
Instead, pick a few of your best product recommendations for beginners, a few from a particular category, or even just one (the single most important thing to getting started) to add to a recommended products section.
For example, if your website is about trading cryptocurrencies, then it might be a beginner book that they should read, such as Cryptocurrency Trading & Investing by Aimee Vo.
If your website is about raising backyard chickens, then perhaps you want to show all items associated with caring for baby chicks such as a waterer, feed and feed dish, bedding material, heating lamp and bulbs, and a brooder—and these could be organized into a Favorites category such as "Chick Care" to make things even easier for you. 
Add Favorites Inside Blog Posts
It's inevitable that as you are creating high-quality blog posts, you are going to mention some of the products or brands that you use and love. If you suggest the right product at the right time, your visitors will be more likely to purchase!  
Include a grid of hand-picked related products based on what you are talking about. 
You could even create a pop-up or CTA to display on all posts to redirect people to your Recommend page.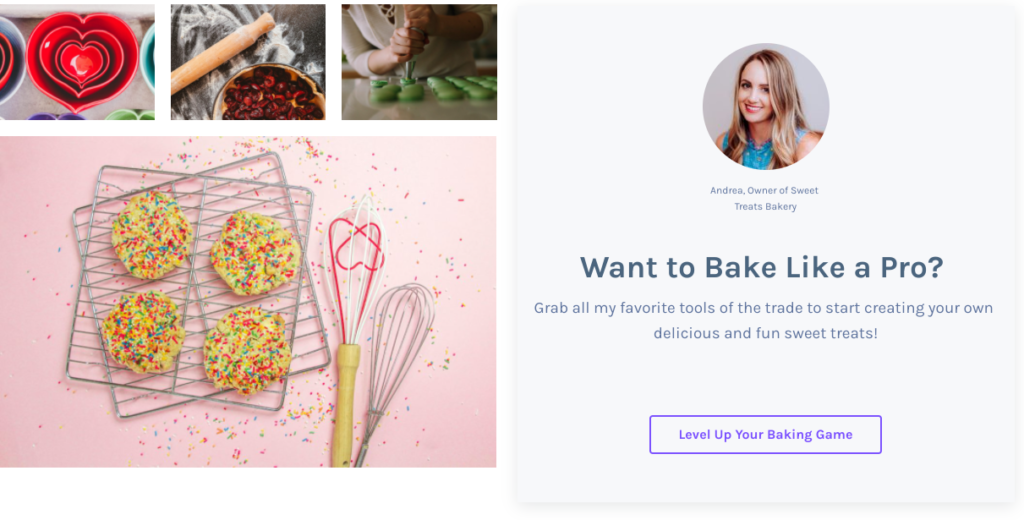 You could even create review or comparison posts that go deeper into the specs, pros and cons, use cases, and your experience using your favorite products.  
Make sure to consider questions others might have on whatever you are reviewing and answer them.
Add Favorites to Category Pages
Another plugin available to Mai Theme Pro and Lifetime Bundle owners is Mai Archive Pages. 
The Mai Archive Pages plugin allows you to build robust archive pages with blocks. Customize the content before and after your archive content as part of your search optimization strategy.
What does this mean in relation to your favorites though? 
Think about how you may want to incorporate them into your category pages. You can create corresponding favorite categories to only show those favorites related to your blog category. 
People visiting your category archives are typically still getting to know your site or browsing your content, so we recommend adding your favorites to the "Content After" area of your pages. 
As with Mai Favorites, Mai Archive Pages is part of the Mai Theme Pro Bundle. 
Learn what archive pages are, how to customize them, and what content to put on your blog archives to optimize them for search and visitors.
On Your Product Archive
I wouldn't recommend this for all websites, especially not for those with a large online store where you sell many of your own products. You want those items to be the priority and not detract from them with affiliate products. 
I'd also refrain from adding them to individual product pages, unless they are really important and relevant products to the main product. 
However, let's say you are a health practitioner whose main income comes from consultations. You only sell a few ecommerce products such as ebooks and launch-based courses. You could add some of your favorites to your product archive to bulk up your shop, improve your customer experience, and gain more affiliate revenue. 
Closing Thoughts
Here are some key action items from this post:
Get clear on why you want to share your favorite things with your audience. Is it to increase affiliate revenue, help people and build trust, save them time, or some other reason? All of the above is okay too!
Check out some examples of what other bloggers are doing to get inspiration.
Create your Recommended page.
Create your "Favorites" using Mai Favorites. Don't have the plugin? Pick up Mai Theme Pro or Lifetime Bundle and see what you're missing!
Add your Favorites to your Recommended page via the Mai Post Grid block.
Add Favorites wherever else you want—Start Here, blog posts, category pages, product archives, homepage, and more!