Reading Time: ~
5
minutes
How topically focused does your site need to be to do well in Google rankings? Does going off-topic harm your "Topical Authority" and SEO (search engine optimization)?
One of our clients was asking about this recently as they would like to expand into other topical areas but didn't want to damage their existing ranking success.
When is branching out going off-topic?
Writing for Topical Authority Versus Attracting an Audience
Say you generally write about sports but you know your audience also likes video games. Now imagine there is a new version of Mario Kart being released that you know your community is excited about.
Should you ride that wave of enthusiasm and cover the release even though strictly speaking Mario Kart is off-topic?
Whether writing articles about "Mario Kart" on a sports website will hurt its SEO largely depends on the context, execution, and relevance to the primary audience.
When I split off "retro gaming" from my Maker website it was precisely because of this. Yes, there is a large crossover between people who like to make stuff and people who are into old computers and video games, but there is also a clear divide.
If your goal is to expand your audience then going outside of what your website is meant to be about will in fact lose you traffic – Confusing Google will not help you rank better!
What is Topical Authority?
SEO Topical Authority Definition: Topical authority in the context of SEO refers to a website's expertise and trustworthiness in a particular subject or niche. Gaining topical authority implies that your website is a go-to source for information related to a specific topic.
Master Your SEO
Craft + Optimize Content to Make Google Notice Your Expertise and Experience, then Convert Your Traffic Into Sales
Why Topical Authority Matters
Topical Authority is not just about appealing to search engines, it is also persuasive with people just as much:
Trustworthiness: Search engines, particularly Google, aim to provide users with the most relevant and trustworthy information. If your website is seen as an authority on a particular topic, it's more likely to be ranked higher in search results.
User Trust: Beyond search engines, users are more likely to trust and revisit sites that provide consistent, high-quality information on a particular topic.
Link Building: Other sites are more inclined to link to you if you have content that's seen as authoritative.
Benefits of Achieving Topical Authority
Why would you bother going to all this trouble?
Long-term Traffic: An authoritative site can see consistent traffic without always relying on the latest trends or short-term tactics.
Diverse Audience: While initially attracting a niche audience, over time, an authoritative site can draw a broader audience seeking out your expertise.
Monetization: Topical authority sites can better monetize through affiliate marketing, partnerships, or selling products/services, as they're seen as trusted resources in their niches.
How to Decide if to Go Off-Topic
Here are some considerations for anyone considering branching out and covering new previously untapped subjects on their blog:
Relevance: Will your new subject matter seem out of place to your core audience? This can negatively affect user experience. However, if the example website already covers esports or gaming-related activities tied to sports, it could be relevant.
User Experience: Will it lead to confusion or frustration? High bounce rates (people immediately leaving the site after landing on it) can be a negative ranking factor.
Authority and Expertise: Search engines want to deliver the most authoritative and expert content to their users. Without a clear focus, you might lose perceived expertise in your primary niche. A site needs to establish itself as an authority in its chosen field.
Context: If you can find a way to directly connect the new subject to your old topics then it can make sense. This kind of integrative approach may not hurt SEO if executed well.
Internal Linking and Structure: If you do decide to write about off-topic subjects, consider creating a separate category or section for these articles. By doing this, you can still provide content for interested readers without confusing those looking for purely your regularly covered content.
Frequency: If the majority of the website's content remains about your main subject, and only occasionally there's an article about something else then it's less likely to have a significant impact on SEO compared to if half the content starts being about something random.
Audience Feedback: Monitor how your audience reacts to the content. If they engage positively with it, it might be worth exploring more. However, if you notice a drop in engagement or negative feedback, it's a sign that such content might not be fitting for your platform.
While it's possible to incorporate off-topic content into a website, it needs to be done thoughtfully.
Will it delight or surprise your regular readers when they see your new article?
Ensure that it provides value to your audience and doesn't dilute the primary focus or authority of the site.
Today's SEO is as much about user experience and relevance as it is about keywords and backlinks.
How to Re-Build Topical Authority When You Go Off Course
First, sacrifice anything that is not absolutely relevant to your core subject matter, even if it currently gets traffic.
I moved my retro gaming content off of my maker site and created a new site, with 301 redirects from the old to the new. This gave my new site a start plus made the old site more topically focused. Win-win.
Keyword Research: Go back to your core topic and find search clusters that you could rank for.
Deep Content: Instead of skimming the surface, delve deeply into the subjects you cover. This might mean longer, more comprehensive articles, tutorials, guides, or research. Don't overlook existing content for this, can you expand or combine older articles to make new, topically focused long-form content?
Content Consistency: Regularly publish high-quality content related to your niche.
Internal Linking: Link to related articles on your site, creating a web of interconnected content that can guide users (and search engine bots) through a journey of your site's expertise.
External Linking: Reference reputable sources and data to back up your claims. This not only enhances your content's credibility but can also encourage external sites to link back to you as a reference.
The key point here is that you pull your site back to what it should be known for and that you publish super-valuable, deep content on those and highly related topics!
How to Monitor and Maintain Topical Authority
Unfortunately, today's SEO is not "one and done". You need to keep on top of the shifting competitive landscape and Google algorithm volatility.
Take a look at my article about doing your own website audits and ensure you schedule your next one.
Those are big projects, though, what else do you need to be doing?
There are some things you need to be doing continuously if you want to keep your Topical Authority in good standing:
Regularly Update Content: The world changes, and information gets outdated. Regularly revisit and update your cornerstone content to ensure it is still relevant, it is still good advice, and it covers all the related search keywords that should be mentioned.
Track Your Rankings for Content Decay: Use SEO tools to monitor keywords and topics you aim to be authoritative in. This can give insights into how you're perceived and where there's room for improvement. If you are dropping in rankings or traffic on certain articles that can be a clue that either you are not covering the subject well enough or that Google has detected a different search intent.
Trending Feedback Loop: Listen to your audience and hang out where they gather online. Their questions, comments, and feedback can guide the evolution of your content and approach. What are the new hot areas of interest?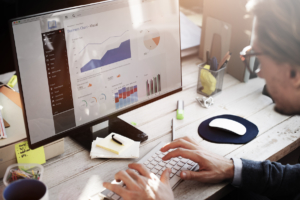 New to website building?
If you're like most people, when you decided to DIY your website, you dove head-first into the technical details. The problem is creating your dream website doesn't start with a template or technology. It starts with proper planning. Get started planning an amazing website with this free webinar!
Website Planning:
Practical Steps for
Planning a Website
If you want to keep going with your website planning, check out our free on-demand webinar
Focused Subject SEO Challenges to Consider
I don't want people to think I am trying to minimize how much work all of this involves. It might seem simple but straightforward does not mean easy.
Broader Niches Are Tough to Rank: The broader your niche, the harder it might be to establish topical authority. For instance, it's easier to become an authority on "tropical freshwater aquariums" than on "pets" as a whole.
Highly Dynamic Topics: Some topics change frequently, requiring more vigilance and updates to maintain authority. My friend Ben is creating a website on Morse Code, imagine the difference in keeping up to date with that versus covering the latest IT security news.
Broad Subject or Focused Topic: Bottom Line
Building topical authority is about creating an extensive, trustworthy content hub on a specific topic.
This is a long-term commitment but it can yield significant benefits both in SEO and brand reputation.
On the other hand, it is possible to do well by focusing on a specific audience and everything they might be interested instead. It is just much more difficult to gain traction in Google and to stand out in a highly competitive space to your audience.
Download the How to Start Blogging Guide
Explore this FREE GUIDE to take a deep dive into how to start blogging to make money. Get a PDF version of this guide right to your email, plus weekly tips from our blogging experts at BizBudding.