Reading Time: ~
4
minutes
Saying "Thank you for downloading our pdf! Did you know we also have a weekly email list full of great ideas to grow your online presence?" is a great way to continue the sales process. Why does that work? People like to engage with others that they trust and feel comfortable with. One of the most important things you can do to increase quality leads to your business website is to add a thank you page. This is, in fact, one of the most overlooked pages on a website.
What is a Thank You Page?
A thank you page is a page that users are shown after they have completed an action on your website. For example, when a user completes a form on a landing page and hits the submit button, they would be redirected to a thank you page. Other examples of actions they may take include downloading a whitepaper or pdf or requesting an ebook. If they haven't already done so, a thank you page is also a great place to encourage users to provide their email address and sign up for an email list.
You may believe that because thank you pages are often hidden from search engines such as Google, they don't have any benefit. This isn't entirely untrue. The initial act of filling out the form implies some form of trust from the user. Use that to your advantage on your thank you page. Deliver additional content that is both useful and relevant and continue to build that relationship and keep the conversation going.
How to Use Thank You Pages to Introduce Other Products and Services You Offer
Thank you pages are often overlooked and underdeveloped. Unfortunately, not putting time into crafting a thank you page is a mistake that can end up costing you greatly. The probability of selling to an existing customer is 60 – 70%. The probability of selling to a new prospect is 5-20%.
Utilize your thank you page to move prospects to other stages in your marketing funnel. Take this opportunity to suggest other products that the user may be interested in. This is a perfect opportunity to cross-sell and keep the sales momentum going. Be sure to keep the conversation relevant to the initial form. Demonstrate all the ways that your product or service is a better way of handling their specific pain point. This type of lead nurturing will keep customers coming back time and time again.
You can also offer something exclusive or provide a limited time offer such as a free trial of your product or service. People love getting things for free and these types of offers are great to entice new subscribers.
Conversion Tracking & Goals in Google Analytics
Use your thank you page to tell Google Analytics that someone completed a goal. Some form tools display a "thank you" message on the same page. That's great, but it doesn't tell Google Analytics that a conversion event happened, unless you are running tag manager. You can use event goals to track when a user has converted. This will help you track conversion rates and the efficacy of your offer.
Experiments, such as a/b testing, are helpful in tracking how users engage with your content. A/b testing helps you to see which version of a page generates the most conversions. You can also create multiple versions of your thank you pages that highlight specific content and track how users respond to each version.
Tags for Site Retargeting
When a thank you page is visited, that's a great time to set a "tag" that identifies your visitor and tags what step they just completed. You can use this for dynamic content marketing and site retargeting.
You can use lead generation software for onsite retargeting. Onsite retargeting is a personalized way to guide people on your website to become leads, customers, and repeat buyers. You can create dynamic calls-to-action and on-site messages to target a specific audience. This allows you and your team the ability to personally guide each visitor to automatically take action, based on who they are and what they're interested in, and their previous actions on your website.
Thank You Page Basics: 5 Things to Include
1. "Thank You"
The most important thing to have on your thank you page is an actual "thank you." The sentiment should come across as genuine and sincere. This serves two purposes:
Expresses gratitude for completing a conversion
Confirms that the action they have just taken was successful (i.e filling out a form)
2. Next Steps
Let them know what to expect next. If a customer filled out a form for a free ebook, tell them to expect a confirmation email with the product offering in their inbox shortly (or provide a link so they can download it).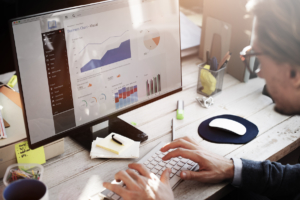 New to website building?
If you're like most people, when you decided to DIY your website, you dove head-first into the technical details. The problem is creating your dream website doesn't start with a template or technology. It starts with proper planning. Get started planning an amazing website with this free webinar!
Website Planning:
Practical Steps for
Planning a Website
If you want to keep going with your website planning, check out our free on-demand webinar
3. Website Navigation
Display your website's navigation. Landing pages typically don't include navigation because we want users to avoid distraction while we're attempting to get them to complete a conversion.
Thank you pages, on the other hand, can and should include navigation to encourage new leads to further explore your site. You can also include important contact information here, such as a phone number or email address, in case the user has any additional questions.
4. Additional Calls to Action
Thank you pages are an ideal place to include an additional CTA. If the user has just downloaded an ebook, use the thank you page to encourage them to sign up for your email list to hear about other great offers. You can add a video to help increase conversions even more.
5. Social Proof
Social proof serves to legitimize your business and build credibility for your users. It's helpful for easing their minds if they are worried about the legitimacy of a purchase as well as negating buyer's remorse. You can increase social proof with:
User Testimonials & Case Studies – These help to build and establish trust.
Social Media & Social Share Buttons – You can utilize your thank you page to encourage users to like your social media profiles. Encourage social sharing on websites like Facebook or Linkedin. This will enable you to further interact with and engage users and keep them coming back for more. Utilize social media to broadcast blog posts or promotions amongst users and update frequently to provide further peace of mind.
Join the Mai Blogging Community
Join the community to get access to any bonus content we've mentioned in this post, blogging resources, Mai Theme video tutorials, and more! PLUS converse with other bloggers and ask questions. (The Mai Blogging Community is free to anyone who has bought Mai Theme or Mai Solution.)