Reading Time: ~
5
minutes
Last week we talked about defining the WHY behind your website. Continuing with the website planning train of thought, we next want to focus on creating website copy for your target audience, because the most successful websites are customer-centric. These websites focus on the audience and visitors rather than the company, person, or brand behind the website.

When people reach your website, they'll wonder:
Am I in the right place?
Can you solve my problem?
Will this help me?
Is this interesting?
Why should I care about this?
Take some time to think about how you will answer these questions in your website and marketing messaging. (Or, if you already have a website, see if you have answered these questions in your current copy.)

Your website copy and content needs to help people realize they're in the right place and make them think:
You totally get me.
It's like you're reading my mind.
This is exactly what I've been searching for.
I want to experience that…
I wish my business/life could be like that too.
I want to be a part of this community.
This could change everything…
I need this.

And the only way to do that is to define exactly who your specific audience is so you can write copy that speaks directly to them.
Identify Your Target Audience
To start, you must choose your niche.
Who do you want to visit your website, subscribe to your email list, and be a part of your community? Who can you best serve and support? These people will be your ideal customers.
Consider common characteristics to think about include:
Demographics: Gender, age, income, education, location, and industry
Psychographics: Beliefs, values, attitude, lifestyle, priorities, and interests
Behaviors: Hobbies, activities, social platforms, where they hang out, who they follow or listen to
Take some time to write down who your ideal client, customer, subscriber, reader, or listener is and brainstorm everything you know about them.
Not only do these factors affect your message, but also how you express that message—the words you use and the tone of your writing.
For example, a small business owner has different needs and concerns than someone from the same company at a managerial or associate level.
Or, if you're audience is largely female and you aren't, you need to think about how you can frame your copy to appeal to women.
Audience Research
One way to learn more about your current or potential customer base is to conduct audience and market research.
You can refer to Google Analytics for demographic information and your audience's key interests. To find this information you would go to audience > interests > overview.
Facebook, Twitter, and LinkedIn have their own insight pages for you to utilize too. Look at social networks and groups where your target customers spend their time to get more clues as to who they are, their likes and dislikes, their purchasing habits, what content they like to consume, and how they like to consume it.
More ways to learn about your target audience:
Join Facebook groups that relate to your niche and observe what people are saying.
For those already engaged in content marketing, pose questions to your email list or social media audience (if you already have an audience).
Hang out in communities and forums like Quora and Reddit. There's a lot of gold in there if you are willing to wade through and find it.
Ask family and friends or contacts that share your industry for their insights.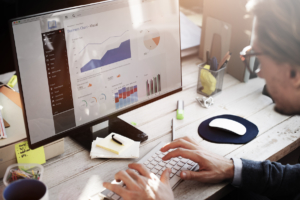 New to website building?
If you're like most people, when you decided to DIY your website, you dove head-first into the technical details. The problem is creating your dream website doesn't start with a template or technology. It starts with proper planning. Get started planning an amazing website with this free webinar!
Website Planning:
Practical Steps for
Planning a Website
If you want to keep going with your website planning, check out our free on-demand webinar
Identify Your Target Audience's Problems & Desires
Once you know who you website needs to attract and resonate with, identify their problems and desires.
What problems do they have that you can solve?
What are they struggling with?
What obstacles are in their way?
What are their frustrations and pain points?
What desires do they have that you can make a reality?
What are their biggest desires, wants, and wishes?
What is their dream and vision for the future?
What relief and support do they crave?
If you are unsure how to answer these questions, and you already have an audience you market to, get their feedback! Ask them if they enjoy the content you produce, what new content do they want to read more of, and what they are stuck on or could use more help with.
This type of critique will not only give you valuable insights about how your current customers think and feel, you can also see the exact words they use, which is gold when it comes to copywriting. When you write with the same words your target audience uses, your message is irresistible.
Identify Your Audience's Goals
Now that you understand your audience's desires, write down WHY each problem and desire is important to your audience to identify the goal they are trying to reach.
Figure out the benefits and big, juicy, emotional impact of your offer by asking:
What does solving their problem look like?
What does meeting their desire look like?
What's the endgame, objective, and destination?
Why does reaching this destination matter?
What impact will it have?
Buyer Personas
Based on all of this information, it can be helpful for some people to create buyer personas or avatars.
Personas are basically character profiles of people within your target market. You give them names, identities, and personalities to make them real to make it easier to understand how you would write for them so they think the thoughts I shared at the beginning of this post.
If you are interested in creating customer personas, check out this guide from HubSpot.
Copywriting for Your Target Audience
Once you have a solid understanding of who you target audience is, the problems they face, and the goals they seek to achieve, you can tailor your website copy and marketing campaigns to speak to them directly.
A good place to start is with your mission statement. Here is a format you can work from as a template.
(I, we, this blog) will provide (target audience) with (content) to help them (goal to set, problem to solve, gain knowledge in your field of choice).
From there, take the questions and answers you worked through above and start thinking about how you can incorporate them into your homepage, about page, services or offer pages, and elsewhere to create a unified message.
You can begin to frame out the different sections of you pages with this information if this is helpful for you.
Market Segmentation
I want to wrap up by quickly addressing market segmentation. For every specific group of consumers, there are various audience segments within that group.
This could be defined by their:
stage in the buyer journey
level of awareness of your brand
level of awareness/knowledge about the topic
objections, biases, or obstacles in opposition to your solution
specific topical interest within your niche
This is another reason I brought up the exercise of creating customer personas. You may notice you have several types of target audiences, and you cannot simply address them all the same.
For example, new customers have very different needs than loyal, repeat customers. New customers need more guidance on why they should choose your solution and then how to use it once they have.
Repeat customers only need the basics, but they may be more interested in your next latest and greatest offer because they have a solid relationship with your brand.
This research is important to your larger digital marketing strategy so you can create different offers and types of content that cater to individuals rather than one broadly defined group.
Download the How to Start Blogging Guide
Explore this FREE GUIDE to take a deep dive into how to start blogging to make money. Get a PDF version of this guide right to your email, plus weekly tips from our blogging experts at BizBudding.