We'd like to tell you a little bit about us so you know what you're in for. 😉
We like to have fun, but we take what we do very seriously and work hard to deliver remarkable results with every one of our clients. Your success is our success—we truly mean that. Without our supporters, we would not be where we are. A large portion of our business comes from referrals because our clients really connect with the fact that we are real, we care about their success, we work hard, and we are experts in what we do.
Our work environment is relaxed, yet focused. We jam out to music in the office and like to kick off our shoes so we can really get in the zone.
The majority of our customers are worldwide and we conduct meetings via Zoom video conference. Sometimes you may see/hear a dog or baby in the background on video calls with us. You might even catch us on video when we change it up from the office and work from the woods. We value our relationships and families and believe that our work environment should support each of our team member's unique situations. This identity allows us each of us to thrive and fully express our talents and gives us strength as a team. We reserve Wednesdays (and Fridays when our workload allows) to focus on our internal projects, processes, and marketing. We like showing up to work and kicking butt every single day. Then celebrating with a beer on Fridays after work. We call this Cranktivity.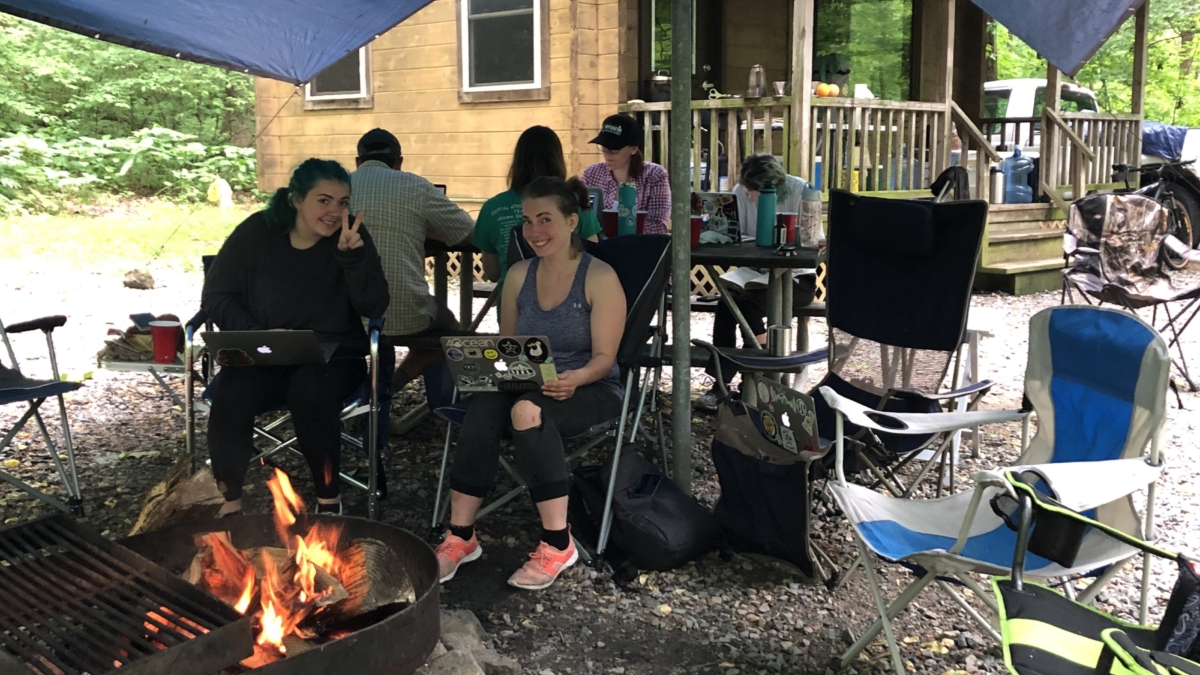 Let's talk about professional services.
We love to work one-on-one with our clients and enjoy many month-to-month service agreements that have turned into long-term relationships. We feel this is important to point out—that all of our service agreements are month-to-month. We don't believe that locking you into a long-term agreement is beneficial for either party. We want you to work with us, and we want to work with you. And this is how we like to do that.
Side note: Mai Hosting is also a month-to-month service. And if you decide to leave we'll help you migrate your site by offering to provide technical assistance to your new team.
You Are One Of Us
We are a team-oriented company. From the get-go, we see you as one of our team members. We will only be successful with collaboration and support from each other throughout the project.
We typically have two to three BizBudding team members working on a project at once, but you will always have a lead point of contact to communicate with by phone or email. Based on the scope of your project, we designate a weekly or bi-weekly phone or video meeting to review progress and collaborate.
How We Get It Done
When you work with us, a Customer Success Manager is assigned to your project to be your primary contact and to keep the project moving forward. We leverage Basecamp to discuss ideas, create and assign tasks, set due dates – you get the idea. It's a one-stop shop for all communications. Expect to be assigned tasks as part of the project, too. Because after all, we need to receive content or collateral timely in order to complete the project within the allocated work cycles.
We like to break projects up into six-week cycles. Your project may be very large and span two cycles, but our goal is to deliver results within a six-week cycle. We then spend a couple of weeks catching up on our own work (like documenting this process on this webpage). We work through six cycles during a calendar year.
We Have Your Back
Our office hours are Monday-Friday, 9am-5pm ET. During those times, you can submit a support ticket through our contact page. We work really hard to answer within one business day.
If you need support or have questions, Contact Us.
If you like the technical side of Mai Theme, you can check out our support docs that provide walkthroughs and examples.
It Ain't Over Till It's Over
The online world is ever-changing. BizBudding is available to explore new ways to continue to grow your online presence. Whether through lead generation, content management, or website monetization, we want to help you be remarkable.
Let's talk about what we love to do.