Reading Time: ~
8
minutes
I originally wrote this post in 2017 after we finished merging websites for a customer. Since then, we've worked on quite a few customer projects focused on combining websites. Short of creating a formal case study, I decided to update this post with three real-world examples for you to review.
I'll also update this post with screenshots showing results from our own internal project merging websites a few months from now. Yup, we decided to follow our own advice and eat our own dog food to merge our ecommerce/product website into our company website. More on that later in this post.
Our First Time Combining Websites
We had a client who was managing three separate websites. All of the websites were related to a single entity that had three different business units on the same physical property.
The group was spending a sizable marketing budget with a local marketing agency on digital marketing. They were also managing multiple social media accounts and boosting posts. They were stressing over managing ad spend, social sharing, and content development.
It was very difficult for them to manage—especially when content overlapped (as it usually did). They were often unsure of the best location to place content and frequently shared the same post across the different business unit websites.
We were referred to them and hired to help re-focus and refresh their old websites. We spent a significant amount of time reviewing Google Analytics, Google Search Console, and AdWords. Before merging websites, we developed a content strategy plan and completed an information architecture.
The new website was built so that each business unit had its own home page. We also set up a separate subdomain for their careers portal, as that site ran on a completely different platform than WordPress. We also made sure to redirect all old URLs to the new domain (that way any backlinks from social platforms still worked).
The new site garnered success. Their customers easily navigated a single site, viewing the different brands as components of a whole system. Organic SEO grew too and traffic steadily increased. Everyone was happy, and we were ecstatic. We gained a long term customer and have worked with them for the last four years providing many different services—helping with lead generation, content management, email marketing, SEO optimization, and other fun projects like setting up a monthly webinar series.
Combining Physical Locations
Managing duplicate pages from multiple locations' websites can be challenging, especially if the main site governs or manages the individual locations. A corporate website for a franchise system having multiple locations is a great example of this parent-child type of website relationship. Often the corporate site develops original content that is posted on their site and then shared on the location's sites. Combining these sites might solve that duplicate content issue. But many times the locations want the independence to develop their own websites. If you can't merge the sites, be sure to use canonical URLs to tell search engines which copy of the content is the master copy.
Master Your SEO
Craft + Optimize Content to Make Google Notice Your Expertise and Experience, then Convert Your Traffic Into Sales
Combining Web Properties
It's easy to get side-tracked and build lots of little websites for the brands you own. Especially when you host websites and develop WordPress themes. We love spinning up sites for testing and development. There's a ton of fun in choosing a domain name and spinning up a site—queue our fun domain name warmfuzzysocks.com for a testing domain.
So we did just that when launching our theme and hosting brands. I even went so far as to register the brand trademarks with the state.
We launched those shiny new sites and watched our organic traffic grow. We wrote content, tracked our SEO keywords, and measured everything as we worked to increase our websites' traffic.
Everything worked great until we noticed our three sites were competing with each other for organic traffic. Oh, how that realization hurt. Here's a pretty little chart that shows it.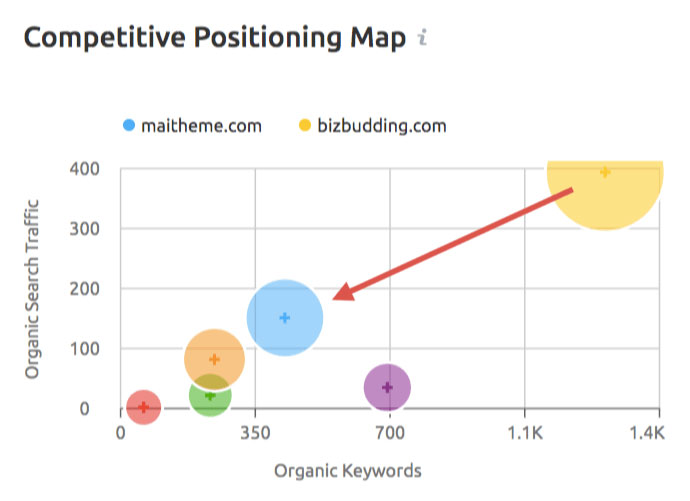 We realized we needed to combine our own websites, and that gave us the opportunity to rethink our brand, web design, mission, and strategy to best serve our customers.
We provide bloggers with software products, managed infrastructure, education, and professional services that help them grow and monetize their websites. By having all our products on the same site, we are able to package our WordPress website templates, plugins, and a blogging community together—way more efficient and helpful to our customers. It's also easier to focus on our blogging strategy—because we can write about topics important to bloggers that span our entire product catalog.
Having multiple websites was cool. It was a fun way to start and gave us a chance to develop our products and brand, but it probably was not the best way to handle things. Combining websites gave us the opportunity to focus on a clear and consistent message to our customers.
So you've heard our story, but let's get to the nuts and bolts of why you may want to merge your websites.
Top Reasons to Combine Websites
We've have had quite a few discussions internal discussions about brand strategy, website domains, and SEO, directly resulting from customers who asked: "Should I combine websites?" There are plenty of business owners and marketers who think having multiple domains makes it easier for them to brand different components of the business. If you read through the above paragraphs, you know were one of them.
There are some cases where it may be fine to keep your websites separate. However, if you find you are struggling with duplicate content issues, are unsure which site the content belongs on, or like us, you notice your sites are competing with each other for ranking, then it may be time for you to consider merging your sites.
Truth is, having multiple domains for related brands, keywords, and topics will most likely kill your business. Your website is how you create domain authority—how you represent your business to the online community and to Google. Keeping things separate can throw a lot of confusion into the mix for everyone.
Here are five big reasons why having multiple websites is a bad idea.
1. Duplicate Content Kills Domain Authority
Duplicate content is website content that appears in more than one location on the web. It can be on multiple webpages on the same website or it can be a single piece of content spread across multiple websites.
Duplicate pieces of identical content on the Internet make it difficult for search engines to tell who the original author is. Duplicate content on the same domain (or on multiple related domains) makes it difficult for Google, Bing, and other search engines to determine if site A or site B is more relevant (i.e. where to send your organic traffic).
Search engines don't know how to direct link metrics (trust, authority, link juice) to versions of duplicate content, and when that content is spread across multiple websites, you reduce your domain authority, the SEO value of your content, and your overall search rankings.
2. Search Engine Rankings Suffer
Let's say you put the time and energy into managing multiple websites and ensure there is no duplicate content on any of your sites. It's still not a great idea to have multiple sites, as they will compete with each other to rank in search results. Unless your websites cater to very different products, it's quite likely that you will be using the same or very similar keywords on those websites. You would be better choosing one site as your main focus for driving traffic.
Additional problems may crop up if you put your address on your various websites or on Google+ Local pages. It's not advised to have businesses with slightly different names listing and promoting the same services, address, and telephone number.
3. Google Dislikes Websites for Each Location
We mentioned this point earlier with the example of a franchise. Many people think they should build a website for each of their locations or facilities. Google strongly recommends building a single site with landing pages for each location and adding a location finder tool.
Google's John Mueller gives one of the best reasons why you should steer clear of managing multiple domains for each location:
Focusing on a single website makes it much easier for our algorithms to understand your site, the services you're providing, and the regions that you service. Splitting that into separate sites for each location that you ship to not only makes it harder for our algorithms, but also for users (imagine if the post office did that).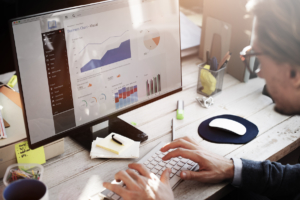 New to website building?
If you're like most people, when you decided to DIY your website, you dove head-first into the technical details. The problem is creating your dream website doesn't start with a template or technology. It starts with proper planning. Get started planning an amazing website with this free webinar!
Website Planning:
Practical Steps for
Planning a Website
If you want to keep going with your website planning, check out our free on-demand webinar
4. Customer Confusion
What happens when one of your customers searches for a service you provide, and you have that service listed on two different websites? You create confusion for the customer. If they visit both sites, they may notice similarities, but may not be sure the products/services they are viewing are from the same company. This uncertainty makes it hard for visitors to establish trust and can negatively impact your conversion rates. In most cases, people won't even go to the trouble; they'll just leave.
Another thing to consider is your social media accounts that you are likely already using for marketing purposes. (If you're not already, here's why you should use social.) Maintaining double social media accounts is time-consuming and creates an additional layer of complexity. You want it to be clear to your audience—no matter where they are finding you—who you are, what you do, and where they can find the information they need.
5. Paid Search Cannot Be Efficient
It's easier to implement search engine optimization on a single website than on multiple websites. If you have a WordPress site and the Yoast plugin, here is a guide to SEO best practices we've put together on optimizing your blog posts.
In addition to the SEO benefits, for SEM (Search Engine Marketing) or paid search, once again it is much simpler and more efficient to focus all your efforts on one website. This is especially true if your websites share common keywords. Quite often, your websites will compete with each other for Google Adwords, and you'll be wasting precious marketing dollars.
Redirects, Site Migration, and HTTPS
So you've decided to merge websites. What about those old domain names? During your site migration, place 301 redirects on all links from your old site to point them to your new site. The code "301" redirect is interpreted as "moved permanently" by search engines and ensures that any website traffic your URLs generate is directed to the new domain. This also ensures that any inbound links you are receiving do not break.
There are many steps to a well-executed site migration such as modifying your htaccess file, XML sitemap, checking your mobile setup/mobile apps, JavaScript, CSS, and image files, verifying your new domain in Google Webmaster Tools, and more. Here is a site migration guide (with an SEO focus) by Moz that outlines the process in great detail.
Something else to consider is using this as an opportunity to make your site more secure and switching from HTTP to HTTPS if you have not already. Google has been a huge proponent of a more secure web, and with the release of Chrome 68 in July 2018, Google now marks all HTTP sites as "not secure."
If you are unfamiliar or uncomfortable doing any of this yourself, be sure to contact an experienced web development company to make sure the transition goes smoothly and avoid any loss of traffic.
BizBudding has years of experience building and migrating websites for all sorts of reasons including re-branding, combining domains, and website refreshes (to improve on technical elements). If you need help merging websites, use the "Let's Work Together" button at the bottom of this page or contact us here.
Pull it All Together with Your Information Architecture
Unless your products are completely unrelated, you should seriously consider combining your sites. Good information architecture is your key to pulling your sites together. Information architecture is:
…the structural design of shared information environments; the art and science of organizing and labeling websites, intranets, online communities and software to support usability and findability; and an emerging community of practice focused on bringing principles of design and architecture to the digital landscape.
Said differently, a good information architecture provides you with a roadmap for site navigation and user experience It's your guide on how to combine websites into one solid new website. Creating a well-organized information architecture can be a very intensive project in the short-term, but it is worth the time as setting things up correctly will have numerous long-term benefits.
Closing Thoughts
Your main goal is to create one website that really stands out. All content should have a clear purpose and should address the info and topics your visitors are searching for. Old content should be refreshed if it is still useful. Focus on building a brand that conveys trust, clarity, and transparency and you will have long-term success.