Reading Time: ~
7
minutes
You've probably heard the saying "less is more." That phrase can be true of a lot of things, including website design. Minimalism is a popular style for interior design because it's sleek, modern, clean, and pairs down to what is most important. It's also a web design trend because those qualities also apply to graphic design. This style is called minimal website design, and it's one of those things people either love or hate. Taking feelings out of it for a second, we want to take this opportunity to explain what a minimal website design is, highlights the benefits, and describes how to create one on your own site.
What is Minimal Web Design?
Having a minimalist website allows your content to be front and center with no distractions for visitors. Minimal designs have plenty of white space (or negative space) so it makes content, especially striking images and typography, really pop.
In minimalist design, every element should have a function, and non-functional, purely decorative elements are typically eliminated, focusing attention on the core details. This is crucial as you want your site to be a purposeful and beautiful representation of your brand where the content is always the star.
The most beautiful websites are the ones free of clutter, and the most visited sites have easy usability for all visitors. Minimalism in web design offers you the best of both worlds. The best-known examples of minimal sites are search engines. Google is one of the most visited sites in the world, and it has one of the most minimal designs.
UI Design
That being said, if you are not a designer by profession, you might think design is only about outward appearances, but equally important is having a simple, clear user interface. This is called UI design. When it comes to minimal web design and UI, the "less is more" philosophy is paramount. The goal is to put the user experience first. Minimalist interfaces usually look sophisticated and uncluttered bringing aesthetic satisfaction as one of the core factors of desirability in the overall user experience.
Flat Design
A popular example of UI design in minimal websites is flat design. Flat design utilizes simple 2D elements and bright colors to draw the eye. These elements load faster than more complex 3D elements—curves, highlights, shadows, gradients, textures—which is a huge plus for you and your users. Speed is very much correlated to ranking, conversions, and other positive metrics which we'll get into more below. Flat design also allows for creating images, buttons, icons, and illustrations that look crisp and consistent in different resolutions and sizes.
Speed
Google's core web vitals became a significant ranking factor in May 2021. These core web vitals contain three specific web page experience metrics that Google considers to be of vital importance:
Largest contentful paint (measures loading performance)
First input delay (How long it takes for a web page to become interactive. Google wants no more than 100 ms.)
Cumulative layout shift (stability of content displayed)
But how does it relate to minimal web design, and why is it important to you?
Fast WordPress themes deliver higher search engine rankings. That's why we focused on speed and performance when building Mai Theme 2.0.
Mai Theme uses powerful yet flexible CSS and JS utilizes fewer assets and smaller files to provide extreme performance with the utmost flexibility. Easily score in the high 90s with Google Page Speed Insights out of the box without any caching or optimization plugins.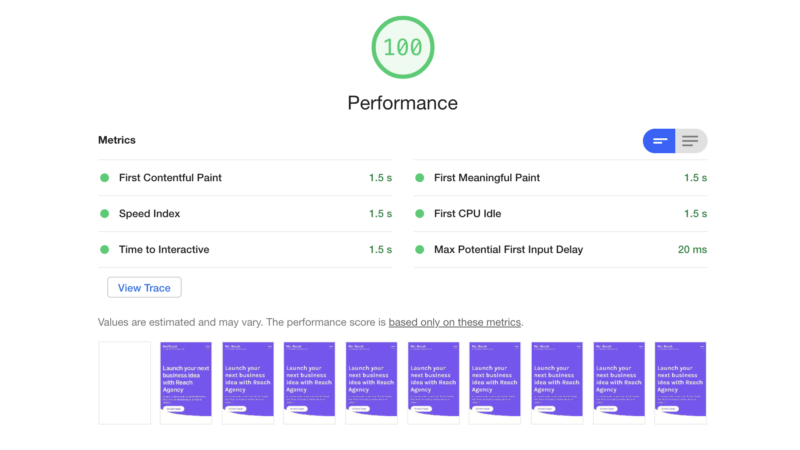 Using WordPress and a solid framework (Mai Theme runs on Genesis, a well-respected theme framework in the developer world) is also important as it means the theme will have a strong foundation and room to grow without sacrificing speed.
Functionality
Minimal web design makes for better overall website functionality. As already mentioned, it creates faster load times and better compatibility between screen sizes. You can still have lots of features on your site, but they will be mostly in the code (CSS), and in WordPress plugins instead of on the page. So you don't have to sacrifice important elements of your website, like ecommerce, to have a great minimalist design. 
Another benefit of minimal design: customers will stay on your site longer.
According to a study from EyeQuant, clean design results in a lower bounce rate. Minimal design elements make a better user experience because of easy accessibility. Fewer elements leave no room for confusion. Visitors can find everything they need right away because there's no clutter in the design. 
Keeping things simple gives the user more opportunity to make a better choice because they aren't clouded by options/choices. They are forced to dive deeper into a specific area of the site.

-Mike Hemberger, BizBudding Lead Developer
To elaborate on Mike's point, we encounter a lot of people who want "all the things" when starting a new website or blog. It's okay to have some cool design touches just because, but it's important to really consider why you want a slider on your homepage or every single one of your pages in drop-down menus.
Is it because you see others doing it? It is purely decorative?
Users actually don't care much about all the bells and whistles. They are on your website to learn or find something. If there is so much going on that they feel overwhelmed or cannot what they are looking for, they are going to head elsewhere.
Colors & Typography
You might think minimalism is boring, but don't worry, your site will still look amazing. Minimalist web design doesn't mean it can only be black & white or monochrome. You can still use bold colors, just keep them to a minimum. Use no more than three colors, especially on your homepage and landing pages. Be sure to keep a consistent color scheme across all of your webpages as well.
As you probably know, color can form an emotional association with the viewer. Some colors are strongly associated with action or buying behavior. Because a minimal design has much fewer visual elements competing with one another, color has the opportunity to have an even greater impact.
This is true for your typography as well. You can get away with a bolder font for your headings—make sure it's still easily readable though. Themes like Mai Theme with an array of Google fonts to choose from make it possible to easily find something to suit your brand.
Typography can be really impactful on author sites like James Clears' where the words on the page are of the highest value.
Minimalist sites are modern with understated sophistication. Bold and elegant typography and thoughtful use of color make your business look even more professional and up-to-date. Minimal designs look classy without looking pretentious, and people—both producers and consumers—want to be associated with class. 
Create a Minimal Website
As web designers ourselves, we know the critical role that a solid website theme plays in great design. While SquareSpace and other website builders offer minimalist designs, what they do not offer is flexibility and room for expansion as these platforms often do not support the advanced features that many bloggers and small business owners come to need as they grow.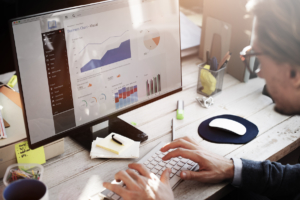 New to website building?
If you're like most people, when you decided to DIY your website, you dove head-first into the technical details. The problem is creating your dream website doesn't start with a template or technology. It starts with proper planning. Get started planning an amazing website with this free webinar!
Website Planning:
Practical Steps for
Planning a Website
If you want to keep going with your website planning, check out our free on-demand webinar
Minimal WordPress Themes
We also know that users love minimal design because it makes it easy for them to find what they need and neutralizes the overwhelm many of us feel in our daily lives. We understand that good design never distracts from your content but enhances it.
That's why we partnered with Brian Gardner, a minimalist designer, to create some minimal WordPress themes using Mai Theme.
The themes are called Mai Twenty Seven and Mai Lookbook and are part of our collection of minimal WordPress website templates. Each one offers a clean and clear design, leaves plenty of room for customization, and is unique in its own way.
Mai Twenty Seven is very basic would apply well to an author or artist website.
Mai Lookbook is geared toward fashion or magazine sites.
Of course, they both have the same thing in common, they are minimalist, relying heavily on a simple color scheme (all of these are black and white), lots of empty space, and content areas that are well-defined, clear, and stand-out. 
All Mai Themes are Minimally-Minded
While these templates fall under the typical minimalist style, all of our theme designs are minimal in that they emphasize user experience, usability, performance, and speed.
Our goal is to make it easy for you to showcase your work, products/services, and brand with a modern, fast, and responsive minimal WordPress theme or total website solution. By relying on clean code and efficient design, we have taken away everything that is not needed, leaving you with designs you can trust to out-perform the competition.
Two Ways to Purchase Mai Theme
DIY or Website Starter Pack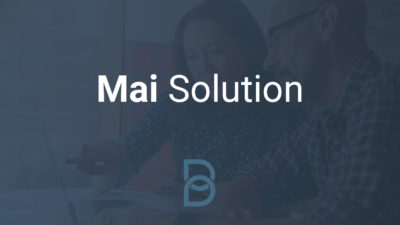 With three clicks, launch your website which includes hosting, WordPress, all Mai Theme designs, and Mai Theme plugins. Easily setup and start your website today with Mai Solution.
With Mai Theme and Mai Solution, the setup is minimal as well!
We know that the installation of themes can sometimes be a nightmare. Not to mention the challenges of getting your new website to look like the demo. Most theme developers do not offer a solution to this problem, but we do! Our Mai Theme Setup Wizard makes it easy for you to get your website looking like the demo in seconds—yes literally seconds.
If you want to just skip right to creating and adding your content, let us take care of everything else with our all-inclusive website platform, Mai Solution. Get a beautiful custom look and feel without learning code or paying a developer every time you need a customization or want to change something.
Mai Solution is the perfect option if you are not tech-savvy because everything is managed for you. It's not bogged down by bloated, unreliable plugins. It's fast, it works, and it makes it easy to grow. And it includes all of our website templates. So whether you decide to go with one of our minimal WordPress templates or you are still not ready to jump on the minimalist bandwagon, there is something for you.
Bonus Content!
To grab the bonus content that goes along with this post, head on over to our blogging community. Plus, when you join the community you'll gain access to tons of other great resources and be able to ask questions chat and network with other bloggers and business owners.